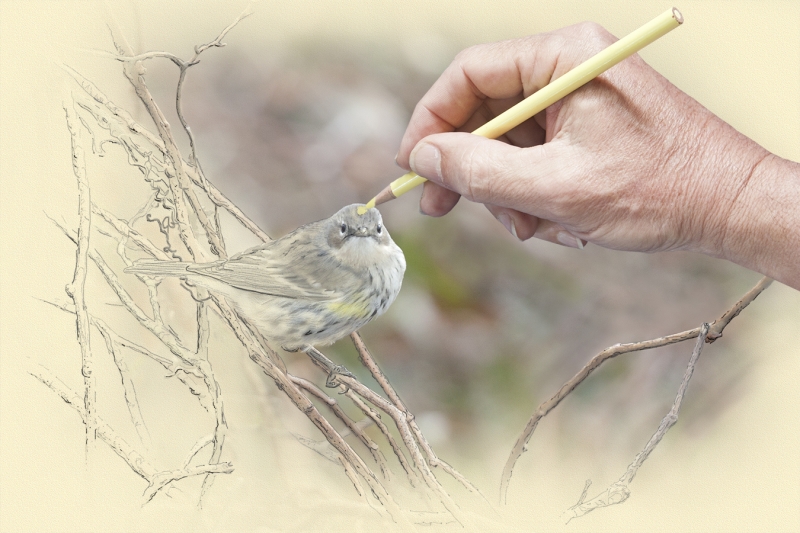 Congratulations to Digital Category Winner Jeff Rugg of Montgomery, Illinois, USA (www.greenerview.com). "Yellow-rumped Warbler Art." The winter plumage yellow-rumped image was created at Pea Island National Wildlife Refuge, North Carolina with a tripod-mounted Canon 100-400 L IS (at 400mm) with the Canon EOS-30D. ISO 400: 1/350 sec. at f/5.6 in Av mode.
Yellow-rumped Warbler Art, Jeff Rugg
Jeff's forethought and creativity in assembling this composite image were indeed remarkable. The soft watercolor look and the various filters that he used added up to our Digital category winner.
From Jeff:
It was a very windy and cold morning as a thunderstorm had gone through at dawn. This normally very active warbler found a protected location out of the wind and sat long enough for me to take several pictures. I liked this one because the bird was looking at me. I created the self-portrait of my own hand in my home against a plain background. I worked with at least 13 layers in Photoshop CS-5 where I did most of the artistic/creative work. I used the new Pencil Tool in a trial version of Photoshop CS-6 for some of the pencil sketch work.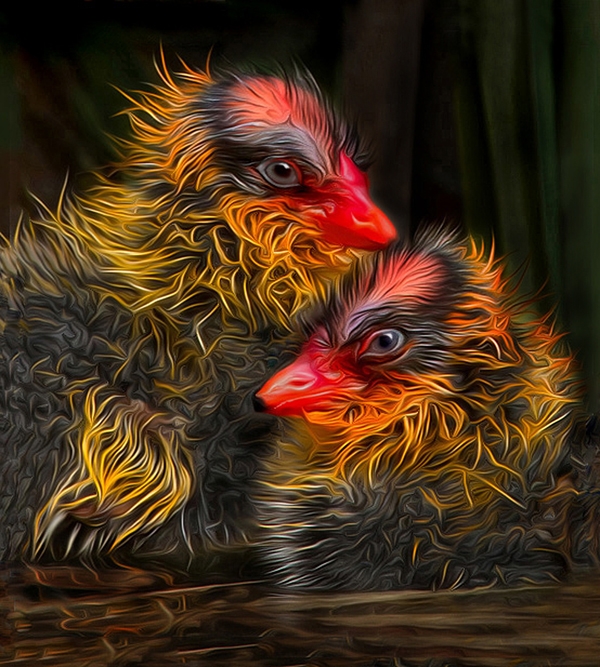 Congratulations to Brendan Dozier. His "Coot Chick Pair Digital Creation" was awarded second prize in the Digital Category in the BIRDS AS ART 1st Annual Bird Photography Competition. The birds were photographed at Guajome Lake, Oceanside, CA with the hand held Canon EF70-200mm f/2.8L IS II USM lens, the 2X II teleconverter, and the Canon EOS-7D. ISO 700: 1/250 sec. at f/14.
Coot Chick Pair Digital Creation, Brendan Dozier
The lovely juxtaposition of the too-cute American Coot chicks, two perfect head angles, the bright colors, and the Pixel Bender oil paint effect combined to make this image stand out in a category crowded with creative entries. Brendan took an image created in less than ideal light, added a huge crop and some digital expertise and imagination to create something special. (Note: as far as the huge crop, anything goes in our Digital Category.)
From Brendan:
I had never seen coot chicks before and was thrilled to be able to capture these adorable little ones at a local lake. Loved their wild feathers and bright coloring. Moving slowly I got as close to the waters edge as I could and lay down on my side. Unfortunately the chicks did not venture out of the reeds until late morning so the light was a bit harsh. I was wishing that I had a bit longer lens. Not having the best image quality after a large crop, I decided that the original image would be a good candidate for an artistic filtering treatment as I really wanted to highlight those crazy feathers and colors. So I did some levels and color adjustments in CS5, darkened and cloned out a few areas in background and foreground, and applied Pixel Bender filter "oil" setting from Adobe Labs. Some touching up of eyes and sharpening resulted in the finished image.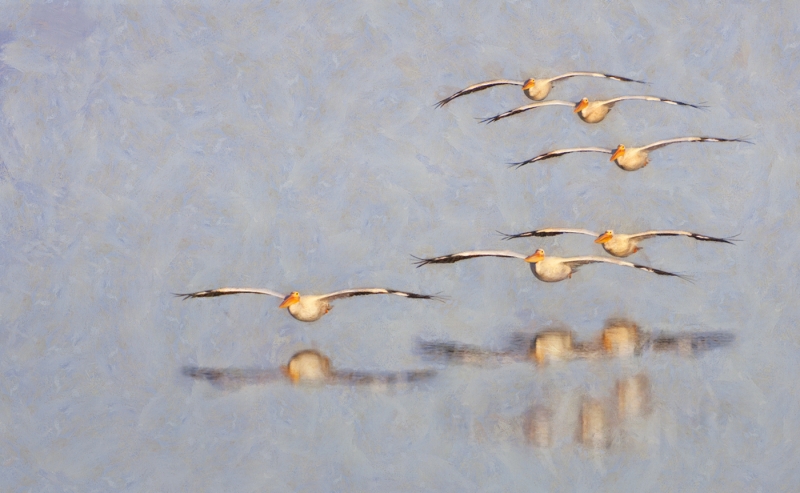 Congrats to Indranil Sircar. His "White Pelican Squadron" creation was awarded third place in the Digital category. He photographed the small flock of 6 American White Pelicans at Don Edwards NWR, Milpitas, CA with the Sigma 50-500mm lens (on the Mongoose M3.5) and the Canon EOS-40D. ISO 400: 1/2000 sec. at f/8.
White Pelican Squadron, Indranil Sircar
The musical arrangement of the subjects, the soft light, the lovely choice of a complementary background texture, enough depth of field to cover all the birds, and the subtle reflections are the strengths of this image.
From Indranil:
I created the base image of these Pelicans flying in formation early one morning when the water was calm. The pelicans where flying low and I tracked them as they approached to land on a small island in one of the salt ponds. For a brief moment there was separation among all the pelicans and I got my image! I cropped the image slightly and removed a tide line and some spots of debris in the background. I enhanced the in Dynamic Auto Painter (DAP) and then tweaked it in Photoshop using multiple layers. I reduced the opacity of the painted layer to about 30% to bring out more of the original image and then used a layer mask and painted over the pelicans to further reveal the original image.
Of Note
Not surprisingly two of the three honored photographers in the Digital Creations category–Brendan and Indranil–are regulars in the Out-of-the-Box forum at BirdPhotographers.Net where Indranil is one of three Moderators led by Denise Ippolito who has been doing yeoman work there for more than two years.
On Grammar…
Brendan originally e-mailed: "….moving slowly, and laid down on my side."
I am as confused as anyone on the correct usage of lay and lie so I did an online search and come wound here at the Oxford Dictonary. "Lie or lay? Laying down the law on some puzzling verbs" is the finest treatment of the subject that I have come across. I have book-marked it.
Congrats!
Congrats to all who placed images in the top ten in the Digital Creations category. It was a very popular category with 301 images making the first cut. You can see the nineteen images that were sent to the judges here. Getting to the final round is quite an accomplishment. Prizes (see below) will be shipped once all the winners are announced as several folks had more than one top three images. Be sure to patronize our sponsors; without them, this contest would not exist. There will be more educational stuff from this category coming soon.