5D Mark III Guide Pre-publication Version Still Discounted
Click here for details. When the guide is complete it will sell for $50. Folks who purchase now will receive the final version and any updates for no additional charge so ordering now is a win-win proposition.
New York City Weekend Nature Photography Seminar December 8-9, 2012
Detail for this great weekend seminar are available here. Do consider joining Denise Ippolito and me for a great learning experience. Do click on the link to see many of Denise's incredible tree and flower images. Camera club discounts available; see the details at the link.
Nickerson Beach/JBWR Photo-Tour August 15-17, 2012: Only 2 slots left!
Nickerson Beach/JBWR Photo-Tour August 15-17, 2012: $999. Co-leader: Denise Ippolito. Introductory slide program: Tuesday August 14 at 7pm. Limit 8/Openings:2.
For more info and a collection of images click here.
And the Winners in the Behavior Category Are!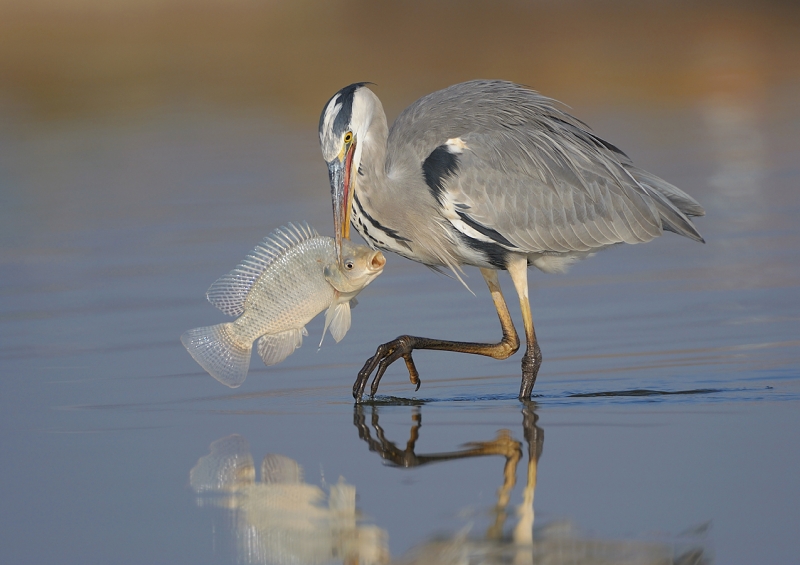 Congratulations Vladimir Kogan of Israel. His image, Grey Heron with fish, was awarded first prize in the Behavior category of the BIRDS AS ART 1st Annual Bird Photography Competition. Click on the image to see a larger, even more spectacular version. AF Nikkor 200-400 mm f4 G VR lens, the AF-S Teleconverter TC-17E II, and the Nikon D3. ISO 400: 1/1250 sec. at f/7.1. Skimmer Ground Pod II with the Arca-Swiss Monoball Z1.
Grey Heron with fish, Vladimir Kogan.
From Vladimir:
Grey Heron is a very cautious bird; as a rule it will not approach closer than 80-100 meters to even a well-disguised blind. Once this heron caught a large Tilapia it began moving slowly but steadily in my direction without the slightest sign of fear, eventually approaching within 20 meters of my hiding place. This was the rare moment in my 3 years of photographing this species. The fish was very large for the bird; after many attempts to swallow it the bird threw it on the shore of the lake where it became prey to a mongoose.
The judges were thrilled by the sweet early evening light, the superb sharpness, the heron's raised foot, the perfect view of the fish with its dorsal fin raised and open mouth, the absolutely perfect head angle, and by the pleasing image design with the bird framed nicely by the gold reflections at the top of the photograph.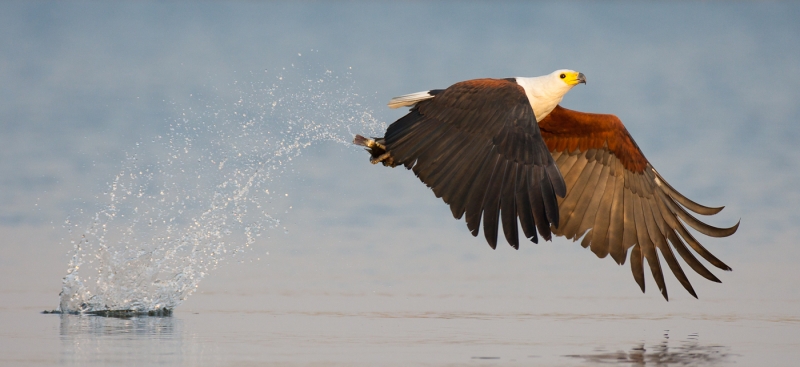 Congratulations to Isak Pretorius of Johannesburg, South Africa. His image, African Fish-Eagle capture, was awarded second prize in the Behavior category of the BIRDS AS ART 1st Annual Bird Photography Competition. Chobe river, Botswana. Canon 600mmf/4L IS USM with the EOS-1D Mark III (handheld!). ISO 800: 1/2000 sec. at f/5 in Manual mode. Click on the image to see a larger, even more powerful version.
African Fish-Eagle capture, Isak Pretorius
From Isak:
This photo was created on the Chobe river during a photographic boat safari. Fish-eagles catching fish is the order of the day. I've photographed fish eagles before, but what made this place stunning was the quality of light. During the late-winter months the morning sun is diffused by the smoke and dust in the sky over Botswana. With the still waters of the Chobe river reflecting this soft light, the lighting conditions are almost studio-like. The wide river also makes for soft subtle backgrounds that accentuate the bird. I was fortunate in this photo that all the variables outside of my control came together perfectly.

This image features Beautiful control of a difficult exposure with detail in both the dark tones and the whites, nice detail in the far underwing, the perfect wing position–the full downstroke, a perfect head angle, a de-focused background, a killer splash with the complete hole in the water included, a suitable pano crop, and very sweet light.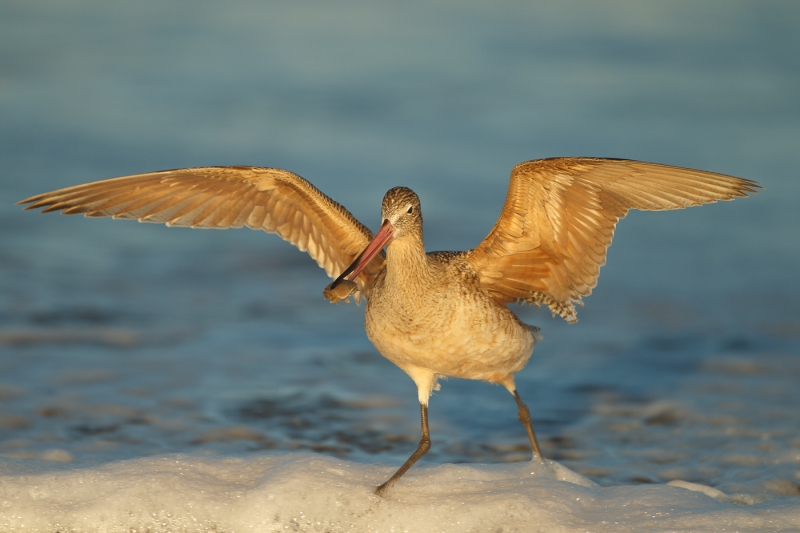 Congratulations to Gaurav Mittal of India. His image, Marbled Godwit with sand crab, was awarded third prize in the Behavior category of the BIRDS AS ART 1st Annual Bird Photography Competition. Morro Bay, CA. Canon 500mm f/4L IS lens with the 1.4X TC and the EOS-1 Mark IV (hand held!). ISO 400. Evaluative metering +1 stop: 1/1000 sec. at f/5.6. Click on the image to see a larger, even more beautiful version.
Marbled Godwit with sand crab, Gaurav Mittal
From Gaurav:
Photographing birds makes me feel closer to life, I feel as if I am one with the birds. At every opportunity I dance when I see them. Morro Bay was an amazing experience: People made me feel welcome: The sunlight was golden; It was windy but beautiful; The Marbled Godwits were simply gorgeous. I was awe as I made an effort to photograph its behavior. I was nervous as I pressed the shutter and captured this beautiful moment. The godwit splashed its feet in the water and grabbed the soft-shelled crab. After this entire event I felt in the presence of God. Having witnessed an amazing moment through my camera, priceless. I lowered my camera closed my eyes and took in the moment, my imagination at work.

I love shorebirds. I love this one for the golden early morning light and the raised wings with killer underwing detail. For its sharpness. The combination of blues and golds is too sweet, as is the white foam from a breaking wave. The sand crab in the bird's beak is the icing on this third place cake.
Congrats!
Congrats to the three winning photographers and to those who created the 15 other spectacular images that made it to the final round of judging. Getting a single image to the final round is a momentous accomplishment. Pretty much every image would have made a suitable first place winner. As you will see when the voting results and analysis are published things were very tight in Behavior.
It was a hugely popular category. We began with 754 images. Getting down to the 18 images that were sent to the five judges was a difficult and excruciating task that took many hours. Here is another big time thank you to Darrell, Chris, Julie, and Tim. And a big time thanks also to Peter Kes and Denise Ippolito for pitching in during the first rounds of image selection. We worked very hard for nearly three full days to get from more than 5500 images down to the final 163. The Behavior category was designed for images that exhibited interesting avian behavior. The entrants outdid themselves by a wide margin.
Prizes (see below) will be shipped once all the winners are announced as several folks had more than one top three image. Be sure to patronize our sponsors; without them, this contest would not exist. There will be more educational stuff from this category coming soon.
| First Prize | Runner Up | Highly Commended | Sponsor |
| --- | --- | --- | --- |
| $100 Gift Certificate | $50 Gift Certificate | $25 Gift Certificate | B&H PHOTO VIDEO |
| choice of lens plate | P-5 camera body plate | Plamp | Wimberley |
| 16 GB 450 X UDMA Compact Flash Card | Sensor Scope | Universal Memory Card Reader | Delkin Devices |
| Level 3 Gift Subscription | Level 2 Gift Subscription | Level 1 Gift Subscription | Nature Photographer Magazine |
| $30 Discount Certificate | $25 Discount Certificate | $20 Discount Certificate | Canvas On Demand |
| Laptop Bag or Pixel Sunscreen | Pixel Pocket Rocket | AA Battery Holder | Think Tank |
| $50 Gift Certificate | $25 Gift Certificate | $10 Gift Certificate | Lens Coat |
| Canon/Nikon Lens Plate | Canon/Nikon Camera Body Plate | . | 4th Generation Design |
| . | Better Beamer | Better Beamer Replacement Fresnel | Visual Echoes |
| TriKlear Kit | TriKlear Kit | TriKlear Kit | Lens Pen |
| Kwik Camo Blind-Regular | . | . | Essential Photo Gear |
| ABP II | . | . | BIRDS AS ART |
| . | Double Bubble | . | HP Marketing |
| BreezeBrowser Pro/Downloader Pro Combo | BreezeBrowser Pro | Downloader Pro | Breeze Systems |
| Sito HD Version Gold Web Site | | | Sito HD |
.
B&H Rebates
Click here to enjoy double rebates of up to $550 by selecting one of four Canon dSLR camera bodies (including the killer EOS-5D Mark III) and then adding a lens from a large selection. The lenses included many of the intermediate telephoto lenses that I use and recommend. This offer expires in less than ten days on June 30, 2012.