And the Winners in the Action Category Are!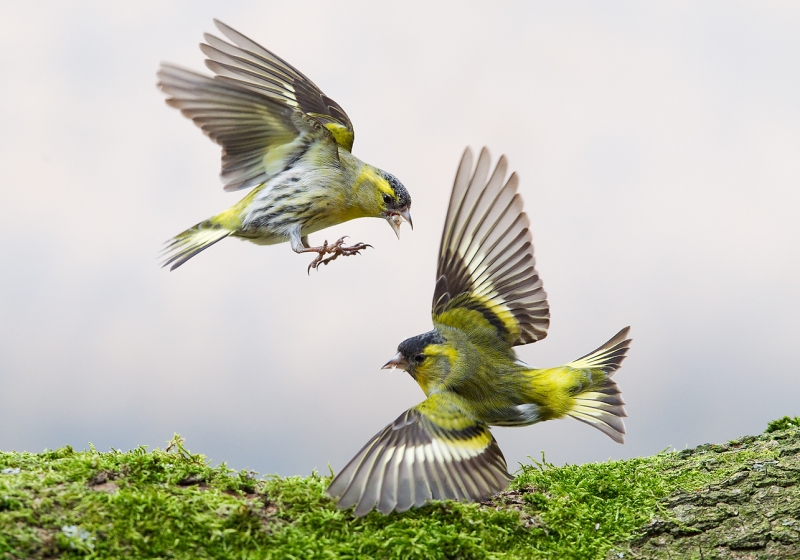 Congratulations David Pattyn of The Netherlands. His image, Siskins Fighting" was awarded first prize in the Action category of the BIRDS AS ART 1st Annual Bird Photography Competition. Click on the image to see a larger, even more spectacular version. Tripod-mounted Canon 300mm f/2.8L IS lens with the EOS-1D Mark IV. ISO 1600: 1/1600 sec. at f/5.6 in Manual mode.
Siskins Fighting, David Pattyn
From David:
Near winter's end, when food becomes more difficult to find, more and more birds visit our garden feeders. In some years—for no obvious reasons—we have lots of Siskins; in others we have none. In March 2011 there were lots of Siskins around and thus they were very aggressive toward each other in competition for food. I placed seed in a crack in the log and focused manually on the spot where I hoped the action would occur. Autofocus simply does not work in situations like this; the action is over before you have a chance to frame the image and acquire focus. While working from inside my home office I would look directly at the log rather than through the viewfinder. Whenever there was any action I would release the shutter with the remote cord in my hand. It took lots of trial and error and many hundreds of images to get everything just right but getting one superb image made it all worthwhile.
Photographing songbirds in flight or in action is a huge, huge challenge. Here, the fabulous interaction between the two birds, the spectacular pose of the lower bird, the feet and claws of the upper bird, and the remarkable sharpness made this image a winner. Amazingly, it is only a small crop from the RAW file.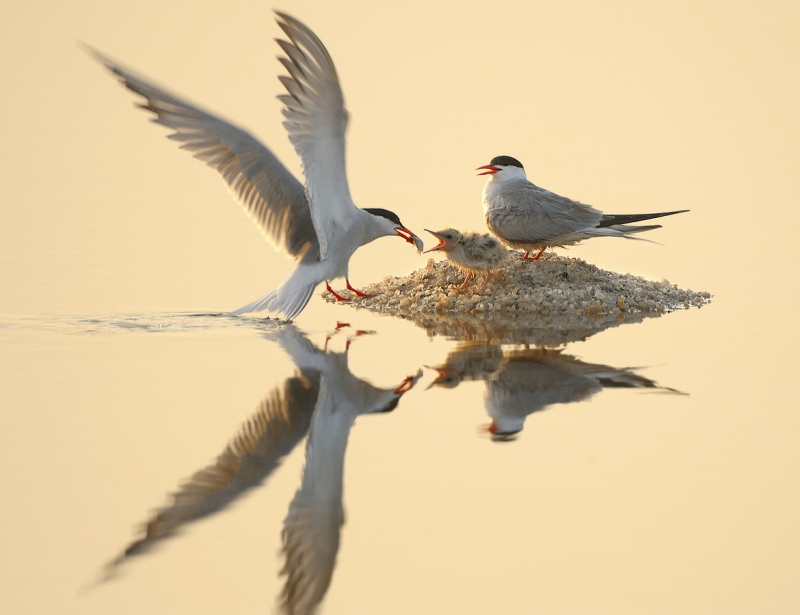 Congratulations Vladimir Kogan of Israel. His image, Common Tern feeding chick, was awarded second place in the Action category of the BIRDS AS ART 1st Annual Bird Photography Competition. Click on the image to see a larger, even more spectacular version. Nikon D3, AF Nikkor 200-400 mm f4 G VR (at 400mm) + AF-S Teleconverter TC-17E II, 1/320; f7.1; ISO 500, GT5541LS Systematic 6X Carbon Fiber Tripod Legs; Arca-Swiss Monoball Z1 dp.
Common Tern feeding chick, Vladimir Kogan
From Vladimir:
Every spring the Common Terns arrive from Africa. When they do, I start photographing them and continue to do so throughout the breeding season. I observed the terns their feeding chicks for long periods. But to create an artistic frame with a sharp reflection you need the following conditions: very early morning, the first rays of the sun on a clear day, soft lighting, and a complete lack of a wind. From many early morning photo sessions I had this combination of the required parameters only on rare occasion.
What's to like? Soft yellow light, a beautiful arrangement of the three birds, the chick and the guarding parent razor sharp, a perfect exposure, killer reflections, still, still water, and the shutter button pushed at the exact right instant. In other words, a lot!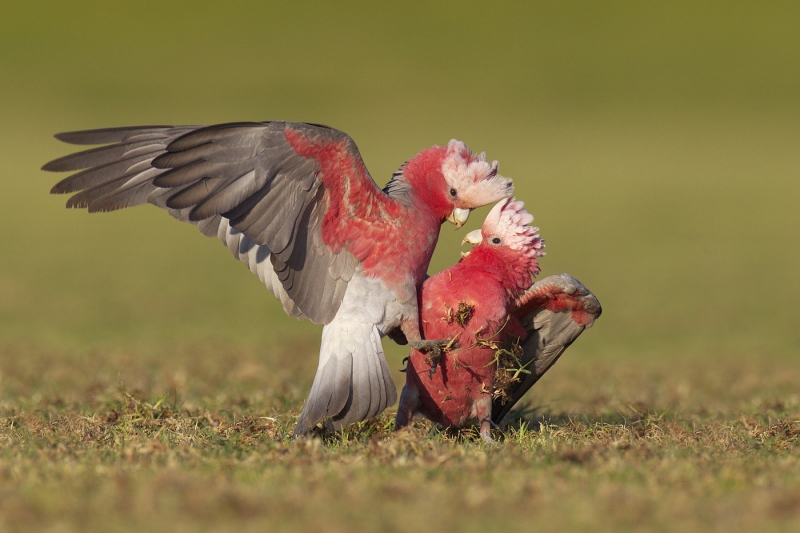 Congratulations to Jan Wegener of Melbourne, Australia. His image, Galahs battling, was awarded third place in the Action category of the BIRDS AS ART 1st Annual Bird Photography Competition. Click on the image to see a larger, even more spectacular version. Canon EOS-1D Mark IV, 600 f/4L IS, ISO 800. 1/2500 sec. at f/7.1
Galahs battling, Jan Wegener
From Jan:
Galahs are often found in big groups. They are very playful birds. I spotted this group on a soccer field in Melbourne, Australia and was amused by their humorous displays and fights. These squabbles are of a playful nature; the birds do not cause any serious harm to each other. This behavior usually takes place before the breeding season and the fights only last a couple of seconds. Galahs in the cities are usually not overly skittish and when you approach them carefully they allow you to get quite close. Watching a flock of these colorful avian clowns never gets boring and always offers some unique photo opportunities.
Start with a nice low angle, add in two attractive red birds with raised pink crests, and throw in two perfect head angles and a killer face to face fighting pose. Have one birds talons grabbing he breast of the other as the victim screams in protest. What to you wind up with? One very fine action image.
Congrats!
Congrats to the three winning photographers and to those who created the other 9 spectacular images that made it to the final round of judging. Getting a single image to the final round is a momentous accomplishment.
This was a popular category with 445 images submitted. 15 images were sent to the five judges. Three images were disqualified after we received the RAW files, 2 of those for cropping more than 75%, more than 50% of the length and width. Here is another big time thank you to Darrell, Chris, Julie, and Tim. And a big time thanks also to Peter Kes and Denise Ippolito for pitching in during the first rounds of image selection. We worked very hard for nearly three full days to get from more than 5500 images down to the final 163.
The Action category was designed for images that feature a bird or birds in action. Pretty straightforward. But spectacular.
The prizes (see below) will be shipped once all the winners are announced as several folks had more than one top three image. Be sure to patronize our sponsors; without them, this contest would not exist. There will be more educational stuff from this category coming soon.
| First Prize | Runner Up | Highly Commended | Sponsor |
| --- | --- | --- | --- |
| $100 Gift Certificate | $50 Gift Certificate | $25 Gift Certificate | B&H PHOTO VIDEO |
| Wimberley V2 Head | P-5 camera body plate | Plamp | Wimberley |
| 16 GB 450 X UDMA Compact Flash Card | Sensor Scope | Universal Memory Card Reader | Delkin Devices |
| Level 3 Gift Subscription | Level 2 Gift Subscription | Level 1 Gift Subscription | Nature Photographer Magazine |
| $30 Discount Certificate | $25 Discount Certificate | $20 Discount Certificate | Canvas On Demand |
| Laptop Bag or Pixel Sunscreen | Pixel Pocket Rocket | AA Battery Holder | Think Tank |
| $50 Gift Certificate | $25 Gift Certificate | $10 Gift Certificate | Lens Coat |
| Canon/Nikon Lens Plate | Canon/Nikon Camera Body Plate | . | 4th Generation Design |
| . | Better Beamer | Better Beamer Replacement Fresnel | Visual Echoes |
| TriKlear Kit | TriKlear Kit | TriKlear Kit | Lens Pen |
| ABP II | . | . | BIRDS AS ART |
| . | Double Bubble | . | HP Marketing |
| BreezeBrowser Pro/Downloader Pro Combo | BreezeBrowser Pro | Downloader Pro | Breeze Systems |
| Sito HD Version Gold Web Site | | | Sito HD |