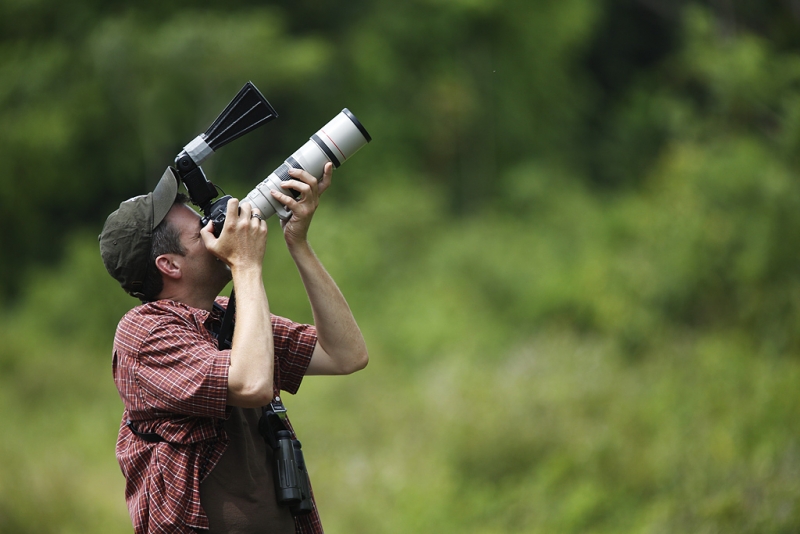 Scott Whittle, photo-birder supreme.
My Introduction to Photo-birding
In early June, Denise Ippolito and I visited Trinidad and Tobago thanks to the generosity of the folks at Caligo Ventures. (You can learn more about the trip and about visiting Asa Wright Nature Centre here, here, and below. On the trip we met a young man named Scott Whittle. Scott was very personable and obviously a skilled birder. Never without his binoculars. But strangely for a birder, never without his 400mm lens, 7D, and flash. And never with a tripod.
Scott would photograph birds that seemed a mile away to me. He would photograph birds from the window of our bus. Even when it was moving. He would photograph birds on the way to dinner. And I suspect, on the way to the john. My curiosity aroused, I had several nice talks with Scott as most everything that he did seemed foreign to me. It did not take long for me to get it. Scott's primary interest was in documenting bird species and refining his ID skills. I asked Scott to write a guest blog post on photo-birding. His efforts are below. Tanks a stack Scott!
Just for the record books, with my big lens and 28 years of experience I did not make a single image of the four species that appear here. Scott's hand holding, anywhere/anytime approach not only enabled him to create lots of ID and small-in-the-frame habitat type images but to create many superb images as well.
Scott Whittle: Photo-birder
When I first started birding, not so long ago, I came to it as a professional portrait and event photographer with many years of experience. When birding, I started using a camera almost as soon as I started using binoculars. The camera let me document and share what I was seeing and rapidly accelerated my learning process. If I was unsure of an ID, I could check the photo. If I wanted to take a closer look at plumages and behavior, I could do the same. The camera could take a momentary encounter with a bird and extend it for as long as I cared to look. Labeling my photos later on made for a second round of identification challenges that often had me looking at Sibley or other field-guides or asking an expert.
I took the utility of the camera to an extreme in my second year of birding when I did a Big Year in New York State. As a beginner, I knew my word wouldn't carry much weight; but my photos would. So I set out on a 44,000 mile excursion within the borders of the Empire State over the course of the year, photographing every species and audio-recording those I couldn't see. At the end of the year I had set a new state record with 350 birds found. And 349 of them were either photographed or recorded. Some of you may enjoy the whole Big Year story on my blog here.
Now I live in Cape May and my rig is even more useful. I find I'm joined by a number of both local experts and visiting birders who have taken up digital cameras in the same way Audubon took up his shotgun over 150 years ago. We are collectors; we are photo-birders.
Like Audubon, I think that many of us strive for art in our images (often much less successfully!), but we also look for opportunities to learn and document what we see. The new breed of affordable and relatively lightweight digital cameras are well-suited to this task. Most photo-birders carry a version of what pro bird photographers might consider a "second" setup…that is, a body like the Canon 7D or Nikon d7000, and one of a handful of fast-focusing, moderate telephotos like the Canon 300mm f/4 L IS, the Nikkor 300mm f/4 VR, the Canon 400mm f/5.6, or the Canon 100-400mm f/5.6. In Cape May, the favored setup (and the one I currently carry) is the Canon 7D with the Canon 400mm f/5.6. We do a lot of birds in flight in Cape May. For your bang-for-the-buck this setup is unrivaled. It is nearly as good at locking focus on small flying birds (read warblers and swallows) as setups that cost three times as much and is capable of pro-level captures with a little careful handling. It's also light enough to carry all day without objection and the cost of this type of rig makes sense to me considering the plummeting market for selling photographs of birds.
In some ways, what I am doing is the antithesis of "traditional" bird photography. Many professional bird photographers strive for "perfect" plumages (usually adult breeding males), "perfect" perches (ie. a single stick), and "perfect" backgrounds (more often than not, a blurred swatch of color). Several years ago I started calling these images "bird porn". Just like a Playboy centerfold you have technically perfect, striking images that are a lot of fun (and work) to create. And just like Playboy photos, they are pretty far from the reality of how birds appear in everyday encounters. In contrast, I get as excited by a photo of a molting juvenile or an odd female as I do by one of a striking male…sometimes more so.
Finding images of non-breeding birds can be challenging. I'm co-authouring a book on warbler identification entitled "Warblers in Real Life" with expert photo-birder Tom Stephenson. It will be published this spring by Princeton University Press. I think that he and I would both agree that we're far more interested in the drab fall birds than the bright spring males. In fact, I often identify these confusing fall plumages as "good" plumages–more challenging, more fun to look at, and more educational. In the process of writing the book we did a lot of searching for images online; when you want, say, an underside shot of a bird, the best pool of photos come from amateurs–photo-birders if you will–because most pros will throw such images out!
From the beginning I've been told by birders and photographers alike, "You have to choose one or the other…birding or photography." Perhaps. Or perhaps not. But I think there's an important and rapidly growing group that doesn't feel the need to choose, a group that has found that the camera can both enhance their field experiences and improve their identification skills immensely. In addition, they still enjoy the challenge of capturing birds beautifully. Some of these people are truly expert birders whose birding skills are in the A and A+ categories. Many of them are producing fantastic images, often as a result of always being armed with a camera. It's an exciting and dynamic group, and I'm happy to count myself in it; we are the photo-birders.
I saw this species when the group visited the hummingbird paradise that is the home of Theo Ferguson. But never made an image….
Scott created this image on the boat trip to Little Tobago Island to try for tropicbirds.
Scott photographed this species from the veranda at Asa Wright; I never saw it.
Caligo Ventures
If you would like to stay at the avian-rich Asa Wright Nature Centre or visit Trinidad and Tobago you need to get in touch with the great folks at Caligo Ventures. They handle all North American bookings for the charming and legendary lodge located on a 2,000 acre tract of rainforest high in the Arima Valley of the Trinidad's Northern Range. You can contact them here.