And the Winners in the Flight Category Are!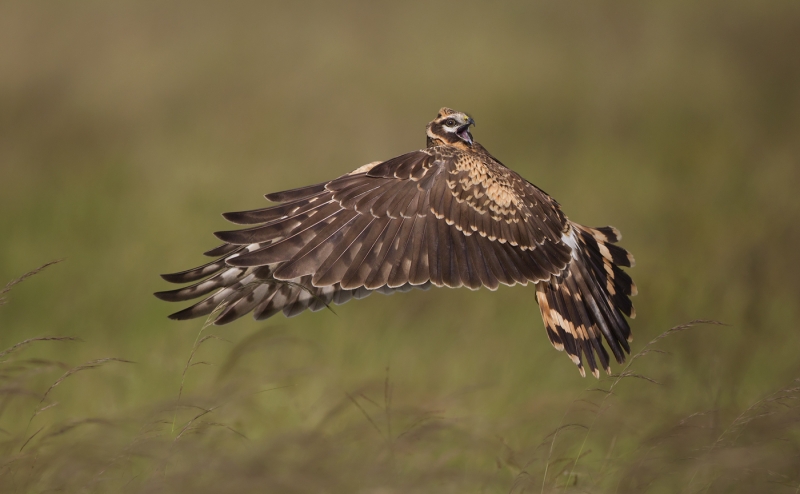 Congrats to Kiran Poonacha, Bangalore, India. His image, Pallid Harrier looking back, was awarded first place in the Flight category of the BIRDS AS ART 1st International Bird Photography Competition.
Canon 500mm f/4L IS lens with the EOS-1D Mark IV on a beanbag from an SUV. ISO 640. Evaluative metering at zero: 1/8000 sec. at f/4 in Av mode.
Pallid Harrier looking back, Kiran Poonacha
From Kiran:
I came across this female Pallid Harrier resting in the grasslands on the outskirts of Bangalore. I lost interest in her as she was sitting in tall grass and there was no clear shot but as I moved my SUV a Brahminy kite took a dive at her. Pallid Harrier is a winter visitor to India. When they first arrive they come under attack from the resident raptors for about a week. Anticipating another attack by the kite I readied my gear again in the SUV. The kite dove again and as the harrier took flight screaming in defense I fired a burst of frames.
The lovely out of focus background, the foreground grasses, the incredible sharpness, a pleasing image design, and the spectacular over-the-shoulder screaming pose with the bird braking in full downstroke with a perfect head angle and a spread tail all helped to put this one on top of a strong collection of flight images.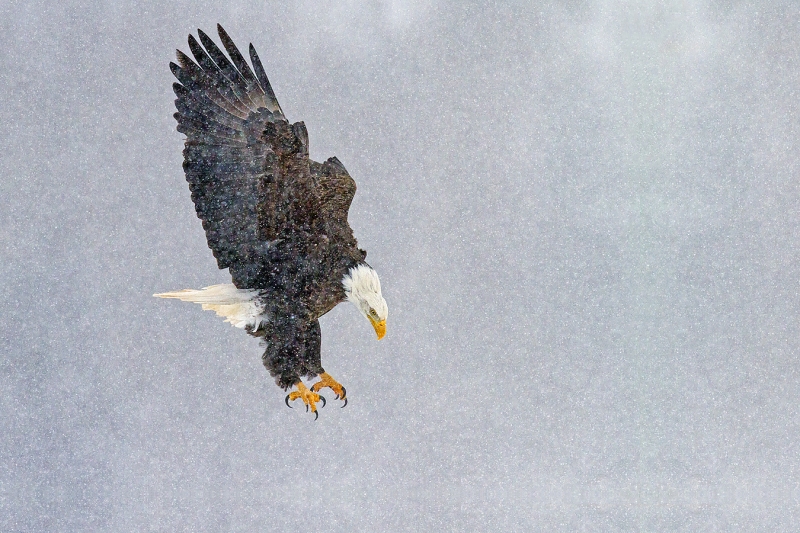 Congrats to Yves Guillot of Quebec City, Canada. His image, Bald Eagle in snow storm, was awarded 2nd Place place in the Flight category of the BIRDS AS ART 1st International Bird Photography Competition.
Canon 600 mm f/4L IS lens with a Canon EOS-7D on a Gitzo 3530 LSV tripod.
Bald Eagle in snow storm, Yves Guillot
From Yves:
This photo of a Bald Eagle in flight was taken in Sheffield Mills, Nova Scotia during the Bald Eagle Festival on February 3, 2011. It was snowing heavily that morning when this eagle approached and landed in front of us. Then it began screaming to the others that were flying around the field. For the past 20 or so years the local farmers have been feeding dead chickens to the eagles to help them get through the long, hard winters.
Razor-sharp focus on the eye, the perfect subject-to-imaging sensor orientation, the lovely wings up/feet down landing pose, excellent underwing detail, the bird's intense stare, and all that snow combine to make this a powerful and artistic image.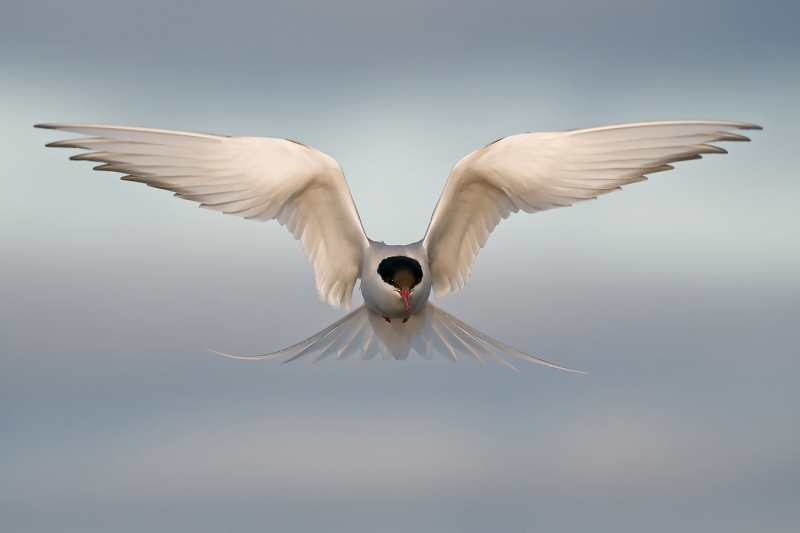 Congrats to Amir Ayalon of Tel Aviv, Israel. His image, Arctic Tern kiting, was awarded 3rd Place place in the Flight category of the BIRDS AS ART 1st International Bird Photography Competition.
Nikon D300, Nikon 300mm f/4 lens, a Gitzo 3530 LS tripod, and the WH 200 Wimberley head.
Arctic Tern kiting, Amir Ayalon
From Amir:
This image was created in Svalbard, an archipelago some 700 km north of Norway. Arctic tern is the bird with the longest migration route in the world; it travels about 70,000km each year almost from pole to pole and back again. During their lifetimes these birds will travel an astonishing 2.4 million kms!
I spent two weeks in Savlbard photographing birds and other wildlife; these beautiful Terns were my favorite species. The photograph depicts an arctic tern kiting just before diving into the water in search of small fish with a distant background of mountains and glaciers.
I have photographed a lot of Arctic Terns and seen a lot of great images of them over the past three decades, but this beautifully symmetric image that features soft light, a perfect exposure, the fanned tail, a sweet background, and excellent sharpness is the best by far.
Congrats!
Congrats to the three winning photographers and to those who created the 16 other spectacular images that made it to the final round of judging. Getting a single image to the final round is a great accomplishment. With 626 images, this was a hugely popular category.
The prizes (see below) will be shipped once all the winners are announced as several folks had more than one top three image. Be sure to patronize our sponsors; without them, this contest would not exist. There will be more educational stuff from this category coming soon.
| First Prize | Runner Up | Highly Commended | Sponsor |
| --- | --- | --- | --- |
| $100 Gift Certificate | $50 Gift Certificate | $25 Gift Certificate | B&H PHOTO VIDEO |
| choice of lens plate | P-5 camera body plate | Plamp | Wimberley |
| 16 GB 450 X UDMA Compact Flash Card | Sensor Scope | Universal Memory Card Reader | Delkin Devices |
| Level 3 Gift Subscription | Level 2 Gift Subscription | Level 1 Gift Subscription | Nature Photographer Magazine |
| $30 Discount Certificate | $25 Discount Certificate | $20 Discount Certificate | Canvas On Demand |
| Laptop Bag or Pixel Sunscreen | Pixel Pocket Rocket | AA Battery Holder | Think Tank |
| $50 Gift Certificate | $25 Gift Certificate | $10 Gift Certificate | Lens Coat |
| Mongoose M3.6 & Integrated Flash Arm | Canon/Nikon Camera Body Plate | . | 4th Generation Design |
| . | Better Beamer | Better Beamer Replacement Fresnel | Visual Echoes |
| TriKlear Kit | TriKlear Kit | TriKlear Kit | Lens Pen |
| ABP II | . | . | BIRDS AS ART |
| . | Double Bubble | . | HP Marketing |
| BreezeBrowser Pro/Downloader Pro Combo | BreezeBrowser Pro | Downloader Pro | Breeze Systems |
| Sito HD Version Gold Web Site | | | Sito HD |