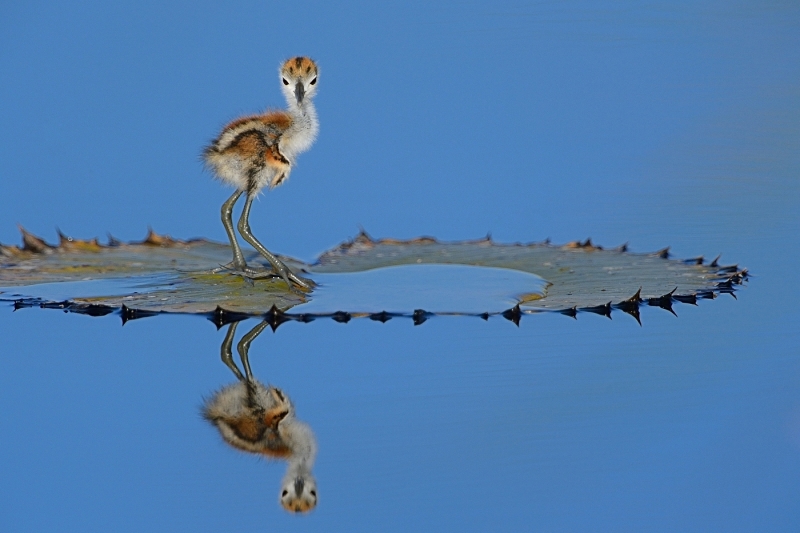 Congratulations to Lou Coetzer, of Pretoria, South Africa. His image, Jacana chick on Lily-leaf, was awarded first prize in the Portrait Category of the BIRDS AS ART 1st International Bird Photography Competition.
Nikkor 600mm f/4 VR with the TCE 2.0X converter and the Nikon D4. ISO 1000. EV -0.7: 1/3200 sec. at f/8 on custom-mounted Wimberley V-2 head.
Be sure to click on the image to enjoy it in its full glory.
First Place: Jacana chick on Lily-leaf, Lou Coetzer
From Lou: African Jacana chicks are precocial; they are up and about and fend for themselves right after hatching. While leading photographic safaris in April 2012 on the Chobe River, Northern Botswana, I was able to keep an eye on a stretch of water that we call "Jacana Alley" because of the abundance of African Jacanas. We had been watching a male sitting on a nest for several days waiting for the chicks to hatch. As we neared the nest on a still morning I was greeted by the amazing sight of 3 tiny, one-day old chicks running around on their own with no adult in sight. Such young chicks are rarely left out in the open….
One chick was separated from the other two and was working very hard to get back to its family. Attempting to make its way to the safety of a large reed bed it stopped on a water lily leaf for a moment, halted by a stretch of open water. As it contemplated its next move it looked straight at me for just a moment.
Then, out of the blue, the male jacana landed close to the chicks, called them to him, tucked them under his wings, and disappeared deep into the reed bed.
Almost without exception, everyone who has seen this image has been blown away by the killer sweet light, the killer-perfect reflection–I've never seen such a still morning, the sharpness, the beautiful lily pad, the impeccable composition, and the too-cute chick staring right down the lens barrel.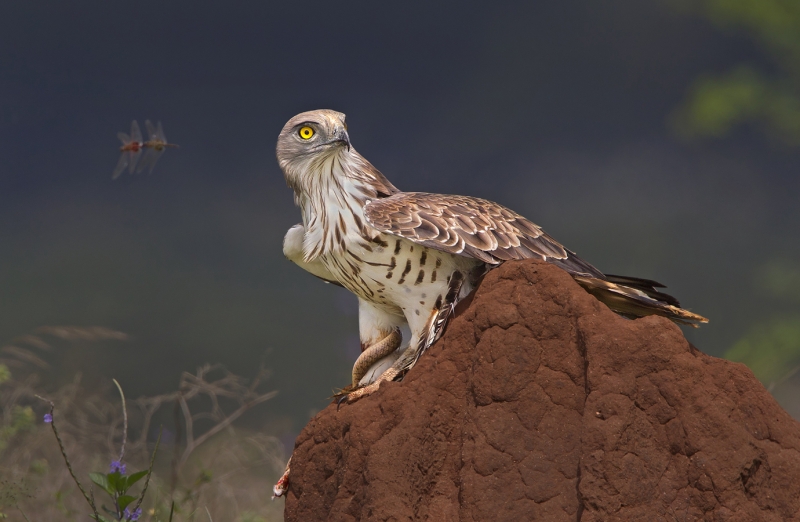 Congratulations to Kiran Poonacha of Bangalore, India. His image, Short-toed Snake Eagle with snake, was awarded second prize in the Portrait Category of the BIRDS AS ART 1st International Bird Photography Competition.
Canon EOS-1D Mark IV with the Canon 500mm f/4 L IS lens and the 1.4 X TC with a bean bag Bean Bag rested on SUV window.
Be sure to click on the image to enjoy it in its full glory.
2nd Place: Short-toed Snake Eagle with snake, Kiran Poonacha
From Kiran: As I was looking for raptors to photograph in the Karnataka grasslands on the outskirts of Bangalore. I saw this Short-toed Snake Eagle looking for food. I thought I might as well wait as there was not much activity going on. Luck being on my side he swooped down and got hold of a Checkered Keelback snake. Usually he would bite down on the snake and swallow it, but instead he decided to carry his prey to an anthill and then kill it. After a struggle the snake gave in and the bird made a successful kill. While the fight was on I moved in with my SUV as birds are not very shy when approached in a vehicle. After the eagle made the kill it took a break to look around if any other bird or animal was around to steal its food. At that moment I noticed a pair of mating dragonfly enter the frame and created a burst of images.
Wow! This image has is all: a beautiful bird on a lovely and unique perch; a lead grey background; some tiny flowers; the snake wrapped around the bird's far leg, its bloodied head below; and the raptor's yellow eye staring; soft, sweet light. All nicely framed by some out-of-focus vegetation.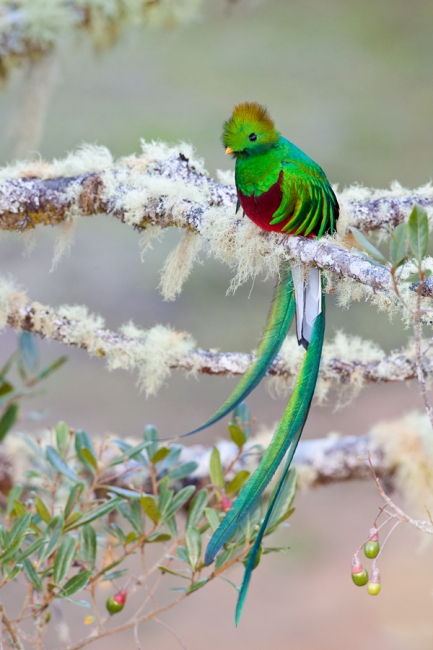 Congratulations to Judd Patterson of Palmetto Bay, FL. His image, Resplendent Quetzal (Pharomachrus mocinno), was awarded third place in the Portrait Category of the BIRDS AS ART 1st International Bird Photography Competition.
Canon EOS-5D Mark II with the Canon 500mm f/4 L IS lens, 550 EX Speedlite, Gitzo tripod.
Be sure to click on the image to enjoy it in its full glory.
Third Place: Resplendent Quetzal, Judd Patterson
From Judd: I had flown south into the "tropics" but now I was at nearly 10,000 ft in the cloud forest in the Savegre Valley, Costa Rica. The weather was decidedly cool, like a crisp fall morning in the Rocky Mountains. I knew that these birds nested in this particular valley, but I needed a little luck to find the right spot. In front of me was a marvelous tree full of small-fruited avocados, the perfect attractant. As the morning dawned several Resplendent Quetzals, surely one of the world's most spectacular birds appeared in the tree and were gorging on the fruit. As I looked over the lichen-encrusted branches, I could hardly believe my good fortune in finding such a fitting scene for this gorgeous bird.
There is not a lot to say here with an absolutely stunning bird in an absolutely stunning setting. In nice, soft light. I love the pose, the killer tail, and especially how the greens and plum colors on the avocado fruits match the colors of the bird.
Congrats!
Congrats to the three winning photographers and to those who created the eleven other spectacular images that made it to the final round of judging. Getting a single image to the final round is a great accomplishment. 1153 images entered, this category was, as expected, hugely popular, the most popular by far. And as many noted, many of the 14 images that went to the judges are beyond spectacular.
The prizes (see below) will be shipped once the Grand Prize winner is announced; several folks had more than one top three image. Be sure to patronize our sponsors; without them, this contest would not exist. There will be more educational stuff from this category very coming soon.
Bird Portrait Category Prizes
| First Prize | Runner Up | Highly Commended | Sponsor |
| --- | --- | --- | --- |
| $100 Gift Certificate | $50 Gift Certificate | $25 Gift Certificate | B&H PHOTO VIDEO |
| Choice of Lens plate | P-5 camera body plate | Plamp | Wimberley |
| 16 GB 450 X UDMA Compact Flash Card | Sensor Scope | Universal Card Reader | Delkin Devices |
| Level 3 Gift Subscription | Level 2 Gift Subscription | Level 1 Gift Subscription | Nature Photographer Magazine |
| $30 Discount Certificate | $25 Discount Certificate | $20 Discount Certificate | Canvas On Demand |
| Laptop Bag or Pixel Sunscreen | Pixel Pocket Rocket | AA Battery Holder | Think Tank |
| $50 Gift Certificate | $25 Gift Certificate | $10 Gift Certificate | Lens Coat |
| Choice of Canon/Nikon Lens Plate | Choice of Canon/Nikon Camera Body Plate | . | 4th Generation Design |
| . | Better Beamer | Better Beamer Replacement Fresnel | Visual Echoes |
| TriKlear Kit | TriKlear Kit | TriKlear Kit | Lens Pen |
| Magnum Xtrahand Vest | . | . | Vested Interest |
| ABP II | . | . | BIRDS AS ART |
| . | Double Bubble | . | HP Marketing |
| BreezeBrowser Pro/Downloader Pro Combo | BreezeBrowser Pro | Downloader Pro | Breeze Systems |
| Sito HD Version Gold Web Site | | | Sito HD |