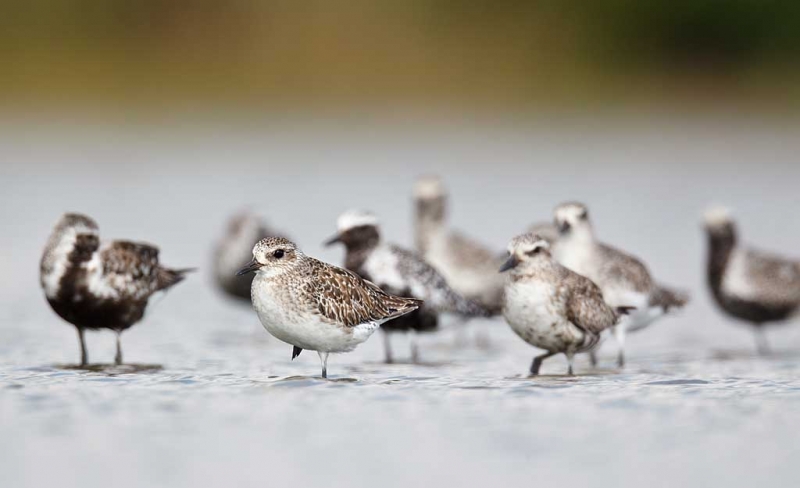 This group of southbound migrant Black-bellied Plovers was created at the north end of the East Pond at Jamaica Bay Wildlife Refuge, Queens, NY on the afternoon of August 13. I was on the ground behind my tripod-mounted Canon 800mm f/5.L IS lens, with the 1.4X III TC and the Canon EOS-1D Mark IV. ISO 400. Evaluative metering +1 stop: 1/320 sec. at f/9 in Av mode.
Central sensor (by necessity) AI Servo/Rear Focus AF on the closest bird's face and recompose. Click here if you missed the Rear Focus Tutorial. Click on the image for a larger version.
A Different Look/Lots to Learn
When I walked down the path to the East Pond late that afternoon everything was perfect. It was just before high tide when the birds from the surrounding bay are forced to the pond to feed, rest, and preen. And I had heard that the water level was perfect with lots of shoreline and habitat available for the shorebirds. The date was perfect too; the first juveniles of several species should have just arrived. As the pond came into sight, I saw that the water level was indeed perfect. There was only one problem. There were no shorebirds anywhere. There were no birds in the northwest corner of the pond. There are always birds in the northwest corner of the pond…. And there were no birds on the first spit to the south. Yikes!
As I walked south with all my gear I saw that there was a small group of shorebirds roosting in the shallow water just to the east of the second spit. I passed one photographer who was milling around photographing nothing. I made my way through the soft wet muck of Mud Cove–it was a bit messy and I was in old sneakers having forgotten to put on my preferred surf booties. I splayed the tripod legs and began the long belly crawl towards the flock that was made up of all adult birds. The adults are far more skittish than the juveniles that would be arriving en masse over the next two to eight weeks. I had a single young Semipalmated Sandpiper land in front of me and begin bathing. I waited for him to flap his wings after the bath and made six frames. You can see the best one and read that whole story here on BirdPhotographer's.Net.
That bird flew off and I continued my belly crawl. A group of three more juveniles SESAs landed right in front of me. I framed the image I wanted and just as I was getting ready to push the shutter button I heard a noise behind me and all three birds took flight. I glanced behind me to the right and learned that the photographer whom I had passed had decided to join me and scare my subjects away. As he was on the ground he should have easily been able to join me without flushing the small flock. But…. He was crawling atop a big black plastic garbage bag that rustled and snapped each time that he moved.
In as kindly a voice as possible I said to him, "If you want to stay with me as we try to approach the larger flock you need to leave the plastic bag behind. You just scared off the birds that I was on." He agreed to do so. As I began belly crawling I saw another problem–he was crawling rather than belly crawling; each time he moved forward he raised his butt about three miles in the air. He was crawling on his knees. I said, "You've got to keep your butt on the ground. Push your rig forward and then pull yourself forward with your elbows. You have to stay completely flat. If you are gonna crawl with me you need to learn to do it right." Heck, you can't beat free lessons.
After we moved up a bit more I realized that the relatively large flock was simply too far off for me to create images of the single birds. All were adults: mostly molting black-bellies with a few dowitchers and a single red knot in the mix. Three fading, molting adult Stilt Sandpipers fed along the outer margins of the resting flock. That's when I created the image above.
Here are some questions for you? You may find some or all of them to be educational in nature. Feel free to take a crack at one or all of them.
1-What was the main reason for creating this relatively wide image?
2-Why did I focus on a bird on the left side of the frame?
3-Why didn't I go to a much smaller aperture like f/18?
4-Why isn't the active focusing point showing in red in the BreezeBrowser screen capture below?
5-Why did I add one stop to the exposure?
6-Why was I on my belly?
7-Why was it necessary for me to use the central sensor?
8-Do you find the arrangement of the individual birds pleasing or not? Either way, why?
9-Why did I cut off the bird on the right frame-edge?
10-Why did I execute a small crop off the right side of the original frame?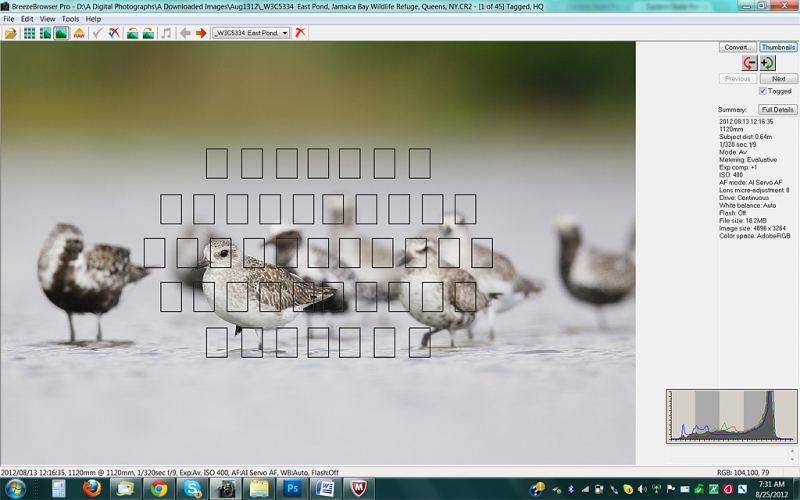 This is the BreezeBrowser Main View screen capture for the RAW image. You can see that I cropped a bit from the right and the bottom. Coming soon and finally: How to Run Breezebrowser on a Mac. Note that the latest version of BreezeBrowser supports the Canon EOS-5D Mark III.
Note as usual the perfect histogram with the light-toned bellies of the birds well to the right in the fifth histogram box. In The Art of Bird Photography II (ABP II: 916 pages on CD only) I teach you to get the right exposure using digital capture every time. Best of all, it is easy to learn.
Recommended Reading
Juvenile shorebirds will be arriving over the next week or two days all across the continental US. You can learn to age and identify all of them in my
Shorebirds; Beautiful Beachcombers
. Unlike many of the advanced guides this book is written in simple, easy to understand language. You will learn that at this time of year it is actually easier to age most species as either adults or juveniles than it it to identify them as to species. You can order a copy here. If you wold like your copy personalized let Jim know to hold it until I get back to Florida on 4 September.
New York City Weekend Nature Photography Seminar December 8-9, 2012
If you can learn this much in five minutes from a simple blog post think how much you will learn and how much your photography and image optimization skills will improve after you spend an entire weekend with Denise Ippolito and me…. See all the details and discount info here. If you live within a three hour drive of Staten Island and do not take advantage of this opportunity…. Nuf said. 🙂 It will be great.
Crazy B&H Canon Rebates
Crazy B&H Canon Rebates
B&H is offering crazy-huge instant rebates of up to $300 on a variety of Canon lenses and Speedlites including many of my absolute favorite intermediate telephoto lenses like the 70-200mm f/2.8L IS, the 70-200mm f/4L IS, and the 100-400mm L IS. Click here or on the image above now for complete details; these offers expire on 1 September.
Purchases made using the links above will help us be able to continue providing free information on the blog and in the BAA Bulletins.
Killer B&H Nikon Rebates
B&H is offering killer instant rebates of up to $450 on Nikon gear. First choose a camera body and then add a lens to the bundle. The Nikon AF-S Nikkor 24-70mm f/2.8G ED Autofocus lens is one of the choices! Remember, two of my very best friends are on the Black Side: James Shadle and Todd Gustafson both use Nikon gear and I love them both. Click here or on the image above for details.
Purchases made using the links above will help us be able to continue providing free information on the blog and in the BAA Bulletins.
Yikes!
The Nikon rebates expire tomorrow, August 25, at midnight. Honest; I just got them.
B&H Sigma Lens Specials
I have, on many occasions, seen the incredible images made by Robert O'Toole with the Sigma 50-500mm f/4.5-6.3 DG OS HSM APO autofocus lens. It is lightweight, relatively inexpensive, sharp as a tack at f/8, and it features an almost ridiculous minimum focusing distance. The OS refers to the optical stabilizer in the lens. Best of all, B&H is now offering some very nice rebates on both the Canon and Nikon versions of this lens as well as on a wide variety of other Sigma lenses.
Click here to learn more about the Sigma 50-500mm f/4.5-6.3 DG OS HSM APO autofocus lens with Canon mount.
Click here to learn more about the Sigma 50-500mm f/4.5-6.3 DG OS HSM APO autofocus lens with Nikon mount.
Click here to learn more about the rebate offers for all Sigma Canon mount lenses.
And click here to learn more about the rebate offers for all Sigma Nikon mount lenses.
Purchases made using the links above will help us be able to continue providing free information on the blog and in the BAA Bulletins.