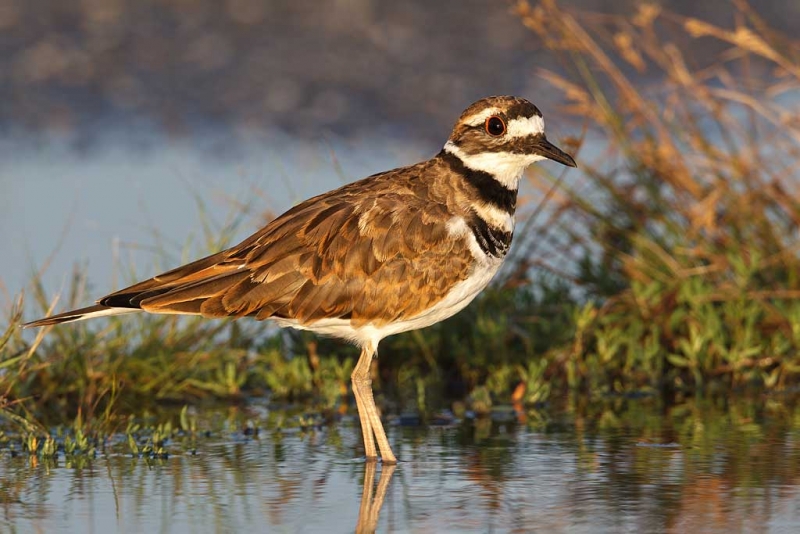 This adult Killdeer was photographed from my car with my rig resting on a folded up sweatshirt on the lowered driver's side window; oh how I wish that I had brought my travel BLUBB to NY! With the Canon 800mm f/5.L IS lens, with the 1.4X III TC and the discontinued Canon EOS-1D Mark IV. ISO 400. Evaluative metering -1/3 stop: 1/250 sec. at f/11 in Manual mode.
Central sensor (by necessity) AI Servo/Rear Focus AF on the closest bird's face and recompose. Click here if you missed the Rear Focus Tutorial. Click on the image for a larger version.
Living and Learning After the Thunderstorm
I had planned to head to the East Pond at Jamaica Bay Wildlife Refuge on Monday afternoon with my friend Tom Pfiefer, president of the Nature and Wildlife Photographers of Long Island group. The club has lots of highly skilled members and great speakers at most of their monthly meetings. Learn more about NWPLI here. But the weatherman intervened. And amazingly the predicted thunderstorms materialized so I stayed home and got some work done. Just before 6pm it got a bit brighter so I headed to a local state park that several folks had told me about. I found some shorebirds in a parking lot rain puddle and had a ton of fun. Better yet, I got to see my old friend Johann Schumacher. Johann goes back a lot further than Tom; we started photographing together at JBWR in the early '80s.
I worked the small killdeer flock on and off for about 90 minutes before heading home. The image above, the last one that I created, was my favorite though I did get lots of other keepers.
Clean-up Along With a New Content Aware Fill Trick
Bill and background clean-up–see the before and after animated GIF above–was as usual done with the Patch Tool, a few Quick Masks, Protect and Defend Cloning, and the Spot Healing Brush. But I have been trying Content Aware Fill recently with varying results–sometimes amazingly good and sometimes ludicrously bad. As with the Patch Tool, it is best to work large so that you can work small–if that makes any sense at all. Enlarge the image anywhere from 200% to 1000% depending on the size of the flaw and then work only on one single small flaw at a time. If there are several flaws in a small area and you try to repair them all at once you will usually be doomed to failure. Note: most of the background clean-up, as you can see in the animated GIF below, involved eliminated specular highlights. All of the above BTW is with CS-5.
All of the techniques above are of course covered in detail in our Digital Basics File that includes my complete digital workflow along with dozens of additional Photoshop tips and free updates.
With NIK Color Efex Pro: painted in 100% Detail Extractor to the whites of the face and neck with a Hide-All mask and an 80% layer of Tonal Contrast on the bird only after selecting the bird with the Quick Selection Tool. As regular readers know NIK's Color Efex Pro 4 is now an integral part of my workflow. You can save 15% on all NIK products by clicking here and entering BAA in the Promo Code box at check-out. Then hit Apply to see your savings. You can download a trial copy that will work for 15 days and allow you to create full sized images. Click here for a cool NIK tutorial.
I have CS-6 on my laptop, where, BTW, I optimize all of my very best images. When I open it I am totally confused. Tim Grey has graciously provided me access to a collection of his CS-6 video tutorials. I will report back as soon as I have a chance to study them and get started with CS-6. In the meantime, you can check them out here. The first one that I will be checking out is "Photoshop CS6 Quick Start for Photographers."
Anyway, back to my great new Content Aware Fill (CAF) trick. Previously, when using CAF I would first hit L for the Lasso Tool, and then use the CAF keyboard shortcut (Shift f5)–I hate to waste time with those drop-down menus. Then I would need to hit P for the Patch Tool (a custom made keyboard shortcut). Here is what I discovered. If I make a selection with the Patch Tool you can simply hit Shift f5 to activate CAF. This saves me lots of time as I do not have to repeatedly hit L and then P again when I want to try CAF while doing image clean-up. At times, CAF leaves small but telltale defects along the edges of the repair just as the Patch Tool does. Now I can simply do a quick Patch Tool repair to clean those up, again without having to toggle between L and P.
BTW again, all of our customized keyboard shortcuts and instructions on creating them are included in Digital Basics.
Avoiding Lumpy Bills
Working on small areas using the Patch Tool, small Quick Masks, the Spot Healing Brush, and Content Aware Fill will result in smooth repairs. If you use only the Clone Stamp Tool you will likely wind up with lots of lumpy looking repairs. Note the smooth appearance of the bill in the optimized tight crop in the animated GIF above.
New York City Weekend Nature Photography Seminar December 8-9, 2012
If you can learn this much in five minutes from a simple blog post think how much you will learn and how much your photography and image optimization skills will improve after you spend an entire weekend with Denise Ippolito and me…. See all the details and discount info here. If you live within a three hour drive of Staten Island and do not take advantage of this opportunity…. Nuf said. 🙂 It will be great.
Crazy B&H Canon Rebates
Crazy B&H Canon Rebates
B&H is offering crazy-huge instant rebates of up to $300 on a variety of Canon lenses and Speedlites including many of my absolute favorite intermediate telephoto lenses like the 70-200mm f/2.8L IS, the 70-200mm f/4L IS, and the 100-400mm L IS. Click here or on the image above now for complete details; these offers expire on 1 September.
Purchases made using the links above will help us be able to continue providing free information on the blog and in the BAA Bulletins.
B&H Sigma Lens Specials
I have, on many occasions, seen the incredible images made by Robert O'Toole with the Sigma 50-500mm f/4.5-6.3 DG OS HSM APO autofocus lens. It is lightweight, relatively inexpensive, sharp as a tack at f/8, and it features an almost ridiculous minimum focusing distance. The OS refers to the optical stabilizer in the lens. Best of all, B&H is now offering some very nice rebates on both the Canon and Nikon versions of this lens as well as on a wide variety of other Sigma lenses.
Click here to learn more about the Sigma 50-500mm f/4.5-6.3 DG OS HSM APO autofocus lens with Canon mount.
Click here to learn more about the Sigma 50-500mm f/4.5-6.3 DG OS HSM APO autofocus lens with Nikon mount.
Click here to learn more about the rebate offers for all Sigma Canon mount lenses.
And click here to learn more about the rebate offers for all Sigma Nikon mount lenses.
Purchases made using the links above will help us be able to continue providing free information on the blog and in the BAA Bulletins.