Grand Prize: You Be the Judge
Join in the fun and learn a ton while you still have the chance by clicking here. Voting for the Grand Prize winning image in the BIRDS AS ART 1st International Bird Photography Competition will be closed at 8am this coming Tuesday, September 18.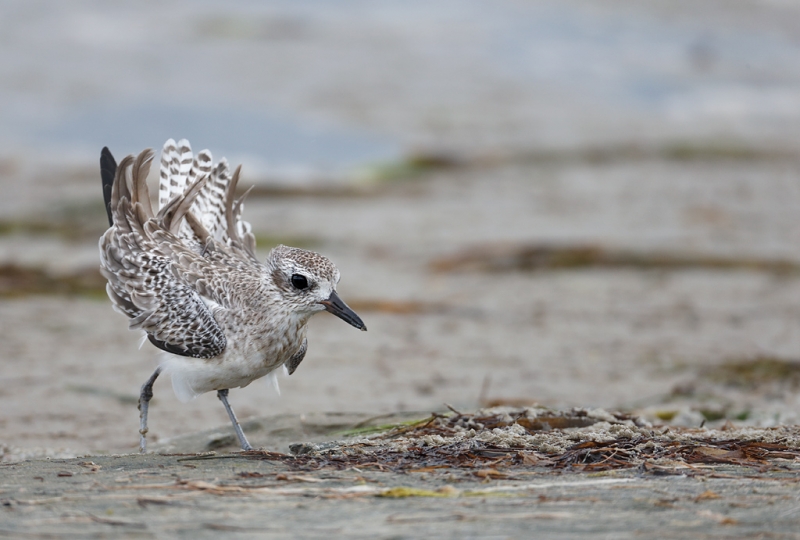 This image of a molting adult Black-bellied Plover was created yesterday afternoon from my SUV with the Canon EF 800mm f/5.6L IS USM Autofocus Lens and the Canon EOS-1D X Digital SLR Camera (Body Only). ISO 800. Evaluative metering +1 stop: 1/800 sec. at f/5.6 in Manual mode. The big lens was supported by a BLUBB (Big Lens Ultimate BeanBag) resting on the lowered window of my vehicle. Converted in DPP.
61-Point AI Servo/Rear Focus AF active at the moment of exposure. Click here if you missed the Rear Focus Tutorial. Click on the image for a larger version.
Pissed Off
Not me, the plover. 🙂 This bird was a big bully. It spent most of the afternoon beating up other black-bellieds and bluff-charging the SHort-billed Dowitchers that were foraging nearby. I managed a few frames of one fight but with the wind from the east I got nothing usable. In this image the bird is performing a threat display that is being directed at another plover feeding nearby in an effort to defend its feeding territory.
As you might surmise I am loving my 1D X. The AF system is actually better than the similar AF system in the 5D Mark III . As I said before I even got my hands on a 1D X, "It will be a 5D III on steroids." My assessment proved to be accurate. That said, the 5D III has a superbly effective and accurate autofocus system.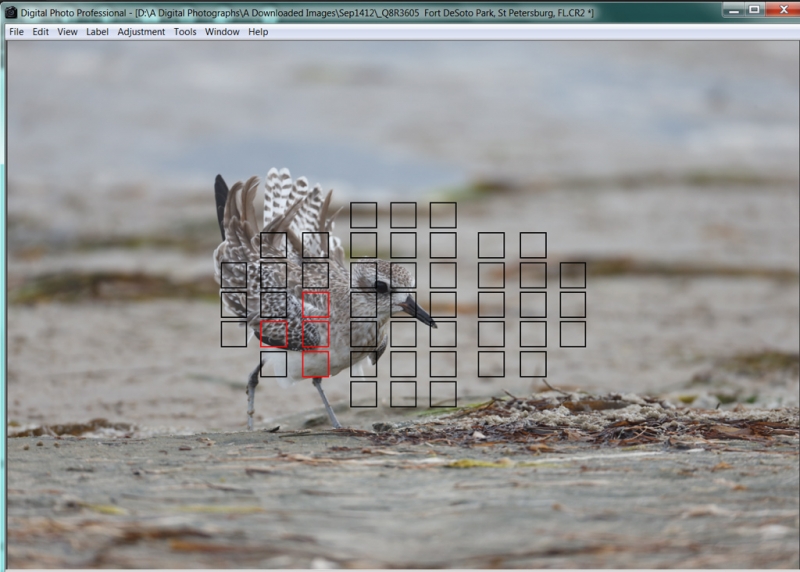 This is a DPP (Digital Photo Professional) screen capture showing the active AF points at the moment of capture.
1D X AF
Even though the latest version of BreezeBrowser Pro supports the 1D X, the Show Focus Points feature does not function. As you can see in the screen capture above showing the original image, 61-Point AF worked superbly here (though I could have pointed the lens even more to the right). Note that I cropped from the left and below to get the subject even more into the corner of the frame. I have set up my 1D X so that only three of the AF Area Selection Modes are active. I will be sharing all of my thoughts on the 1D X AF system in the 1D X User's Guide; as I am beyond swamped, it will be a while before I even begin working on that….
Careful readers will note that I have been doing more and more of my 1D X conversions with DPP recently, that with help from brilliant BPN member Arash Harzeghi. I am trying hard to get Arash to write a basic guide to doing conversions in DPP as the results are clearly superior to ACR conversions in terms of color fidelity and image quality.
NIK COlor Efex Pro
Note that the bird in the optimized image that opens this blog post seems spotlit. After I applied an 80/3O NIK layer (80 Tonal Contrast/30 Detail Extractor) I painted the effect in on the bird using a Hide-All Mask. Then I clicked on the layer and pulled the curve (Control M) quite a bit to lighten only the subject. A new technique was born. I love the spotlit look of the subject as compared to its dreary rendition in the original capture as seen in the screen capture.
Learn how to use Regular and Hide-All Masks in our Digital Basics File, an e-mailable PDF that includes our complete digital workflow, our customized keyboard shortcuts, and dozens of great Photoshop tips.
NIK 15% Discount
As regular readers here know, NIK Color Efex Pro has drastically changed my digital workflow. Remember that you can save 15% on all NIK products by clicking here and entering BAA in the Promo Code box at check-out. Then hit Apply to see your savings. You can download a trial copy that will work for 15 days and allow you to create full sized images.
Shop B&H
Shop B&H. Support the BAA Blog. Support the BAA Bulletins. Show your appreciation by making your purchases immediately after clicking on any of the links below. We want and need to keep providing you with the latest free information, photography and Photoshop lessons, and all manner of related information.