News Flashes
The Digital Photo Professional RAW Conversion Guide
I am working with Arash Hazeghi on a short new eGuide, The Digital Photo Professional RAW Conversion Guide (The DPP RCeG). It should be finished in a few days. As regular readers know I have been working more and more in DPP, at first with my 1D X files, and more recently with all of my Canon RAW files. There are many advantages. The eGuide, which should be available this week, will cost $10 and will be sent as a PDF.
Digital Basics News
The basics of converting Canon RAW images in DPP will be included in the next update of Digital Basics. As always, updates are free to all who have purchased Digital Basics. Once the next update is complete, the cost for new purchasers of Digital Basics will go up, from $20 to $25. Buy Digital Basics now or before the next update is released and you will effectively get the DPP Conversion info for free when the update becomes available.
The 1D X Autofocus Guide
The 1D X Autofocus Guide is available for $25. All of the early reviews have been overwhelmingly positive. Click here for more info (see item 1) or here to purchase.
"The Photographers Guide to Attracting Birds"
The amazing "Photographers Guide to Attracting Birds," available for only a week, has also been receiving rave reviews. Click here for more info or to purchase.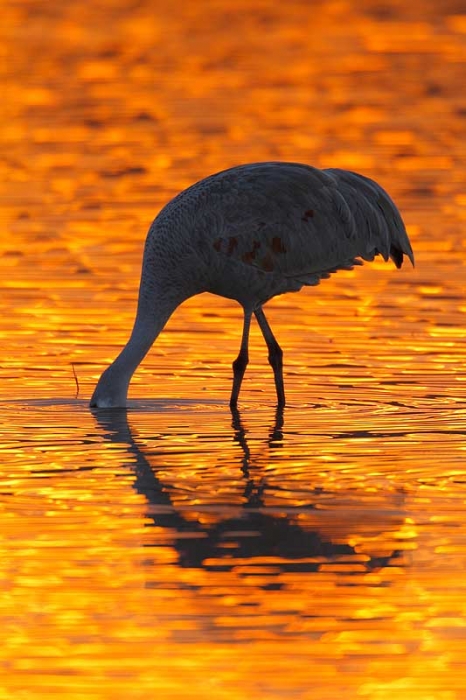 This Sandhill Crane was photographed at sunset at Bosque del Apache NWR in San Antonio, NM with the Canon EF 800mm f/5.6L IS USM Autofocus lens, the Canon 1.4x EF Extender III (Teleconverter), and the unfortunately discontinued EOS-1D Mark IV. ISO 1250. Evaluative metering +1 stop: 1/125 sec. at f/8 in Tv mode.
Central sensor/AI Servo/Rear Focus active at the moment of exposure. Click here if you missed the Rear Focus Tutorial.
Your browser does not support iFrame.
Sunrise/Sunset Silhouette Magic: No Flash Needed
The JPEG above represents the original capture. The image is neither here nor there. It is not an effective silhouette with the crane and its reflection in the pond jet black. There is not enough light on the bird to make the image interesting. At times, hitting the shadowed side of the bird with some flash can yield spectacular results. But using flash is somewhat of a pain. And digital is magic, right? Lastly, the small branch sticking out of the water just beyond the bird's head is distracting.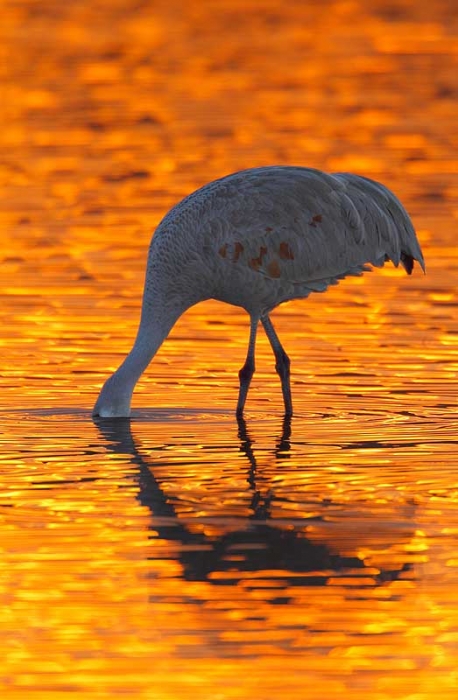 This was my first attempt at improving the image. I used Content Aware Fill to eliminate the protruding stick.
I used the Quick Selection Tool to select the bird. Once I made my initial selection I worked large and fine-tuned the edges of the selection. (Holding the Alt key down allows you to subtract from the selection as you paint.) I made sure to save the selection. Then I put the selection on its own layer (Control J) and used curves on a layer (Control M) to lighten the bird only by pulling the curve up. Better, but no cigar.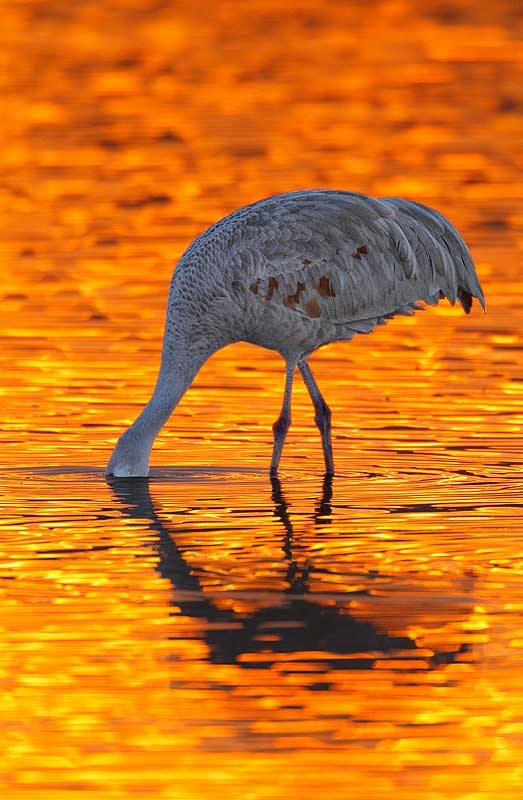 Now you're talking!
I was still not too happy with the image so I brought the bird only on its own layer in NIK Color Efex Pro. I applied Detail Extractor at 80% followed by Tonal Contrast at 30%. Digital is magic but here, Color Efex Po was the magician. The final image looks more natural than if I had used flash in the field. Almost forgot, I reloaded my saved selection, selected inverse, and applied a bit of Tonal Contrast to the background only.
The animated GIF above gives you an idea of the progression from the original image through to the optimized master file.
NIK 15% Discount
As regular readers here know, NIK Color Efex Pro has drastically changed my digital workflow. You can save 15% on all NIK products by clicking here and entering BAA in the Promo Code box at check-out. Then hit Apply to see your savings. You can download a trial copy that will work for 15 days and allow you to create full sized images.
NYC Weekend Nature Photography Seminar
Presented by Denise Ippolito/A Creative Adventure and Arthur Morris/BIRDS AS ART
Hilton Garden Inn, Staten Island, New York. December 8-9, 2012 from 9am-4:30pm.
Weekend: $169. SAT or SUN: $99. Lodging available for out of town guests.
Saturday: Image Capture Sunday: Image Evaluation and Processing
Click here for complete details including the Saturday and Sunday schedules, club and group discount info, and registration incentives and for more info on the In-the-Field Seminar Follow-up Workshop.
Artie, the grizzled veteran, is widely noted as one of the premier bird photographers, tour leaders, and educators on the planet. Denise, who specializes in flowers, is the mega-creative up-and-comer, a popular lecturer, a skilled field instructor, and an amazing Photoshop wizard who will share her tips and tricks with you. Both artie and denise are full time professional nature photographers.
BIRDS AS ART Instructional Photo-Tours
Click here for complete IPT information including the current schedule and links to general IPT info, deposit and cancellation policies. and the required registration and release forms.
Shop B&H
Shop B&H. Support the BAA Blog. Support the BAA Bulletins. Show your appreciation by making your purchases immediately after clicking on any of the links above or below. We want and need to keep providing you with the latest free information, photography and Photoshop lessons, and all manner of related information. Remember, B&H ain't just photography!