98.6 Percent…
ABP vs ABP vs DB
When I'm home, you can find me most mornings sitting in my office in the back of the house where we added two big rooms in 2010. I am usually working on my laptop: on images, on a blog post, or on a bulletin. Or tackling the Sisyphean task of answering e-mails. Sports Center or a Criminal Minds rerun is on the big flat screen TV. Most days my right hand Jim Litzenberg visits holding a few softcover copies of the original "The Art of Bird Photography" for me to sign. Inside each is the printed order form from the BAA On-line Store. I need to look at each sheet for the buyer's name so that I can personalize the book with my red Flair pen–I stole that idea from Roger Tory Peterson after he died in 1996. Out of curiosity I look at the sheet to see if the order is for the softcover book alone, or for the two-book bundle, "The Art of Bird Photography" (ABP) and "The Art of Bird Photography II" (ABP II: 916 pages on CD only).
To nearly everyone's credit, 98.6% of the folks who order ABP also order ABP II. That always puts a smile on my face. Oh how I wish that the information available in the two books were available when I started on August 7, 1983…. As regular readers know, one of my pet peeves is folks who own $20,000+ worth of photography gear who won't spend a minute studying or learning and won't spend a dime on learning to hone their skills.
We receive several e-mails each week asking about the merits and the specifics of the original "The Art of Bird Photography" (in soft cover), "The Art of Bird Photography II" (ABP II, 916 pages on CD only), and our Digital Basics File (DB), a PDF sent via e-mail.
To clear up any confusion I offer the following:
The original "The Art of Bird Photography" was first published in hardcover book in 1998 by Amphoto. It quickly became the classic how-to book on the subject. About 15,000 copies of this edition were sold. It was re-released in soft-cover in 2003; more than 17,000 additional copies sold in soft cover. The very great strength of the book is chapter on Exposure which offers complete coverage of exposure theory and its practical application. Though all of the images are film-based, ABP covers the basics with always-relevant chapters on selecting the right focal length lens, autofocus, light, making sharp images, composition and image design, getting close, photographing action and behavior, and evaluating and selling your work. And of course, there is the killer chapter on exposure theory.
About five years ago after learning that Amphoto had let the book go out of print, I bought the rights, digitally re-mastered the cover, and had 5,000 copies printed in Hong Kong and delivered to my home in Indian Lake Estates, FL. On four huge palettes. 5,000 is a lot of books. See "It's a Miracle" here.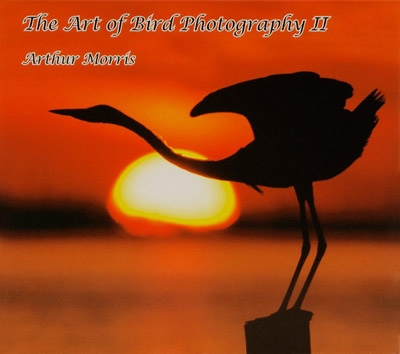 In January 2003, I began work on "The Art of Bird Photography II" (ABP II). "The Art of Bird Photography II is the all-new continuation of the original "The Art of Bird Photography; The Complete Guide to Professional Field Techniques." At 916 pages with more than 900 images, ABP II is available only on CD. One chapter covers all aspects of Digital Photography and includes a section on understanding histograms. It also includes our complete digital workflow along with tons of great Photoshop tips. Other chapters include "Equipment; What's New?," "Advanced Composition and Image Design," "It Ain't Just Birds," and "Advanced Sharpness Techniques & Creating Pleasing Blurs." The "Practicalities" chapter will include a detailed section on setting up your backyard for bird photography as well as sections on photographing on safari and on the tundra. In addition it covers the every day aspects of handling and transporting your equipment from setting up your tripod to packing and traveling by air with your gear. Nearly all of the images in the book include all the technical data as well as our legendary educational captions. Most chapters include one or more galleries designed to illustrate and reinforce the principles covered in the text. There are two copies of the book on the CD. The "Spreads" version is best if you would like to enjoy the beauty of the images and the layout and design. The "Single Pages" version was designed for easy reading. The "Exposure and Flash Simplified" chapter re-visits two subjects that give folks the most trouble. Since the publication of ABP in 1998 we have refined and simplified our teaching in these two areas and these new approaches are covered in this all-new material. "Is the sun in or out? What is the overall tonality of the scene? When the sun is out at full strength your evaluative or matrix meter is smart. When it is cloudy, the same meter is dumb and needs your help. In addition to teaching this new approach to exposure the section on flash covers the use of fill flash, the use of flash as main light, and—for advanced students—the use of Manual Flash as main light. Other than the information in this chapter, virtually all of the material in ABP II is new. It is a professionally burned and manufactured CD replete with a cardboard CD case and CD face art.
After beginning work on ABP II, I realized that the CD book would not be ready for quite some time–that turned out to be an under-estimate–but that the information on digital photography, Breezebrowser and Downloader Pro, and Photoshop was of great value to the legion of folks just getting started in digital photography. This, thus we began offering our Digital Basics File (DB) that includes free updates for as long as I am around pushing the shutter button.
With more than 3,500 copies sold to rave reviews, Digital Basics has succeeded beyond our wildest dreams. On the other hand, it is surprising that we have not sold ten times as many. Why? First off, we have received nothing but positive feedback. DB was created so that folks with no digital experience can be optimizing their images exactly as I do within minutes; just print the section on digital workflow, open an image in Photoshop, and follow the script. It's that simple. My approach to Photoshop is a direct one; because I have so many images to process, my choice is to make the images look as good as possible in the shortest amount of time and DB teaches you to do just that. While teaching my Instructional Photo-Tours it amazes me that during both our imaging critique sessions and our Photoshop sessions I find that many photographers, including more than a few experienced ones, have no clue as to how to make their images look great in Photoshop. In addition, they do not understand how to use Photoshop to automate a variety of tasks. When I ask, "Do you have our Digital Basics File?" the answer is always, "No." It makes you think: these folks have spent huge sums of money on equipment and joined an IPT, yet they have not spent the additional $20 or $30 that would greatly improve the quality of their processed images and reduce the time that it takes for them to optimize an image. (Most of my family jewels are optimized in three to ten minutes…)
The Source of Confusion
The Digital chapter in ABP II contains virtually the same information as the April 2005 version of Digital Basics. Over the years Digital Basics has been updated numerous times. What's in it now? My complete digital workflow. Detailed instructions for converting your images in Adobe Camera Raw. Dozens of great Photoshop tips including making and using Color Range selections, non-destructive dodging and burning, removing color casts, adding and filling canvas, image clean-up and repair techniques using Quick Masks, regular and hide-all Layer Masks, the Patch Tool, the Clone Stamp Tool, and the Spot Healing Brush. The "Basics of Quick Masking" and the "Layer Masking for Dummies" sections alone are worth the price of admission. For these and many other reasons, we advise that serious digital photographers purchase both ABP II for the amazing wealth of information that it contains and DB so that they can receive the free DB updates that contain the latest and greatest Photoshop techniques that I continue to add to my repertoire each year.
Best Advice
If you do not have ABP and ABP II, click here to save $10 and get both in a single fell swoop. The click here and order a copy of Digital Basics.
If you already own all three, hit the books.
NYC Weekend Nature Photography Seminar
Presented by Denise Ippolito/A Creative Adventure and Arthur Morris/BIRDS AS ART
Hilton Garden Inn, Staten Island, New York. December 8-9, 2012 from 9am-4:30pm.
Weekend: $169. SAT or SUN: $99. Lodging available for out of town guests.
Saturday: Image Capture Sunday: Image Evaluation and Processing
Click here for complete details including the Saturday and Sunday schedules, club and group discount info, and registration incentives and for more info on the In-the-Field Seminar Follow-up Workshop.
Artie, the grizzled veteran, is widely noted as one of the premier bird photographers, tour leaders, and educators on the planet. Denise, who specializes in flowers, is the mega-creative up-and-comer, a popular lecturer, a skilled field instructor, and an amazing Photoshop wizard who will share her tips and tricks with you. Both artie and denise are full time professional nature photographers.
BIRDS AS ART Instructional Photo-Tours
Click here for complete IPT information including the current schedule and links to general IPT info, deposit and cancellation policies. and the required registration and release forms.
Delkin 700X CompactFlash Pro UDMA Enabled Cards
You can learn more about Delkin's new 700X CompactFlash Pro UDMA Enabled Cards by clicking here and learn why the 1000X cards are overkill for still photographers. These cards are as important to my 5DIII as the batteries in the vertical battery grip!
Shopper's Guide
Thanks a stack to all who have used the Shopper's Guide and our B&H affiliate links to purchase their gear as a thank you for all the free information that we bring you here on the Blog and in the Bulletins. Before you purchase anything be sure to check out the advice in our Shopper's Guide.
Shop B&H
Shop B&H. Support the BAA Blog. Support the BAA Bulletins. Show your appreciation by making your purchases immediately after clicking on any of the links above or below. We want and need to keep providing you with the latest free information, photography and Photoshop lessons, and all manner of related information. Remember, B&H ain't just photography!