A Greener View
After Jeff Rugg read the "Field Etiquette for Nature Photographers" post here, he sent me the column that he has written for the weekly newspaper column that he writes. He was writing for permission to mention the blog in his column; I gladly assented. Jeff's Yellow-rumped Warbler Art image was awarded first prize in the Digital Category in the BIRDS AS ART 1st Annual Bird Photography Competition. You can see his image here.
I thought it apropos to share this with you here in a guest blog post.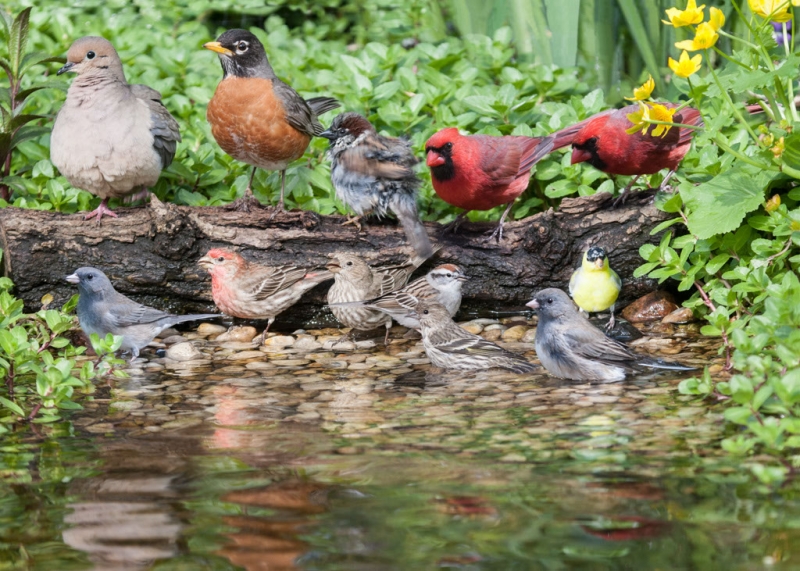 Jeff enjoys creating avian composite images. He created the files for this one in his backyard with the old EOS-30D (replaced now by the EOS 7D) and the Canon EF 100-400mm IS L zoom lens. He did not need to worry about having others scare off his birds.
From Jeff: "This bird bath composite was created in the bird bath area of my water garden. I used the Canon 30D set on a tripod with the Canon 30 foot remote cable release. When I saw a bird striking a good pose, I created an image. The first shot was at 10:20am and the last one was 4:46pm all on April 10 of this year. The shutter speed varied. All at f/5.6, ISO 160, at 200mm.
For more on the 7D/100-400 combo see "How Dan Cadieux Masters Canon EOS-7D Image Files."
A Greener View
By Jeff Rugg
It is the political season and that seems to bring out the worst in human behavior. I won't be getting into politics in this article, but I would like to talk about proper etiquette while people are roaming around in nature. If you, like me, have been on a bike or hiking trail this summer, you may have seen some familiar scenes. First, there are the trail hogs. They are having a great time talking about who knows what and who knows who and while doing so they are taking up the whole width of the trail. They often seem oblivious to the natural surroundings and to anyone else who wants to use the trail. Second, there are the speed demons. They may be running or riding a bike and they are not to be trifled with. Pity the poor trail hogs when a speed demon is on the same trail.
Next, there are people with dogs. The dogs are almost always supposed to be on a leash, but the rules don't say the leash can't be 500 feet long. Dogs can frighten some people, but they can really frighten animals. Have you been to the beach this summer? Did you see someone sending their dog running into flocks of gulls and shorebirds? Last, we have people who loudly interrupt or barge on past bird watchers and nature photographers. Parks and wildlife are 'used' by lots of people with differing needs and that can lead to confrontations.
What do all these situations have in common? Lack of knowledge of proper natural area etiquette. In cities, people don't usually make eye contact, but in nature most people are friendlier and are often willing to stop and talk. Trail hogs need to pay more attention to their surroundings and note when other people are approaching; they need to be courteous enough to allow passage without hindering other people. Trail runners, joggers and mountain bikers all need to realize there will be slow people on the same trail and give them enough advance notice of their approach that they can safely get out of the way. Dog owners need to realize that terrorizing people and wildlife is never appropriate, even for gulls or squirrels. This advice also applies to beach joggers and driving on the beach.
Bird watchers and wildlife photographers are usually cognizant of their affect on birds and other animals, but not on people. Other park users may not realize their own affect on an animal when they just walk right up to someone who spent a lot of time trying to get close to a bird or another animal. Birders and photographers may need to notice other people more often. People will often stop from walking in front of a camera and wait for the photographer to take a picture, but they shouldn't be made to wait forever. It is not appropriate to approach birders or photographers without their first acknowledging your presence, just as it is not appropriate for them to ignore people trying to use the same area of the park. If after several minutes the photographer has not acknowledged your presence, it is appropriate to quietly ask if you can approach or move past.
The bigger concern is not about disturbing the person, but about disturbing the objects of their attention, the birds and animals that they are photographing. It may be more appropriate for the photographer to move towards you, so that the wildlife is not bothered by too many people getting too close.
If you are interested in more information on field etiquette for nature photographers, Arthur Morris writes an incredibly good blog on his Birds As Art website and he recently covered this topic. Check it out at www.birdsasart-blog.com and I am sure you will not be disappointed at the photography and the information he delivers. If you or someone you know is interested in nature photography, Mr. Morris has written several excellent books that would make great holiday presents.
To find out more about Jeff Rugg and read features by other Creators Syndicate writers and cartoonists, visit the Creators Syndicate website here.
Article Copyright 2012: Jeff Rugg and Creators.Com
What Do You Think?
Take a moment to leave a comment and share your thoughts with Jeff in my absence. Denise Ippolio and I are on a Cheeseman's Ecology Safaris Southern Ocean expedition until 11/11.
NYC Weekend Nature Photography Seminar
Presented by Denise Ippolito/A Creative Adventure and Arthur Morris/BIRDS AS ART
Hilton Garden Inn, Staten Island, New York. December 8-9, 2012 from 9am-4:30pm.
Weekend: $169. SAT or SUN: $99. Lodging available for out of town guests.
Saturday: Image Capture Sunday: Image Evaluation and Processing
Click here for complete details including the Saturday and Sunday schedules, club and group discount info, and registration incentives and for more info on the In-the-Field Seminar Follow-up Workshop.
Artie, the grizzled veteran, is widely noted as one of the premier bird photographers, tour leaders, and educators on the planet. Denise, who specializes in flowers, is the mega-creative up-and-comer, a popular lecturer, a skilled field instructor, and an amazing Photoshop wizard who will share her tips and tricks with you. Both artie and denise are full time professional nature photographers.
BIRDS AS ART Instructional Photo-Tours
Click here for complete IPT information including the current schedule and links to general IPT info, deposit and cancellation policies. and the required registration and release forms.
Shop B&H
Shop B&H. Support the BAA Blog. Support the BAA Bulletins. Show your appreciation by making your purchases immediately after clicking on any of the links above or below. We want and need to keep providing you with the latest free information, photography and Photoshop lessons, and all manner of related information. Remember, B&H ain't just photography!