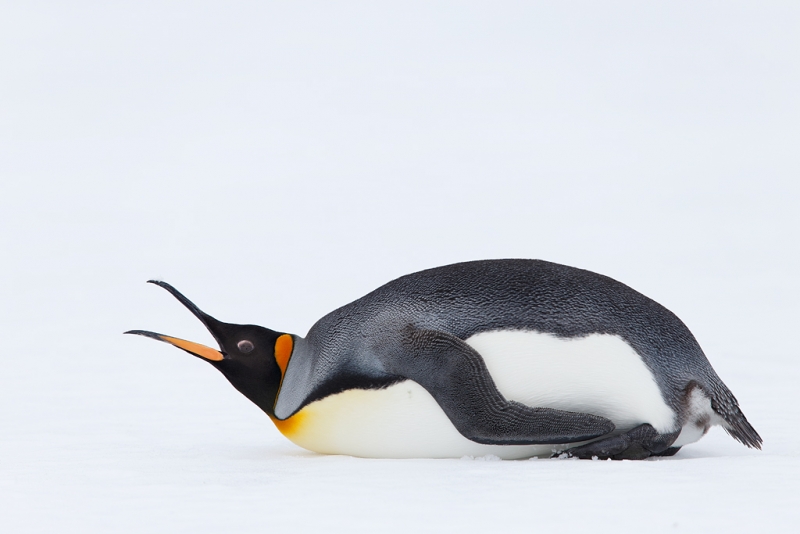 This image of a King Penguin resting on the snow was created at Fortuna Bay, South Georgia with the tripod-mounted Canon 500mm f/4L EF IS II USM Lens and the Canon EOS-1D X. ISO 400. Evaluative metering +2 1/3 stops: 1/1600 sec. at f/5.6 in Manual mode.
Central sensor/AI Servo Rear Focus AF and recompose. Click here if you missed the Rear Focus Tutorial. Be sure to click on the image to enjoy a larger version.
Your browser does not support iFrame.
Nearly Back…
It is Sunday, November 11, 2012. I am sitting in the Admiral's Club at the Miami Airport waiting to catch my 10:05 am flight to Orlando. Denise Ippolito and I enjoyed a wonderful, productive, amazing, and often exhausting trip to South Georgia and the Falklands with Cheesemans' Ecology Safaris. I should be home in time to catch the first NFL game. There will be lots more coming on this great trip soon.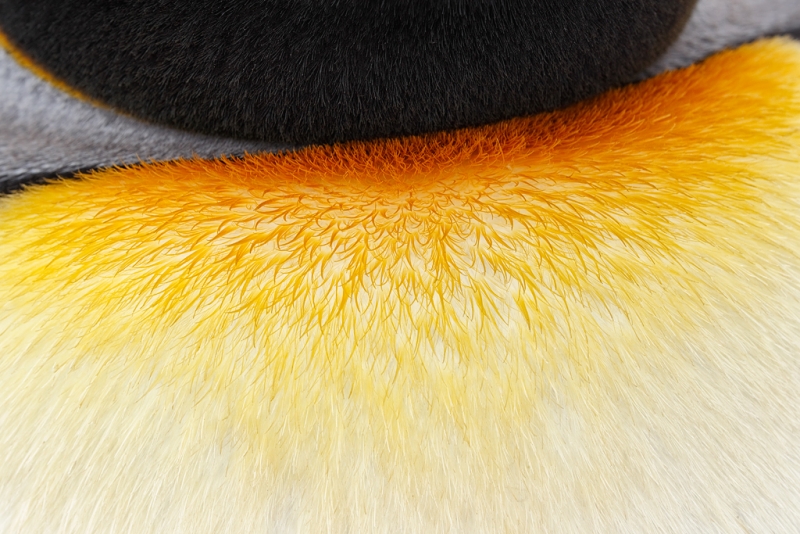 This abstract King Penguin neck pattern image was created at St. Andrews Bay with the tripod-mounted Canon EF 300mm f/2.8L IS II USM Telephoto Lens, the Canon 2x EF Extender III (Teleconverter), and the unfortunately discontinued EOS-1D Mark IV. ISO 400. Evaluative metering +1 2/3 stops: 1/125 sec. at f/16 in Manual mode.
Central sensor/AI Servo Rear Focus AF and recompose. Click here if you missed the Rear Focus Tutorial. Be sure to click on the image to enjoy a larger version.
To learn why I used the 300 and the 1D IVI rather than the 500 and the 1D X to create this image see the "Wrecked" blog post coming soon.
Your browser does not support iFrame.
Rat Eradication Auction
On the last evening of the expedition cruise, a live auction was held to raise funds for the Rat Eradication Project that is sponsored by the South Georgia Heritage Trust. Learn more about the project here and here. BIRDS AS ART donated a traditional 16X24″ print of each of the three images that are posted here. Early in the trip, CES expedition staff naturalist Joe Kaplan was recruited as the auctioneer while delirious with a 103 degree fever. He did a bang-up job and had many folks rolling on the floor with his killer sense of humor.
A copy of "Antarctic Oasis: Under the Spell of South Georgia" by CES expedition staff members Tim and Pauline Carr–autographed by the authors and by Prince Phillip went for $700. The defeated bidder immediately offered to donate $600 for a copy of the book signed by Tim and Pauline. One turned up almost immediately.
On to the King Penguin prints. All-around nice-guy, systems engineer, and trivia expert (he knew something about pretty much everything) Jon Eidinger made a generous bid of $295 for the Resting King Penguin image. Joe Kaplan just about swallowed his gavel when his wife Chris opened the bidding for the King Penguin Abstract at $400. Going once, going twice, sold! In the last and most hotly contest auction multiple-IPT participant Alan Lillich (with wife Pat's approval) outbid Aravind Krishnaswamy walked away with the King Penguin HDR image after posting the winning bid of $750. Though I am not sure of the total, this year's auction raised a record amount of money. And the entire amount was matched by a most generous benefactor who chose to remain anonymous.
Rat Eradication Project leader Professor Tony Martin, stated on-line, "When Captain Cook first set foot on the island in 1775 this was perhaps the most important seabird breeding island in the world. By far the majority of birds have been removed by one agent – rats – which man introduced. What we're doing is turning back the clock two centuries to try to get the island back to where it was; and it's something we do believe can be accomplished."
South Georgia Heritage Trust's objective is to remove every rodent from every piece of land on South Georgia, and leave it rodent-free for generations to come. Hopefully, this will allow seabird populations to thrive on the island once more. To find out more about the rat eradication project, visit the South Georgia Heritage Trust's website.
Cheesemans' is to be applauded for giving the expedition participants the chance to generously support the projects fundraising efforts. It was a thrill for BIRDS AS ART to be a small part of the evening's events.
Help Kill a Rat
If you would like to help the South Georgia Trust with their most ambitious project we would be glad to send you a signed 16X24″ traditional print of one of the three images here for only $249.95 plus $14.95 shipping to US addresses only. $50 of your purchase price will be donated to the Rat Eradication project. Call Jim at 863-692-0906 to order your print.
Which?
Take a moment to let us know which of the three images is your favorite. And be sure to let us know why. It is interesting to note that the same species is featured in each of these dramatically different images.
EOS-5D Mark III USer's Guide
Learn to use both the 5D Mark III's in-camera HDR and Multiple Exposure features along with everything that I know about this lightweight, 22 million mega-pixel gem of a camera by clicking here.
"The EOS-1D X Autofocus Guide"
Learn how best to use the 1D X's new AF system in the recently released EOS-1D X Autofocus Guide. But for iTR AF, the 1D X has the same great autofocus system that was introduced with the 5D Mark III. Only better. The 60-page eBook includes 19 screen captures along with everything that I know about the 1D X AF system. Instructions on how to use all AF-related buttons, dials, and wheels and my settings for all AF-related Menu Items. Of special interest to bird photographers will be my comments and strategies involving Cases 1-6, the custom-Case that I created and use for most of my bird photography (with detailed instructions for setting it up of course), my strategy for Select AF area selection mode (on AF4, the fourth purple menu), and pretty much anything that has to do with 1D X autofocus….
This eBook is written in my customary easy-to-read, easy-to-understand, easy-to-follow style. Few realize the time and effort that goes into creating a guide of only 7,000 words; can you say "tedious"? Do note that writing how-to requires a huge amount of study, writing, re-writing, and fact checking in order to come up with something that is clear and concise. As is usual, I needed lots of help on this guide and as usual, I got it from my friend Rudy Winston, Canon Advisor, Technical Information. Rudy's knowledge of the various Canon digital camera bodies is encyclopedic and is exceeded only by his helpfulness and generosity.
I am not sure if I will ever publish a complete 1D X User's Guide as most everything is covered in the 5D III User's Guide. Be sure to save the e-mail that brings you your 1D X AF Guide PDF because if I wind up doing a 1D X User's Guide you will receive a $25 discount.
To order your copy now, click here, call Jim at 863-692-0906, or send a check for $25 to us at BIRDS AS ART, PO Box 7245, Indian Lake Estates, FL, 33855. If the latter, be sure to let us know what you are paying for and include your typed or clearly written e-mail address.
Shopper's Guide
Thanks a stack to all who have used our B&H affiliate links to purchase their gear as a thank you for all the free information that we bring you on the Blog and in the Bulletins. Before you purchase anything be sure to check out the advice in our Shopper's Guide.
Shop B&H
Support the BAA Blog. Support the BAA Bulletins. We want and need to keep providing you with the latest free information, photography and Photoshop lessons, and all manner of related information. Show your appreciation by making your purchases immediately after clicking on any of the links above. Remember, B&H ain't just photography!