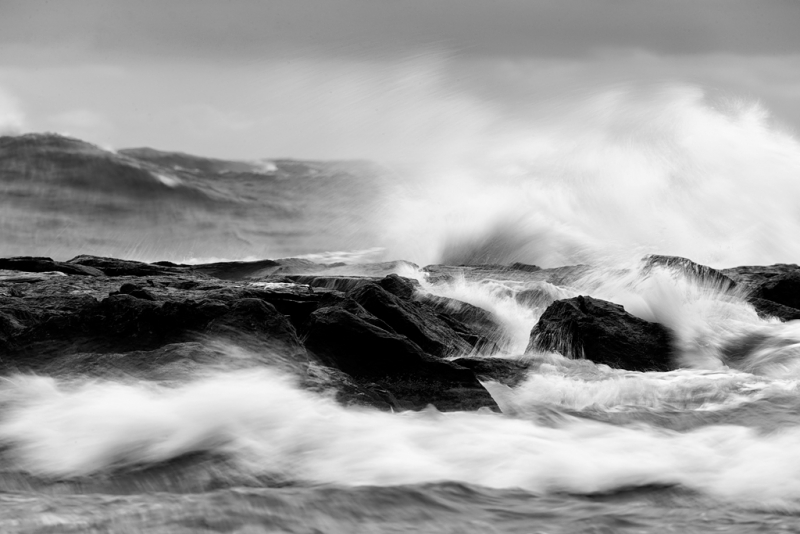 As I have been saying, it was a bit windy at the Barnegat Jetty on Friday and Saturday. This image was created with the tiipod-mounted Canon EF 800mm f/5.6L IS USM Autofocus lens and the Canon EOS-1D X digital SLR . ISO 50. Evaluative metering +1 2/3 stops as framed: 1/10 sec. at f/14 in Manual mode. Central sensor/AI Servo Surround/Rear Focus AF on the nearest rock on our left and re-compose. Click here if you missed the Rear Focus Tutorial. Click on the image to see a larger version.
Your browser does not support iFrame.
Malicious Attack
Yesterday was a rough day at BIRDS AS ART. Unbeknownst to us, all BIRDS AS ART sites including the blog and the website were the target of a malicious hacker attack that commenced on Sunday, 23 DEC at 6:10pm. With Peter Kes being Johnny on the spot and with great help from our web hosts, the folks from Empowering Media, everything was under control by midday on Christmas Eve.
Those of you who were mis-directed or received error or virus warnings can click here to safely view yesterday's post, "Barnegat Miracle." Apologies to all who were inconvenienced in any way.
Seasons Greetings
Seasons greetings to all from Jennifer, Jim, Peter, and me. Enjoy family and friends, get out and make a few images, and don't eat too much! Please accept our best wishes for a happy, healthy, and prosperous 2013.
NIK 15% Discount
The image above was optimized with the High Contrast Red Filter in NIK's Silver Efex Pro and with both Tonal Contrast and a small dose of Detail Extractor from NIK Color Efex Pro. As regular readers here know, Color Efex Pro has drastically changed my digital workflow and little by little I have begun using Viveza to solve sticky image optimization problems. You can save 15% on all NIK products (including Color Efex Pro, Silver Efex Pro, and Viveza) by clicking here and entering BAA in the Promo Code box at check-out. Then hit Apply to see your savings. You can download a trial copy that will work for 15 days and allow you to create full sized images.
Support the BAA Blog. Support the BAA Bulletins.
We want and need to keep providing you with the latest free information, photography and Photoshop lessons, and all manner of related information. Show your appreciation by making your purchases immediately after clicking on any of the links above. Remember, B&H ain't just photography!
Shop Amazon
Consider doing all of your Amazon.com shopping using the search link below. You'll be getting the same low prices and great service that you are accustomed to and at the same time, supporting my efforts in the Bulletins and on the Blog to bring you great images, timely product news and info, and tons of free educational articles on an almost daily (and sometimes almost back-breaking) basis 🙂 Just type your search in the little white box and hit Go.