Chestnut-mandibled Toucan Magic
Having been home only six days since October 16 and having been swamped with travel, teaching, photography, image optimization, and writing (as in the blog and the Bulletins) it has been great to have had a bit more time to be active on BPN (Bird Photographer's.Net) lately. I came across the image above here in the Avian forum on the evening of December 24th.
It was created by BPN member Vikram Potdar of Pune, Maharashtra, India. It is published here with his permission.
The following is adapted from my comments:
Welcome Vikram, This is actually a fine image that needed better processing and some tender loving care. I love the pose and the bird and perch and the background. There seems to have been some foliage between you and the bird's tail and the face could have been a tad sharper–you may have focused on the toucan's back. Subtracting light in this situation seems to be an error; zero or even some plus compensation would have pushed the histogram to the right where it should have been. In addition, a minimum of ISO 400 or even ISO 800 would have given you some valuable depth of field.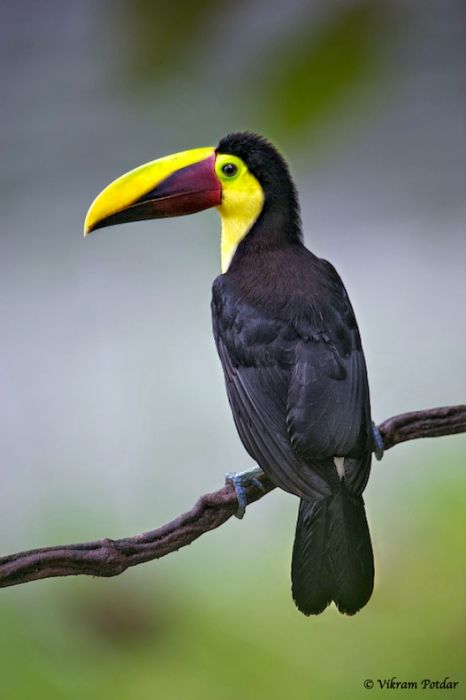 This is my repost. You can see it in Pane #5 here.
For the repost I corrected the huge green cast with (about) a 75% average blur color balance, ran NIK Color Efex Pro Detail Extractor (at about 40% with a Quick Selection Tool selection) and Tonal Contrast (at about 33% via a Hide All Mask) on the bird only, did a bit of bill clean-up, lightened the face with a Tim Grey Dodge and Burn, and sharpened the face with a Quick Mask and a 15/65/0 Contrast Mask.
All of the above as described in detail in Digital Basics which includes my complete digital workflow, dozens of great Photoshop tips, all of my keyboard shortcuts, "Layer Masking for Dummies," and NIK Color Efex Pro basics. This PDF which is sent via e-mail will be the best $25 that you ever spent on photography.

NIK 15% Discount
After the color balance was corrected, the judicious use of Detail Extractor on the toucan image here was the key to improving the photograph. As regular readers know, Color Efex Pro has drastically changed my digital workflow and lately I have begun using Viveza to solve sticky image optimization problems. You can save 15% on all NIK products (including Color Efex Pro, Silver Efex Pro, and Viveza) by clicking here and entering BAA in the Promo Code box at check-out. Then hit Apply to see your savings. You can download a trial copy that will work for 15 days and allow you to create full sized images.
The animated GIF above clearly shows the improvements that were made in the repost. Note especially the detail on the back that was there the whole time and revealed with the judicious use of Detail Extractor.
Arctic Pro Muck Boots
On my first trip to the Southern Oceans in 2007, I ordered a pair of Arctic Pro Muck Boots on the advice of many. I returned them and went with too-large and too-heavy neoprene waders. For my two 2012 trips I ordered a pair of Arctic Pro Muck Boots. I got them large enough to wear with one pair of heavy socks and one pair of regular socks. Wow! My feet were always dry and always warm. They were tall enough for all the wet landings, even those in heavy surf. This year I wore them at Bosque. My always cold feet were never cold. Last week I wore them on the Barnegat Jetty. Never cold at all. They enabled me to stand in the saltwater pools next to the jetty on the crazy wind-driven high tides that we encountered. And on the jetty, they provided firm footing at all times. (Warning: unless you have ice creepers, never walk on black, dark green, slimy jetty rocks….)
I can enthusiastically and unequivocally recommend a pair of Arctic Pro Muck Boots for all cold weather situations (wet or dry!). You can order yours using the link above and help support our efforts on the blog and in the Bulletins.
Weekend Creative Nature Photography Seminar, Tampa, FL: February 23 & 24, 2013: $149 Limit: 50/Openings: 21
Join Denise Ippolito and Arthur Morris on the weekend of February 23-24 on the outskirts of Tampa, FL for two days of fun and learning. Learn to improve your photographic skills, your skill at designing images in the field, your creative vision, and your image optimization skills. Sunday critiquing session. Click here for additional details and the complete schedule. Best to register soon as the seminar is filling up nicely.
Support the BAA Blog. Support the BAA Bulletins
We want and need to keep providing you with the latest free information, photography and Photoshop lessons, and all manner of related information. Show your appreciation by making your purchases immediately after clicking on any of our B&H (or Amazon.com) Affiliate links in this blog post. Remember, B&H ain't just photography!
Shop Amazon
Consider doing all of your Amazon.com shopping using the search link below. You'll be getting the same low prices and great service that you are accustomed to and at the same time, supporting my efforts in the Bulletins and on the Blog to bring you great images, timely product news and info, and tons of free educational articles on an almost daily (and sometimes almost back-breaking) basis 🙂 Just type your search in the little white box and hit Go.

You can find other types of Muck Boots by simply typing "muck boots" in the little white box below and hitting Go. Thanks!