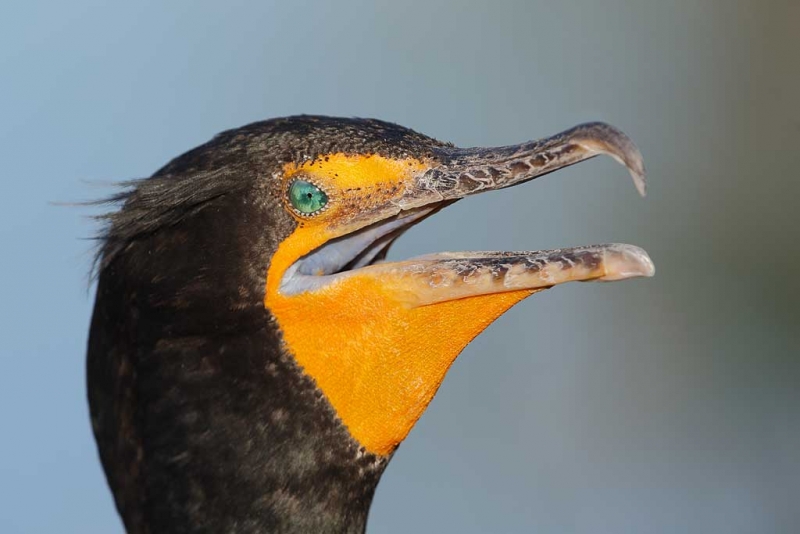 Double-crested Cormorant, gular panting. This image was created at Anhinga Trail on the sunny afternoon of Thursday, February 7th with the hand held Canon EF 300mm f/2.8L IS II lens, the Canon 2x EF Extender III (Teleconverter), and the Canon EOS-1D X digital SLR . ISO 800. Evaluative metering -1/3 stop: 1/640 sec. at f/10 in Av mode.
OK boys and girls, put your thinking caps on: why ISO 800 in bright late after sun? Was it simply a mistake or did I have a good reason? If the latter, what was my thinking. Notice the beautiful rich texture and detail in the bright yellow-orange colors of the gular sac (or pouch).
Central sensor AI Servo Expand/Rear Focus AF active at the moment of exposure. I had the central sensor on the side of the bird's breast on the same plane as the eye. Click here if you missed the Rear Focus Tutorial. Click on the image to see a larger version.
Your browser does not support iFrame.
Anhinga Trail is Rocking
I picked up Denise and our friend and private client Geri Georg at the Fort Lauderdale airport on Thursday afternoon and after checking into the Hampton Inn we headed straight to Anhinga Trail in Everglades National Park where I will–with help from Denise, be conducting the Canon Digital Learning Center Destination event beginning Friday night and continuing through late Sunday. The good news is that Anhinga Trail is pretty much packed with tame birds. I will be sharing more images from the DLC shoot here as often as I can over the next few days. But I will be busy.
The bright yellow-orange bills of this species have long been problematic. What is the best way to restore detail to those bright yellow-oranges? With this image I ran a Linear Burn and followed that up with a 50% layer of NIK Color Efex Pro's Detail Extractor. But I still was not happy. See the animated GIF below and then read on for the simple, long-overlooked, but deadly solution.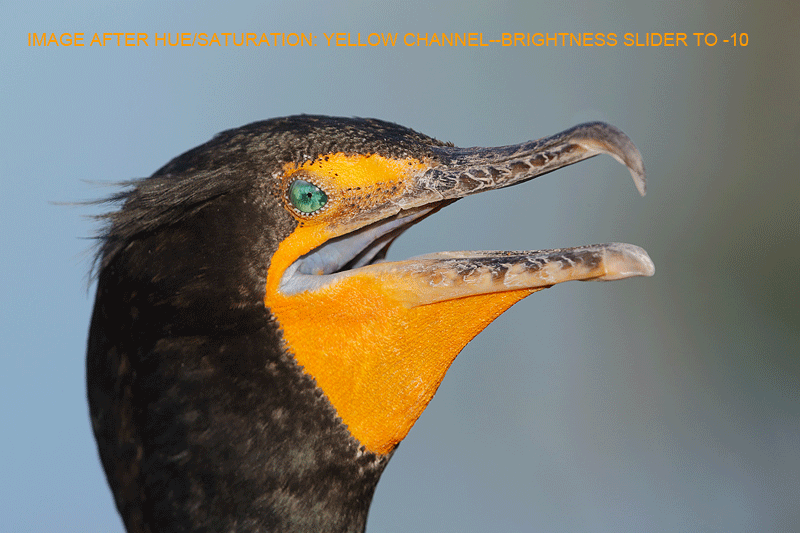 Give the animated GIF above a few moments to play. Note the before and after differences. Be sure to click on the optimized image below to see the large version of the optimized file.
The Simple, Long-overlooked, Yet Deadly Effective Solution
I optimized this image at dinner last night, and when I looked at it again on Friday afternoon I thought, "Those yellow-oranges are still too bright with nowhere near enough detail…." Then, a brainstorm. I brought the image back into Photoshop, opened a Hue-Saturation Layer, selected the yellow channel from the drop-down menu, and rather than de-saturating the image I simply moved the Brightness slider to the left to -10. Volia. Now I have a new trick that I will use often for too-bright, seemingly over-saturated colors.
Not that I lightened the area around the eye with a Tim Grey non-destructive Dodge and Burn and cleaned up the schmutz–don't ask, it a technical term from the Yiddish language–on the bill with the Patch Tool and a series of warped Quick Masks. All as detailed in our Digital Basics File that includes my complete digital workflow, dozens of great Photoshop tips, all of my time-saving Keyboard Shortcuts, and free updates.
MP4 Photoshop Tutorial Videos
See and hear me at work in Photoshop in these great MP4 instructional videos. Cheap! You can see them all and learn more here and learn about our latest offering here.
Southwest Florida IPT $600 Late Registration Discount!
If you would like to join us on the Southwest Florida IPT (see below) please call Jim on Monday at 863-692-0906 to register or shoot me an e-mail to save one of the two availble spots for you. Or contact me via e-mail for a pro-rated quote if you can make only part of this great IPT.
SW FLA IPT. FEB 16-21, 2013. Introductory slide program: 7pm on 2/15. 6-FULL DAYS: $2999. Co-leaders: Denise Ippolito and Robert Amoruso. Limit: 10/Openings 2 due to two late cancellations
Payment in full is due now
This is my bread and butter IPT; learn the basics and the advanced fine points from the best; escape winter's icy grip and enjoy tons of tame birds! Subjects will include nesting Great Blue Heron and Great Egret, Mottled Duck, Brown and White Pelican at point-blank range, Snowy & Reddish Egret, Tricolored Heron, Yellow-crowned Night Heron, Osprey, wintering shorebirds and plovers, gulls and terns, & Burrowing Owl. All ridiculously tame. Roseate Spoonbill, Black-bellied Whistling Duck, American Oystercatcher, and who knows what are possible.
Click here to learn more about this IPT.
Pines West Camera Club EOL Program
I will be presenting "A Bird Photographer's Story" for the Pines West Camera Club in Pembroke Pines, FL at 7pm on February 12, 2013. The program, sponsored by Canon Explorers of Light, is free and open to the public. Click here for additional details and scroll down for directions.
Typos
On all blog posts, feel free to e-mail or leave a comment regarding any typos, wrong words, misspellings, omissions, or grammatical errors. Just be right. 🙂
Support the BAA Blog. Support the BAA Bulletins: Shop B&H here!
We want and need to keep providing you with the latest free information, photography and Photoshop lessons, and all manner of related information. Show your appreciation by making your purchases immediately after clicking on any of our B&H or Amazon Affiliate links in this blog post. Remember, B&H ain't just photography!
If you are considering an item for purchase or comparison shopping be sure to place an item in your cart to see the too-low-to show the actual price. In many cases the prices are so low that B&H is forbidden from publicizing them!
Support the BAA Blog. Support the BAA Bulletins: Shop Amazon here!
Consider doing all of your Amazon.com shopping using the search link below. You'll be getting the same low prices and great service that you are accustomed to and at the same time, supporting my efforts in the Bulletins and on the Blog to bring you great images, timely product news and info, and tons of free educational articles on an almost daily (and sometimes almost back-breaking) basis 🙂 Just type your search in the little white box and hit Go.