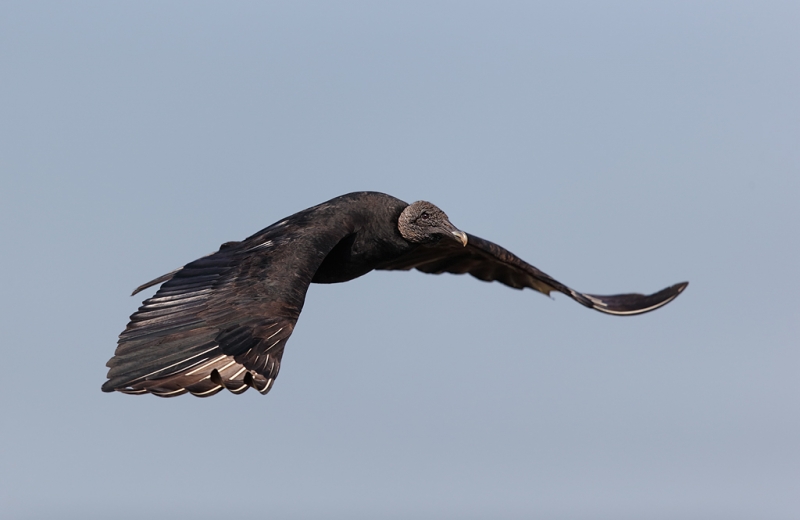 This Black Vulture in flight was photographed with the hand held Canon EF 600mm f/4L IS II USM lens and the Canon EOS-1D X Digital SLR Camera (Body Only). ISO 400. Evaluative metering +1 stop off the blue sky 35 degrees up from the horizon: 1/5000 sec. at f/5.6
Central sensor Surround/AI Servo/Rear Focus AF active at the moment of exposure. Click here if you missed the Rear Focus Tutorial. Click on the image to see a larger, sharper version.
This is my first keeper hand held flight image with the Canon EF 600mm f/4L IS II USM lens. Be sure to see the animated GIF below to see how NIK Color Efex Pro's Detail Extractor brought this image to life.
Your browser does not support iFrame.
Loving My New 600 II
My brand new 600 II arrived at the motel late on Friday afternoon. In short, I am totally in love. The light weight with the balance much farther to the rear makes it easy for even this old man to hand hold it for flight. Do understand that it is much easier to hand hold a big lens for flight and action than for static images. With the latter it takes much more strength to hold the lens steady for more than a few seconds (unless you are seated or otherwise able to support the lens).
Though I own the 500II, the 600 II is already my go-to super-telephoto lens. You will be seeing lots more 600II images with both teleconverters here over the next few weeks. The 600 II is incredibly amazingly sharp with both the Canon 1.4x EF Extender III (teleconverter) and the Canon 2x EF Extender III (Teleconverter). At some point I will be doing the promised blog post comparing the Canon 500mm f/4L EF IS II USM lens with the Canon EF 600mm f/4L IS II USM lens.
If you missed the comparison of the 800 f/5.6L IS and the 600 f/4L IS click here to see the results that surprised many.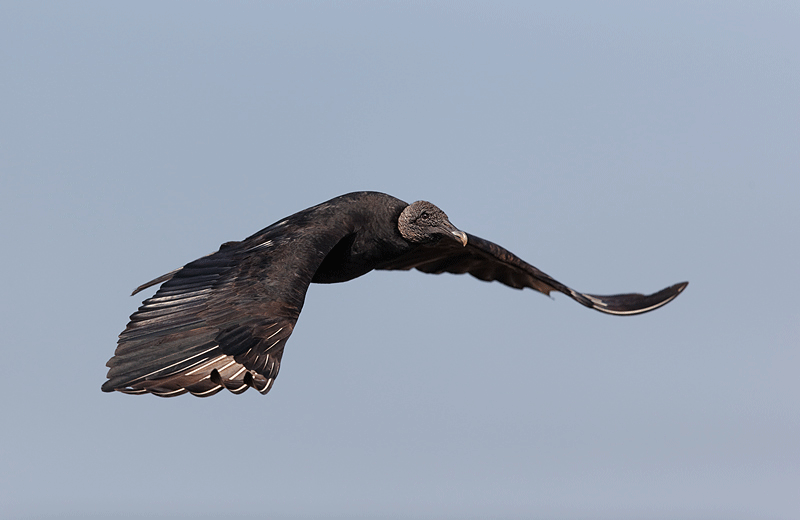 Give the animated GIF above a few moments to play. Note the before and after differences. Be sure to click on the optimized image below to see the large version of the optimized file.
NIK Color Efex Pro Detail Extractor Rocks
Here I chose to go with (only) +1 stop off the sky. But my exposure call was right on as adding only 1/3 stop to the exposure in DPP resulted in blinkies in the vulture's white primary webs. I relied on NIK Color Efex Pro's Detail Extractor to reveal the detail in the BLACKs. Do understand that with the white primary webs properly exposed that the BLACKs were 1 2/3 to 2 full stops underexposed. Yet with the remarkable latitude of quality digital files the detail was there. I selected the bird with the Quick Selection Tool, brought the image into NIK Color Efex Pro, and ran a layer with 50% Detail Extractor and 15% Tonal Contrast. Then, after merging that layer I selected the bird's face with the same tool, put the face on its own layer, applied a 15/65/0 Contrast Mask, and then lightened that layer with a Curves adjustment (Control M). Voila. Be sure to click on the opening image to see the larger version.
All of the above as described in detail in Digital Basics which includes my complete digital workflow, dozens of great Photoshop tips, Layer Masking for Dummies, all of my Keyboard Shortcuts, and tons more. Digital Basics, a PDF that is sent via e-mail, will be the best $25 you'll ever spent on your photography. Your purchase includes free updates.
NIK 15% Discount
A 30% layer of Detail Extractor and Tonal Contrast fine-tuned via a Regular Layer Mask really brought this image to life. As regular readers know, Color Efex Pro has drastically changed my digital workflow and little by little I have begun using Viveza to solve sticky image optimization problems and Silver Efex Pro fo fast, dramatic B&W conversions. You can save 15% on all NIK products (including Color Efex Pro, Silver Efex Pro, and Viveza) by clicking here and entering BAA in the Promo Code box at check-out. Then hit Apply to see your savings. You can download a trial copy that will work for 15 days and allow you to create full sized images.
MP4 Photoshop Tutorial Videos
See and hear me at work in Photoshop in these great MP4 instructional videos. Cheap! You can see them all and learn more here and learn about our latest offering here.
Southwest Florida IPT $600 Late Registration Discount!
If you would like to join us on the Southwest Florida IPT (see below) please call Jim on Monday at 863-692-0906 to register or shoot me an e-mail to save one of the two availble spots for you. Or contact me via e-mail for a pro-rated quote if you can make only part of this great IPT.
SW FLA IPT. FEB 16-21, 2013. Introductory slide program: 7pm on 2/15. 6-FULL DAYS: $2999. Co-leaders: Denise Ippolito and Robert Amoruso. Limit: 10/Openings 2 due to two late cancellations
Payment in full is due now
This is my bread and butter IPT; learn the basics and the advanced fine points from the best; escape winter's icy grip and enjoy tons of tame birds! Subjects will include nesting Great Blue Heron and Great Egret, Mottled Duck, Brown and White Pelican at point-blank range, Snowy & Reddish Egret, Tricolored Heron, Yellow-crowned Night Heron, Osprey, wintering shorebirds and plovers, gulls and terns, & Burrowing Owl. All ridiculously tame. Roseate Spoonbill, Black-bellied Whistling Duck, American Oystercatcher, and who knows what are possible.
Click here to learn more about this IPT.
Pines West Camera Club EOL Program
I will be presenting "A Bird Photographer's Story" for the Pines West Camera Club in Pembroke Pines, FL at 7pm on February 12, 2013. The program, sponsored by Canon Explorers of Light, is free and open to the public. Click here for additional details and scroll down for directions.
Typos
On all blog posts, feel free to e-mail or leave a comment regarding any typos, wrong words, misspellings, omissions, or grammatical errors. Just be right. 🙂
Support the BAA Blog. Support the BAA Bulletins: Shop B&H here!
We want and need to keep providing you with the latest free information, photography and Photoshop lessons, and all manner of related information. Show your appreciation by making your purchases immediately after clicking on any of our B&H or Amazon Affiliate links in this blog post. Remember, B&H ain't just photography!
If you are considering an item for purchase or comparison shopping be sure to place an item in your cart to see the too-low-to show the actual price. In many cases the prices are so low that B&H is forbidden from publicizing them!
Support the BAA Blog. Support the BAA Bulletins: Shop Amazon here!
Consider doing all of your Amazon.com shopping using the search link below. You'll be getting the same low prices and great service that you are accustomed to and at the same time, supporting my efforts in the Bulletins and on the Blog to bring you great images, timely product news and info, and tons of free educational articles on an almost daily (and sometimes almost back-breaking) basis 🙂 Just type your search in the little white box and hit Go.