An Excellent Day
Within an hour my new Canon EF 200-400mm f/4L IS USM Lens with Internal 1.4x Extender arrived on my doorstep via Fed-X and I sold my Canon 500mm f/4L EF IS II lens to Hawaii's top bird photographer, Jack Jeffrey for the very fair asking price. Visit Jack's website here; the guy is very good!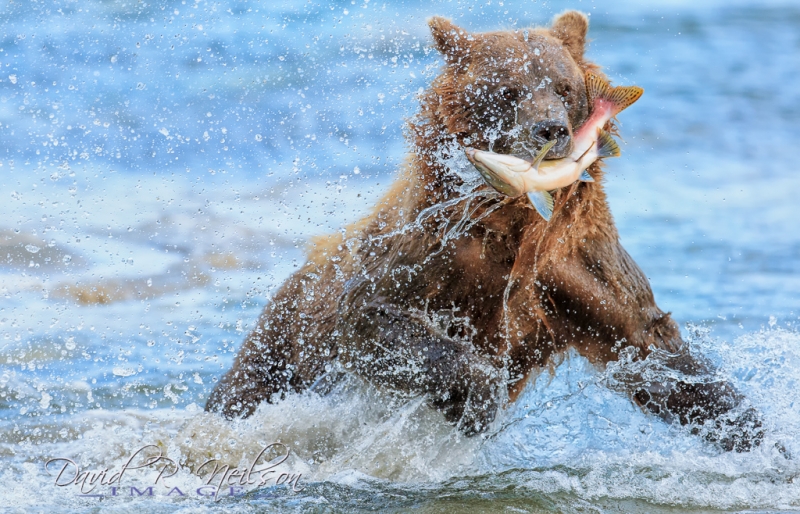 This image was created on a Bear Boat trip to Katmai National Park with the hand held Canon EF 300mm f/2.8L IS II USM lens and the EOS-1D Mark IV (now replaced by the Canon EOS-1D X Digital SLR camera). ISO 1250. Evaluative metering +1 1/3 stop off the blue water: 1/250 sec. at f/3.2 in Manual mode.
Central sensor in the top row AI Servo/Rear Focus (C. Fn. III-8-2: immediate surrounding points) active at the moment of exposure. Click here if you missed the Rear Focus Tutorial. Click on the image to see a larger version.
Image courtesy of and copyright 2012: David R. Neilson
Your browser does not support iFrame.
Excellent Image
Most of you know that we specialize in the care, feeding, and education of Happy Campers on BIRDS AS ART Instructional Photo-Tours (IPTs). David Neilson who created the wonderdful image above, is signed up with me for his third bear boat trip this coming September. Adit Merkine, who is traveling from Jerusalem, Israel for her first bear boat trip, had a few questions that she shared with the group. Dave kindly enough to answer all of Adit's questions in great detail and attached the image above to his e-mail. I loved it the moment I saw it and wrote Dave asking if I could run it in a blog post. He said, "Sure. Go ahead." Thank you David.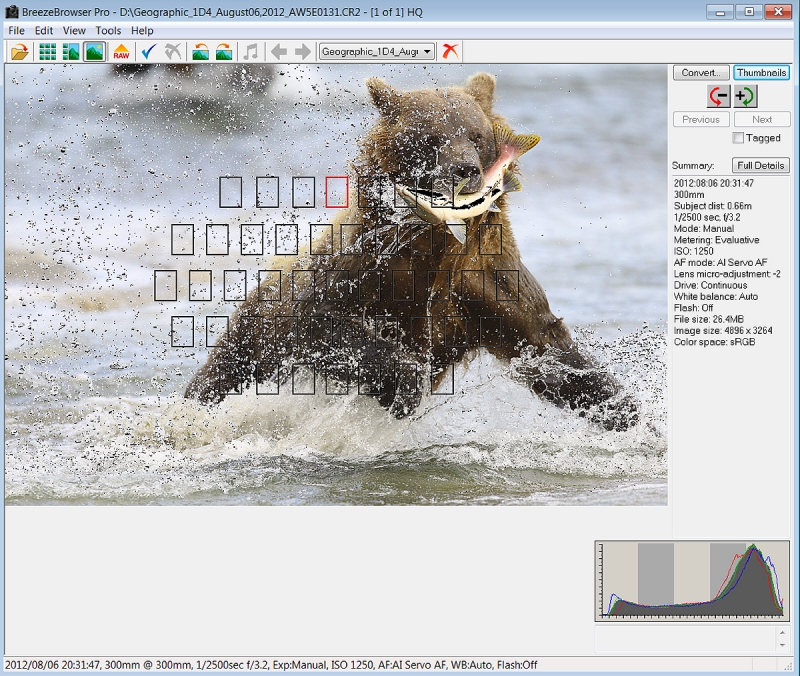 This is the BreezeBrowser Main View screen capture for David's image.
BreezeBrowser Main View Screen Capture
Above is the BreezeBrowser Main View screen capture for today's image. The illuminated red square shows the selected sensor. There is lots to learn by studying the screen capture. Note the black on the salmon's belly and the black specks in the water droplets. In real time as viewed in BreezeBrowser, these would be flashing highlight warnings. What David did beautifully here was push the histogram to the right so that the brightest highlights triggered the over-exposure warning. Those allegedly over-exposed highlights were easily recovered during the conversion of the RAW file. Why was it so important to expose to the right? To ensure maximum detail in the bear's dark fur.
Note that the histogram shows some clipping and that David takes the time to micro-adjust his lenses. Note also the excellent job that was done to eliminate the extra bear along the upper frame edge. Sometimes there are just too many bears in the frame.
Note: in Breezebrowser you need to make sure to check Show Focus Points under View to activate this feature. To see the focus points in DPP check AF Point under View or hit Alt L. Regular readers know that I use and depend on BreezeBrowser every day of the year. It allows me to sort my keepers and deletes the rejects faster than any other browsing program. We use it on the main computer in the home office to catalog our images file-drawer style. And the companion program, Downloader Pro allows me to download my images quickly and conveniently. It automatically adds my IPTC data and the shooting location. I have it set up to create a folder named by the Month/date/year. The Breezebrowser/Downloader Pro combo saves me many hours each week. To learn earn more or to purchase this great PC only program, click here.
Excellent Photographer and Excellent Student
David Neilson has been on several IPTs. His first was San Diego about six years ago. He has worked and studies hard and his images are now consistently quite excellent. Below are some excerpts from David's bear image e-mails that you might find both interesting and instructive.
Thanks Artie, I really appreciate your comments. You can, however, take a bow here as well. Multiple IPTs and a regular reading of the BAA Blog all helped me to create this image. The bear, the fish, and the white water are all different tonalities. To keep from blowing out the big splash and the droplets that add drama to the image, I needed to keep the blinkies to a minimum. Using NIK software with its U-Point technology–another IPT heads-up BTW, the splash, fish and bear were selectively optimized.
Artie, I was metering to accommodate 3 tonal values: the bear, the fish, and the white water. Therefore, I took a meter reading off the blue water, over exposed by 1 2/3 stops to properly expose for the bear, and then backed off another 1/3 stop so as not to blowout the white water. This was my standard procedure throughout the salmon run. After a few images I would check the histogram for blinkies and adjust accordingly. My preferred ISO was 800 and the max I would go would be to 2000. Generally I would allow for a few blinkies on the whitewater and/or on the fish's bright belly because I could correct that in post. To eliminate motion blur I kept my shutter speeds above 1/1250 sec. I was continually taking meter readings as the light changed and adjusting the shutter speed, the ISO, and the f/stop. I had IS Mode 3 active.
By trade David, who lives in Trego, WI, is a certified gemologist and a master goldsmith. Be sure to check out his photography here. The Prairie Chickens near the end of the birds gallery are mind boggling! Thanks again David.
My One Wish
My one wish for this image would be for a bit more room all around. That's why I will be taking my 200-400 on the Bears Catching Salmon IPT. If you would like to join me on the next Katmai Bear Boat adventure drop me an e-mail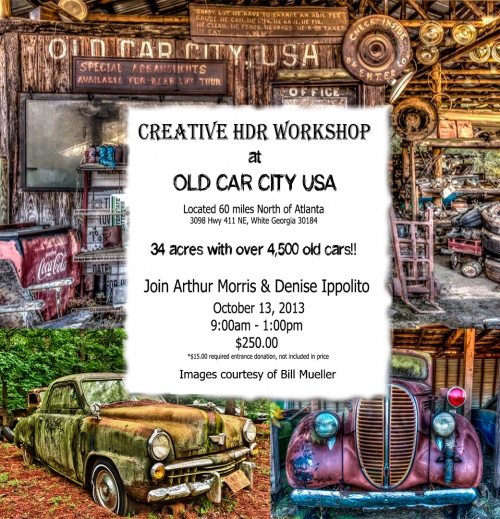 Images courtesy of and copyright 2012: Bill Mueller. Card design by Denise Ippolito.
Old Car City Creative Photography In-the-Field HDR Workshop: Sunday, October 13, 2013/ 9am till 1pm.
White, Georgia: $250 plus a $15 entrance fee donation (cash only on the day of the event) that will go to charity. Limit: 16 photographers.
On October 13, 2013, Arthur Morris/BIRDS AS ART and Denise Ippolito/A Creative Adventure will be conducting an In-the-Field HDR Workshop at Old Car City in White, Georgia. Old Car City is about an hour north of Atlanta, GA and an hour south of Chattanooga, TN where they will, as noted above, be doing a full day seminar for the Photographic Society of Chattanooga on Saturday, October 12th. Click here for complete details.
Typos
On all blog posts, feel free to e-mail or leave a comment regarding any typos, wrong words, misspellings, omissions, or grammatical errors. Just be right. 🙂
Support the BAA Blog. Support the BAA Bulletins: Shop B&H here!
We want and need to keep providing you with the latest free information, photography and Photoshop lessons, and all manner of related information. Show your appreciation by making your purchases immediately after clicking on any of our B&H or Amazon Affiliate links in this blog post. Remember, B&H ain't just photography!
If you are considering an item for purchase or comparison shopping be sure to place an item in your cart to see the too-low-to show the actual price. In many cases the prices are so low that B&H is forbidden from publicizing them!
If you are considering an item for purchase or comparison shopping be sure to place an item in your cart to see the too-low-to show the actual price. In many cases the prices are so low that B&H is forbidden from publicizing them!
Support the Blog
Amazon
Everyone buys something from Amazon, be it a big lens or deodorant. Support the blog by starting your search by typing in the little white box below. No purchase is too small to be appreciated; they all add up. Why make it a habit? Because I make it a habit of bringing you new images and information on an almost daily basis.