BAA Bulletin #443
BAA Bulletin #443 is online and can be accessed right now by clicking here.
Fractastic eGuide Published!
How Cool?
What's Not to Love?
Cheryl Slechta
Fracting Fun
Holland 2014
Bosque Prayers
Bosque del Apache 2013 IPT: "The Complete Bosque Experience."
Affiliate Links
Used Camera Gear
IPT Info
Fishkill, NY Help Needed
Denise and I will be conducting a full day program for the Hudson Valley Photography Network 2013 Fall Conference 2013 in Fishkill, NY on Saturday, September 28, 2013. The $35 registration fee includes lunch; click here for details. Registration is not yet open. My portion of the program is being generously sponsored by the Canon USA Explorers of Light program.
Denise and I would like to offer an In-the-Field Workshop on the morning of Sunday, September 29. We are looking for a good place nearby to simply take a walk in the woods. An option would be a spot with some nature and lots of old buildings or the like. If you know of a suitable location or two, please shoot me an e-mail. Thanks!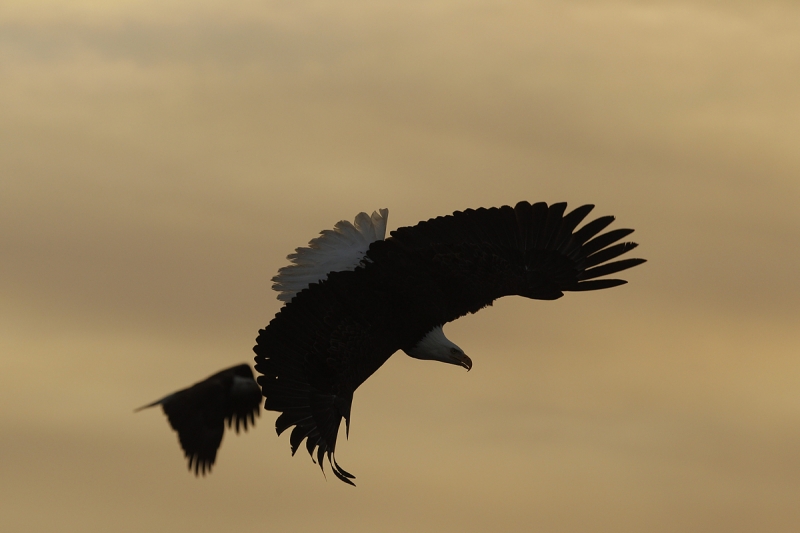 This image was created in March, 2011 near Homer, AK with the Canon EF 70-200mm f/2.8L IS II lens with the Canon 1.4x EF Extender III (Teleconverter) (hand held at 215mm) and the now discontinued EOS-1D Mark IV (now replaced by the Canon EOS-1D X). ISO 400. Evaluative metering +2/3 stop: 1/1600 sec. at f/5.6 in Av mode.
Two sensors below the central sensor/AI Servo/Rear Focus on the bird's upper back where it meets the white head active at the moment of exposure. I love the two sensors below the central sensor set-up for a variety of situations. As described in detail in our Mark IV User's Guide. Click here if you missed the Rear Focus Tutorial. Be sure to click on the image to see a larger version.
Your browser does not support iFrame.
One Bird Too Many…
The 2nd bird in the frame is an obvious problem, but it is no big deal for folks who are competent in Photoshop. See more on that below.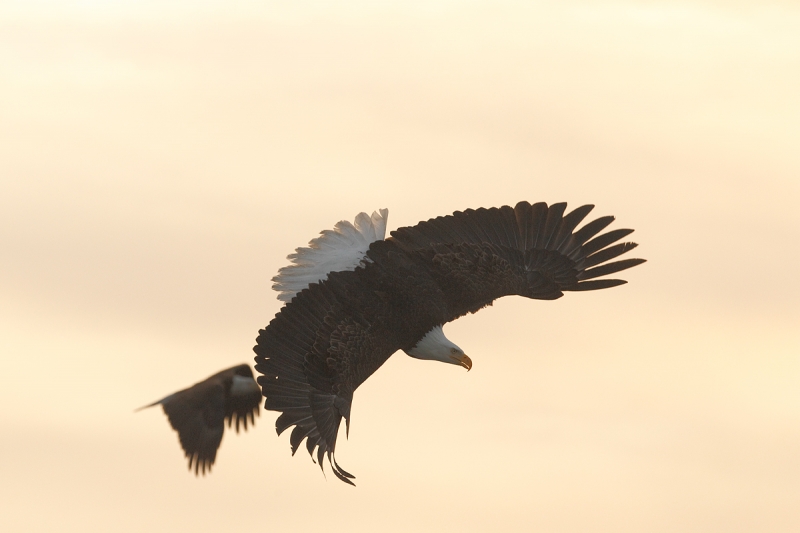 The converted image.
The Image Conversion
I converted the image in DPP with the intent of creating a traditional front-lit image. I was glad to see that the image was quite sharp. To learn about how and why I convert all of my images in Canon Digital Professional see our DPP RAW Conversion Guide.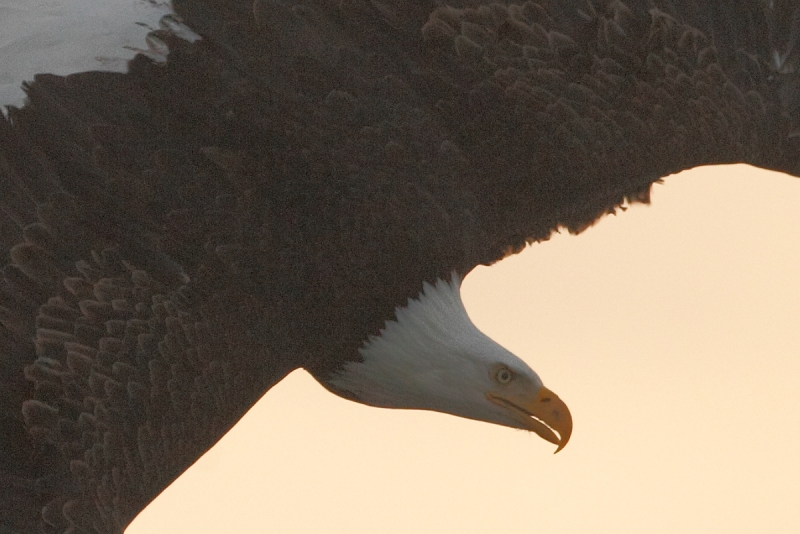 A 100% crop of the converted image.
…..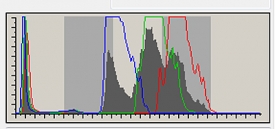 The BreezeBrowser Main View Histogram
Noise Caused By Severe Underexposure
You have been hearing it here for years: "Expose to the right. Be sure to have at least some data in the rightmost histogram box." This image was created at ISO 400 in Av mode at +2/3. It should have been created at at least ISO 800 at +3 stops off the sky. As you can see there is virtually no data at all in the fifth histogram box on the right, in this case, the highlight box.
With the huge amount of noise in the BLACKs and with the WHITEs so severely underexposed that attempting to brighten them would be futile, I decided to create a silhouette or two.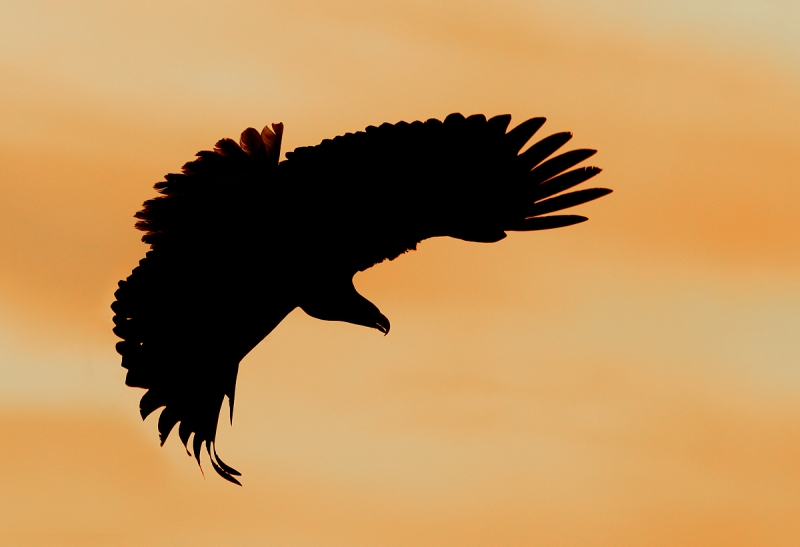 Bald Eagle Silhouette A
The Image Optimization
Working large, I covered the second eagle with a series of small Quick Masks that were fine-tuned with the addition of a regular Layer Mask (as detailed in APTATS I). Then I cropped the image to improve the composition. A simple Levels adjustment turned the too-noisy image into a powerful silhouette. All of the above as detailed in our Digital Basics File, an instructional PDF that is sent via e-mail. It includes my complete digital workflow, dozens of great Photoshop tips including Digital Eye Doctor techniques, several different ways of expanding canvas, a section on sharpening, a section on creating time-saving Actions, all of my time-saving Keyboard Shortcuts, Quick Masking, Layer Masking and NIK Color Efex Pro basics, and tons more.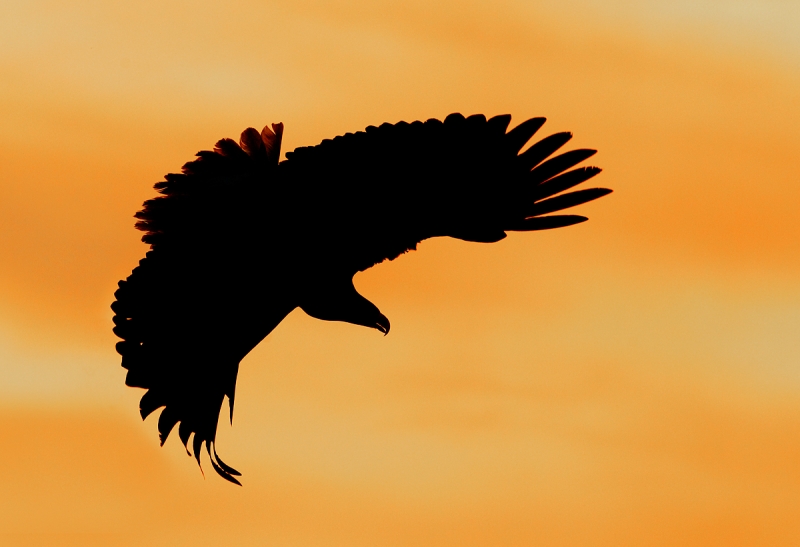 Bald Eagle Silhouette B
A Juiced Up Version and Some Great Photoshop Advice
Next I wanted to created a slightly more saturated version. When I boosted the Saturation to +30 I liked the color but doing so introduced severe artifacting and and banding in the upper corners of the frame. So I backed off the Saturation to +15 and boosted the color with a Selective Color Adjustment by adding BLACK and YELLOW to the YELLOWs. Success without banding.
Your Favorite?
Please take a moment and let us know which is your favorite Bald Eagle silhouette, A or B. And let us know why.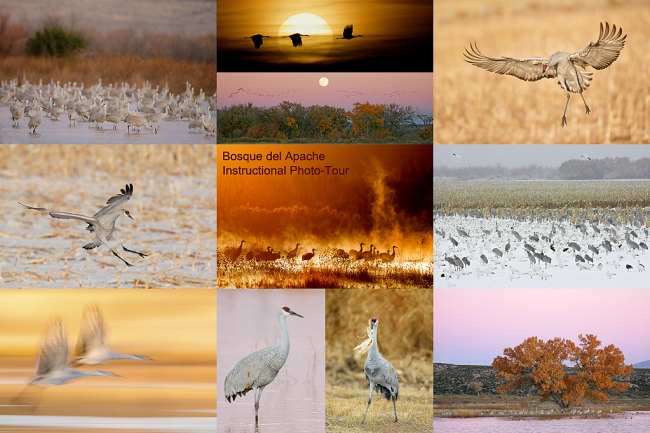 Sandhill Crane composite, Bosque del Apache NWR, San Antonio, NM. Click on the image for a larger version.
Bosque del Apache 2013 IPT: "The Complete Bosque Experience." NOV 26-DEC 2, 2013. 7-FULL DAYS: $3399. Co-leader: Denise Ippolito. Introductory Slide program: 6:30 pm on 11/25. Limit: 12.
Tens of thousand of Snow Geese, 10,000 Sandhill Cranes, ducks including point-blank American Wigeon and Wood Duck, amazing sunrises, sunsets, and blast-offs. Live, eat, and breathe photography with one of (if not the) world's premier photographic educators at one of his very favorite locations on the planet. Top-notch Photoshop instruction. This will make 19 consecutive Novembers at Bosque for me. Nobody knows the place better than I do. Join us to learn to think like a pro, to recognize situations and to anticipate them based on the weather, especially the sky conditions, the light, and the wind direction. Every time we make a move we will let you know why. When you head home applying what you learned will prove to be invaluable. Includes all lunches and the Thanksgiving Buffet at the Crowne Plaza in Albuquerque. I hope that you can join me for what will be an unparalleled learning experience.
A $500 non-refundable deposit is required to hold your slot for this IPT. Your balance is due 4 months before the date of the IPT and is also non-refundable. If the trip fills, we will be glad to apply a credit applicable to a future IPT for the full amount less a $100 processing fee. If we do not receive your check for the balance on or before the due date we will try to fill your spot from the waiting list. If your spot is filled, you will lose your deposit. If not, you can secure your spot by paying your balance.
Please print, complete, and sign the form that is linked to here and shoot it to us along with your deposit check (made out to "Arthur Morris.") You can also leave your deposit with a credit card by calling the office at 863-692-0906. If you register by phone, please print, complete and sign the form as noted above and either mail it to us or e-mail the scan. If you have any questions, please feel free to contact me via e-mail.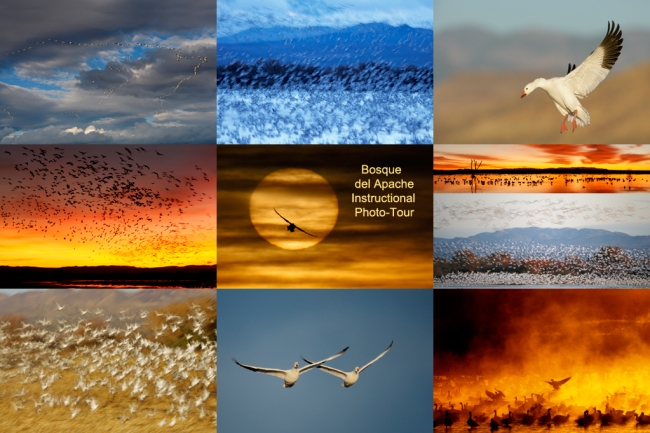 Snow Goose composite, Bosque del Apache NWR, San Antonio, NM. Click on the image for a larger version.
Typos
On all blog posts, feel free to e-mail or leave a comment regarding any typos, wrong words, misspellings, omissions, or grammatical errors. Just be right. 🙂
Support the BAA Blog. Support the BAA Bulletins: Shop B&H here!
We want and need to keep providing you with the latest free information, photography and Photoshop lessons, and all manner of related information. Show your appreciation by making your purchases immediately after clicking on any of our B&H or Amazon Affiliate links in this blog post. Remember, B&H ain't just photography!
If you are considering an item for purchase or comparison shopping be sure to place an item in your cart to see the too-low-to show the actual price. In many cases the prices are so low that B&H is forbidden from publicizing them!
If you are considering an item for purchase or comparison shopping be sure to place an item in your cart to see the too-low-to show the actual price. In many cases the prices are so low that B&H is forbidden from publicizing them!
Support the Blog
Amazon
Everyone buys something from Amazon, be it a big lens or deodorant. Support the blog by starting your search by typing in the little white box below. No purchase is too small to be appreciated; they all add up. Why make it a habit? Because I make it a habit of bringing you new images and information on an almost daily basis.