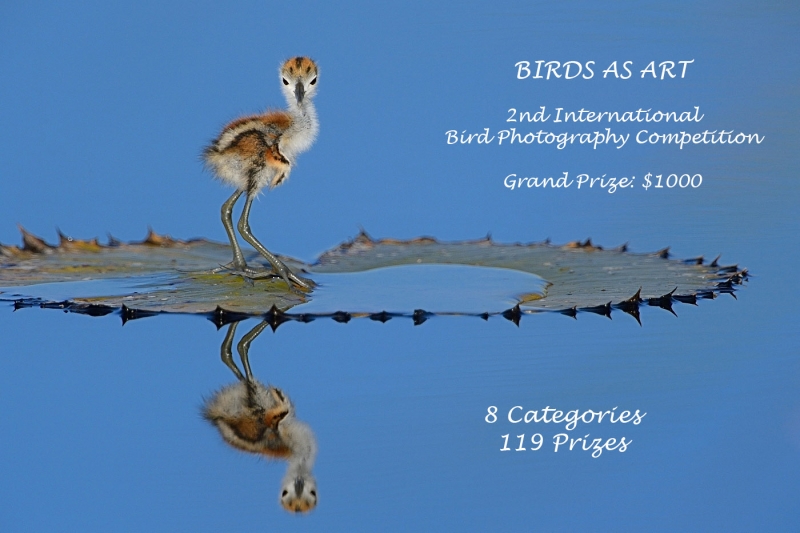 This is Lou Coetzer's winning image from the 1st competition.
Locked and Loaded
BIRDS AS ART 2nd International Bird Photography Competition
Thanks to yeoman work by the BAA competition team, Peter Kes, Denise Ippolito, and yours truly, the BIRDS AS ART 2nd International Bird Photography Competition is now open. We are ready to see your best images. And we are truly excited. This year's streamlined contest has 8 categories and offers 119 prizes including the $1,000 first prize: a check for $500 from BIRDS AS ART and a $500 gift certificate from major contest sponsor B&H. The 25 winning and honored images will share the 119 item prize pool.
Click here to visit the competition page.
Click here to see all the winning images from last year's competition.
Select an item from the 1st-IBPC (International Bird Photography Competition) drop-down menu on the yellow bar on the top of each blog page to view the images in the various categories from last year's competition that were sent to the judges. "1st-IBPC" is item two on the yellow bar shown above. Note that you can access all contest categories from the drop-down menu for the 3rd item, "2nd Competition."
Click here to read the rules that include the most liberal digital guidelines of any major contest.
Click here for payment options.
Click here to learn about our panel of prestitgious judges.
Click here to check out the prize pool.
Good luck!
Categories
1-Bird Portraits (whole bird or tight including body parts)
2-Flight
3-Small in the frame/Environmental
4-Pleasing Blurs
5-Action & Behavior
6-Hand of Man (the composition may include man-made elements) & Captive (including zoos and rehab birds)
7-Digital Creations (anything goes including the use of filters and effects)
8-Youth (high School or younger)
Organizer's Message
Wow. This is exciting! As most of you know, I have–for the past 30 years–dedicated my life to making beautiful images of birds and teaching others to do the same. The second edition of this contest is simply an extension of that passion. Thanks to Denise Ippolito for her help organizing the contest and to Peter Kes for building the web and upload pages; Peter re-designed both the blog and the website about four years ago and helps me almost daily; his skills and work ethic are superb.
I cannot begin to talk about the contest without talking first about the incredible generosity of our many sponsors. I knew from the get-go that as the new kid on the block that we would need to assemble a huge prize pool. I asked and they gave. A huge thanks to Yechiel Orgel of principal sponsor B&H PHOTO & VIDEO. Thanks to Martin Wood and Anna Lopez of Delkin Devices for their continued support. Thanks to Clay Wimberley at Wimberley, to Walter (son) and John (father) at 4th Generation Design, and to Scott Elowitz of LensCoat. Special thanks to Helen Longest-Saccone at Nature Photographer Magazine who will be publishing the winners in a print edition of Nature Photographer magazine. Thanks again to Brian Erwin at Think Tank. (For the 2nd straight year Brian OKed my e-mail request for support in seconds; I hit send and moments later I got his "I'm in" response.) Thanks to Michael Tapes of Raw Workflow, John Stanford of Vertex Photographic, John Storrie of Vested Interest, and Bob Peltz of Essential Photo Gear. All of those mentioned above are with us for year two. Special thanks to new sponsor Chris Klapheke of Outdoor Photo Gear. We are direct competitors in the mail order business yet we have remained good friends over the years. OPG carries a lot more stuff than the BAA store; if you can't find it here, visit OPG.
Why another contest? Entering contests is fun. Having an image or two honored is always a huge thrill. I enter the BBC Wildlife Photographer of the Year Competition every year. And the same goes for the Nature's Best and National Wildlife contests. I have had more than a few honored images in all three contests. But considering the huge popularity of bird photography today there are relatively few avian categories in the major contests. We have rectified that situation. And here is the best news of all: with the relative ease of digital photography most anyone is capable of creating a contest winning image. The BBC contest makes no distinction between amateurs and professionals and we are doing the same here. I consistently see folks photographing for only a year or two producing images with contest-winning potential.
All of the major contests have very restrictive digital guidelines; you are pretty much limited to removing dust spots and adjusting brightness, color, and contrast. And some competitions allow only global adjustments, changes that affect the entire image; making selective adjustments is prohibited. Heck, Ansel Adams would have been disqualified from those. Our digital guidelines are the most generous of any major contest. By miles. With all due respect to the purists, our digital guidelines most accurately reflect the prevailing style of image optimization by allowing for the removal of distracting background elements. You can check out our digital guidelines by scrolling down to #12 here.
In addition there are some rules in the major contests that simply do not make sense to me. For example, a recent BBC Wildlife Photographer of the Year winner was nowhere near his camera when the winning image was made. And several other of his camera-trap images were also honored…. All in all I simply thought that I could come up with a great contest with rules that made sense. So I did.
With eight categories and a large but streamlined prize pool there are lots of reasons to enter. The entry fee is $25 for ten images. You may enter once or twice or as many times as you like. You might enter now and then again in a few months and then possibly once right before the deadline: the closing date for entries is December 31, 2013.
Earn Free Contest Entries with your B&H Gear Purchases
If you make a purchase totaling $1,000 or more from contest sponsor B&H using this link you will receive a single free contest entry. Purchases of $3,000 or more will be good for two contest entries, of $5,000 or more for three entries, and of $10,000 of more for five competition entries. To receive your free entry (or entries) send your B&H receipt to us via e-mail to staffbaa@att.net and cut and paste "B&H Contest Entry" into the subject line. You will receive instructions (for uploading your images) by e-mail.
My dream is that the BIRDS AS ART International Bird Photography Competition will continue to grow in prestige and soon rank right up there with the top-notch contests that I mentioned above. My hope is that at some time in the future we will have an exhibit of the winning images at the American Museum of Natural History in New York City. My interest in nature was sparked there when I was about twelve or thirteen. Imagine that I traveled alone on the subway taking the then Brighton Beach Express into the city and spending entire weekends roaming the halls.
I do hope that you join in the fun by entering and I look forward to seeing your very best images. Good luck! artie