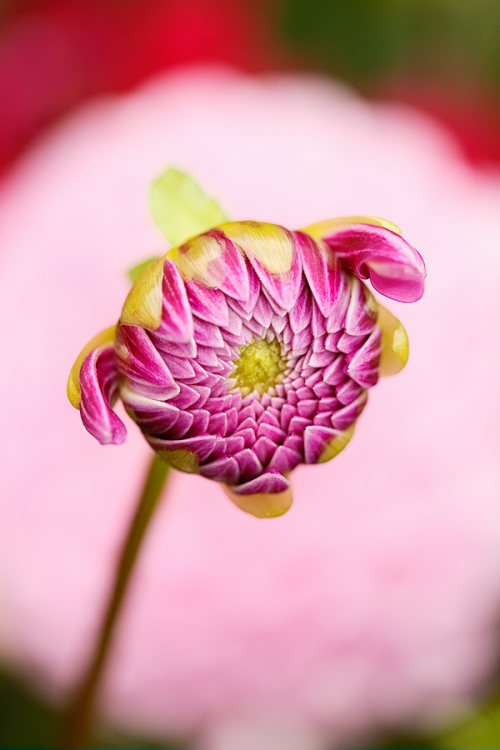 This dahlia image was created with the hand held Canon EF 100mm f/2.8L IS macro lens and the Canon EOS 5D Mark III Digital camera body. ISO 800. Evaluative metering +1 1/3 stops: 1/250 sec. at f/4.5 in Av mode.
One row above and one sensor to the left of the central sensor/AI Servo Rear Focus AF as framed active at the moment of exposure. Click here if you missed the Rear Focus Tutorial. Click on the image to enjoy a larger version.
I added sections on 2 new lenses to my morning program; see below for details. We worked extensively with the group on the recently concluded Swan Island Dahlia Farm IPT on backgrounds and creating bud/flower background images like this. See info on the September 2014 trip below.
Your browser does not support iFrame.
HVPN
Denise Ippolito and I wowed the more than 120 folks who assembled at the Ramada Inn in Fishkill, NY for the Hudson Valley Photographic Network's Fall Conference today. Denise began with her hugely popular and inspirational "Bloomin' Ideas" program. I followed with "Choosing and Using Lenses for Nature Photography" after spending yesterday afternoon refining–aka deleting some images–the program and adding new sections on the 200-400 f/4L IS with Internal 1.4X Extender and on the 100 f/2.8L IS macro lens.
After lunch denise and I did our joint program, "Pleasing Blurs." We are happy to report that not a single attendee was seen nodding off to sleep all day! A quick internet search revealed Golden Buddha Thai Cuisine, 985 Main St, Fishkill, NY. We enjoyed a sumptuous dinner of great thai food. We were waited on by the owner's shy, delightful, and beautiful young granddaughter. The entire evening was a delightful experience as we had a long chat with the owner after dinner. Learn more about Golden Buddha Thai here.
We are off early tomorrow for the opening of the exhibition of my work at the Museum of American Bird Art at Mass Audubon followed by another seminar on Monday and a special presentation of "A Bird Photographer's Story on Tuesday evening. Do join us and say "Hi" if at all possible. Complete details can be found here.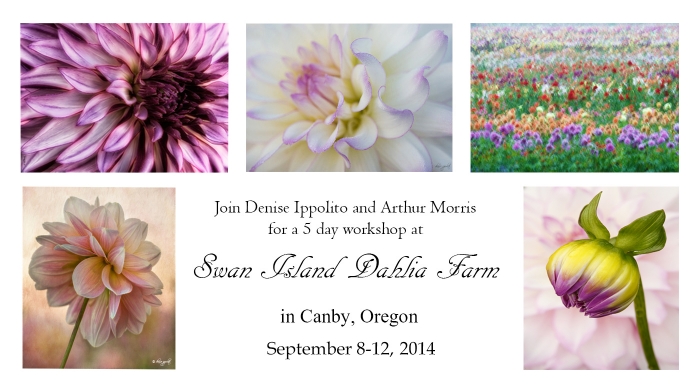 Images copyright Arthur Morris/BIRDS AS ART & Denise Ippolito/A Creative Adventure. Card design by denise.
Announcing the 2014 Swan Island Dahlia Farm IPT
A Creative Adventure/BIRDS AS ART Swan Island Dahlia Farm Instructional Photo-Tour, September 8-12, 2014: 5 FULL DAYS: $1699. Meet and Greet: September 7 at 8pm.
Join Denise Ippolito and Arthur Morris at the Swan Island Dahlia Farm in Canby Oregon (just south of Portland) for a great learning and photography experience. Swan Island features more than 40 acres with over 350 varieties of dahlias in a plethora of colors, shapes and sizes, making it one of the largest growers in the United States.
Daily Photo Schedule
We will enjoy four morning (7:00am till 10:30am) and five afternoon (3:30pm till 6pm) photography sessions. While we will do most of our photography at the Swan Island Dahlia Farm, we will also visit the Portland Rose Garden and/or the Portland Japanese Garden on this IPT. We may visit the Hughes Water Gardens and a local sunflower field as well. The in-the-field instruction will include seeing the situation, the use of selective focus, creative use of depth of field, histogram and exposure guidance, designing creative images, choosing your background, isolating your subject, lens options, and the use of reflectors and diffusers. Our field sessions will include challenging photography assignments geared to make you think creatively. Both personalized and small group instruction will be provided. All times are tentative and subject to change based on the weather and on local conditions. All are invited to bring their laptops to lunch for image sharing on Monday and Wednesday through Friday.
The group will have lunch together daily except for Tuesday, the seminar morning; lunch will be on your own that day. We hope that you can join us for an intense five days of learning and some of the best flower photography to be had in North America.
Seminar Morning: Tuesday September 9: 8:30am till 12:30pm
Denise will begin by presenting her "Bloomin' Ideas" program, an overview of the in-the-field and post-processing techniques that she has used and developed over the past few years to create her signature look. Artie will follow with a Photoshop session that will be geared towards all levels. He'll be sharing some of his favorite techniques and tips while working on images from the first two days of the IPT. Denise will conclude the seminar portion of the IPT with a Photoshop demo; she will share her creative workflow using a variety of Photoshop filters and effects. The entire morning is designed to give you a peek into the minds of two very skilled and creative folks. Lunch on your own.
Deposit Info and Cancellation Policies:
A $499 non-refundable deposit is required to hold your slot for this IPT. Your balance is due 4 months before the date of the IPT and is also non-refundable. If the trip fills, we will be glad to apply a credit applicable to a future IPT for the full amount less a $100 processing fee. If we do not receive your check for the balance on or before the due date we will try to fill your spot from the waiting list. If your spot is filled, you will lose your deposit. If not, you can secure your spot by paying your balance.
Please print, complete, and sign the form that is linked to here and shoot it to us along with your deposit check (made out to "Arthur Morris.") You can also leave your deposit with a credit card by calling the office at 863-692-0906. If you register by phone, please print, complete and sign the form as noted above and either mail it to us or e-mail the scan.
If you have any questions, please feel free to contact me via e-mail