Kvelling
kvell (kvɛl) Slang. v.i./to be extraordinarily pleased; esp., to be bursting with pride, as over one's family. From the Yiddish kveln, be delighted; compare to Middle High German, German quellen to well up, gush.
Well, that is how I felt when I walked into the gallery building and saw the exhibition title along with one of the two signature images on the wall high above the beautifully framed, laid out, and designed exhibition. It was quite rewarding to see my three decades of hard work recognized. And it was very nice to be among the greats who proceeded me at the Museum of American Bird Art. Those include artist Robert Verity Clem, friend and field guide artist David Sibley, friend and colleague Kevin Schafer, artist Lars Jonsson, the incomparable and whimsical Charley Harper, and John James Audubon himself. Nice company. 🙂
Thanks a stack to Museum of American Bird Art director Amy Montague for her invite and for putting the exhibit together on such short notice. Kudos and thanks as well to museum staff members Sharon, Tammis, and Steve for all of their help during our visit. And a big thanks as well to volunteer Shawn Carey for his help and for all the work that he does for Mass Audubon. Shawn is quite a talented photographer; you can see his work here.
Exhibition, American Museum of Bird Art at Mass Audubon, Canton, MA
BIRDS AS ART/The Bird Photography of Arthur Morris
Though you missed the opening, all are invited to visit the exhibition at the American Museum of Bird Art at Mass Audubon (193 Washington Street, Canton, MA 02021. 1-781-821-8853.) The 35 framed-print exhibition, that is being sponsored in part by Canon USA/Explorers of Light, will run from September 29, 2013 – January 12, 2014. Open Tuesday through Sunday, 1 p.m. – 5 p.m. Click here for additional details.
Notes on the Venue
Thanks to museum director Amy Montague for sharing the following:
Mildred Morse Allen, artist and maker of natural history films, gave her 121-acre property to Mass Audubon as a bequest. I stayed in the estate house, her former home that was built in 1916 and renovated in 1998. It was quite comfortable. The beautiful gallery building, built in 1938 of stucco, served at Mildred Morse Allen's painting studio.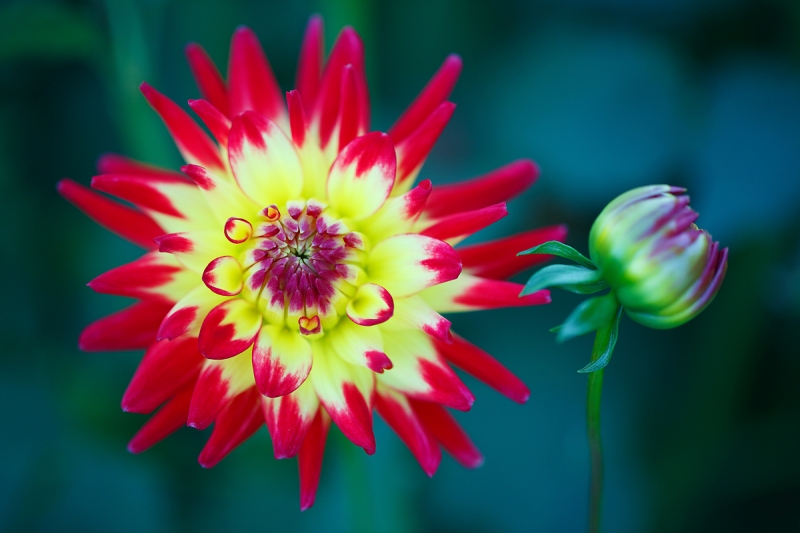 This dahlia image was created with the hand held Canon EF 100mm f/2.8L IS macro lens and the Canon EOS 5D Mark III Digital camera body. ISO 800. Evaluative metering +1/3 stop: 1/400 sec. at f/2.8 in Av mode.
One row below and two sensors to the left of the central sensor/AI Servo Rear Focus AF as framed active at the moment of exposure. Click here if you missed the Rear Focus Tutorial. Click on the image to enjoy a larger version.
Your browser does not support iFrame.
Catching Up I
In the Learning About and Working With a New Lens: the Canon EF 100mm f/2.8L Macro IS USM, my favorite image was the third one, the red and yellow dahlia with the offset bud. I love the combination of the red and yellow and love that the
bud, being a bit closer to me than the flower itself, was rendered slightly out of focus.
My second favorite was the first one, the green bud with the purple trim and the white/pink flower background with just the right amount of detail.
Catching Up II
In the Big Bird feature here, I liked them all but my favorite was the third one, the tight vertical Ostrich portrait.
Catching Up III
Answers to the Image Quiz in the World's Most Beautiful Crane Species? blog post here.
#1: With focus on the crane that was farthest away, why was there enough depth-of-field (at only f/6.3) to render the closer cranes sharp?
A: depth of field increases as the distance to the subject increases. The group of cranes was far away.
#2: With small areas of white in the frame, why didn't the +2/3 stop exposure compensation burn the highlights?
A: Early morning light is very soft and the image averaged to a light tone….
#3: Why Tv mode?
A: So that, in combination with either ISO Safety Shift (that I use) or Auto ISO, I could quickly and easily set a minimum acceptable shutter speed, one that would be fast enough to ensure the creation of a sharp image.
Coastal Carolina Camera Club Meeting: A Bird Photographer's Story
I will be presenting " A Bird Photographer's Story" on Tuesday, October 8, 2103 from 7:00-9:00pm for the Coastal Carolina Camera Club. This event, which will be held in the Fellowship Hall, Shallotte Presbyterian Church, 5070 M H Rourk Drive, Shallotte, NC 28470, is being sponsored by Canon USA/Explorers of Light and will be free and open to the public. Click here for more information.
Huntington Beach State Park In-the-Field Workshop: Tuesday, October 8, 2013: $250
In conjunction with the program above, I will be conducting an In-the-Field Workshop at Huntington Beach State Park, Murrells Inlet, SC from 7-11am.
Bird photography enthusiasts will be able to take advantage of Morris' expertise in a hands-on, in-the-field workshop at one of the most popular locations for viewing birds, Huntington Beach State Park. Class size is limited to 12 so that everyone will receive lots of personal attention. In the workshop, you will learn: how to get the right exposure every time with digital, how to get closer to your subjects without scaring them, how to choose the best perspective, flight photography tips and techniques, gear handling and tripod tips and techniques, and how to see, understand, and use the light effectively.
Register now by calling Jim at the office at 863-692-0906 with your credit card in hand.
Holland Heating Up
Signed up another Happy Camper today; pending the arrival of the promised checks, we now have seven folks for the Touch of Holland Tulip IPT. Click here and scroll down for details.
Bosque IPTs
For information on both the 7-Day and the recently announced short version of the 2013 Bosque IPTs please click here and scroll down.
Support the BAA Blog. Support the BAA Bulletins: Shop B&H here!
We want and need to keep providing you with the latest free information, photography and Photoshop lessons, and all manner of related information. Show your appreciation by making your purchases immediately after clicking on any of our B&H or Amazon Affiliate links in this blog post. Remember, B&H ain't just photography!
Amazon
Everyone buys something from Amazon, be it a big lens or deodorant. Support the blog by starting your search by starting your search by clicking on the logo-link below. No purchase is too small to be appreciated; they all add up. Why make it a habit? Because I make it a habit of bringing you new images and information on an almost daily basis.
Typos
On all blog posts, feel free to e-mail or leave a comment regarding any typos, wrong words, misspellings, omissions, or grammatical errors. Just be right. 🙂