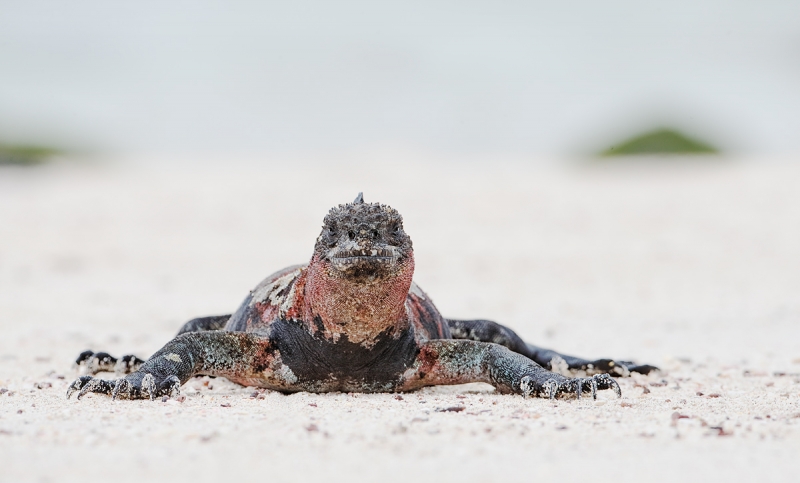 This image was created with the hand held Canon EF 200-400mm f/4L IS USM Lens with Internal 1.4x Extender (with the internal TC in place at 490mm) and the Canon EOS-1D X. ISO 1600. Evaluative metering +1 1/3 stops: 1/500 sec. at f/9 in Av mode+.
One sensor to the left of the central sensor/AI Servo Rear Focus AF on the nose of the iguana active at the moment of exposure. Click here if you missed the Rear Focus Tutorial. Click on the image to see a larger version.
Your browser does not support iFrame.
The Eyes Have It
This is one of my favorite images from the Galapagos trip. I got right down in the sand with the 200-400 on Hood Island to create this eye level image of a Marine Iguana. As always, the more you want it the more you will get it. I asked Juan if it would be OK to remain at Punta Suarez near the landing site with two other eager clients for an additional 30 minutes or so. He got the bulk of the group onto the pangas and headed back to the Samba and then came back for us.
Anything Fishy?
Do you see anything Photoshop fishy about the image above? Be sure to click on the image to see a larger version before commenting.
Image Questions
Why +1 1/3 stops of plus compensation?
With the active AF sensor on the tip of the reptile's nose, why are the eyes sharp?
All answers in tomorrow's blog post.
Great 200-400 News from B&H
B&H now has a limited number of my favorite new lens, the Canon EF 200-400mm f/4L IS USM Lens with Internal 1.4x Extender in stock. Use the preceding link to earn free entries into the 2nd Annual BAA International Bird Photography Competition and thank me for sharing all I know about the 2-4. If you order online using our link and e-mail me your B&H receipt I will do my very best to have your order expedited.
Bosque IPTs/Late Registration Discount
For information on both the 7-Day and the recently announced short version of the 2013 Bosque IPTs please click here and scroll down. Please e-mail me for late registration discount info.
Coastal Carolina Camera Club Meeting: A Bird Photographer's Story
I will be presenting " A Bird Photographer's Story" on Tuesday, October 8, 2103 from 7:00-9:00pm for the Coastal Carolina Camera Club. This event, which will be held in the Fellowship Hall, Shallotte Presbyterian Church, 5070 M H Rourk Drive, Shallotte, NC 28470, is being sponsored by Canon USA/Explorers of Light and will be free and open to the public. Click here for more information.
Huntington Beach State Park In-the-Field Workshop: Tuesday, October 8, 2013: $250
In conjunction with the program above, I will be conducting an In-the-Field Workshop at Huntington Beach State Park, Murrells Inlet, SC from 7-11am.
Bird photography enthusiasts will be able to take advantage of Morris' expertise in a hands-on, in-the-field workshop at one of the most popular locations for viewing birds, Huntington Beach State Park. Class size is limited to 12 so that everyone will receive lots of personal attention. In the workshop, you will learn: how to get the right exposure every time with digital, how to get closer to your subjects without scaring them, how to choose the best perspective, flight photography tips and techniques, gear handling and tripod tips and techniques, and how to see, understand, and use the light effectively.
Register now by calling Jim at the office at 863-692-0906 with your credit card in hand.
Support the BAA Blog. Support the BAA Bulletins: Shop B&H here!
We want and need to keep providing you with the latest free information, photography and Photoshop lessons, and all manner of related information. Show your appreciation by making your purchases immediately after clicking on any of our B&H or Amazon Affiliate links in this blog post. Remember, B&H ain't just photography!
Amazon
Everyone buys something from Amazon, be it a big lens or deodorant. Support the blog by starting your search by starting your search by clicking on the logo-link below. No purchase is too small to be appreciated; they all add up. Why make it a habit? Because I make it a habit of bringing you new images and information on an almost daily basis.
Typos
On all blog posts, feel free to e-mail or leave a comment regarding any typos, wrong words, misspellings, omissions, or grammatical errors. Just be right. 🙂