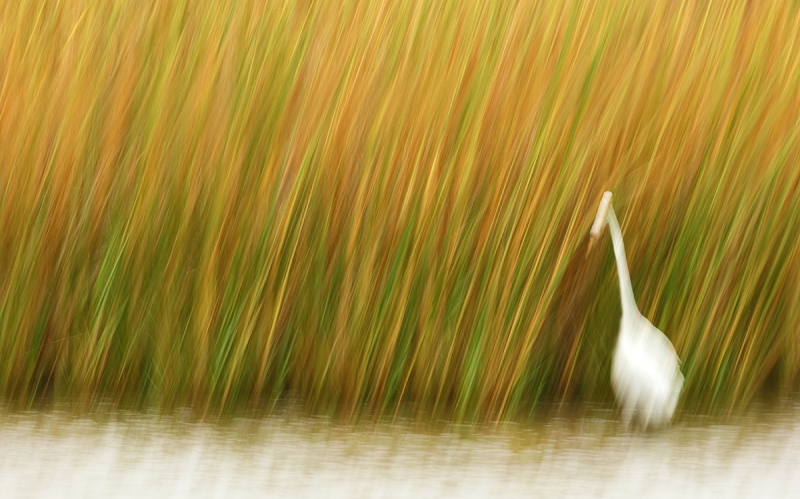 This base image for this creation was made with the tripod-mounted Canon EF 600mm f/4L IS II USM lens and the Canon EOS-1D X. ISO 500. Evaluative metering +1 2/3 stops off the grey water: 1/8 sec. at f/6.3 in Manual mode.
Central sensor (Surround)/AI Servo Rear Focus AF on the bird and re-compose. Click here if you missed the Rear Focus Tutorial. Click on the image to see a larger version.
Your browser does not support iFrame.
Response to the Blur-Haters 🙂
In the "Keep One or Both?" blog post here, I asked, "Would you keep one or both of these images? Or would you delete both? Be sure to let us know why.
Which of the images is a stronger photograph? Please explain why. Note: I have a very strong preference for one over the other. Which of the two has the most potential? What is the single biggest problem with the 2nd image?"
My Answers
I kept both. I really loved the blurred grasses in the 2nd image and needed the first image as source material. I painted a Quick Mask of the bill from the vertical image, brought it into the horizontal image, re-positioned and sized it with the Transform Tool, added a Layer Mask, and fine-tuned the bill layer. But the neck of the Great Egret was too fat, a result of moving the lens while creating the image. So I put the whole image on a new layer, moved it down and left, added another Layer Mask, and thinned the neck by painting in the grasses. The resulting image is above.
For me the 2nd image, the horizontal was by far the stronger of the two for the look of the blurred grasses. I would have deleted the first one had I not needed it as source material for the bill as the head was simply too weird for me. The horizontal had the most potential. The biggest problem for me with the second image was that the bill was lost in the background.
If blurs are to succeed they almost always need a head that is at least somewhat well delineated….
APTATS I & APTATS II
To create the final image I used techniques from both APTATS I and APTATS II. APTATS I details advanced Quick Masking Techniques and it was while editing APTATS II that I came to fully understand Layers and Layer Masks.
Save $10
You can save $10 by ordering the APTATS I/APTATS II combo here.
The Blur-Haters
When I posted the two images I had hoped that folks might have put their thinking caps on. Few did. Some folks like Harvey Tabin who commented "Your work is generally great, however throw both the blurs away. They say nothing and are not very done," seemed to be unduly harsh in their comments…. The same could be said of John Armitage's comment: "Delete both. These blurs have resulted in images of the bird which are not attractive." Furthermore most folks whose comments were strongly negative did not bother explaining why they did not like this or that image, and most did not even attempt to answer the questions.
Others like Richard Wozniak came off as being some type of God; he wrote, "Both are just grossly distorted blurs which tell us nothing and are not even pleasing on an abstract level." Though I do not agree with what David Policansky wrote, he at least justified his opinion.
I asked questions of some folks who commented negatively; none bothered to respond. Ralph in Chicago was at least on the right track and posted a well-reasoned comment. Though I disagree with Tom Roper's preference for the first image his response was also well thought out.
The Big Question
It would be interesting to hear what folks think of the final image above. I rather like it.
I have lots of cattail blurs that I love. When I saw an egret standing in front of the reeds the challenge was to put the two together and come up with something pleasing….
Salem, Connecticut Seminar This Coming Weekend!
Shooters Gallery Photography Program
October 20, 2013. Salem, CT
Click here to register.
Artie Morris & Denise Ippolito
Date: Sunday – October 20, 2013: Time: 9:00am – 4:00pm
Location: Salem Gardner Lake Firehouse Hall, 429 Old Colchester Road, Salem, CT 06420
Admission Fee: The Artie Morris presentation from 9:00am until 10:45am is free and open to the public courtesy of Canon U.S.A. The presentation by Artie and Denise from 11:00am until 4:00pm is $40.00 (Lunch & morning coffee included)
Host Organization: Shooters Gallery Photography Group
9:00 to 10:45 – "Choosing and Using Lenses for Nature Photography… BIRDS AS ART Style" – Artie Morris (Sponsored by Canon U.S.A.)
10:45 TO 11:00: Break
11:00 to 12:00 – "Blooming Ideas" – Denise Ippolito
12:00 to 1:00 – Lunch
1:00 to 2:00 – "Refining Your Photographic Vision" – Artie Morris and Denise Ippolito
2:00 to 2:30 – "Pro Gear Handling Tips" – Artie Morris and Denise Ippolito
2:30 to 2:45 – Break
2:45 to 4:00 – "Creating Pleasing Blurs" – Artie Morris and Denise Ippolito
Click here to register.
BIRDS AS ART 2nd International Bird Photography Competition
Learn more and enter the BIRDS AS ART 2nd International Bird Photography Competition here. Twenty-five great prizes including the $1000 Grand Prize and intense competition. Bring your best.
Typos
On all blog posts, feel free to e-mail or leave a comment regarding any typos, wrong words, misspellings, omissions, or grammatical errors. Just be right. 🙂
Support the BAA Blog. Support the BAA Bulletins: Shop B&H here!
We want and need to keep providing you with the latest free information, photography and Photoshop lessons, and all manner of related information. Show your appreciation by making your purchases immediately after clicking on any of our B&H or Amazon Affiliate links in this blog post. Remember, B&H ain't just photography!
Amazon
Everyone buys something from Amazon, be it a big lens or deodorant. Support the blog by starting your search by starting your search by clicking on the logo-link below. No purchase is too small to be appreciated; they all add up. Why make it a habit? Because I make it a habit of bringing you new images and information on an almost daily basis.