Bosque IPTs/Late Registration Discounts Increased!
For information on both the 7-Day and the recently announced short version of the 2013 Bosque IPTs please click here and scroll down. If you would like to join us for the first 3 or 4 days of this IPT please shoot me an e-mail. Please e-mail for late registration discount info. Please call me on my line at 863-692-2806 before noon on Sunday with any Bosque IPT questions. If I am swimming or napping, please call back as there is no answering machine on that line.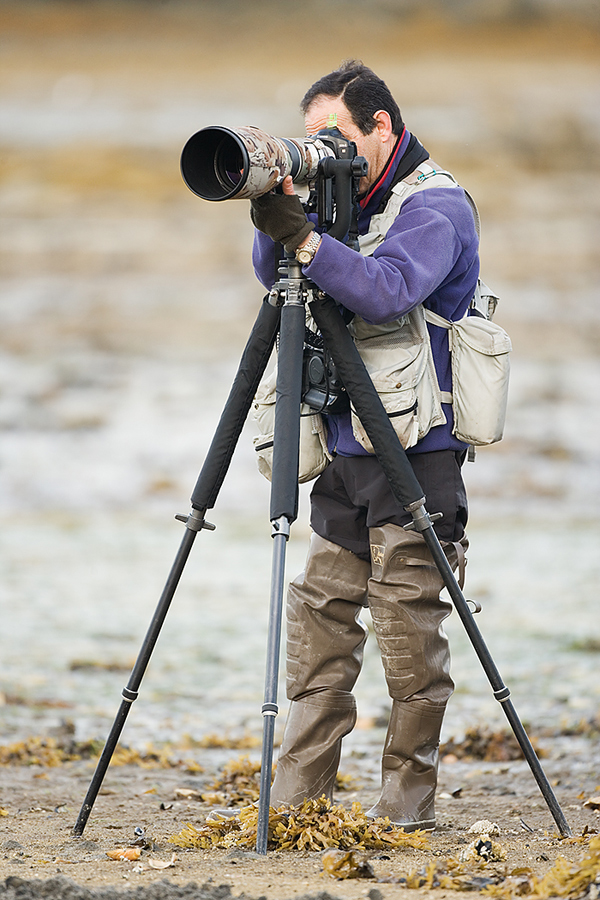 Alejandro Furman photographing at Katmai National Park on a 2006 Bear Boat IPT.
What Friends are For: Torres del Paine Advice
Alejandro Furman is a good friend, a multiple TPT veteran, and a very fine photographer. He lives in Santiago, Chile. He has been to Africa with BIRDS AS ART, been on the bear boat, done a hummingbird trip with me to Panama, and attended several IPTs. He has even photographed the Sandhill Cranes near my home in Indian Lake Estates, FL. When he learned that Denise Ippolito and I would be traveling to Torres del Paine he realized that we would likely be spending at least some time at the airport in Santiago, Chile (SCL)> He e-mailed suggesting that we meet there either coming or going. We are all set to meet Alex for dinner on our Santiago layover on the way home from our great adventure.
Here is Alejandro's last e-mail to me:
Arthur,
Consider it done. We will meet at the airport on Tuesday Nov. 12 at 18:00 PM and then head to dinner and great talk at the hotel restaurant. Here is how it works: I will arrive there a bit earlier in case your plane is arriving earlier. When you walk out of the terminal you will have a glass wall facing you. There will be sliding glass exit doors to your left and to your right. Go out of the doors on your left. I will be there waiting for you. Please let me know your flight number for the Punta Arenas to Santiago leg on the 12th.
I sincerely hope Denise gets to join us since I want to personally convey to her my message that she deserves a monument. I will also let my brother Gustavo know about our gathering.
The person that will be guiding our December trip to Torres del Paine is Diego Araya, with whom I have done several private trips in the past to the area on a one-on-one basis with great photographic success in terms of landscape, general wildlife photography and pumas and condors. For the upcoming trip with my French friends we will be using 2 additional guides who will be in charge of nighttime and pre-dawn scouting for pumas in a separate vehicle with radio communication. One of them is a girl whose name I do not know; the other one is Rodrigo Moraga who will be working with you after Avistar Patagonia. He is supposed to be tops.
Arthur, this upcoming trip for me will be my 11th one to Torres del Paine, about half of them for trekking with my wife and the rest alone for photography, so, I feel I will no be patronizing you if give 3 pieces of advice:
1) There are pumas in the park and you will see them if they are to be seen. You are there with the top scout and he will do his best. However, it is a matter of chance. Please enjoy the park, its changing light and incredible wild scenery, and do not let pumas become the one and only subject. It will only add stress to you and everybody with you. I´ve seen other people ruin their trips because they were obsessed with seeing and photographing puma.
2) Wind is omnipresent and extremely strong and gusty. Do not leave your tripod standing unattended otherwise you will experience a $ 20,000 wind gust….
3) Weather. The only thing you can say for sure is that the weather will change. And it does so every mile of the road and every ten minutes. In addition, the the park has distinct weather sections. So it is quite assured that you will be experiencing the 4 seasons of the several times during your visit, often on the same day. This is what often makes the quality of light so incredible; each location never seems to look the same. I am telling you this so that you are not tempted to stay in when you see bad weather through the hotel window.
With a big embrace, Alex
My Comments
I actually met Alex's brother Gustavo on a SW FLA IPT before I met Alex. I hope that he can make it to dinner as he is a dear, sweet man whom I have not seen in too many years.
Alex's excellent advice applies well across the board. Most importantly, bad weather often equals excellent photography. As for the wind, I have seen too many unattended rigs blown over by a wind gust. Folks often exacerbate the risks by putting their tripod down on a slope or by putting it down with one leg shorter than the others. At the least, you should pull out the leg tabs and then spread the legs before putting the rig down; this renders it shorter and more stable. Best is to simply lay the tripod and lens on the ground. It can't fall if it is already on the ground….
Travel Plans
I fly from Orlando to Punta Arenas late on Sunday afternoon and arrive in Chile the next afternoon. Denise, who is flying down from Newark, gets in a bit after me. From there we travel by van to the Remota Lodge where we will both be presenting at Avistar Patagonia. On the afternoon of November 5th, we will meet expert photography guide and puma tracker Rodrigo Moraga and will continue on to EcoCamp Patagonia at Torres del Paine for five nights. Then back to Punta Arenas on the 11th, overnight there, and head home on the 12th, stopping in Santiago for dinner with Alejandro Furman. Then home for both of us the next day. We hope to have lots of wonderful images to share with you on our return. Or before. The word is that we will have some internet access while we are in Chile.
Avistar Patagonia. the Bird Photography Workshop
Denise Ippolito and yours truly will be speaking at the Avistar Patagonia event in southern Chile next week. We would love to see all of our South American friends there. I am pretty sure that registration is still open and will be for at least a few days more. Learn more here.
I am looking forward to seeing old friend Dave Tipling again and to meeting many of South America's greatest bird photographers. I hope that you can join us for what will be a most exciting event n Chilean Patagonia. Denise and I are staying on for an additional week to photograph at the spectacular Torres del Paine National Park.
BIRDS AS ART 2nd International Bird Photography Competition
Learn more and enter the BIRDS AS ART 2nd International Bird Photography Competition here. Twenty-five great prizes including the $1000 Grand Prize and intense competition. Bring your best.
2014 Tanzania Summer Safari
If you are interested in joining us in Tanzania next summer please shoot me an e-mail and I will be glad to forward you the PDF with dates, itinerary, and price.
Support the BAA Blog. Support the BAA Bulletins: Shop B&H here!
We want and need to keep providing you with the latest free information, photography and Photoshop lessons, and all manner of related information. Show your appreciation by making your purchases immediately after clicking on any of our B&H or Amazon Affiliate links in this blog post. Remember, B&H ain't just photography!
Amazon
Everyone buys something from Amazon, be it a big lens or deodorant. Support the blog by starting your search by starting your search by clicking on the logo-link below. No purchase is too small to be appreciated; they all add up. Why make it a habit? Because I make it a habit of bringing you new images and information on an almost daily basis.
Typos
In all Bulletins, feel free to e-mail or leave a comment regarding any typos, wrong words, misspellings, omissions, or grammatical errors. Just be right. 🙂
IPT Info
Many of our great trips are filling up. Two great leaders ensure that you will not learn more anywhere about how to make great images. Click here for the schedule and additional info.