Scenic Image Versatility
Wherever on the planet I am photographing I find the Canon EF 70-200mm f/2.8L IS II USM lens to be a perfect adjunct to whatever big lens I am using. It fits perfectly with the 500mm II/a>, the 600II, and with the 200-400 with Internal 1.4X TC.
The image above shows the three Paine Towers with Condor Nest on our right. The towers are one of the park's two iconic formations. We stopped when we noticed a bit of golden light on the two left-hand towers. While wide angle lenses often work well for landscape photography (see here) I often go to an intermediate telephoto lens to achieve much tighter and often more dramatic and detail revealing framing. That the 70-200 is capable of creating professionally sharp images with either the 1.4X III or the 2X III TC makes this fast lens even more versatile.
The image above was created from one of the RAW files that went into creating an in-camera HDR Art Vivid JPEG; I went with the RAW for two reasons: the color in the Art Vivid JPEG was a bit over the top and hand holding in the high winds resulted in a fine black outlining of the peaks. I used both Color Efex Pro and Viveza to punch up the image while trying to avoid over-doing things. I am happy with the result.
You can learn everything that you need to know about creating in-camera HDRs and Multiple Exposures with your 5D III in our 5D Mark III User's Guide. This great e-Guide also covers all menu items and Custom Function settings, details the great AF system, and includes my custom Case setting for photographing birds in flight and in action.
HDR and 10,000 K for Black and White
On a seemingly boring white sky morning I went in tight with the 70-200/1.4X TC combo to dramatize the shapes and textures of the rocks. To get as close as possible to a B&W and to eliminate the huge blue cast of the heavily overcast morning I set the color temperature to K 10,000. I use the Q button to the right of the rear LCD screen to make color temperature and many other changes quickly and easily. Again, as described in detail in our 5D Mark III User's Guide. And again, I used both Color Efex Pro and Viveza to enhance the tones and textures of the rocks.
Here we have a good view of Los Cuernos, "The Horns," the park's other iconic rock formation. One of our two guides, Cristina Trugeda, let us know that the dark rock is sedimentary rock and that the lighter rock is granite. As the shutter speed for the lightest image here was 1/30 sec. being on a tripod was mandatory to prevent any outlining problems caused by misalignment. Note the fine high ISO performance of the 5D Mark III.
Wildlife Versatility
My standard practice is to try to have the 70-200/1.4X TC combo available whenever I am afield. While searching for subjects by vehicle in Chile this rig rested on the floor. While tooling around in my own vehicle it sits on the passenger seat. And when I am walking down a beach it hangs most times over my right shoulder via a Black Rapid S-7 strap.
Note here that by working wide open at f/4 with ISO 800 that I had enough shutter speed (1/320 sec.) so that it was not necessary to go to ISO 1600. Both Denise and I wished that we had spent more time photographing the Guanacos that are actually a type of camel. Again Cristina educated us: the Guanacos are free and wild animals from which the domesticated Llama arose. In northern Chile the free and wild Vicuna gave rise to the domesticated Alpaca.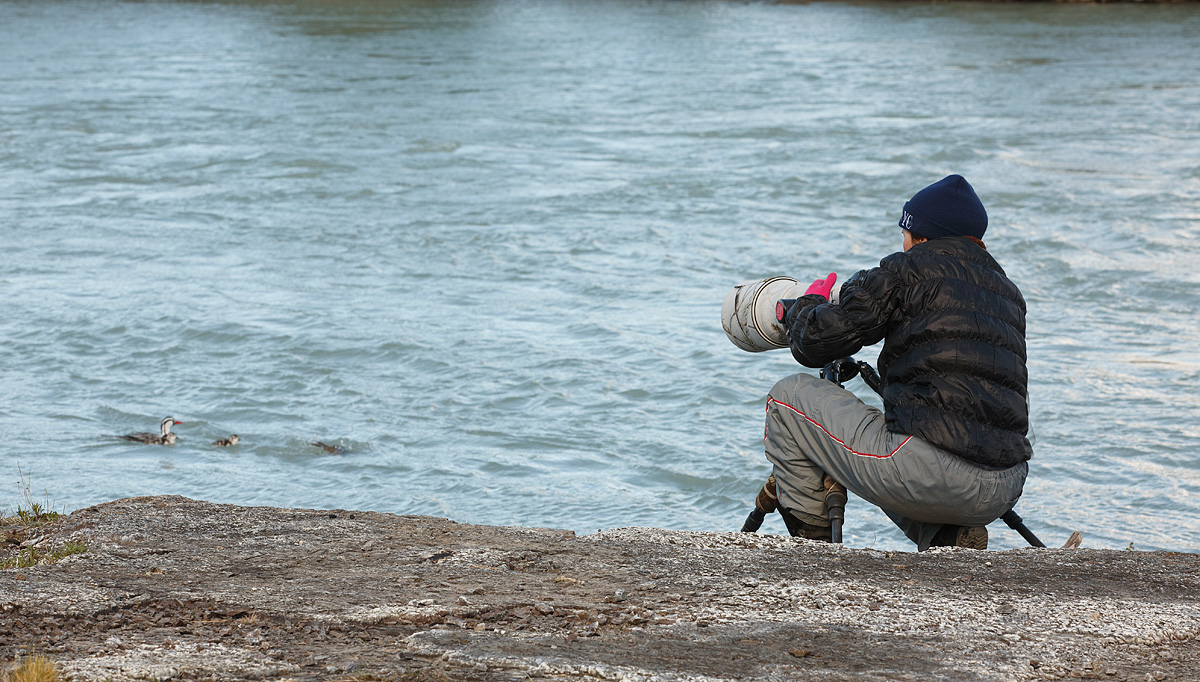 This image of Denise Ippolito at work with her 600 II was created with the hand held Canon EF 70-200mm f/2.8L IS II USM lens (at 135mm) and the Canon EOS 5D Mark III Digital camera body ISO 400. Evaluative metering +1 stop: 1/320 sec. at f/9 in Av Mode.
Image courtesy of and copyright 2013: Rodrigo Moraga.
Central sensor/AI Servo Rear Focus/Surround AF on Denise's upper back and re-compose. Click here if you missed the latest version of the Rear Focus Tutorial. Be sure to click on the image to enjoy a larger version.
Your browser does not support iFrame.
"B-roll Versatility"
At Torres del Paine our main focus was on birds, wildlife, and landscape photography. In the trade vernacular, anything else is B-roll stuff, images of non-target subjects that help to tell the story: people, buildings including lodges and hotels, food, vehicles, and just about anything that will help fill in the blanks. If you missed the Torrential Miracle blog post that detailed our heart-stopping experience with a beautiful family of Torrent Ducks, you can see it here. You can see Denise's images from that memorable morning here along with a few others.
Insane Deal on One of My Very Favorite Lenses
Right now B&H is offering one of my very favorite lenses, the Canon EF 70-200mm f/2.8L IS II USM lens, at the ridiculously low price of only $1899.00 The regular price is $2499.00. They are offering a limited quantity as follows: after clicking on one of the BAA affiliate links here proceed to checkout to receive the $2199.00 price. Follow that up with the mail-in-rebate $300.00. When the smoke clears you will own this great lens for only $1899. The rebate is good only for US purchasers. The $1899 is the lowest ever price anywhere. Get one today and earn a free contest entry.
Note: the rebate is good only for US purchasers.
I have this lens with me on every trip. I use it as above for scenics and habitat images. I use it to create bird scapes and images of groups of birds, for flight images of single birds with either TC and often with the 1.4X III TC for flocks in flight and for blast off blurs. It is a great travel and all purpose nature and wildlife lens. It is rare that I am in the field without having the 70-200 II on my shoulder via the Black Rapid S-7 strap.
Image Questions
Which of the four images above is your favorite? Please let us know why you made your choice.
Bosque IPTs/Late Registration Discounts Increased!
For information on both the 7-Day and the recently announced short version of the 2013 Bosque IPTs please scroll down here. If you would like to join us for the first 3 or 4 days of this IPT please shoot me an e-mail. Please call Jim at 863-692-0906 or e-mail for late registration discount info.
BIRDS AS ART 2nd International Bird Photography Competition
Learn more and enter the BIRDS AS ART 2nd International Bird Photography Competition here. Twenty-five great prizes including the $1000 Grand Prize and intense competition. Bring your best.
2014 Tanzania Summer Safari
If you are interested in joining us in Tanzania next summer please shoot me an e-mail and I will be glad to forward you the PDF with dates, itinerary, and price.
Support the BAA Blog. Support the BAA Bulletins: Shop B&H here!
We want and need to keep providing you with the latest free information, photography and Photoshop lessons, and all manner of related information. Show your appreciation by making your purchases immediately after clicking on any of our B&H or Amazon Affiliate links in this blog post. Remember, B&H ain't just photography!
Amazon
Everyone buys something from Amazon, be it a big lens or deodorant. Support the blog by starting your search by starting your search by clicking on the logo-link below. No purchase is too small to be appreciated; they all add up. Why make it a habit? Because I make it a habit of bringing you new images and information on an almost daily basis.
Typos
In all blog posts and Bulletins feel free to e-mail or leave a comment regarding any typos, wrong words, misspellings, omissions, or grammatical errors. Just be right. 🙂
IPT Info
Many of our great trips are filling up. You will learn more about how to make great images on a BAA IPT than anywhere else on the planet. Click here for the schedule and additional info.