Beyond Spectacular Part I
What can I say? 2028 images created. 480 first edit keepers. Denise and I stayed at the refuge from 6am till 5:30 pm. With this being my 19th straight year here at the Thanksgiving season, yesterday was my best day ever at Bosque.
Snow and Cranes
The combination of fresh white snow and soft grey cranes is a most wonderful color combo. It is hard to make a bad image in these conditions. Here a sandhill picks at a corn cob. Yesterday was only my second decent snow in 21 visits to Bosque.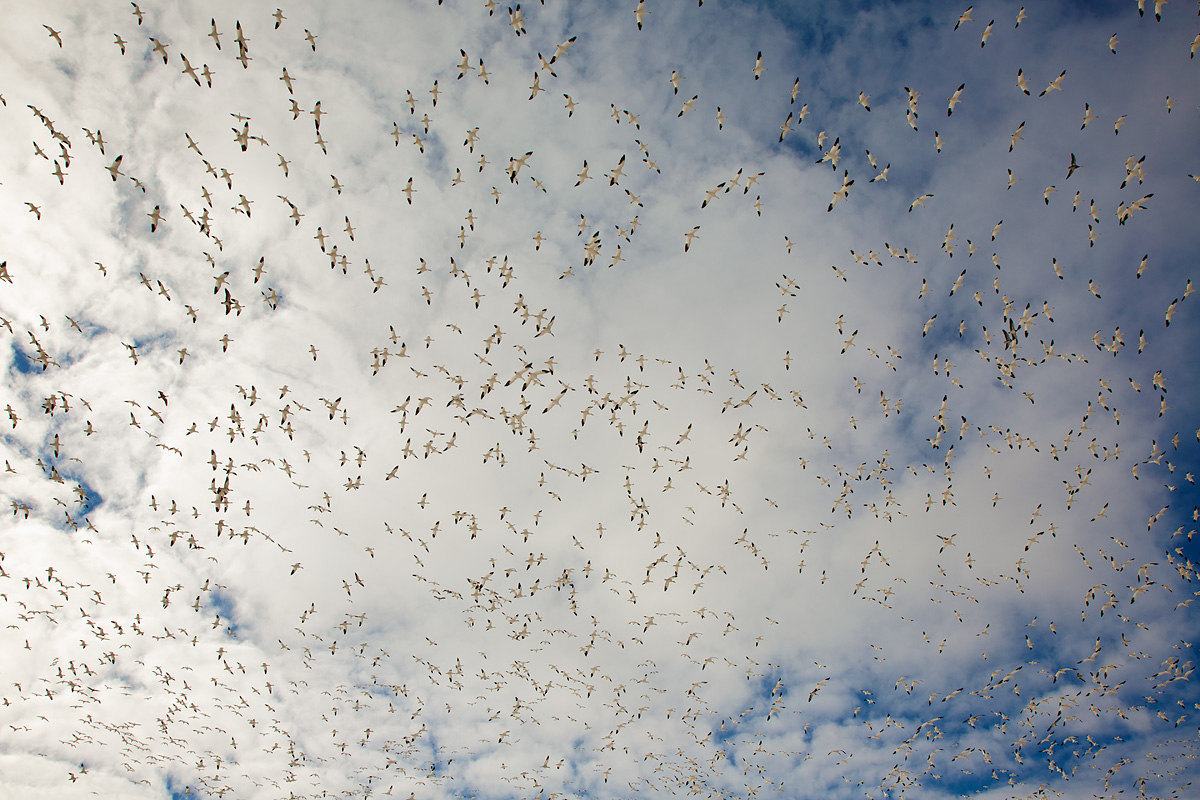 This image was also created yesterday at Bosque del Apache NWR in San Antonio, New Mexico, this one with the Canon EF 24-105mm f/4L IS USM lens and the Canon EOS 5D Mark III Digital camera body ISO 400. Evaluative metering +1 stop as framed: 1/400 sec. at f/16 in Av mode. Please do not ask why I was at f/16.
Central sensor/AI Servo Rear Focus/Suround AF active at the moment of exposure. Click here if you missed the latest version of the Rear Focus Tutorial. Be sure to click on the image to enjoy a larger version.
Image #3
Your browser does not support iFrame.
Wide Angles
With the birds blasting off every ten minutes, the huge flocks were often directly overhead. I tried at first with the fish eye lens without any great success, but inspired by Denise Ippolito who kindly moved the car so that I could grab my 24-105. I did so with great success.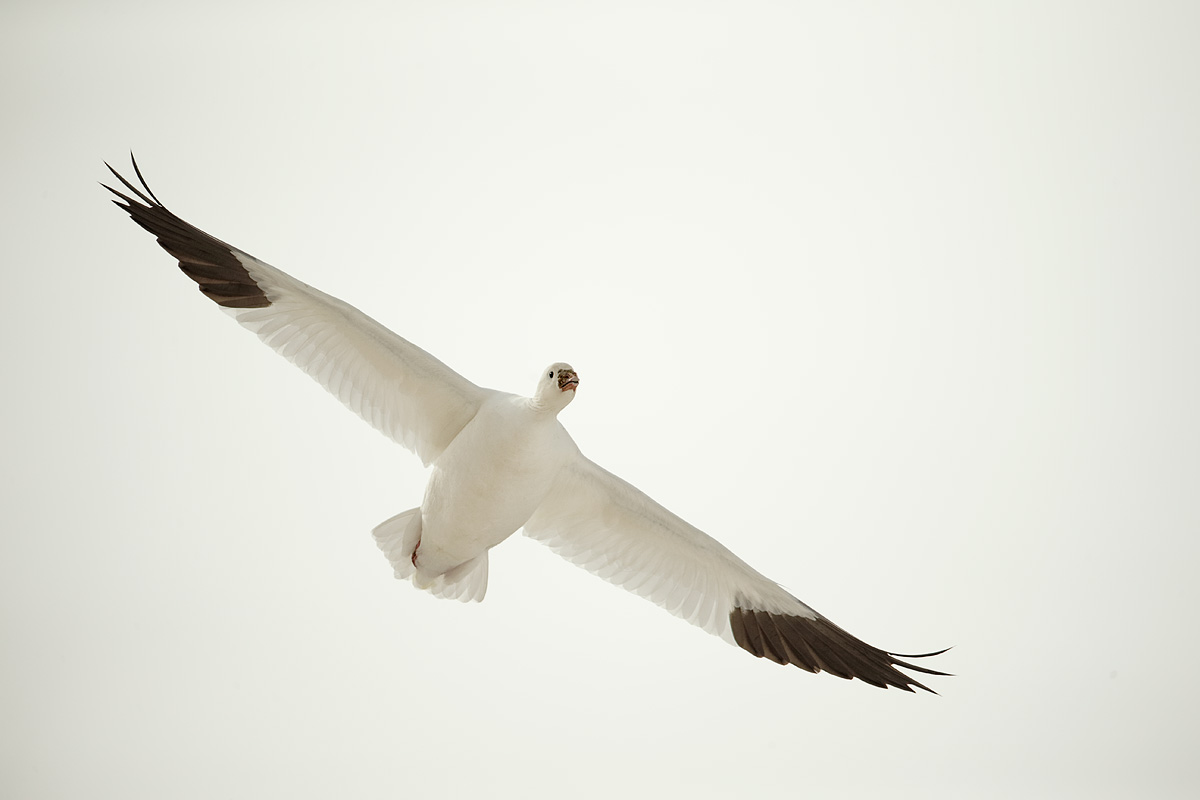 This Ross's Goose image was also created at Bosque del Apache NWR on the very early morning of November 22, 2013, this one with the hand held
Canon EF 200-400mm f/4L IS USM Lens with Internal 1.4x Extender (with the internal TC in place at 513mm) and the Canon EOS-1D X. ISO 500. Evaluative metering +1 2/3 stops as framed in Av Mode:1/5000 sec. at f/5.6.
Central sensor/AI Servo/Surround–Rear Focus AF as framed active at the moment of exposure. Click here to see the latest version of the Rear Focus Tutorial. Click on the image to see a larger version.
Image #4
Your browser does not support iFrame.
The "T" Shot
Whenever there is a blast-off there is a good chance that you will have some geese flying over the road. Lenses in the 300-400mm class with and without teleconverters are ideal for creating images of the birds in flight directly overhead. On sunny days it is possible to create some photos with dramatic backlight coming through the wings of the geese. Here, on a cloudy day with snow on the ground, the light reflected off the snow gave this Ross's Goose a heavenly glow.
Watch Your Blast-off Backgrounds
Hand holding intermediate telephoto zoom lenses makes it easy to frame your blast-off images while striving for a clean lower edge and a clean upper edge. Be sure to watch background elements such as trees or as here, mountains, and to place them in a pleasing location in the image.
Image Questions?
Why was I using the Hoya 77mm Neutral Density (ND) 0.9 (3-stop) Pro 1 Digital Multi-Coated Glass Filter for images #1 and #5?
Why was f/16 a poor choice in Image #3?
Which of the five images is your favorite? Please let us know why.
Bosque Short Version IPT
Not Too Late to Join Us
For information on the version of the 2013 Bosque IPTs please scroll down here. Please shoot me an e-mail if you would like to join us. Please call Jim at 863-692-0906 or e-mail for late registration discount info or to enter.
BIRDS AS ART 2nd International Bird Photography Competition
Learn more and enter the BIRDS AS ART 2nd International Bird Photography Competition here. Twenty-five great prizes including the $1000 Grand Prize and intense competition. Bring your best.
Support the BAA Blog. Support the BAA Bulletins: Shop B&H here!
We want and need to keep providing you with the latest free information, photography and Photoshop lessons, and all manner of related information. Show your appreciation by making your purchases immediately after clicking on any of our B&H or Amazon Affiliate links in this blog post. Remember, B&H ain't just photography!
Amazon
Everyone buys something from Amazon, be it a big lens or deodorant. Support the blog by starting your search by starting your search by clicking on the logo-link below. No purchase is too small to be appreciated; they all add up. Why make it a habit? Because I make it a habit of bringing you new images and information on an almost daily basis.
Typos
In all blog posts and Bulletins feel free to e-mail or leave a comment regarding any typos, wrong words, misspellings, omissions, or grammatical errors. Just be right. 🙂
IPT Info
Many of our great trips are filling up. You will learn more about how to make great images on a BAA IPT than anywhere else on the planet. Click here for the schedule and additional info.