Wings Up/Wings Down
My two favorite wing positions, illustrated nicely here, are wings up (above) and wings down (below). Take a moment to leave a comment and let us know if you have a general preference for either wings up or wings down. And whatever your preference, let us know which of the two images here you like best. What are the strong points and weak points of each image? Is there anything that you love? Anything that bugs you?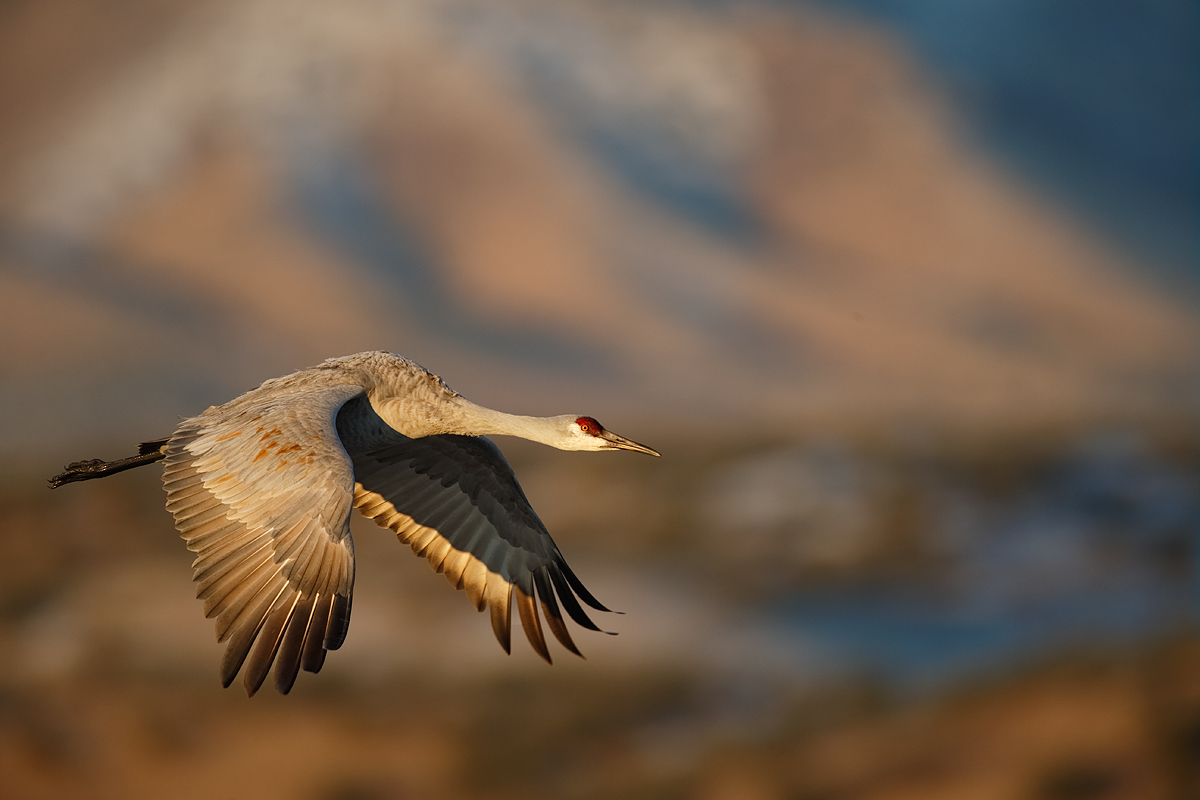 This Sandhill Crane image was the third frame in a sequence of about six. It was created in the same second as the image above, also with with the Gitzo 3532 LS carbon fiber tripod, the Mongoose M3.6 head, the Canon EF 600mm f/4L IS II USM lens, the Canon 1.4x EF Extender III (Teleconverter), and the Canon EOS-1D X. ISO 800. Evaluative metering +1 stop off the white frosted grasses: 1/1600 sec. at f/5.6 in Manual mode.
One sensor to the left of the central sensor/AI Servo/Surround Rear Focus AF just caught the top of the bird's neck just behind the head–active at the moment of exposure. Click here to see the latest version of the Rear Focus Tutorial. Click on the image to see a larger version. This is the full frame original capture.
Wings Down
Your browser does not support iFrame.
Crane Pool News
Activity at both crane pools has been picking up the last day or two. Both Harry's Crane Pool and Ed Cranepool have been seeing a lot more activity both mornings and afternoons but still crane numbers at these traditional locations are below average.
For details on how to photograph at both of these great locations see the Bosque Site Guide. If you can't make an IPT getting the site guide is the best way to share my 19 years of experience. Learn to photograph Bosque like a pro on your very first day there.
Bosque Short Version IPT
Not Too Late to Join Us
For information on the version of the 2013 Bosque IPTs please scroll down here. Please shoot me an e-mail if you would like to join us. Please call Jim at 863-692-0906 or e-mail for late registration discount info or to enter.
BIRDS AS ART 2nd International Bird Photography Competition
Learn more and enter the BIRDS AS ART 2nd International Bird Photography Competition here. Twenty-five great prizes including the $1000 Grand Prize and intense competition. Bring your best.
Support the BAA Blog. Support the BAA Bulletins: Shop B&H here!
We want and need to keep providing you with the latest free information, photography and Photoshop lessons, and all manner of related information. Show your appreciation by making your purchases immediately after clicking on any of our B&H or Amazon Affiliate links in this blog post. Remember, B&H ain't just photography!
Amazon
Everyone buys something from Amazon, be it a big lens or deodorant. Support the blog by starting your search by starting your search by clicking on the logo-link below. No purchase is too small to be appreciated; they all add up. Why make it a habit? Because I make it a habit of bringing you new images and information on an almost daily basis.
Typos
In all blog posts and Bulletins feel free to e-mail or leave a comment regarding any typos, wrong words, misspellings, omissions, or grammatical errors. Just be right. 🙂
IPT Info
Many of our great trips are filling up. You will learn more about how to make great images on a BAA IPT than anywhere else on the planet. Click here for the schedule and additional info.