This Blog Post…
This blog post took more than 8 hours to prepare. Each blog post is presented for your enjoyment, to teach you a few new things about nature photography, and hopefully, to inspire you. Please consider doing all of your holiday shopping by starting with our Amazon affiliate link immediately below or with one of our B&H affiliate links at the end of this blog post. Your purchases will not cost you a penny more and using our links is a great way to thank me for my work here and my work on the BIRDS AS ART Bulletins. :).
Thanks for considering this request. No purchase is too small to be appreciated!
Beyond Spectacular Part II
If you missed Beyond Spectacular Part I, click here. What can I say? 2028 images created. 480 first edit keepers. Denise Ippolito and I stayed at the refuge from 6am till 5:30 pm. With this actually being my twentieth straight year here at the Thanksgiving season, November 24, 2013 was my best day ever at Bosque.
600II/1.4X III/1D X for Flight
The 600mm f/4L IS II lens, the 1.4X III telecovnerter, and the EOS 1D X are an incredible combo for tripod-mounted flight photography. Others stronger and younger than I use the same combo effectively for hand held flight photography. In either case, the snow reflected light up onto the undersides of the geese and cranes giving the birds a pleasing snow glow. Note that it is important to add lots of light in these conditions to produce a proper exposure with data into the right-most histogram box.
Mountains, Mountains, Mountains
The background mountains are an important compositional element in each of the first two images presented here. In the image directly above they are the subject. The dusting of snow makes the image that much more attractive. My understanding is that Chupadera Peak is the largest peak in the range to the west of the refuge but that the other peaks are not formally part of a Chupadera range. Therefore the low mountains seen in the image above are not really the Chupaderas though pretty much everyone refers to them in that way.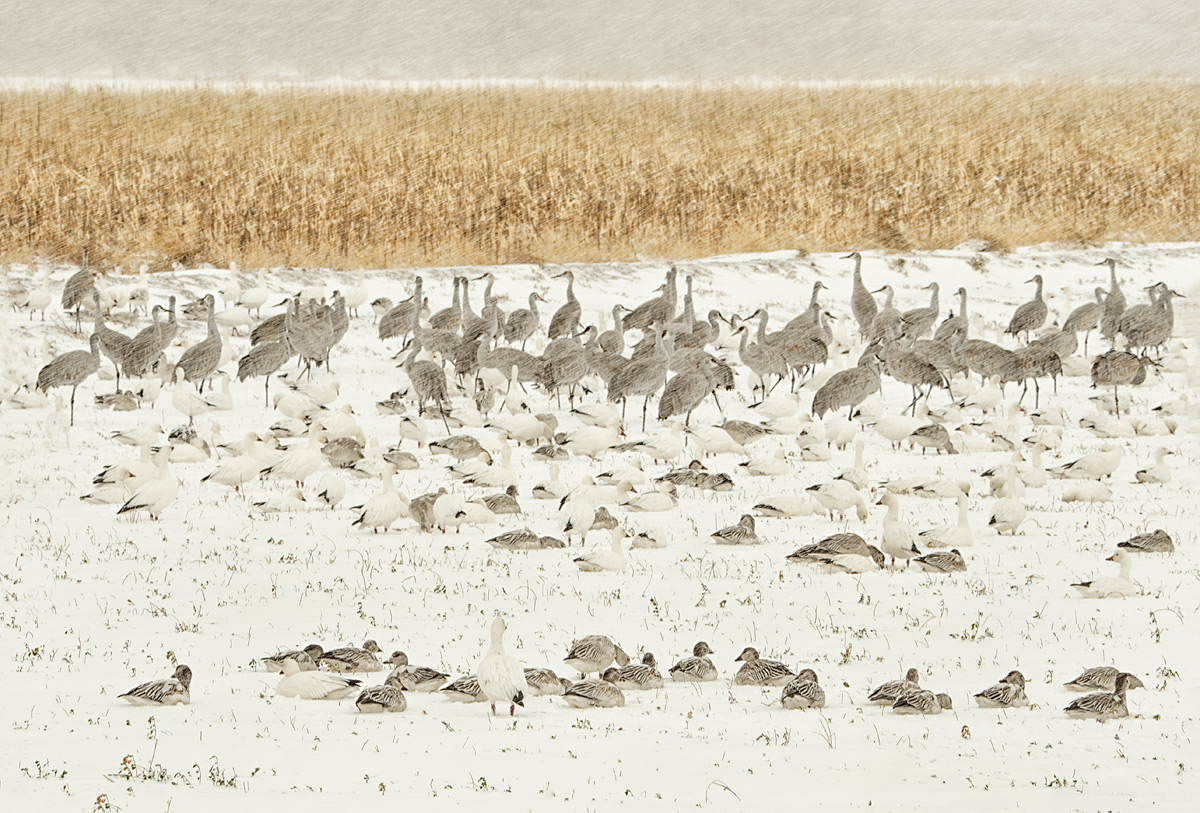 This birds in a snowy cornfield image was also created at Bosque del Apache NWR on the very early morning of November 22, 2013 with the Gitzo 3532 LS carbon fiber tripod, the Mongoose M3.6 head, the Canon EF 200-400mm f/4L IS USM Lens with Internal 1.4x Extender (with the internal TC in place at 315mm) and the Canon EOS-1D X. ISO 400. Evaluative metering +2 stops as framed in Av Mode: 1/60 sec. at f/18. Color temperature 8000K.
Central sensor/AI Servo/Surround–Rear Focus AF on the row of resting Snow Geese and re-compose. Click here to see the latest version of the Rear Focus Tutorial. Click on the image to see a larger version.
Image #4
Your browser does not support iFrame.
Snow at Bosque
The combination of snow, geese, cranes, and a cornfield is a powerful one for most folks, and irresistible one for me. Here I went to a small aperture with lots of depth-of-field. In my 20 years of visiting Bosque I have enjoyed a decent snowfall only twice. Snow has been even rarer for me than fire in the mist conditions; I have encountered that 3 or 4 times over my two decades of refuge visits. Be sure to enjoy it when you can!
Fish-Eye
At times you will find yourself at Bosque with hundreds if not thousands of geese directly overhead. Though south winds increase your odds, the situation may occur on any wind. Pointing a fish eye lens straight up is the way to go when it happens. For this image I could not point the lens directly up so I made sure to level the image in the viewfinder as best as I could by using the bottom line of the 4X6 viewfinder grid….
Using All the Clubs in your Bag
To create the images in today's blog post, all made on the very same day, I used the 600mm f/4L IS II, the 200-400 with Internal TC, the 70-200 f/2.8L IS II, and the old 15mm fish eye lens. In the first snow day post, Beyond Spectacular Part I, I featured an image created with the 24-105mm zoom lens.
So on a given day over the course of 11 1/2 hours I used every lens that I had at my disposal. How do you decide which lens to use? You see the snow. You see the birds either on the ground or in the air. You take note of the light and of what the birds are doing. You try to figure out what will happen next. You decide what you want to show in your image and then choose the tool that will best enable you to fulfill your photographic vision. Then you push the button at just the right time. With experience, your choices will become second nature.
Your Favorite?
Which of the six images is your favorite? Before you choose, be sure to click on each image to view and appreciate a larger version. Please let us know why.
Last Year's Grand Prize winning image by Lou Coetzer
BIRDS AS ART 2nd International Bird Photography Competition
The December 21, 2013 closing deadline is fast approaching.
Learn more and enter the BIRDS AS ART 2nd International Bird Photography Competition here. Twenty-five great prizes including the $1000 Grand Prize and intense competition. Bring your best.
Support the BAA Blog. Support the BAA Bulletins: Shop B&H here!
We want and need to keep providing you with the latest free information, photography and Photoshop lessons, and all manner of related information. Show your appreciation by making your purchases immediately after clicking on any of our B&H or Amazon Affiliate links in this blog post. Remember, B&H ain't just photography!
Amazon
Everyone buys something from Amazon, be it a big lens or deodorant. Support the blog by starting your search by clicking on the logo-link below. No purchase is too small to be appreciated; they all add up. Why make it a habit? Because I make it a habit of bringing you new images and information on an almost daily basis.
Typos
In all blog posts and Bulletins feel free to e-mail or leave a comment regarding any typos, wrong words, misspellings, omissions, or grammatical errors. Just be right. 🙂
IPT Info
Many of our great trips are filling up. You will learn more about how to make great images on a BAA IPT than anywhere else on the planet. Click here for the schedule and additional info.