Jumping for Joy
Beautiful early morning light. The bird is pretty much right down sun angle and the exposure is spot-on. The subject is gorgeous. The wing position is perfect. There is a great look at the silver primary coverts contrasting with the black primaries and secondaries. The perfect image design that features the goose perfectly positioned against a distant, pleasingly de-focused mountain background. When I saw this image on the camera's rear LCD screen I jumped for joy, though not very high out of concern for my healing left knee.
(Note: click here for the best diagram of dorsal wing surface feather tracts that I have seen.)
Yet the subject is not in sharp focus; the image is a total failure. I did not delete only because I knew that it would be perfect to make the point that in nature photography you need to do everything right. Often within a second or two at most…. That is the great challenge of bird and wildlife photography that drives me to succeed.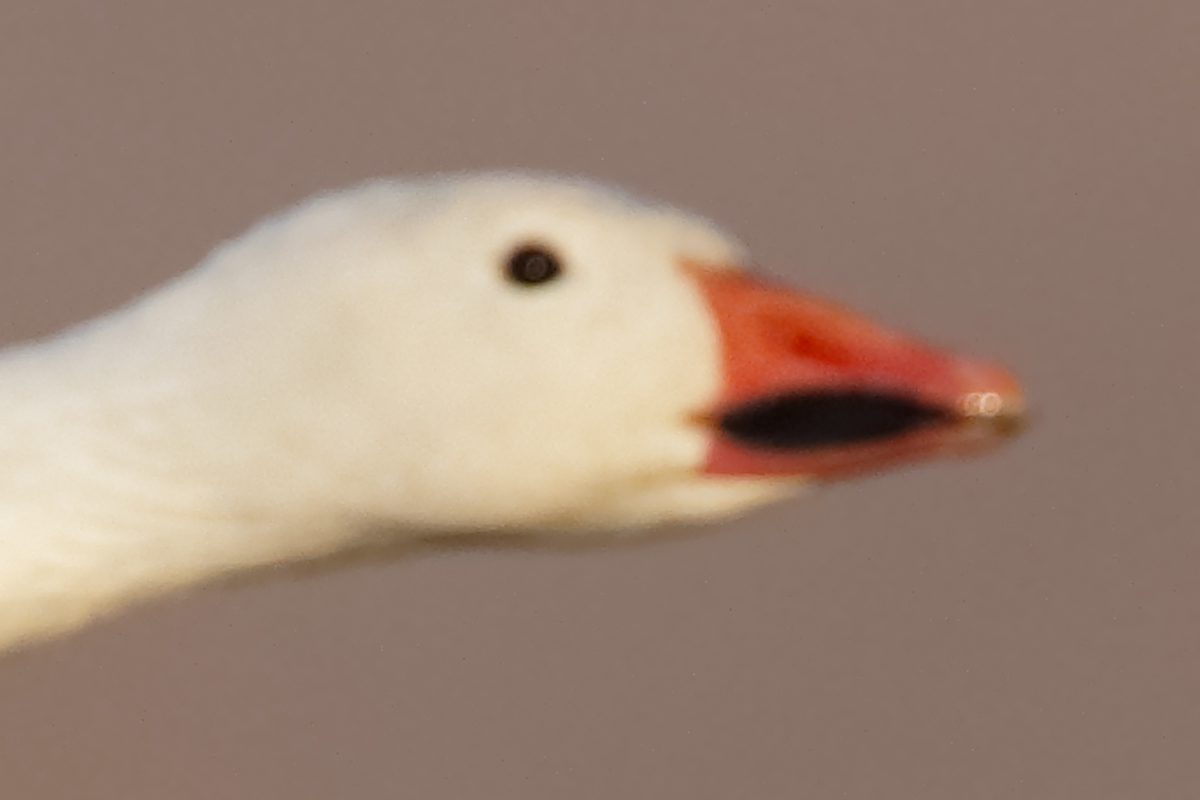 This is a 100% crop of the goose's head.
Near Perfection Equals Total Failure
As you can see plainly above, the bird's eye and face are not sharp. The image is a total failure. As you will see immediately below, this failure was caused by operator error.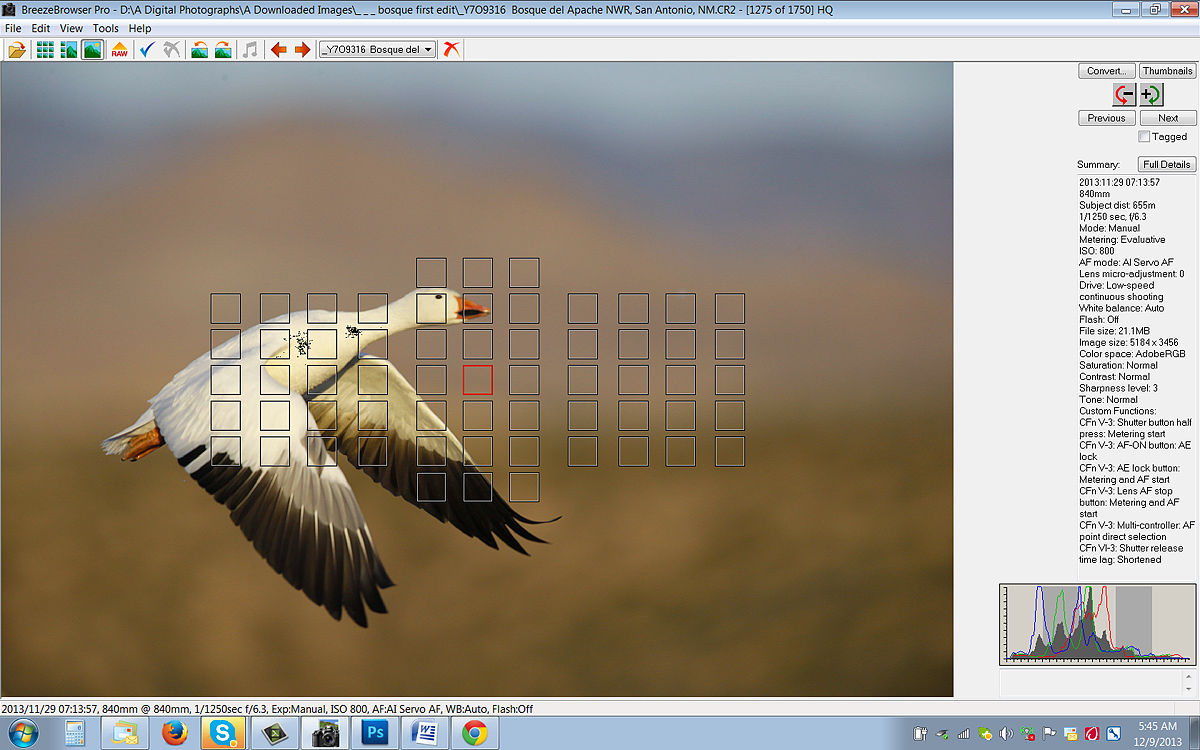 This is the BreezeBrowser Main View screen capture.
BreezeBrowser Main View Screen Capture
Above is the BreezeBrowser Main View screen capture for today's image. Note that the illuminated red square shows that the center focusing sensor was active at the moment of exposure. But it was not on the subject…. In an ideal world one of the Surround AF points would have caught the top of the bird's far wing. But the main problem was that I had never properly acquired focus and was not matching the speed of the bird in flight with my panning speed. Had I done my job properly the 1D X would have nailed accurate focus as it does so often and well.
Note: in Breezebrowser you need to check "Show Focus Points" under View to activate this feature. To see the focus points in DPP check "AF Point" under View or hit Alt L. Hit Alt M to see Highlight Alert. To learn how and why I use DPP (Canon Digital Photo Professional) to convert my RAW files, see the info on our DPP RAW Conversion Guide here.
Note the perfect histogram and the smattering of flashing highlights on the goose's neck. The highlight alert in Breezebrowser is a bit more sensitive than the highlight alert on all Canon camera bodies so the few flashing highlights on the subject here let me know that I have made a perfect exposure with the brightest WHITE RGB values at about 238. Just as I like them.
Regular readers know that I use and depend on BreezeBrowser every day of the year. It allows me to sort my keepers and delete the rejects faster than any other Windows browsing program. We use it on the main computer in the home office to catalog our images file-drawer style. And the companion program, Downloader Pro allows me to download my images quickly and conveniently. It automatically adds my IPTC data and the shooting location. I have it set up to create a folder named by the Month/date/year. The Breezebrowser/Downloader Pro combo saves me many hours each week. To learn more or to purchase this great PC only program, click here. As far as the BreezeBrowser/Downloader Pro Combo goes, if you are using a Windows platform and are not using these two great programs you are at best, wasting your valuable time. My understanding is that Photo Mechanic is best for Mac-users who do not opt to run Parallels or VM Ware fusion on their Macs so that they can enjoy the many advantages of BreezeBrowser. See BreezeBrowswer on a Mac for details.
1D X AF Guide and 5D III User's Guide
To learn everything that I know about the great 1D X AF system check out our 1D X AF Guide here. 5D Mark III users should check out our 5D III User's Guide here.
Image Exposure Question
Why is the correct exposure here–ISO 800, 1/1250 sec. at f/6.3–1 1/3 stops lighter than my recommended bright white ISO 400 exposure of 1/2000 sec. at f/8? (Note: the sun was out….)
Great buy: Used Canon 800mm f/5/6L IS Lens for Sale
Friend and multiple IPT-veteran Monte Brown is offering his lightly used Canon 800mm f/5.6L IS lens in excellent condition for sale for $9,500. Purchase includes the lens case and hood, the 4th Generation Design Low Foot, the original foot, a LensCoat, the original invoice and the original Canon shipping carton. The lens was purchased new from B&H in April 2009 and was recently underwent a pre-sale clean and check by Canon. The buyer pays insured shipping via UPS Ground to US addresses only. The lens will be shipped only after your check clears.
The Canon EF 800mm f/5.6L IS USM Autofocus lens sells new for $13,223.00 so you will save a bundle on a great lens. No need to ever use a 2X…
If interested you can contact Monte by phone at 1-765-744-1421 or via e-mail.
Last Year's Grand Prize winning image by Lou Coetzer
Time is Running Out!
BIRDS AS ART 2nd International Bird Photography Competition
The December 31, 2013 closing deadline is fast approaching.
Learn more and enter the BIRDS AS ART 2nd International Bird Photography Competition here. Twenty-five great prizes including the $1000 Grand Prize and intense competition. Bring your best.
Support the BAA Blog. Support the BAA Bulletins: Shop B&H here!
We want and need to keep providing you with the latest free information, photography and Photoshop lessons, and all manner of related information. Show your appreciation by making your purchases immediately after clicking on any of our B&H or Amazon Affiliate links in this blog post. Remember, B&H ain't just photography!
Amazon
Everyone buys something from Amazon, be it a big lens or deodorant. Support the blog by starting your search by clicking on the logo-link below. No purchase is too small to be appreciated; they all add up. Why make it a habit? Because I make it a habit of bringing you new images and information on an almost daily basis.
Typos
In all blog posts and Bulletins feel free to e-mail or leave a comment regarding any typos, wrong words, misspellings, omissions, or grammatical errors. Just be right. 🙂
IPT Info
Many of our great trips are filling up. You will learn more about how to make great images on a BAA IPT than anywhere else on the planet. Click here for the schedule and additional info.