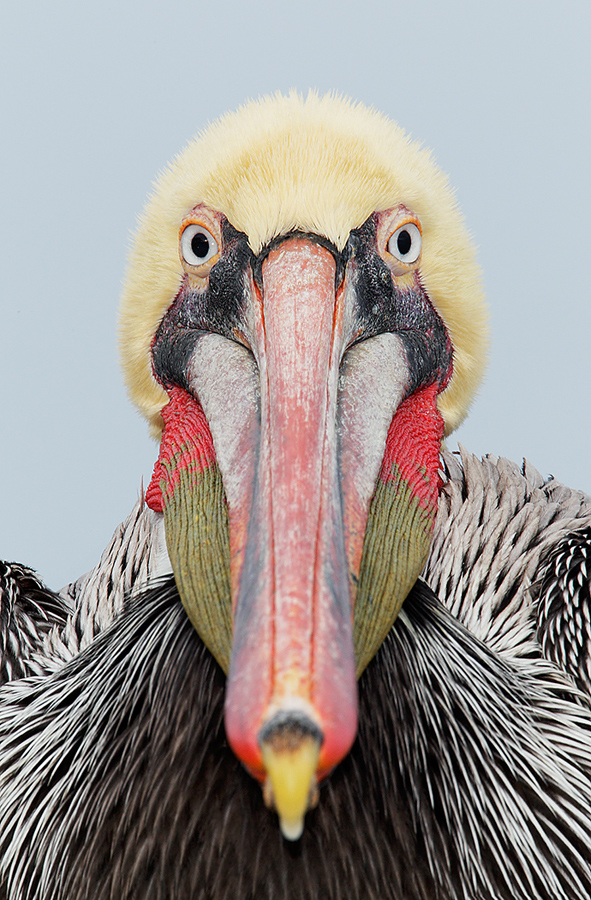 This Brown Pelican image was was created at LaJolla, CA with the Gitzo 3532 LS carbon fiber tripod, the Mongoose M3.6 head, the Canon EF 800mm f/5.6L IS USM Autofocus lens, the Canon 1.4x EF Extender III (Teleconverter), and the EOS-1D Mark IV now replaced by the Canon EOS-1D X. ISO 500. Evaluative metering +1 stop: 1/30 sec. at f/20 in Av mode.
Central sensor/Rear Focus AF on the base of the bill less than one half inch in front of the eyes and re-compose. Click here to see the latest version of the Rear Focus Tutorial. Click on the image to see a larger version.
The great 4-stop IS system of the 800 allowed me to make a sharp image at 1/30 at 1120mm with an effective magnification of slightly more than 29X! There is a great used 800 for sale below. Though I love my 600II there are times when I miss the 800….
Your browser does not support iFrame.
Long Lens Depth-of Field Lessons from LaJolla, CA
Lesson I: Depth-of-Field with Long Lenses at Close Range is Miniscule
It is a popular misconception that depth-of-field is always 33.3% in front of point of focus and 66% behind the point of focus. That is true with short lenses like the 24-105 and is an important principle for landscape photographers. But with telephoto lenses depth-of-field is pretty much right on the button at 50/50. That is whatever depth-of-field you have will be spread out equally with 50% in front of point of focus and 50% behind. Not buying that? Want to learn a lot more about d-o-f? As I have suggested before you can learn a ton by visiting DOFMaster by clicking here.
A quick visit with regards to the image above show that the d-o-f is indeed 50/50 with .36 inches in front of and .36 inches beyond the point of focus being in relatively sharp focus. That means that the total d-o-f is less than three-quarters of a single inch. That at f/20! As I have been writing, teaching, and preaching, depth-of-field with long lenses when you are working near the lens's minimum focusing distance is normally measured in fractions of a single inch. For the image above had I been working wide open at f/8 the total d-o-f field would have been slightly more than one-third of one inch…
Lesson II: Long Lens D-o-F Strategy
To maximize d-o-f, consider the 50-50 principle. For the image above I knew from experience that d-o-f would only be about an inch or less even at f/20 so I focused on the base of the bill less than a half-inch in front of the plane of the eyes. Doing that allowed me render the base of the bill and the eyes to be in relatively sharp focus. Though the d-o-f was so shallow, I was at least able to use it fairly effectively by knowing exactly where to focus.
If you have any d-o-f questions, please leave a comment and ask away.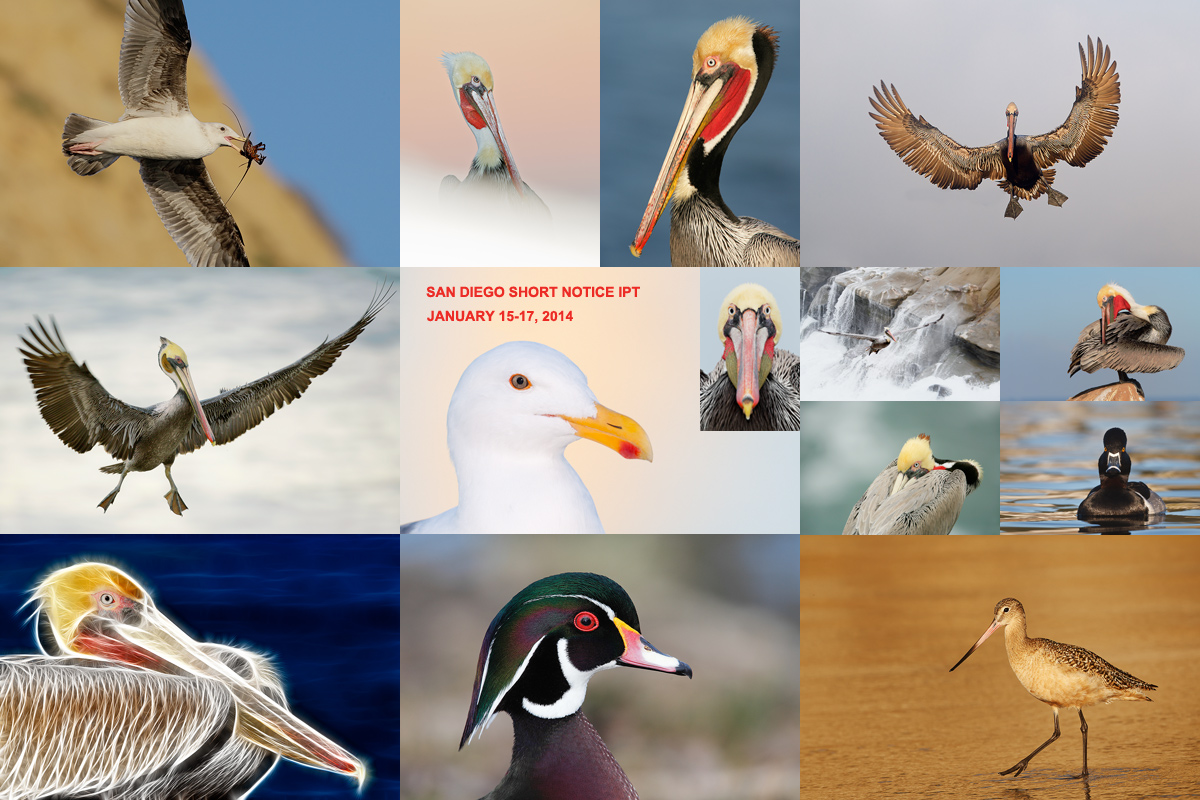 Join me in San Diego for three great days of photography and learning. Click on the image to better enjoy a larger version.
Pelican Paradise
LaJolla, California is a pelican paradise. At the right time of year, most will be sporting their incredibly beautiful breeding plumage of white and yellow and deep chocolate brown. But it is the olive green and bright red bill pouches that grabs you by the throat and never lets go. One of my LaJolla film images was honored in the BBC Wildlife Photographer of the Year Competitions. Today, I still don't have enough pelican images. I'd love to make another BBC-worthy photograph on my upcoming trip. I hope that you can join me in the quest. See below for details.
I've been away from LaJolla for too long. I visited San Diego for photography (and until 2007, to visit my folks who lived in North
park; my war hero Dad died in 2001) every year for almost three decades. My Mom, now 91 and living in Holbrook, Long Island, NY, lived in San Diego until seven years ago. Whenever I walked into my parent's home on Pentuckett Avenue the same conversation would take place:
Hazel Louise Morris: What are you gonna do tomorrow?
Arthur Edward Morris: Ma, you know what I am gonna do tomorrow.
HLM: What are you gonna do tomorrow?
AEM: Ma, I'm going to LaJolla bright and early.
HLM: What are you gonna do there?
AEM: Ma, you know what I am gonna do.
HLM: What are you gonna do there?
AEM: Ma, I'm going to photograph those beautiful pelicans.
HLM: Don't you have enough pelican pictures already?
AEM: No Ma.
Announcing the San Diego Short-Notice Small Group IPT. January 15-17, 3-Full Days: $1049. Meet and Greet after dinner on your own at 7:30pm on Tuesday, January 14, 2014. Limit 6/Openings: 1.
We will get to photograph the California race of Brown Pelican in flight, resting, preening, cleaning their bill pouches, and talking to their neighbors by tossing their bills high in the air. The afternoon sessions will feature Marbled Godwits, several gull species, and Wood and Ring-necked Ducks. If we have a cloudy morning we will get to photograph Harbor Seals. You will learn to get the right exposure every time, to see the best situation, to think like a pro, to create sharp, pleasing images, and to understand the joint effects of light and wind on the birds. All in a small group with tons of individual attention.
A $500 non-refundable deposit is required to hold your slot for this IPT. Your balance will be due no later than January 7, 2014. The balance is alo non-refundable. If the trip fills, we will be glad to apply a credit applicable to a future IPT for the full amount less a $100 processing fee. If we do not receive your check for the balance on or before the due date we will try to fill your spot from the waiting list. If your spot is filled, you will lose your deposit. If not, you can secure your spot by paying your balance.
If you are planning to register please shoot me an e-mail.
Then please print, complete, and sign the form that is linked to here and shoot it to us along with your deposit check (made out to "Arthur Morris.") Though we prefer a check, you can also leave your deposit with a credit card by calling the office at 863-692-0906. If you register by phone, please print, complete and sign the form as noted above and either mail it to us or e-mail the scan.
If you have any questions, please feel free to contact me via e-mail
San Diego Site Guide
Can't make the IPT? Get yourself a copy of the San Diego Site Guide; it's the next best thing to being on an IPT. Nearly 30 years of San Diego bird photography revealed in one fell swoop.
Great buy: Used Canon 800mm f/5/6L IS Lens for Sale
Friend and multiple IPT-veteran Monte Brown is offering his lightly used Canon 800mm f/5.6L IS lens in excellent condition for sale for $9,500. Purchase includes the lens case and hood, the 4th Generation Design Low Foot, the original foot, a LensCoat, the original invoice and the original Canon shipping carton. The lens was purchased new from B&H in April 2009 and was recently underwent a pre-sale clean and check by Canon. The buyer pays insured shipping via UPS Ground to US addresses only. The lens will be shipped only after your check clears.
The Canon EF 800mm f/5.6L IS USM Autofocus lens sells new for $13,223.00 so you will save a bundle on a great lens. No need to ever use a 2X…
If interested you can contact Monte by phone at 1-765-744-1421 or via e-mail.
Last Year's Grand Prize winning image by Lou Coetzer
Time is Running Out!
BIRDS AS ART 2nd International Bird Photography Competition
The December 31, 2013 closing deadline is fast approaching.
Learn more and enter the BIRDS AS ART 2nd International Bird Photography Competition here. Twenty-five great prizes including the $1000 Grand Prize and intense competition. Bring your best.
Support the BAA Blog. Support the BAA Bulletins: Shop B&H here!
We want and need to keep providing you with the latest free information, photography and Photoshop lessons, and all manner of related information. Show your appreciation by making your purchases immediately after clicking on any of our B&H or Amazon Affiliate links in this blog post. Remember, B&H ain't just photography!
Amazon
Everyone buys something from Amazon, be it a big lens or deodorant. Support the blog by starting your search by clicking on the logo-link below. No purchase is too small to be appreciated; they all add up. Why make it a habit? Because I make it a habit of bringing you new images and information on an almost daily basis.
Typos
In all blog posts and Bulletins feel free to e-mail or leave a comment regarding any typos, wrong words, misspellings, omissions, or grammatical errors. Just be right. 🙂
IPT Info
Many of our great trips are filling up. You will learn more about how to make great images on a BAA IPT than anywhere else on the planet. Click here to learn about the just-announced 2014 Bosque IPTs. And click here for the schedule and additional info.