Gear Bag Discussion for a Big Trip
Denise Ippolito and I are taking 7 clients on a long-sold-out Japan in Winter IPT leaving the US on February 10th. Paul McKenzie who helped organize the trip–he lives in Hong Kong–is co-leading. There have been lots of questions about what lenses to bring. Below I share a few of the e-mails discussing just that subject. As you read the e-mails, do consider the images presented here and how they relate to the e-mails and to you.
From My First Gear e-Mail to the Group
Hi Gang,
I am in a quandary. The first (and last) time that I went to Japan I brought the 300 f/2.8 L IS II and the 800 for big glass. I did use the 800 a bit for head portraits of the eagles off the tripod–yes, on the boat and a lot for photographing the cranes in flight, often with the 1.4X TC. That said I made a ton of great images with the 300/1.4X TC combo and with the 70-200 II.
I no longer own the 800 having replaced it with the 600 f/4L IS II. And I also own the 200-400 with internal TC…
I am trying to decide whether to bring the 200-400 and perhaps a 300 II–the latter is lighter and much easier to hand hold and leave the 600 II at home…. The 2-4 with both TC gets me to 784mm. But the 600 with the 2X TC gets me to 1200, a huge advantage…. I expect that Paul will often have a shorter rather than a longer lens in his hands than me as he loves doing the wide environmental stuff…. I will be also bringing the 24-105 and leaving the fish eye at home….
So my big decision is whether to bring the 600 II or the 200-400 as my big lens. I am leaning towards the 600 II. If I do that I will almost surely buy a new 300 II and bring that so that I have something lighter for flight. The 2-4 would be great but it is heavier and it is nearly impossible to bring the 600 II, the 2-4, and the 300 II and all the rest. Heck, the 600II and the 300 II is load enough…
An option that I did not mention was to do the whole trip without a big super-telephoto, that is, to go only with the 300f/2.8L IS and both teleconverters…. For those considering bring a 200-400 the edge of course goes to the Canon version with the internal TC.
ps: bring lots of layers as the eagle boat might be brutally cold. I think that we had -5F one morning…. But there is a warm cabin.
pps: some might opt to do an afternoon trip at additional expense or possibly to do only one trip in the morning and one in the afternoon. We need six to get an afternoon boat but we could always recruit some other photographers….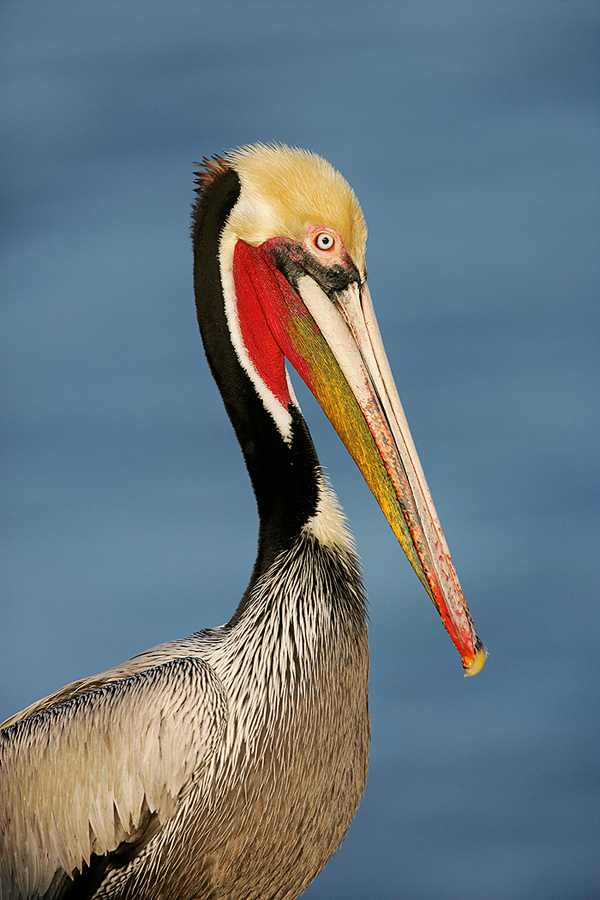 This breeding plumage Brown Pelican image was created at LaJolla, CA in January 2006 with the predecessor of the Gitzo 3532 LS carbon fiber tripod, the Mongoose M3.6 head, the 600mm f/4L IS lens) now replaced by the Canon EF 600mm f/4L IS II USM lens) and the EOS-1D Mark II (now replaced by the Canon EOS-1D X). ISO 400. Evaluative metering at zero in Av mode. Color temperature: Cloudy.
Central sensor/Rear Focus AF on the bird's eye and re-compose. Click here to see the latest version of the Rear Focus Tutorial. Click on the image to see a larger version.
Note that as recently as 2011 I was working most often in Av mode rather than Manual mode…
Your browser does not support iFrame.
Early Morning Thoughts…
Hi Again All, Here I will share the thoughts that I was having as I awoke in a somewhat dream-like state this morning….
I have always been a long lens guy. I see the world in small rectangular frames as if I were always looking through a long telephoto lens. With a teleconverter. I love 3/4 frame images of whole birds and I love tight head portraits with clean backgrounds. Please remember that that is me. That is my style. I believe that Denise is much the same. I know that Paul tends to work much wider than I do using shorter focal length lenses so as to include lots of beautiful habitat. That said, I think that Paul had his the 600 when I last saw him in Japan. I might be wrong though….
If you brought only a 70-200 with TCs or an 80-400 or 100-400 without TCs or one of the Sigma 50-500s you will have countless opportunities to create great images on the Japan in Winter trip. Will you sometimes be wishing that you had a longer focal length? Of course. I often wish the same when standing behind my tripod-mounted 600 II with the 2X III attached. But do understand that intermediate focal length lenses above often have a huge advantage over long glass when it comes to photographing birds in flight and in action. I am often dead in the water with the super-long focal lengths that I otherwise enjoy working with….
So please temper my enthusiasm for long glass by remembering that that is me, that that is my style. Please consider the type of images that you like to make before packing your gear bag.
I'd love to hear from Paul and from Denise on their gear bag recommendations.
Denise Wrote:
Hello everyone. I will be bringing my Canon 5D Mark III, Canon 1D Mark IV, Canon 300mm f/2,8 Version II lens, Canon 100-400mm lens, 1.4 III teleconverter, 2X III teleconverter, 24-105mm lens and my 15mm fisheye (it weighs next-to-nothing). And maybe a 16-35mm and/or a 24mm tiltshift. I have decided to leave the 600mm II at home and rely on the 300mm with teleconverters as my big glass. See you all soon! Denise
To Which I Responded:
Wow! She's going light. Thanks for chiming in Lady D. The 300 f/2.8L IS lens is killer and I will almost surely be bringing one. a
My Reply to Srdjan Mitrovic's e-Mail
AM: Hi Srdjan, re:
SM: Art, thanks for the recommendations.
AM: YAW.
SM: I can add a 1.4x TCE to the new 80-400 . It becomes f/8 and but am uncertain about the quality.
AM: Though I have no personal experience with that lens and a TC I generally recommend against such combos as the speed of initial AF acquisition is slowed considerably. The same applies to the Canon 100-400mm.
SM: We have also 1.7x TCE and the 2x TCE that we could use on 200-400.
AM: Again, though I have no personal experience with that lens and a TC, I must say that recently I have been hearing many negative comments about the 1.7x TCE, most recently on the Bosque IPT where several folks stated that they owned the 1.7x TCE but have quit using it because of concerns about sharpness. And the Nikon 2x TCEs have been trashed by everyone I know who uses Nikon. Except for Todd Gustafson who regularly uses both the 1.7x TCE and the 2x TCE with his 600 f/4 Nikkor lens…. Everyone that I know is happy with the image quality from the 200-400 with the 1.4x TCE.
SM: If I understand correctly we should have at least 600mm full frame lens reach, correct?
AM: I am not so sure about that… See my comments above.
SM: D800s are 36 MP full frame bodies.
AM: With that file size using a shorter lens and cropping will produce some superb image files even with a large crop. With the 200-400 and the 1.4X TCE and the new 80-400 for hand held flight photography and your 36mp you should be more than fine….
Please let me know if you have any additional questions.
later and love, artie
ps: for more on Nikon lenses and TCEs see Big Lens Choices for Canon and Nikon–As I See Them….
The Great Group
We really have put together a great group of truly Happy Campers. Alan and Pat Lillich are both great friends and multiple IPT veterans. Both are accomplished photographers and Pat is a talented sculptress as well. I first met Zorica Kovacevic and Srdjan Mitrovic at Tierra del Fuego National Park where we hung out together and got more than a few great images of some Magellanic Woodpeckers. We then spent three great weeks together on a Cheesemans Antarctica/South Georgia/Falklands cruise. The always-smiling Scotsman (one "t" is correct) Malcolm MacKenzie is another mutliple IPT veteran. He lives in Connecticut. Rounding out the crew are newcomers Lex and Debbie Franks who will be traveling from Australia for their first Instructional Photo-Tour. We all look forward to meeting our soon-to-be new friends from Down Under.
Your Favorite?
Which of the three images above do you feel is the strongest? Be sure to let us know why.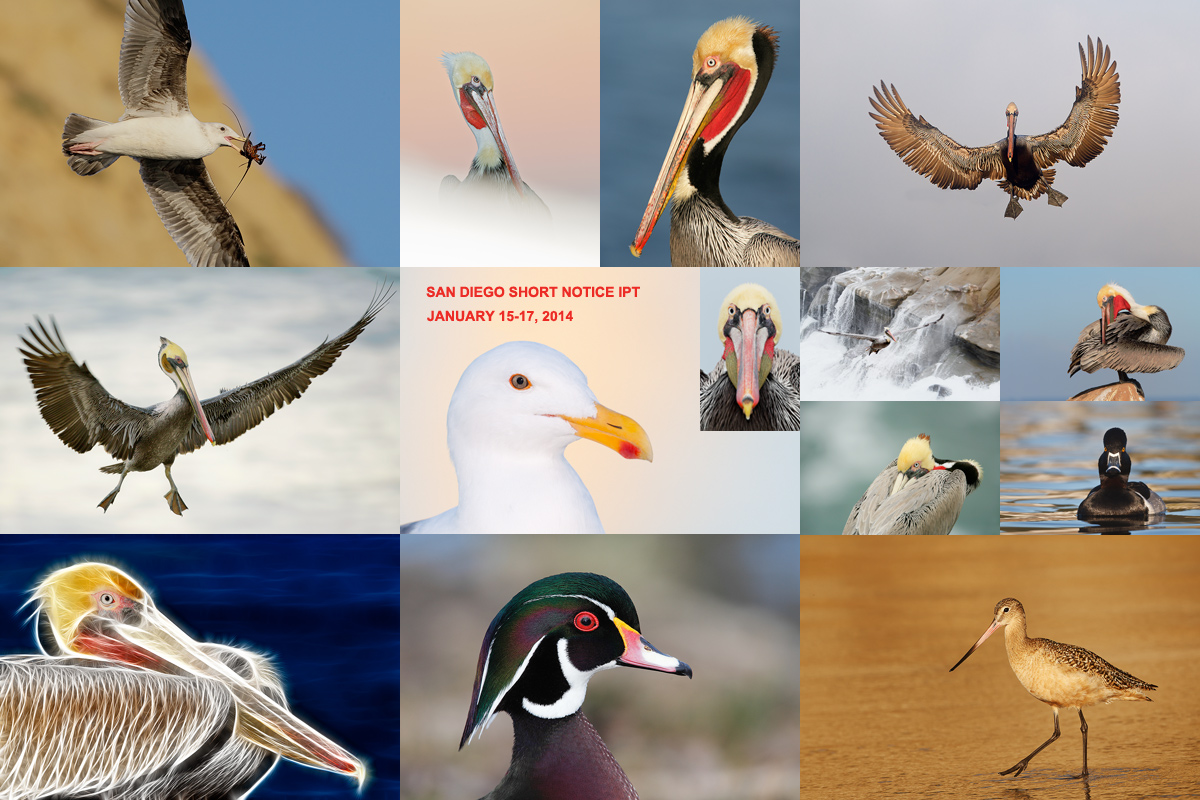 Join me in San Diego for three great days of photography and learning. Click on the image to better enjoy a larger version.
Announcing the San Diego Short-Notice Small Group IPT. January 15-17, 3-Full Days: $1049. Meet and Greet after dinner on your own at 7:30pm on Tuesday, January 14, 2014. Limit 6.
We will get to photograph the California race of Brown Pelican in flight, resting, preening, cleaning their bill pouches, and talking to their neighbors by tossing their bills high in the air. The afternoon sessions will feature Marbled Godwits, several gull species, and Wood and Ring-necked Ducks. If we have a cloudy morning we will get to photograph Harbor Seals. You will learn to get the right exposure every time, to see the best situation, to think like a pro, to create sharp, pleasing images, and to understand the joint effects of light and wind on the birds. All in a small group with tons of individual attention.
A $500 non-refundable deposit is required to hold your slot for this IPT. Your balance will be due no later than January 7, 2014. The balance is alo non-refundable. If the trip fills, we will be glad to apply a credit applicable to a future IPT for the full amount less a $100 processing fee. If we do not receive your check for the balance on or before the due date we will try to fill your spot from the waiting list. If your spot is filled, you will lose your deposit. If not, you can secure your spot by paying your balance.
If you are planning to register please shoot me an e-mail.
Then please print, complete, and sign the form that is linked to here and shoot it to us along with your deposit check (made out to "Arthur Morris.") Though we prefer a check, you can also leave your deposit with a credit card by calling the office at 863-692-0906. If you register by phone, please print, complete and sign the form as noted above and either mail it to us or e-mail the scan.
If you have any questions, please feel free to contact me via e-mail
San Diego Site Guide
Can't make the IPT? Get yourself a copy of the San Diego Site Guide; it's the next best thing to being on an IPT. Nearly 30 years of San Diego bird photography revealed in one fell swoop.
Great buy: Used Canon 800mm f/5/6L IS Lens for Sale
Friend and multiple IPT-veteran Monte Brown is offering his lightly used Canon 800mm f/5.6L IS lens in excellent condition for sale for $9,500. Purchase includes the lens case and hood, the 4th Generation Design Low Foot, the original foot, a LensCoat, the original invoice and the original Canon shipping carton. The lens was purchased new from B&H in April 2009 and was recently underwent a pre-sale clean and check by Canon. The buyer pays insured shipping via UPS Ground to US addresses only. The lens will be shipped only after your check clears.
The Canon EF 800mm f/5.6L IS USM Autofocus lens sells new for $13,223.00 so you will save a bundle on a great lens. No need to ever use a 2X…
If interested you can contact Monte by phone at 1-765-744-1421 or via e-mail.
Last Year's Grand Prize winning image by Lou Coetzer
Time is Running Out!
BIRDS AS ART 2nd International Bird Photography Competition
The December 31, 2013 closing deadline is fast approaching.
Learn more and enter the BIRDS AS ART 2nd International Bird Photography Competition here. Twenty-five great prizes including the $1000 Grand Prize and intense competition. Bring your best.
Support the BAA Blog. Support the BAA Bulletins: Shop B&H here!
We want and need to keep providing you with the latest free information, photography and Photoshop lessons, and all manner of related information. Show your appreciation by making your purchases immediately after clicking on any of our B&H or Amazon Affiliate links in this blog post. Remember, B&H ain't just photography!
Amazon
Everyone buys something from Amazon, be it a big lens or deodorant. Support the blog by starting your search by clicking on the logo-link below. No purchase is too small to be appreciated; they all add up. Why make it a habit? Because I make it a habit of bringing you new images and information on an almost daily basis.
Typos
In all blog posts and Bulletins feel free to e-mail or leave a comment regarding any typos, wrong words, misspellings, omissions, or grammatical errors. Just be right. 🙂
IPT Info
Many of our great trips are filling up. You will learn more about how to make great images on a BAA IPT than anywhere else on the planet. Click here to learn about the just-announced 2014 Bosque IPTs. And click here for the schedule and additional info.