An e-Mail From Tammis
On November 19, 2103 I received a very nice e-mail from Tammis Coffin, the Education Coordinator at the Museum of American Bird Art at Mass Audubon/Connecting People & Nature through Art:
Artie,
I'm forwarding a feature about the Museum of American Bird Art that highlights your exhibition.
Visitors have responded enthusiastically to your work and it's drawn in a lot of new faces. They express delight with your captions, your colors, the beauty, as well as the whimsy. We are fortunate to have your images here and to have learned from you over the course of your visit of several days. I want to thank you for your ideas for gallery activities. There have been some amazing child drawings of your egret, spoonbill, puffin, and many more, although few children have tackled the gannets.
I signed up for your blog and have been enjoying it immensely!
Because you mentioned the quality of Arni Cheatham's work (Arni was one of the students in your seminar), we learned more about him and discovered that he won this year's Boston's Jazz Hero award. He'll be projecting his bird images here in late April, while his jazz band improvises.
My best to you and to the wonderful Denise for the New Year!
Tammis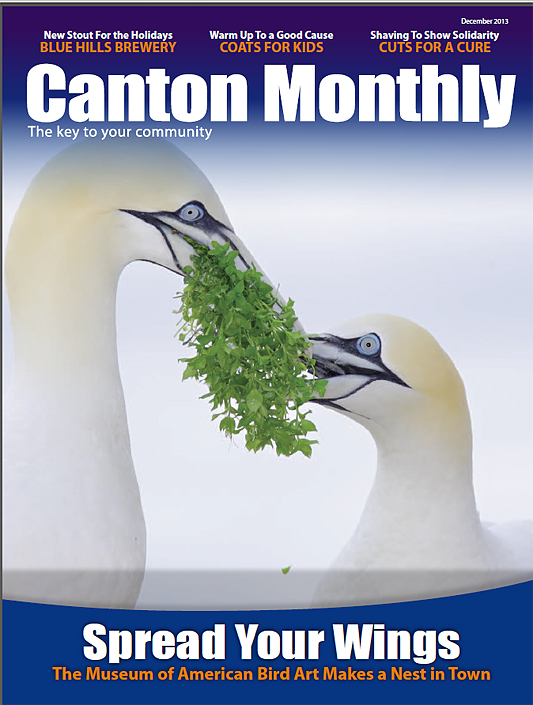 The Canton Monthly is a community magazine published by hibu Limited.
The Canton Monthly Feature Article
Below is the text of the feature article that appeared in the December 2013 issue of Canton Monthly.
Spread Your Wings
Museum of American Bird Art Makes a Nest in Canton
BIRDS AS ART

"Today, we continue to connect people to nature through art, using art to inspire and educate," director Amy Montague said. The museum presents three to four exhibitions each year, with a wide range of artworks represented. An array of educational programs for all ages draws on the original art in the exhibitions and collections, as well as the varied habitats of the wildlife sanctuary. The museum's current exhibition, "BIRDS AS ART," is on display through Jan. 13, 2014.
The exhibition displays the bird photography of Arthur Morris, one of the world's most renowned bird photographers. Museum visitors can stroll among the colorful, detailed and often whimsical images in the gallery. Arthur Morris has unparalleled technical and artistic expertise and design savvy; and he experiments widely. His photographs of birds call for patience, determination, luck and an understanding of bird behavior. Morris has won numerous national and international awards and is a Canon Explorer of Light Emeritus. Canon generously sponsored the exhibit. He leads instructional bird photography trips, writes an educational blog, and has also published several books including "The Art of Bird Photography" and an e-Book: "The Art of Bird Photography II."
Visitors will see an Atlantic puffin peering straight towards the camera with tufts of grass in its orange beak, baby sandhill cranes hitching a ride on their mother's back and "Blizzard in Blue," a photograph that reveals hundreds of snow geese taking flight. "Gannets in Love" is the signature image for the show, and highlights the graceful curving profiles of a pair of seabirds passing a bright green piece of seaweed beak-to-beak.
"When I looked around for the best photographer to inaugurate the museum's new name, only one person was mentioned time and time again: Arthur Morris," Montague said. The current exhibit can be viewed every afternoon of the week, except Mondays, until Jan. 13. For more information, visit massaudubon.org/maba or call 781-821-8853.
Exhibition, American Museum of Bird Art at Mass Audubon, Canton, MA
BIRDS AS ART/The Bird Photography of Arthur Morris
The 35-print exhibition will run through Sunday, January 12, 2014. If you have not visited yet, you still have two weeks to get there! The images hang at the American Museum of Bird Art at Mass Audubon (193 Washington Street, Canton, MA 02021. 1-781-821-8853.) The exhibition was sponsored in part by Canon USA/Explorers of Light and is open Tuesday through Sunday, 1 p.m. – 5 p.m. Click here for additional details. Learn more about the exhibit by clicking here.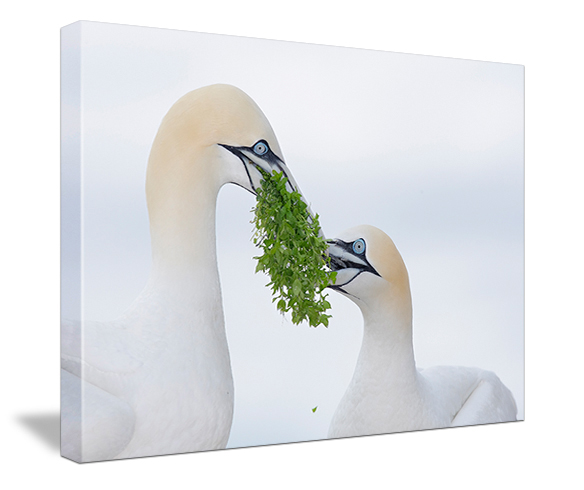 Digitally-signed Fine Art Canvas prints of "Gannets in Love" are available in various sizes. Each print is skillfully produced by Canvas In Demand. Click here for sizes, pricing, and framing and additional information.
Fine Art Traditional Photographic Prints
All BIRDS AS ART images, both film and digital, are available as signed traditional photographic prints in a great variety of sizes. You may purchase an unframed print of any BAA image that you see on the web site, in a Bulletin, or on the Blog. Click here for sizes, pricing, and additional information.
Fine Art Digitally-Signed Canvas Prints
All BIRDS AS ART digital and some film-based images are available as digitally signed Fine Art Canvas Prints skillfully prepared by Canvas on Demand. Click here for sizes, pricing, and framing and additional information.
IPT Info
Many of our great trips are filling up. You will learn more about how to make great images on a BAA IPT than anywhere else on the planet. Click here for info on the Anhinga Trail IPT. Click here for info on the Estero Lagoon IPT. Click here for info on the just announced San Diego Short Notice IPT–only 1 slot left on that one. And click here to learn about the just-announced 2014 Bosque IPTs. You will find additional IPTs and general info here.
Support the BAA Blog. Support the BAA Bulletins: Shop B&H here!
We want and need to keep providing you with the latest free information, photography and Photoshop lessons, and all manner of related information. Show your appreciation by making your purchases immediately after clicking on any of our B&H or Amazon Affiliate links in this blog post. Remember, B&H ain't just photography!
Amazon
Everyone buys something from Amazon, be it a big lens or deodorant. Support the blog by starting your search by clicking on the logo-link below. No purchase is too small to be appreciated; they all add up. Why make it a habit? Because I make it a habit of bringing you new images and information on an almost daily basis.
Typos
In all blog posts and Bulletins feel free to e-mail or leave a comment regarding any typos, wrong words, misspellings, omissions, or grammatical errors. Just be right. 🙂