The Amazing Streak Continues; What's Wrong With Me? 🙂
Today's blog post marks 42 days in a row with a new post, a new record by far that should continue for at least another week or two. Or not. 🙂 To show your appreciation, we ask that use our B&H and Amazon affiliate links for all of your B&H and Amazon purchases. Please check the availability of all photographic accessories in the BIRDS AS ART Online Store. We sell only what I use and depend on. We will not sell you junk. We know what you need to make creating great images easy and fun. And we are always glad to answer your gear questions via e-mail.
You can find the following items in the store: Gitzo tripods, Mongoose M3.6 and Wimberley heads, plates, low feet, and accessories, flash brackets, , Delkin e-film Pro Compact Flash Cards, LensCoat products, and our unique line-up of educational materials including ABP I & II, Digital Basics, Site and Set-up e-Guides, Canon and Nikon Camera Users and AF e-Guides, and MP-4 Photoshop video tutorials among others.
We would of course appreciate you using our B&H and Amazon affiliate links for all of your B&H and Amazon major gear, video, electronic, household, and personal purchases. For the photographic stuff mentioned above we would of course great appreciate your business.
Thanks and enjoy today's blog post!
What's Weird???
What's odd about the sharp image above?
What's Weird???
What's strange about the diagonal pan blur above?
Your Favorite?
Which image do you like best, the sharp image or the pan blur? Be sure to let us know why.
Tulip Field Painting
Click here to see the Tulip Field Painting blog post.
New Film Screenings: "The Wild Orchid Man In The Land Of The White Bear!"
Friend Darryl Saffer's latest film, "The Wild Orchid Man In The Land Of The White Bear!" will be screening in the Sarasota, FL area during the next two weeks. Admission is free. DVDs will be available for a donation to the Sarasota Orchid Society for the Wild Orchid Man Films fund.
While on location with filmmaker Darryl Saffer near Churchill, Manitoba, artist and renowned orchid expert Stig Dalström, the Wild Orchid Man, met noted author and bird photographer William Burt. Stig was fascinated by the time Burt spent in getting a single photo of the very secretive birds featured in his books. His book, Rare and Elusive Birds of North America
, (2001) took 20 years to complete. His photographs and articles have appeared in Audubon, National Wildlife, National Geographic and his photos have been covers for three issues of Smithsonian Magazines. Stig's interview appears in "Wild Orchid Man In The Land Of The White Bear," the third film in the Wild Orchid Man series following "Ghost Orchid Swamp" and "Mountains Of Amazonas." While the Churchill area of Manitoba is noted for its polar bears, it is a major destination for birders and attracts over 250 species of birds during the nesting season. And of course, lots of orchids.
Here is the schedule:
Jan. 6th, 6:30 p.m. Monday, Special Screening at Selby Gardens, sponsored by the Sarasota Orchid Society
Jan. 17th, 7 p.m. Friday, The Landings
Jan. 25th, Saturday, Unitarian Universalist Church
Feb. 20th, Gulf Coast Orchid Alliance, Naples
Click here for additional details and contact info.
Stig Dalström, The Wild Orchid Man
Artist, botanist, author, and the noted curator of the Orchid Identification Center at the Marie Selby Botanical Gardens in Sarasota, Florida, Stig Dalström is recognized worldwide as an orchid expert. His lectures and field work have taken him from his Florida home to Bolivia, Columbia, Costa Rica, Ecuador, Thailand, his native Sweden, and recently, Bhutan.
Darryl Saffer, Documentary Filmmaker
Naturalist, composer, editor and principal of Studio Ray Productions in Sarasota, Florida, Darryl Saffer's documentaries have focused on nature, wildlife, and emerging critical environmental issues. His films include "Amorphous titanum at Selby Gardens," "Not Long Ago, Tanner's Ivory-Billed Woodpecker, Condemned," and "Orca" among others.
You can learn more about Darryl and about Studio Ray Productions here.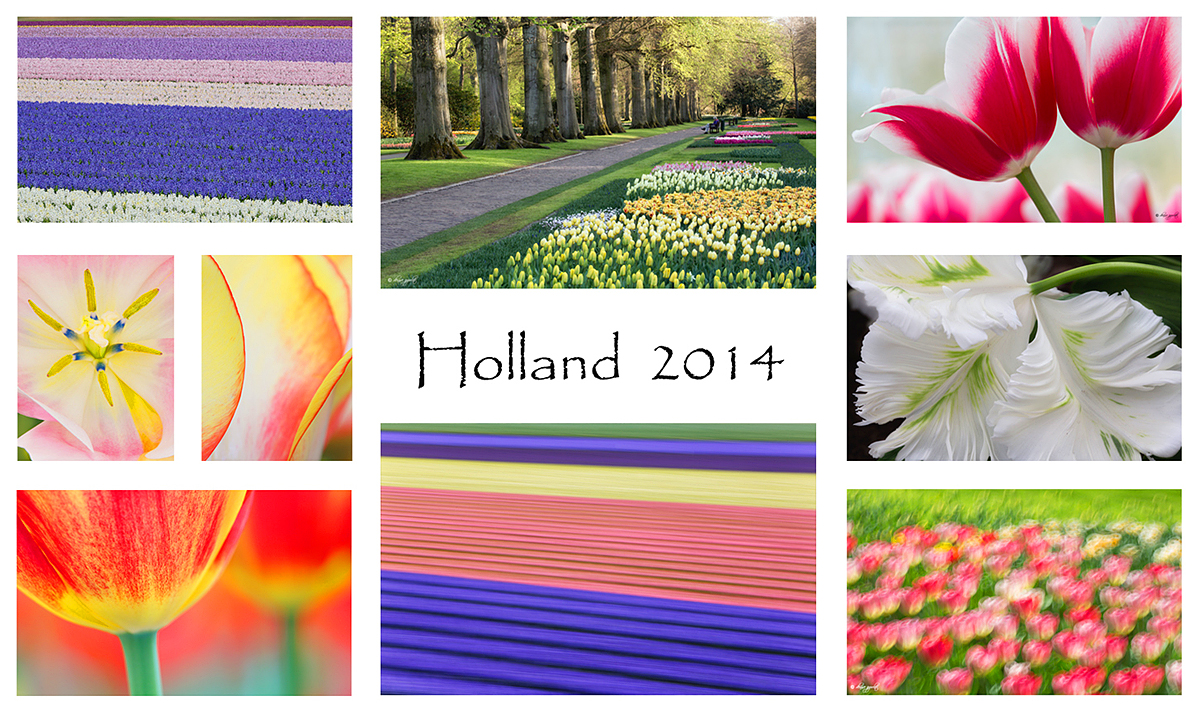 Join Denise and me in Holland this spring!
Holland 2014 7 1/2-Day/8-Night: A Creative Adventure/BIRDS AS ART/Tulips & A Touch of Holland IPT. April 17-April 24, 2014: $4995 Limit: 12/Openings: 5
Act soon: this trip is now a go and is filling quickly.
Join Denise Ippolito, Flower Queen and the author of "Bloomin' Ideas," and Arthur Morris, Canon Explorer of Light Emeritus and one of the planet's premier photographic educators for a great trip to Holland in mid-April 2014. Day 1 of the IPT will be April 17, 2014. We will have a short afternoon get-together and then our first photographic session at the justly-famed Keukenhof. Most days we will return to the hotel for lunch, image sharing and a break. On Day 8, April 24, we will enjoy both morning and afternoon photography sessions.
The primary subjects will be tulips and orchids at Keukenhof and the spectacularly amazing tulip, hyacinth, and daffodil bulb fields around Lisse. In addition we will spend one full day in Amsterdam. There will be optional visits the Van Gogh Museum in the morning and the Anne Frank House in the afternoon; there will be plenty of time for street photography as well. And some great food. On another day we will have a wonderful early dinner at Kinderdijk and then head out with our gear to photograph the windmills and possibly some birds for those who bring their longs lenses. We will spend an afternoon in the lovely Dutch town of Edam where we will do some street photography and enjoy a superb dinner. All lodging, ground transportation, entry fees, and meals (from dinner on Day 1 through dinner on Day 7) are included.
For those who will be bringing a big lens we will likely have an optional bird photography afternoon or two. If we get lucky, the big attraction should be gorgeous Purple Herons in flight at a breeding marsh. We would be photographing them from the roadside. And we might be able to find a few Great-crested Grebes at a location near Keukenhof.
You will learn to create tight abstracts, how to best use depth-of-field (or the lack thereof) to improve your flower photography, how to get the right exposure and make sharp images every time, how to see the shot, and how to choose the best perspective for a given situation. And you will of course learn to create a variety of pleasingly blurred flower images. If you bring a long lens, you will learn to use it effectively for flower photography. Denise's two favorite flower lenses are the Canon 100mm macro and the Canon 24-105mm zoom. Mine are the Canon 180mm macro lens and the Canon 600mm f/4L IS II, both always on a tripod and both often used with extension tubes and/or the 1.4X teleconverters. Denise hand holds a great deal of the time. For flower field blurs denise uses the same lenses mentioned above. My favorite is the 70-200 often with a 1.4X TC but I use both the 24-105 and the 600 II as well. Both of us use and love the Canon EOS-5D Mark III for all of our flower photography. The in-camera HDR and Multiple Exposure features are a blast.
One of the great advantages of our trip is that we will be staying in a single, strategically located hotel that is quite excellent. Do note that all ground transfers to and from Schipol will be via hotel shuttle bus.
What's included: Eight hotel nights. All ground transportation except for airport transfers as noted above. In-the-field instruction and small group image review and Photoshop sessions. All meals from dinner on Day 1 through dinner on Day 8. The hotel we are staying in often offers both lunch and dinner buffets. The food is excellent. Whenever you order off the menu be it at the hotel or at one of the several fine-dining spots that we will be enjoying at various locations, only the cost of your main course is included. On these occasions the cost of soups, appetizers, salads, sodas and other beverages, alcoholic drinks and wine, bottled water, and desserts are not included. This is done in part in hopes that folks will be less inclined to enjoy an eight course dinner so that we can get to bed early. As with all A Creative Adventure/BIRDS AS ART Instructional Photo-Tours both the photo sessions and the days are long. Nothing that we do however will be demanding. Being able to sit down on the ground with your gear is, however, a huge plus. Anyone in halfway decent shape should be fine.
Snacks, personal items, phone calls, etc. are not included.
Beware of seemingly longer, slightly less expensive tours that include travel days and days sitting in the hotel doing nothing as part of the tour. In addition, other similar trips have you changing hotels needlessly. The cost of this years trip is a bit higher than last years to reflect our increased experience and the extra hotel night that is included. One final note on other similar trips: the instructors on this trip actually instruct. On other similar trips the instructors, though usually imminently qualified, serve for the most part as van drivers….
Happy Campers only please. A non-refundable deposit of $1,000 per person is required to hold your spot. The second payment of $2,000 due by October 30, 2013. The balance is due on January 15, 2014. Payments in full are of course welcome at any time. All payments including the deposit must be made by check made out to "Arthur Morris." As life has a way of throwing an occasional curve ball our way, you are urged to purchase travel insurance within 15 days of our cashing your check. I use and recommend Travel Insurance Services. All payments are non-refundable unless the trip fills to capacity. In that case, all payments but your deposit will be refunded.
All checks should be made out to "Arthur Morris" and sent to: Arthur Morris, PO Box 7245, Indian Lake Estates, FL 33855. Please fill out the paperwork here and include a signed copy with your deposit check.
For couples or friends signing up at the same time for the tulip trip, a $200/person discount will be applied to the final payment.
Click here for complete details and lots of wonderful images with our legendary educational captions. Click here and see item one for lots more tulip images.