The Amazing Streak Continues; I Gotta be Nuts. 🙂
Today's blog post marks 42 days in a row with a new post, a new record by far that should continue for at least another week or two. Or not. 🙂 To show your appreciation, we ask that use our B&H and Amazon affiliate links for all of your B&H and Amazon purchases. Please check the availability of all photographic accessories in the BIRDS AS ART Online Store. We sell only what I use and depend on. We will not sell you junk. We know what you need to make creating great images easy and fun. And we are always glad to answer your gear questions via e-mail.
You can find the following items in the store: Gitzo tripods, Mongoose M3.6 and Wimberley heads, plates, low feet, and accessories, flash brackets, , Delkin e-film Pro Compact Flash Cards, LensCoat products, and our unique line-up of educational materials including ABP I & II, Digital Basics, Site and Set-up e-Guides, Canon and Nikon Camera Users and AF e-Guides, and MP-4 Photoshop video tutorials among others.
We would of course appreciate you using our B&H and Amazon affiliate links for all of your B&H and Amazon major gear, video, electronic, household, and personal purchases. For the photographic stuff mentioned above we would of course great appreciate your business.
Thanks and enjoy today's blog post!
Long Island/San Diego Trip Gear Bag
I am in the Orlando Airport Courtyard Marriott headed to MCO in about and hour for my flight to Long Island's Islip Airport. You gotta love Southwest Airlines. I will be visiting my Mom in Holbrook, seeing younger daughter Alissa's family, my two sisters, watching the NFL playoffs next weekend, and getting out in search of Snowy Owl, Glaucous Gull, and adult and first cycle Kumlien's Iceland Gull. On January 13th I continue on to San Diego's Lindberg Field to visit friend Cliff Oliver and many of my favorite San Diego photography hotspots. My flights back home are on Saturday, January 18th.
Important gear decisions must be made Whenever you travel and getting ready for this trip was no exception. It was very cold on the way to the airport. I can't wait to get to Long Island this afternoon where the high temps should be in the mid-teens. Brrrr.
Well, I am at the gate now. I am not sure how I got signed up for TSA Pre-Check, but it is total luxury. Short line if any, leave computer and liquids in laptop bag and leave your shoes on. Perhaps it is because I am signed up for Global Entry… Not sure but it is a great service.
All of my gear is packed up in Think Tank Airport Security Rolling Bag in either my beloved wool watch caps or in various LensCoat LensPouches, LensCoats, and Body Bags. Each of the big lenses is of course protected by a LensCoat to prevent dings on Canon's pretty, white, heat-reflective finish. Having your lenses protected by a LensCoat will increase the resale value far in excess of the cost of the LensCoat. My favorite pattern is Hardwood Snow.
Think Tank Bags
Spend more than $50 using this Think Tank link and earn a free small bag of your choice. In addition to a great line-up of rolling bags and accessories Think also has some great backpacks.
Here's what in the bag:
Canon EF 600mm f/4L IS II USM lens: as this is my sole long straight super-telephoto I pretty much go nowhere without it.
Canon EF 300mm f/2.8L IS II USM lens: this lens should be great on the cliffs of Lajolla both for perched pelicans and for birds in flight.
Both the 300 II and the 600 II have a 4th Generation Design CR-X 5 Low Foot attached. The CR-X 5 is pretty much mandatory to prevent torque when the lenses are mounted on a Mongoose M3.6 and there is enough room between the foot and the lens to make it easy to carry the gear by the lens foot.
The 70-200 is of course equipped with a Wimberley P-20 plate, the perfect Arca-Swiss compatible plate for virtually all intermediate telephoto lenses.
Canon EF 70-200mm f/2.8L IS II USM lens: this was on the only close call. I will not be using it at all on Long Island but it can be great in LaJolla if you are lucky enough to get the right winds in the morning. After much procrastination, I decided to bring one of my very favorite lenses.
Canon EF 24-105mm f/4L IS USM zoom lens: this, my favorite B-roll all purpose short lens is another that I do not leave home without.
Two Canon EOS-1D X Digital SLR camera bodies. With my focus mainly on birds on these two trips I opted to lighten the load by leaving my Canon EOS 5D Mark III at home to save a bit of weight.
Three Canon 1.4x EF Extenders III (Teleconverters); with my track record of having dropped one of these in the Pacific Ocean from the LaJolla Cliffs I decided to bring three of these valuable accessories. I use one often with each of the 3 telephotos that I have on this trip.
Two Canon 2x EF Extendesr III (teleconverters): on this trip the 2X will be on the 600 II during all searches for Snowy Owl. I will of course have a 1.4X III TC at hand in case I come across a tame owl or two.
I have a Delkin 64gb 700X e-film Pro Compact Flash Card in each camera body and a few extra assorted cards in a Delkin CF Memory Card Tote. I have used and depended on Delkin digital media for well more than a decade. Fast and reliable works for me every time.
All of the above fit easily into my big Think Rolling bag that came to 43 1/4 pounds on the bathroom scale.
My Gitzo 3532 LS carbon fiber tripod and my Mongoose M3.6 head are in my checked bag along with the hoods of the 3 telephoto lenses. I also have my Giottos' tiny ballhead, my tool kit that has a Wimberley P-5 camera body plate stored in it, and my Lens Pen sensor cleaning kit.
I will be wearing my Xtrahand vest with not much in it besides my insulin with gel ice paks, my blood sugar meter, and my latest airport novel; I buy them from the Lake Wales Public Library for a buck each. The vest will be invaluable both on the beaches of Long Island and the cliffs of LaJolla.
My laptop bag is packed to the gills with various items and tips the scale right at about 20 pounds. They just changed my gate…. Finally done! Boarding in 12 minutes.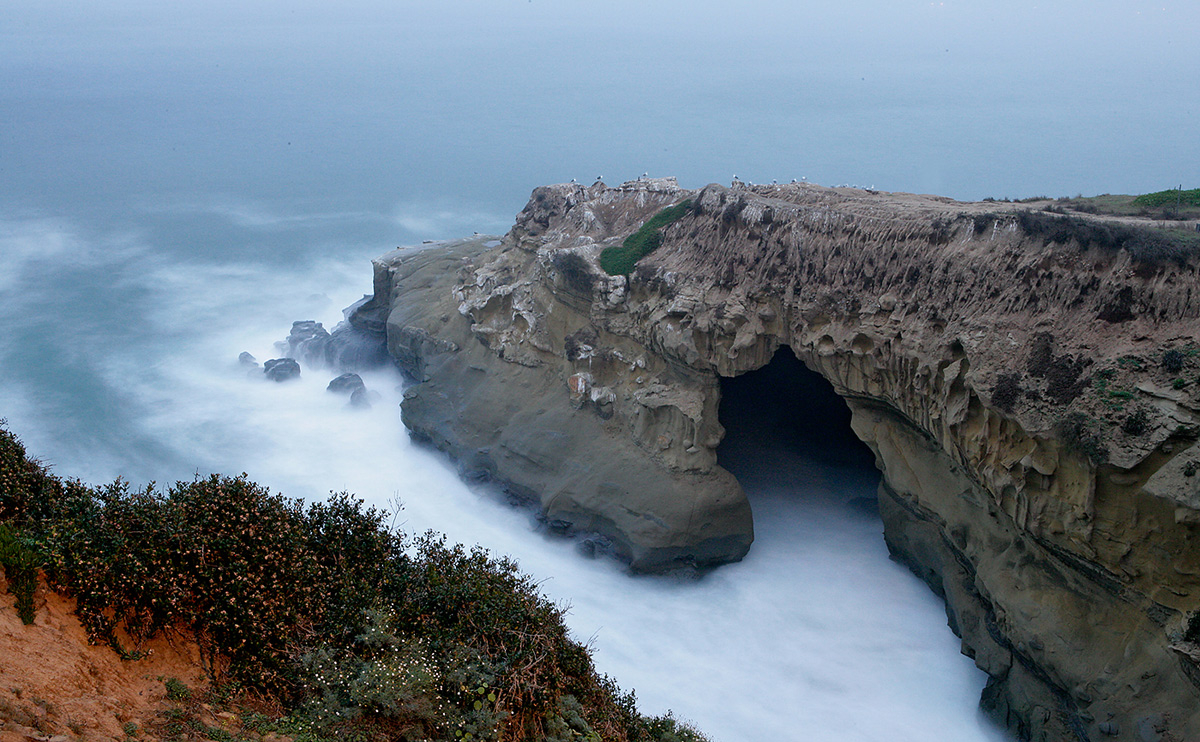 The LaJolla cliffs in pre-dawn. This image was created with the Canon EF 24-105mm f/4L IS USM lens and the EOS-1D s (now replaced by the amazing Canon EOS-1D X. ISO 1250. Evaluative metering at zero to avoid blinkies in the breaking waves: 20 seconds at f/18 in the pitch dark in Av mode. Focus by faint street light….
Sometimes you need to tote an extra piece of gear in hopes of replicating a single image. That is the case here with the Giottos' tiny ballhead–I simply could not have made the image above without it.
Your browser does not support iFrame.
San Diego Site Guide
Can't make the IPT? Get yourself a copy of the San Diego Site Guide; it's the next best thing to being on an IPT. Nearly 30 years of San Diego bird photography revealed in one fell swoop.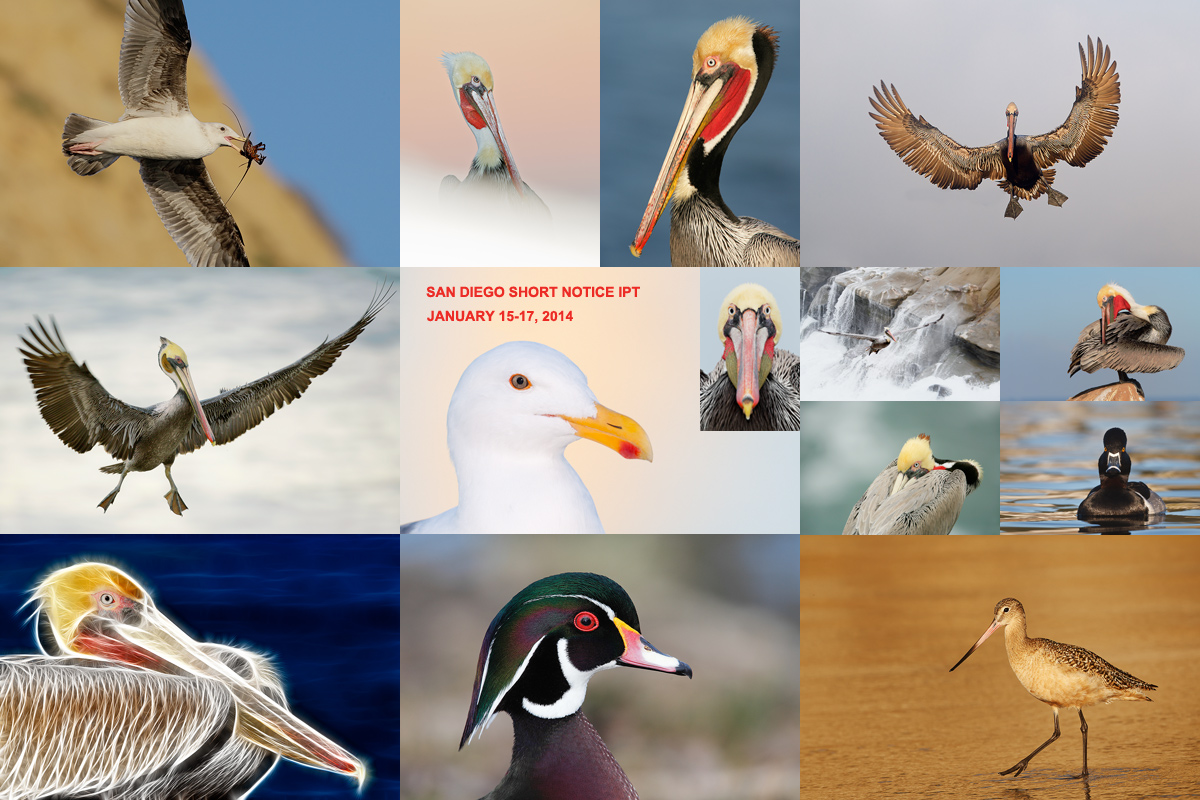 Join me in San Diego for three great days of photography and learning. Click on the image to better enjoy a larger version.
The San Diego Short-Notice Small Group IPT. January 15-17, 3-Full Days: $1049. Meet and Greet after dinner on your own at 7:30pm on Tuesday, January 14, 2014. Limit 6/Openings: 1.
There is now a single opening due to a late cancellation.
Please call or e-mail for late registration discount information.



We will get to photograph the California race of Brown Pelican in flight, resting, preening, cleaning their bill pouches, and talking to their neighbors by tossing their bills high in the air. The afternoon sessions will feature Marbled Godwits, several gull species, and Wood and Ring-necked Ducks. If we have a cloudy morning we will get to photograph Harbor Seals. You will learn to get the right exposure every time, to see the best situation, to think like a pro, to create sharp, pleasing images, and to understand the joint effects of light and wind on the birds. All in a small group with tons of individual attention.
A $500 non-refundable deposit is required to hold your slot for this IPT. Your balance will be due no later than January 7, 2014. The balance is alo non-refundable. If the trip fills, we will be glad to apply a credit applicable to a future IPT for the full amount less a $100 processing fee. If we do not receive your check for the balance on or before the due date we will try to fill your spot from the waiting list. If your spot is filled, you will lose your deposit. If not, you can secure your spot by paying your balance.
If you are planning to register please shoot me an e-mail.
Then please print, complete, and sign the form that is linked to here and shoot it to us along with your deposit check (made out to "Arthur Morris.") Though we prefer a check, you can also leave your deposit with a credit card by calling the office at 863-692-0906. If you register by phone, please print, complete and sign the form as noted above and either mail it to us or e-mail the scan.
If you have any questions, please feel free to contact me via e-mail
Support the BAA Blog. Support the BAA Bulletins: Shop B&H here!
This Bulletin took about 12 hours to prepare
We want and need to keep providing you with the latest free information, photography and Photoshop lessons, and all manner of related information. Show your appreciation by making your purchases immediately after clicking on any of our B&H or Amazon Affiliate links in this blog post. Remember, B&H ain't just photography!
Amazon
Everyone buys something from Amazon, be it a big lens or deodorant. Support the blog by starting your search by starting your search by clicking on the logo-link below. No purchase is too small to be appreciated; they all add up. Why make it a habit? Because I make it a habit of bringing you new images and information on an almost daily basis.
Typos
In all blog posts and Bulletins, feel free to e-mail or leave a comment regarding any typos, wrong words, misspellings, omissions, or grammatical errors. Just be right. 🙂
IPT Info
Many of our great trips are filling up. See especially info on the South Florida, Holland, and Nickerson Beach IPTs. Two great leaders ensure that you will receive individual attention, have all of your questions answered, and learn a ton including how to think like a pro, see the situation, and get the right exposure every time. In addition you will have fun, and make lots of great images. Click here for IPT details and general information.