The Amazing Streak Continues; I Gotta be Nuts. 🙂
Today's blog post marks 43 days in a row with a new post, a new record by far that should continue for at least another week or two. Or not. 🙂 To show your appreciation, we ask that use our B&H and Amazon affiliate links for all of your B&H and Amazon purchases. Please check the availability of all photographic accessories in the BIRDS AS ART Online Store. We sell only what I use and depend on. We will not sell you junk. We know what you need to make creating great images easy and fun. And we are always glad to answer your gear questions via e-mail.
You can find the following items in the store: Gitzo tripods, Mongoose M3.6 and Wimberley heads, plates, low feet, and accessories, flash brackets, , Delkin e-film Pro Compact Flash Cards, LensCoat products, and our unique line-up of educational materials including ABP I & II, Digital Basics, Site and Set-up e-Guides, Canon and Nikon Camera Users and AF e-Guides, and MP-4 Photoshop video tutorials among others.
We would of course appreciate you using our B&H and Amazon affiliate links for all of your B&H and Amazon major gear, video, electronic, household, and personal purchases. For the photographic stuff mentioned above we would of course great appreciate your business.
Thanks and enjoy today's blog post!
This image was created from inside my vehicle with the Canon EF 600mm f/4L IS II USM lens, the Canon 2x EF Extender III (Teleconverter), and the Canon EOS-1D X. ISO 1600. Evaluative metering + 1 2/3 stops as framed: 1/125 sec. at f/11 in Manual mode.
Central sensor (by necessity) Expand/AI Servo Rear Focus AF on the base of the bird's bill active at the moment of exposure. Click here if you missed the latest version of the Rear Focus Tutorial. Click on the image to see a larger version.
Image #1
Your browser does not support iFrame.
Baby, It's Cold Out There!
Note the ice on the Herring Gull's bill tip!
I landed at Islip about 10 minutes early. My little sister Arna picked me up and took me to my Mom's house. Arna lives with Mom. It was bitter cold. Mom was of course glad to see me. I had lunch and headed out to the west jetty at Shinnecock Inlet where friend Mike Lotito had photographed a Snowy Owl in the parking lot last week. Alas, the presence of the usual large numbers of gulls let me know immediately that the owl was not in the vicinity. There were lots of scoters of all three species fairly close to the jetty. More on that tomorrow. Anxious to get out with the short days I had not dressed properly. Pretty much all of my warm clothes and my cold weather boots were back in the garage at my Mom's. Had I been properly dressed dealing with the bone-chilling cold would have been a lot easier.
After I nearly fell trying to maneuver my rig near the edge of the jetty–it was 10 degrees with wind gusts of 35mph from the west, I retreated to my car to get warm and photograph the gulls. There was no sign of the Glaucous Gull or the Kumlien's Iceland Gull that Mike had also photographed there last week. I was working with the 600 II/2X III/1D X combo off the BLUBB on the lowered car window. I traveled with an empty BLUBB (Big Lens Ultimate BeanBag) and filled it with Arna's bird seed when I arrived. I did have a $4.00 loaf of convenience store (the King Kullen's in Holbrook was closed for renovations!) with me to move the gulls around.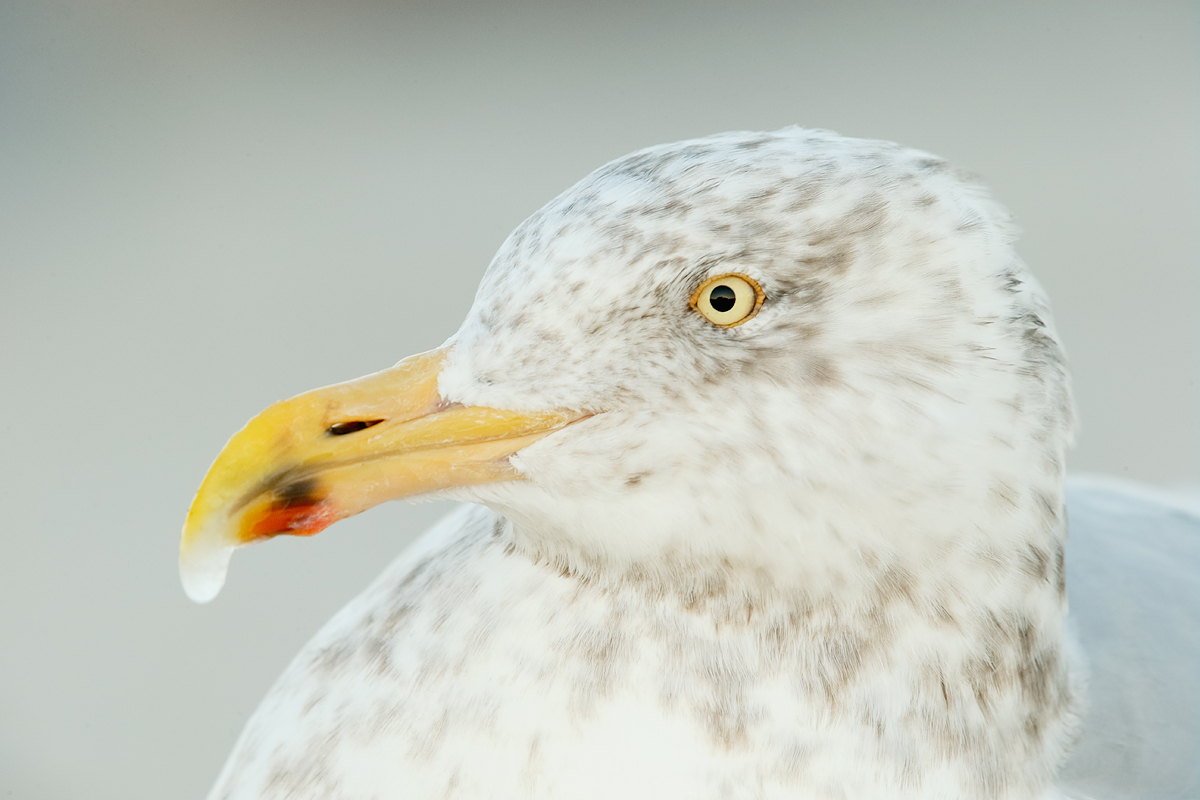 Image #2
A different image actually made in the same second. Techs are of course the same as above.
A Different Image?
A quick glance at Image # 1 and Image #2 shows that they are nearly identical. But are they? See the animated GIF below to learn some editing and Head Angle fine points.
Editing and Head Angle Fine Points
Let the animated GIF play through a few cycles. What do you see? Now, which image is best? Which has the best Head Angle? Do let us know why you make your choice.
Note: the animated GIF was created from the original image captures. Images 1 & 2 have been optimized. What differences do you see between original files and the optimized files. List as many as you can.
The Animated GIF MP-4 Photoshop Video Tutorial: $4.00
Over the past few months I have received many e-mails asking how I create the Animated GIF files that grace many blog posts and Bulletins. Many folks know how to create animated GIFs of poor quality. Yesterday morning I created a new MP-4 Photoshop Tutorial Video that covers how to create a high quality animated GIF and tips on using the Text Tool to type on images. It is available in the BAA Online Store for only $4.00 by clicking here. See here for the current video tutorial library.
DPP RAW Conversions
I use DPP to convert all of my Canon RAW files. To learn why I switched from ACR to DPP for my RAW conversions see our DPP RAW Conversion Guide here.
The San Diego Short-Notice Small Group IPT. January 15-17, 3-Full Days: $1049. Meet and Greet after dinner on your own at 7:30pm on Tuesday, January 14, 2014. Limit 6/Openings: 1.
There is now a single opening due to a late cancellation.
Please call or e-mail for late registration discount information.



We will get to photograph the California race of Brown Pelican in flight, resting, preening, cleaning their bill pouches, and talking to their neighbors by tossing their bills high in the air. The afternoon sessions will feature Marbled Godwits, several gull species, and Wood and Ring-necked Ducks. If we have a cloudy morning we will get to photograph Harbor Seals. You will learn to get the right exposure every time, to see the best situation, to think like a pro, to create sharp, pleasing images, and to understand the joint effects of light and wind on the birds. All in a small group with tons of individual attention.
A $500 non-refundable deposit is required to hold your slot for this IPT. Your balance will be due no later than January 7, 2014. The balance is alo non-refundable. If the trip fills, we will be glad to apply a credit applicable to a future IPT for the full amount less a $100 processing fee. If we do not receive your check for the balance on or before the due date we will try to fill your spot from the waiting list. If your spot is filled, you will lose your deposit. If not, you can secure your spot by paying your balance.
If you are planning to register please shoot me an e-mail.
Then please print, complete, and sign the form that is linked to here and shoot it to us along with your deposit check (made out to "Arthur Morris.") Though we prefer a check, you can also leave your deposit with a credit card by calling the office at 863-692-0906. If you register by phone, please print, complete and sign the form as noted above and either mail it to us or e-mail the scan.
If you have any questions, please feel free to contact me via e-mail
Last Year's Grand Prize winning image by Lou Coetzer
Important Contest News
Contest Deadlines Extended!
BIRDS AS ART 2nd International Bird Photography Competition
New Entry Deadline: January 31, 2014; see additional details below
With so many folks signing up at the last minute and with so many folks having trouble uploading their images due to server overload the deadline for entering the contest (registering and paying) has been extended until January 31, 2014 and the deadline for uploading images has been extended until midnight Eastern time on February 10, 2014. Take advantage of this extension to have a crack at the great prizes.
Learn more and enter the BIRDS AS ART 2nd International Bird Photography Competition here. Twenty-five great prizes including the $1000 Grand Prize and intense competition. Bring your best.
Register and Pay
To register click here.
To learn of payment options, click here.
Support the BAA Blog. Support the BAA Bulletins: Shop B&H here!
This Bulletin took about 12 hours to prepare
We want and need to keep providing you with the latest free information, photography and Photoshop lessons, and all manner of related information. Show your appreciation by making your purchases immediately after clicking on any of our B&H or Amazon Affiliate links in this blog post. Remember, B&H ain't just photography!
Amazon
Everyone buys something from Amazon, be it a big lens or deodorant. Support the blog by starting your search by starting your search by clicking on the logo-link below. No purchase is too small to be appreciated; they all add up. Why make it a habit? Because I make it a habit of bringing you new images and information on an almost daily basis.
Typos
In all blog posts and Bulletins, feel free to e-mail or leave a comment regarding any typos, wrong words, misspellings, omissions, or grammatical errors. Just be right. 🙂
IPT Info
Many of our great trips are filling up. See especially info on the South Florida, Holland, and Nickerson Beach IPTs. Two great leaders ensure that you will receive individual attention, have all of your questions answered, and learn a ton including how to think like a pro, see the situation, and get the right exposure every time. In addition you will have fun, and make lots of great images. Click here for IPT details and general information.