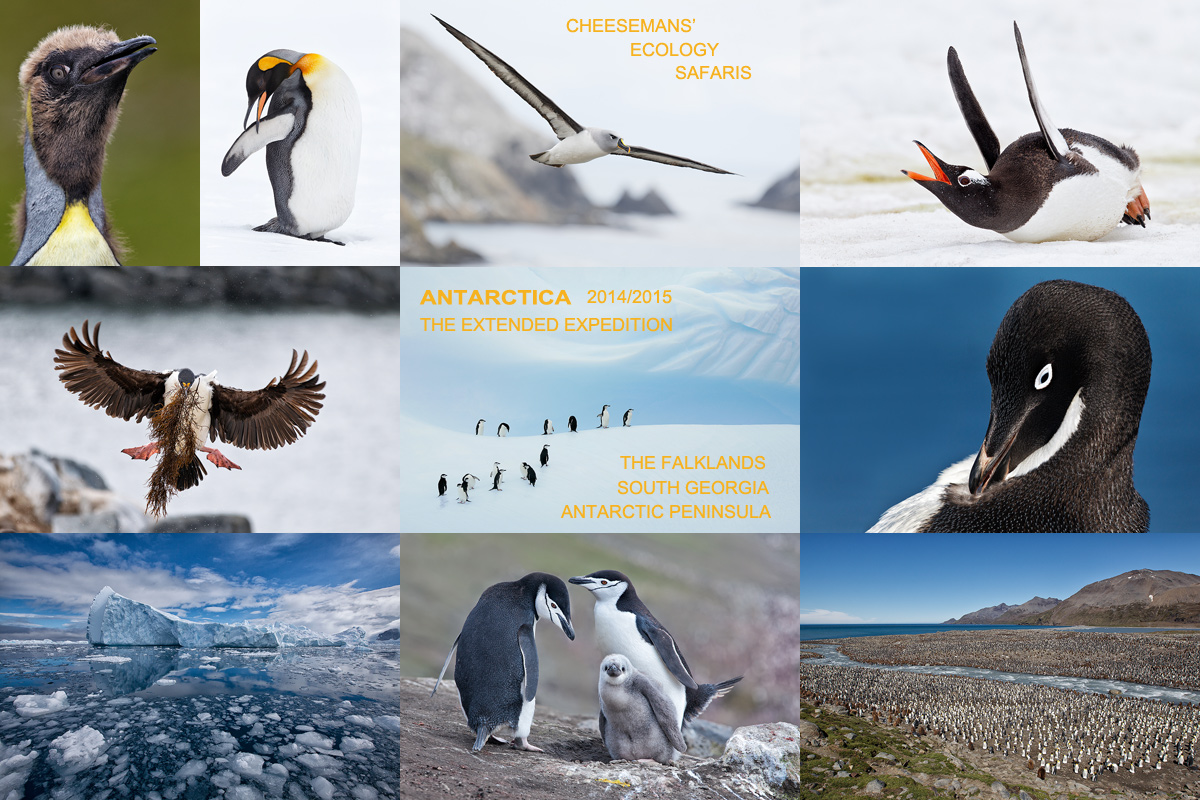 Breathe deeply, bite the bullet, and live life to its fullest; we all get only one ride on the merry-go-round… Join me on this great trip.
Click on the image to enjoy a larger version.
The Southern Ocean…
I've been blessed. I've made three trips to the Southern Ocean, two extended trips that visited the Falklands, South Georgia, and the Antarctic Peninsula, and one to the Falklands and South Georgia. Each was a truly amazing experience. With three trips under my belt, I have a pretty good idea about how to make great images at each of the iconic landings. And I would love the chance to share my knowledge with you.
And I know from personal experience that if you are a photographer who is going to invest in Southern Ocean voyage that you will want to put your money on Cheesemans'. No other tour company goes so far out of their way to ensure making every possible safe landing. And no other tour company will have you spending more time on land. Here, from the" Way to Go CES! (Cheeseman's Ecology Safaris)" blog post here, is one of my favorite Cheesemans' stories:
The landing at Bailey Head, Antarctica, was especially rewarding to me as I had been sitting in a zodiac 100 yards off shore on my 2007 trip when the zodiac in front of mine swamped and the captain of the ship called off the landing…. Early that day it looked as if my weather Karma might not be working. Ted's "Good morning shipmates" was followed by the news that we would not be able to land at Bailey Head that morning as the swell was too big. The beach there is sloped tremendously and the sea strives to pull the zodiacs back into the ocean before folks have gotten off with their gear. Tom Murphy had said to me several days before, "We will get you on the beach at Bailey Head." Ted concluded his morning greetings by saying, "We are sending out a scout team to see if landing is possible."
After breakfast I was thrilled to hear Ted's voice again on the PA, "We will be landing at 8am." Afterwards folks noted that it was the calmest landing ever at this amazingly beautiful spot. My good weather Karma (courtesy of late-wife Elaine) had come through one last time. Along with St. Andrews Bay, it was one of my two favorite super-great once-in-a-lifetime days of the trip. And we even got to enjoy three additional hours at Hannah Point, Antarctica before calling it a wrap and heading for the feared Drake Passage. All thanks to Cheesemans' Ecology Safaris.
Why Sign Up Through BIRDS AS ART?
If you have been thinking and dreaming of finally visiting South Georgia and Antarctica, this is the trip for you. Quit dreaming and act now. Though I will not be an official leader on this trip, those who have traveled with me know that I cannot help but teach. I will make pre-trip gear recommendations. I will hold informal pre-landing briefings. In the same vein, everyone will receive a free copy of our Antarctica Site Guide once they are paid in full (August 15, 2014). I will be available on the ship to review your images,, answer questions, and conduct informal over-the shoulder Photoshop sessions. And best of all everyone who signs up under the auspices of BAA are invited to tag along with me on the landings where I will be glad to offer invaluable in-the-field advice. And the same goes for the ship-board birds in flight and marine mammal photography opportunities.
Do join us. To learn how to be part of the BAA group please e-mail me with the words Antarctica/Extended Expedition BAA Info Please cut and pasted into the Subject line.
The Cheesemans' Ecology Safaris Antarctica/The Extended Expedition Voyage
Antarctic Peninsula, South Georgia and Falkland Islands: December 13, 2014 to January 10, 2015
From the CES website:
Join us on a voyage of discovery to an awe-inspiring world devoted to nature, wildlife, science, and peace. This expedition will have you completely captivated, from the stunning vistas of Tierra del Fuego to the busy penguin rookeries of the Falklands, from the dramatic landscapes of South Georgia to the ice-covered terrain of the Antarctic. Board the comfortable, safe and newly upgraded Ortelius for an expedition offering an unparalleled 17 landing days in the Southern Ocean. Our voyage includes three days in the Falklands with a huge diversity of species, six days at South Georgia Island, the all but undiscovered rugged land of towering mountains and thriving colonies of penguins, seals, and albatross, one day at the South Orkneys with nesting Snow Petrels, and seven days along the Antarctic Peninsula, the wonderland of ice and inconceivably vibrant polar wildlife. During days at sea, our naturalists on the ship's bridge and stern share sightings of whales and seabirds, including many of the world's species of albatross. Maximum time both on shore and Zodiac cruising will be available for photography, wildlife experiences, and exploring the landscapes of the great Southern Ocean. Our priority is assuring the most in-depth wildlife experience in the Antarctic, an experience made possible by our excellent itinerary and committed expedition staff.

I can personally attest to the accuracy of everything above. 🙂
Additional Links
Learn about the global ocean here.
Antarctic Inspiration from Paul Mckenzie here.
Way to Go CES! (Cheeseman's Ecology Safaris) here.
Or simply type any of the following words or phrases in the little white search box on the top right of this page, hit Search, and follow the links: penguin; Antarctica; South Georgia; Falklands. Have fun.
The Pull is Too Strong…
The pull is too strong. I need to go back. And I am. Do join me for an unparalleled wildlife and scenic photography experience. Please e-mail for additional information.
Questions?
I'd be glad to answer all of your Southern Ocean/Falklands/South Georgia/Antarctica questions. Please leave a comment if you'd like to learn more.