The Amazing Streak Continues; I Gotta be Nuts. 🙂
Today's blog post marks 46 days in a row with a new post, a record by far that should be extended for at least another week or two. Or not. 🙂 To show your appreciation, we ask that use our B&H and Amazon affiliate links for all of your B&H and Amazon purchases. Please check the availability of all photographic accessories in the BIRDS AS ART Online Store. We sell only what I use and depend on. We will not sell you junk. We know what you need to make creating great images easy and fun. And we are always glad to answer your gear questions via e-mail.
You can find the following items in the store: Gitzo tripods, Mongoose M3.6 and Wimberley heads, plates, low feet, and accessories, flash brackets, , Delkin e-film Pro Compact Flash Cards, LensCoat products, and our unique line-up of educational materials including ABP I & II, Digital Basics, Site and Set-up e-Guides, Canon and Nikon Camera Users and AF e-Guides, and MP-4 Photoshop video tutorials among others.
We would of course appreciate you using our B&H and Amazon affiliate links for all of your B&H and Amazon major gear, video, electronic, household, and personal purchases. For the photographic stuff mentioned above we would of course great appreciate your business.
Thanks and enjoy today's blog post!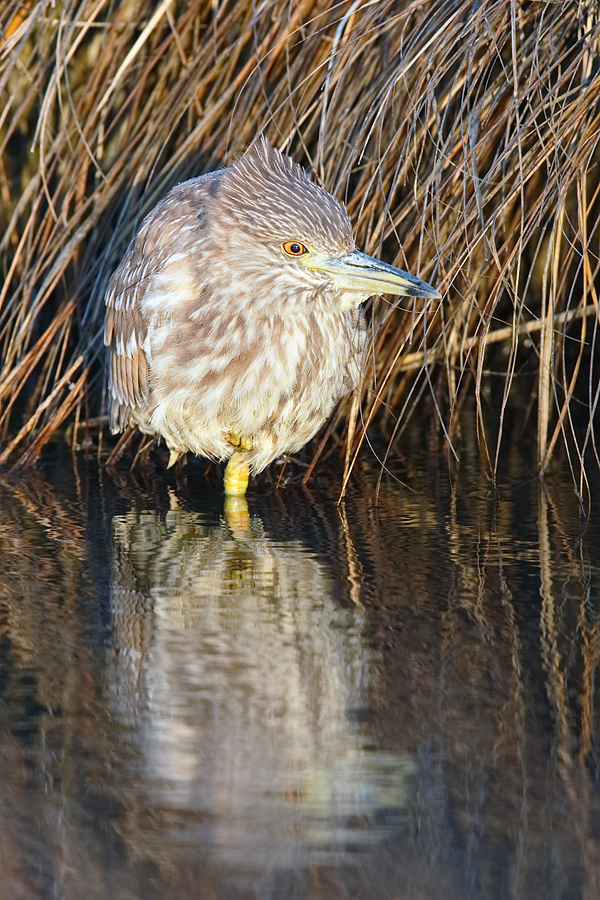 This image was created in the saltmarsh that abuts the north side of the beach road at Westhampton Beach, Long Island, NY with the Canon EF 600mm f/4L IS II USM lens, the Canon 2x EF Extender III (Teleconverter), and the Canon EOS-1D X. ISO 400. Evaluative metering -1/3 stop: 1/160 sec. at f/11 in Av mode.
Central sensor (by necessity) Expand/AI Servo Rear Focus AF on the bird's eye and re-compose. Click here if you missed the latest version of the Rear Focus Tutorial. Click on the image to see a larger version.
Your browser does not support iFrame.
Not a Snowy Owl II
The Story
I was as excited as could be to be sitting behind friend Mike Lotito in his four-wheel drive vehicle. We were driving on the beach (permit required) in Westhampton looking for one or more of the Snowy Owls that Mike had been photographing there for the previous month…. On the way to meeting Mike at the jetty, I had already seen two snowys sitting atop duck blinds. We drove about three miles towards the jetty and the three miles back. Nada. Nothing Zip. Zero. Zilch. We did see a few Sanderlings though…
Next we drove the beach road looking for anything. The first (and pretty much only) cooperative subject was the young Black-crowned Night-Heron featured in the opening image. I was working with the 600 II/2X III/1D X combo off the BLUBB on the lowered car window. I traveled with an empty BLUBB (Big Lens Ultimate BeanBag) and filled it with my sister Arna's bird seed when I arrived. Mike did a great job of putting the truck in the perfect spot. The sun was just hitting the subject; in a few minutes the bird was fully lit by the early morning sunlight.
I created about 80 images, striving to get the bird as up and left in the frame. It is easy in situations like this to wind up with the subject too centered and with some of the reflection clipped. The problem was that I did not see that a few tiny stalks of beach grass covered the distal end of the bill in pretty much every image where the bird was looking to my right…. In the image above, only one piece of grass (and its shadow) offended. See below for the image optimization and clean-up.
I am always amazed that species like this survive can the sometimes brutal winters in the northeast. On a related note I have heard that there is a cool image on Facebook of a Snowy Owl eating an American Bittern…. Such an image would be possible along Westhampton Beach Road (if that is the correct name….) as both species share the same marsh habitat.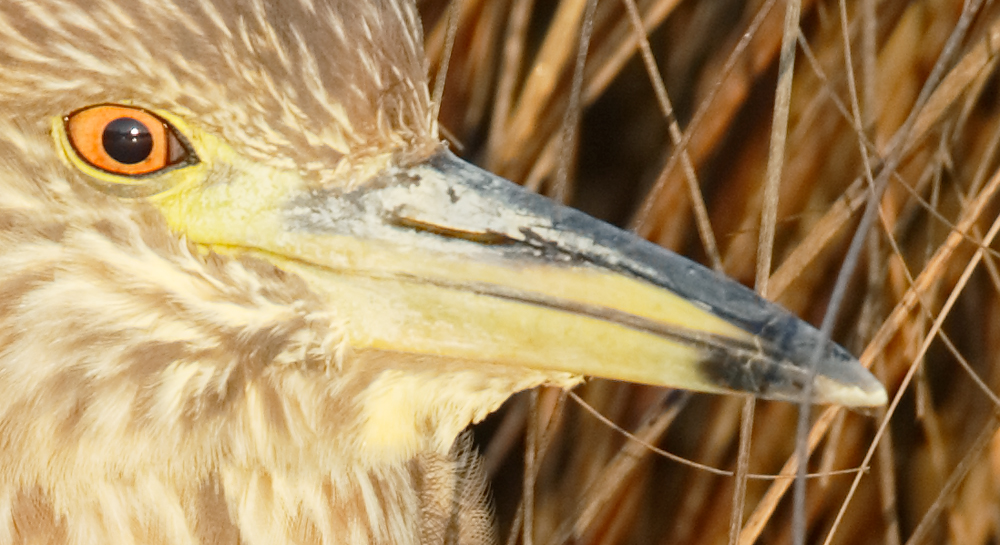 This is a close-up of the bill in the converted image. Note that I warmed the image up a bit too much for my taste.
The Original Capture
Note the single beach grass stem across the tip of the bill and the accompanying shadow. It was rather easy to deal with those. See below for details.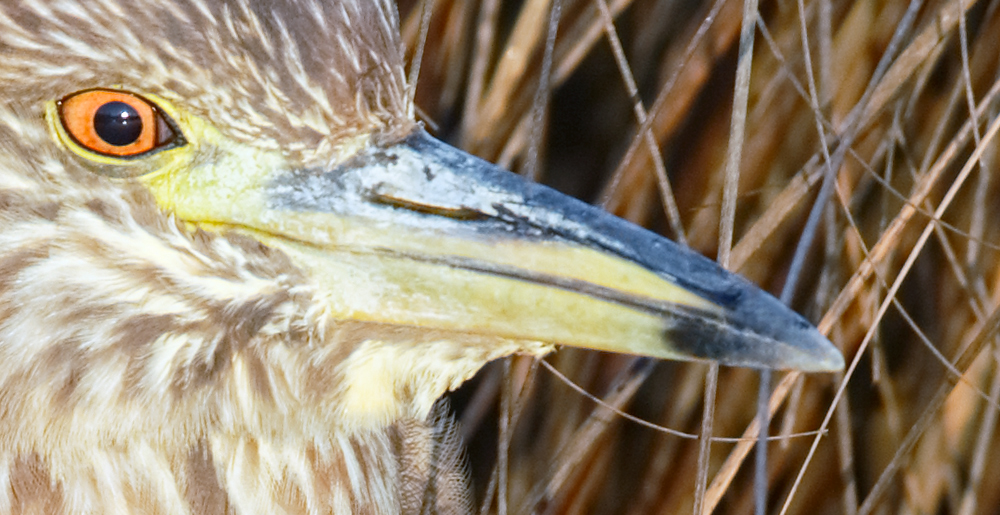 This is a close-up of the bill from the optimized image.
The Image Optimization
After converting the image in DPP the image optimization was fairly straightforward. First I drew a line with the Ruler tool from the pupil in the bird's eye to the reflected pupil and hit Straighten. Then I color corrected the image to make it less yellow. Next I ran a 50% layer of my NIK 50/50 Detail Extracor/Tonal Contrast pre-set on the bird only after selecting it with the Quick Selection Tool and placing it on its own layer. Then it was on the the bill tip. I used some divide and conquer techniques with the Clone Stamp Tool and the Patch Tool. After that there was very little additional tidying up to do.
All of the above of course as detailed in my Digital Basics File, an instructional PDF that is sent via e-mail. It includes my complete digital workflow, dozens of great Photoshop tips, several different ways to expand canvas, all of my time-saving Keyboard Shortcuts, Quick Masking, Layer Masking, and NIK Color Efex Pro basics, my killer image clean-up techniques, Digital Eye Doctor, and tons more.
Image Questions
Why -1/3 stop EC (Exposure Compensation)?
Do you like the warmer look or the cooler version?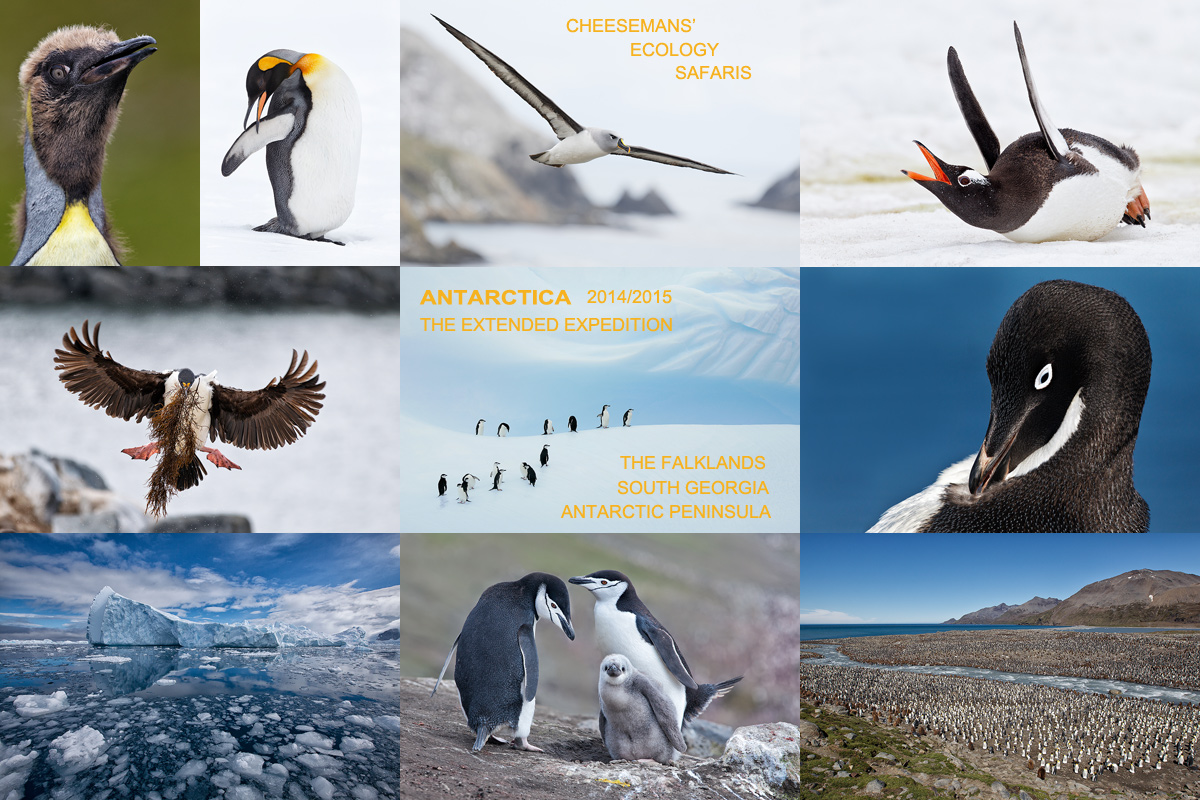 Breathe deeply, bite the bullet, and live life to its fullest; we all get only one ride on the merry-go-round… Join me on this great trip.
Click on the image to enjoy a larger version.
The Southern Ocean…
There has already been tons of interest including that from some long time wonderful Happy Camper BIRDS AS ART folks. Mulitple-IPT veteran Michael Viljoen of South Afirca has already committed to making the trip with his son. He and lovely, smiling wife Lyndsey were with me on the October 2012 Cheesemans' South Georgia Expedition.
Click here for complete details. If you are seriously interested please shoot me an e-mail for the trip link.
DPP RAW Conversions
I use DPP to convert all of my Canon RAW files. To learn why I switched from ACR to DPP for my RAW conversions see our DPP RAW Conversion Guide here.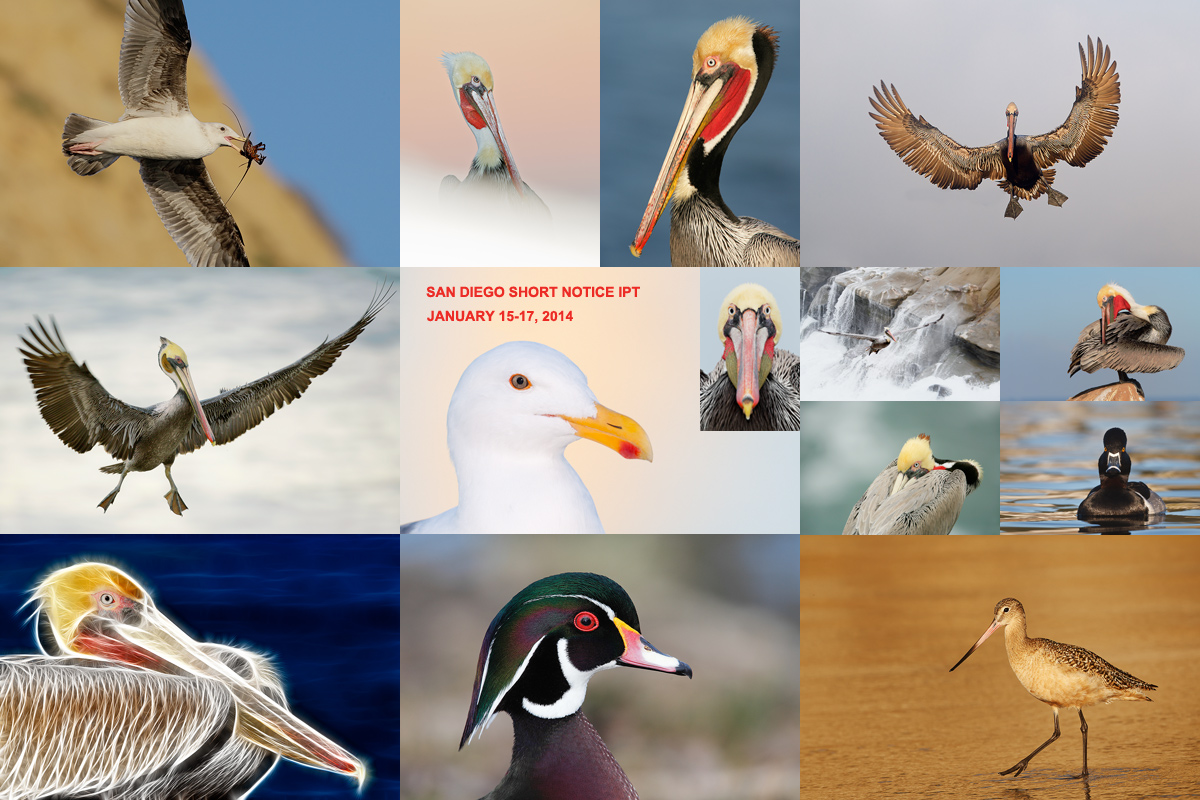 Join me in San Diego for three great days of photography and learning. Click on the image to better enjoy a larger version.
The San Diego Short-Notice Small Group IPT. January 15-17, 3-Full Days: $1049. Meet and Greet after dinner on your own at 7:30pm on Tuesday, January 14, 2014. Limit 6/Openings: 1.
There is now a single opening due to a late cancellation.
Please call or e-mail for late registration discount information.



We will get to photograph the California race of Brown Pelican in flight, resting, preening, cleaning their bill pouches, and talking to their neighbors by tossing their bills high in the air. The afternoon sessions will feature Marbled Godwits, several gull species, and Wood and Ring-necked Ducks. If we have a cloudy morning we will get to photograph Harbor Seals. You will learn to get the right exposure every time, to see the best situation, to think like a pro, to create sharp, pleasing images, and to understand the joint effects of light and wind on the birds. All in a small group with tons of individual attention.
A $500 non-refundable deposit is required to hold your slot for this IPT. Your balance will be due no later than January 7, 2014. The balance is alo non-refundable. If the trip fills, we will be glad to apply a credit applicable to a future IPT for the full amount less a $100 processing fee. If we do not receive your check for the balance on or before the due date we will try to fill your spot from the waiting list. If your spot is filled, you will lose your deposit. If not, you can secure your spot by paying your balance.
If you are planning to register please shoot me an e-mail.
Then please print, complete, and sign the form that is linked to here and shoot it to us along with your deposit check (made out to "Arthur Morris.") Though we prefer a check, you can also leave your deposit with a credit card by calling the office at 863-692-0906. If you register by phone, please print, complete and sign the form as noted above and either mail it to us or e-mail the scan.
If you have any questions, please feel free to contact me via e-mail
Last Year's Grand Prize winning image by Lou Coetzer
Important Contest News
Contest Deadlines Extended!
BIRDS AS ART 2nd International Bird Photography Competition
New Entry Deadline: January 31, 2014; see additional details below
With so many folks signing up at the last minute and with so many folks having trouble uploading their images due to server overload the deadline for entering the contest (registering and paying) has been extended until January 31, 2014 and the deadline for uploading images has been extended until midnight Eastern time on February 10, 2014. Take advantage of this extension to have a crack at the great prizes.
Learn more and enter the BIRDS AS ART 2nd International Bird Photography Competition here. Twenty-five great prizes including the $1000 Grand Prize and intense competition. Bring your best.
Register and Pay
To register click here.
To learn of payment options, click here.
Support the BAA Blog. Support the BAA Bulletins: Shop B&H here!
This Bulletin took about 12 hours to prepare
We want and need to keep providing you with the latest free information, photography and Photoshop lessons, and all manner of related information. Show your appreciation by making your purchases immediately after clicking on any of our B&H or Amazon Affiliate links in this blog post. Remember, B&H ain't just photography!
Amazon
Everyone buys something from Amazon, be it a big lens or deodorant. Support the blog by starting your search by starting your search by clicking on the logo-link below. No purchase is too small to be appreciated; they all add up. Why make it a habit? Because I make it a habit of bringing you new images and information on an almost daily basis.
Typos
In all blog posts and Bulletins, feel free to e-mail or leave a comment regarding any typos, wrong words, misspellings, omissions, or grammatical errors. Just be right. 🙂
IPT Info
Many of our great trips are filling up. See especially info on the South Florida, Holland, and Nickerson Beach IPTs. Two great leaders ensure that you will receive individual attention, have all of your questions answered, and learn a ton including how to think like a pro, see the situation, and get the right exposure every time. In addition you will have fun, and make lots of great images. Click here for IPT details and general information.