The Streak…
This blog post marks 52 days in a row with a new educational blog post, a record by far that should be extended for at least another week or two. Or not. 🙂 To show your appreciation, we ask that use our B&H and Amazon affiliate links for all of your B&H and Amazon purchases. Please check the availability of all photographic accessories in the BIRDS AS ART Online Store. We sell only what I use and depend on. We will not sell you junk. We know what you need to make creating great images easy and fun. And we are always glad to answer your gear questions via e-mail.
You can find the following items in the store: Gitzo tripods, Mongoose M3.6 and Wimberley heads, plates, low feet, and accessories, flash brackets, , Delkin e-film Pro Compact Flash Cards, LensCoat products, and our unique line-up of educational materials including ABP I & II, Digital Basics, Site and Set-up e-Guides, Canon and Nikon Camera Users and AF e-Guides, and MP-4 Photoshop video tutorials among others.
We would of course appreciate you using our B&H and Amazon affiliate links for all of your B&H and Amazon major gear, video, electronic, household, and personal purchases. For the photographic stuff mentioned above we would of course great appreciate your business.
Thanks and enjoy today's blog post!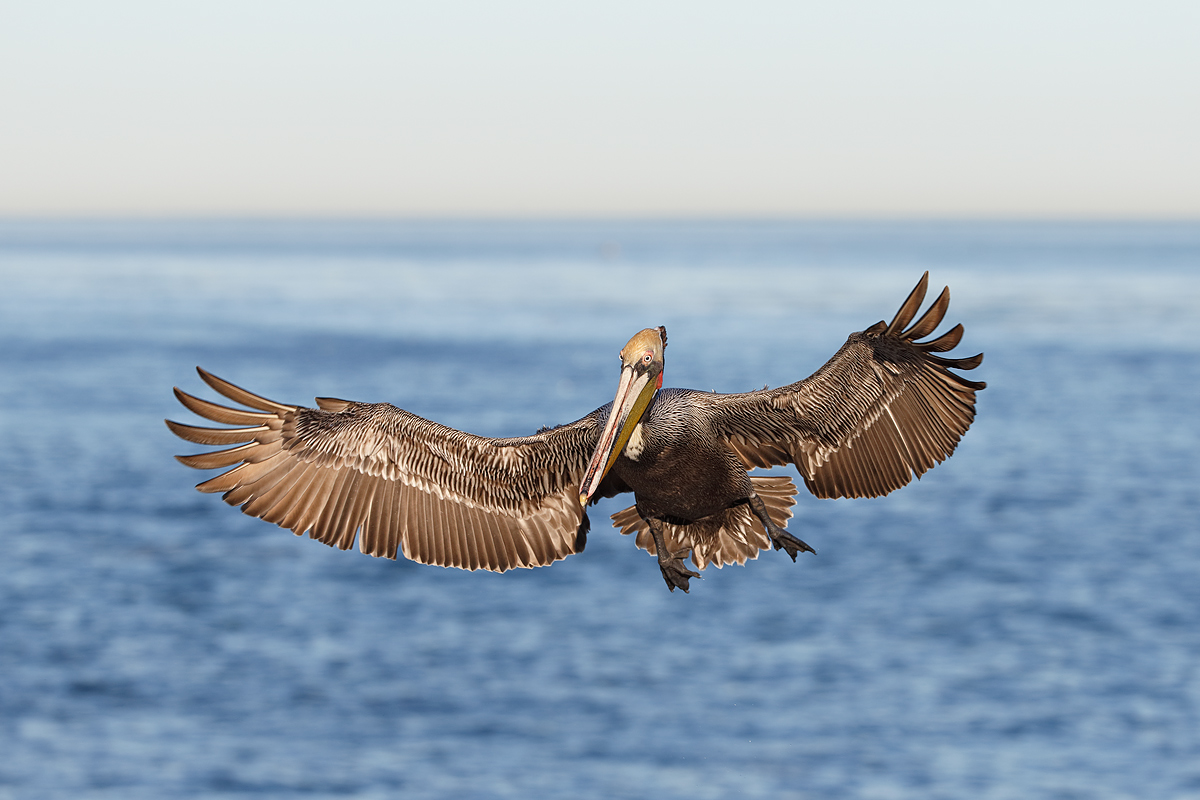 This Brown Pelican image was created with the Canon EF 200-400mm f/4L IS USM Lens with Internal 1.4x Extender (hand held at 217mm) and the Canon EOS-1D X. ISO 400. Evaluative metering +2/3 stop off the light blue sky: 1/2000 sec. at f/5.6 in Manual mode.
Central Sensor/AI Servo Rear Focus AF on the top of the bird's breast (on the same plane as the eye) active at the moment of exposure. There were 3 sensors active on the upper back and the bottom of the neck. Click here to see the latest version of the Rear Focus Tutorial. Be sure to click on the image to see a larger version.
Yesterday, with the birds flying relatively consistent flight paths, I experimented with using central sensor only as opposed to Surround for my flight photography as recommended by Jim Neiger in his great eGuide, Flight Plan.
Your browser does not support iFrame.
The Prelude
In the two images here we see the great versatility of the Canon EF 200-400mm f/4L IS USM Lens with Internal 1.4x Extender: great for hand held flight photography and great on a tripod for tight portraits with the Internal TC in place. And adding an external TC gets you out to 784mm….
I have received several e-mails asking which is the better lens, the Canon EF 300mm f/2.8L IS II USM lens or the Canon EF 200-400mm f/4L IS USM Lens with Internal 1.4x Extender. At first I thought that this was a tough question. But I have reached a definitive conclusion. I will be sharing my revelations with you here soon.
61-Point AF
I have been using 61-Point AF for many of my vertical images on the cliffs over the past few days. With both the 1D X and the 5D Mark III you can set up your cameras with one AF Area Selection Mode for horizontals and a different AF Area Selection Mode for verticals. The cameras recognize whether you are holding them horizontally or vertically. You can learn how to do this in either our 1D X AF Guide or our 5D Mark III User's Guide. Along with dozens of other great tips.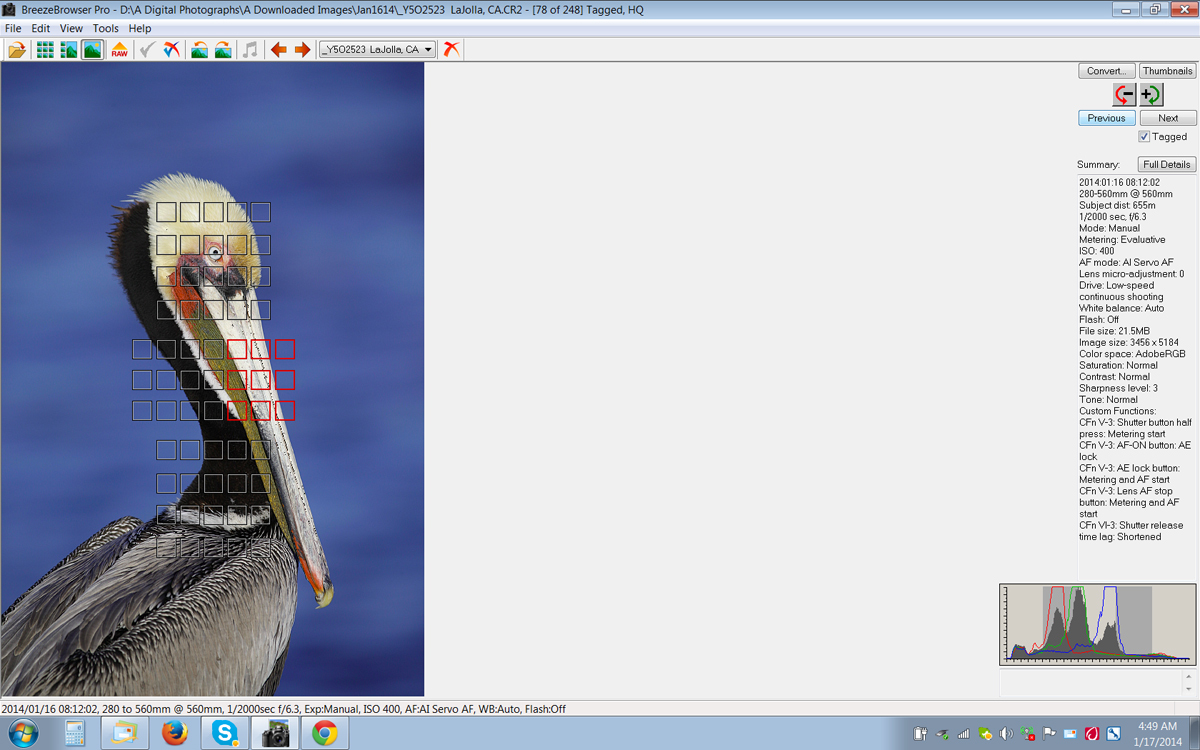 This is a BreezeBrowser Main View screen capture. Learn more below.
BreezeBrowser
Above is the BreezeBrowser Main View screen capture for the vertical pelican image. The illuminated red squares on the bird's bill indicates that 9 AF sensors were active at the moment of exposure. Make sure to check Show Focus Points under View to activate this feature. To see the focus points in DPP check AF Point under View or hit Alt L.
Regular readers know that I use and depend on BreezeBrowser every day of the year. It allows me to sort my keepers and deletes the rejects faster than any other browsing program. We use it on the main computer in the home office to catalog our images file-drawer style. And the companion program, Downloader Pro, allows me to download my images quickly and conveniently. It automatically adds my IPTC data and the shooting location. I have it set up to create a folder named by the Month/date/year. The Breezebrowser/Downloader Pro combo saves me many hours each week. To learn earn more or to purchase this great PC/Windows-only program, click here.
Note also the histogram that shows the highlight data well into the fifth box…. Expose to the right. Learn more about exposure in the Two-Book Bundle here.
Your Favorite?
Please take a moment to leave a comment and let us know which of the two images here you like best. Be sure to let us know why.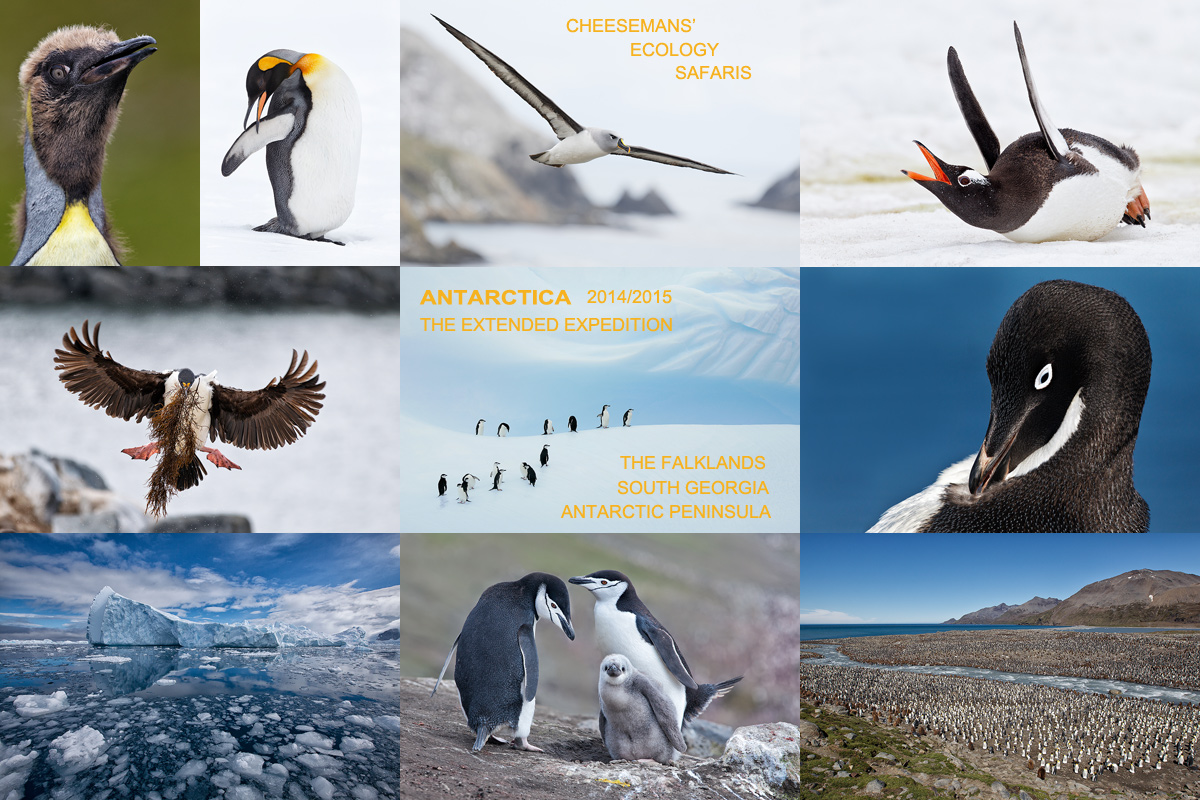 Breathe deeply, bite the bullet, and live life to its fullest; we all get only one ride on the merry-go-round… Join me on this great trip.
Click on the image to enjoy a larger version.
The Southern Ocean…
There has already been a ton of interest including that from some long time wonderful Happy Camper BIRDS AS ART folks. Mulitple-IPT veteran Michael Viljoen of South Afirca has already committed to making the trip with his son. He and lovely, smiling wife Lyndsey were with me on the memorable and wonderful October 2012 Cheesemans' South Georgia Expedition. Repeat-clients–I like to call them recidivists–are a good sign that you are doing something right.
Click here for complete details. If you are seriously interested please shoot me an e-mail for the trip link.
Support the BAA Blog. Support the BAA Bulletins: Shop B&H here!
This Bulletin took about 12 hours to prepare
We want and need to keep providing you with the latest free information, photography and Photoshop lessons, and all manner of related information. Show your appreciation by making your purchases immediately after clicking on any of our B&H or Amazon Affiliate links in this blog post. Remember, B&H ain't just photography!
Amazon
Everyone buys something from Amazon, be it a big lens or deodorant. Support the blog by starting your search by starting your search by clicking on the logo-link below. No purchase is too small to be appreciated; they all add up. Why make it a habit? Because I make it a habit of bringing you new images and information on an almost daily basis.
Typos
In all blog posts and Bulletins, feel free to e-mail or to leave a comment regarding any typos, wrong words, misspellings, omissions, or grammatical errors. Just be right. 🙂
IPT Info
Many of our great trips are filling up. See especially info on the South Florida, Holland, and Nickerson Beach IPTs. Two great leaders on most trips ensure that you will receive individual attention, have all of your questions answered, and learn a ton including how to think like a pro, see the situation, and get the right exposure every time. In addition you will have fun, and make lots of great images. Click here for IPT details and general information.