And the Streak Goes On
We are up early getting ready to head out into the darkness for the Little Estero Lagoon morning add-on session. I know well that I am still sick but am far, far improved from what I was. Nose is a bit sniffly and throat just a tiny bit sore.
This post marks 62 days in a row with a new educational blog post, a record by far that should be extended for at least another week or two. Or not. 🙂 To show your appreciation, we ask that use our B&H and Amazon affiliate links for all of your B&H and Amazon purchases. Please check the availability of all photographic accessories in the BIRDS AS ART Online Store. We sell only what I use and depend on. We will not sell you junk. We know what you need to make creating great images easy and fun. And we are always glad to answer your gear questions via e-mail.
You can find the following items in the store: Gitzo tripods, Mongoose M3.6 and Wimberley heads, plates, low feet, and accessories, flash brackets, , Delkin e-film Pro Compact Flash Cards, LensCoat products, and our unique line-up of educational materials including ABP I & II, Digital Basics, Site and Set-up e-Guides, Canon and Nikon Camera Users and AF e-Guides, and MP-4 Photoshop video tutorials among others.
We would of course appreciate you using our B&H and Amazon affiliate links for all of your B&H and Amazon major gear, video, electronic, household, and personal purchases. For the photographic stuff mentioned above we would of course great appreciate your business.
Thanks and enjoy today's blog post! This one took only about 1 1/2 hours to assemble,
Less Than 4 Days Left to Enter! BIRDS AS ART 2nd International Bird Photography Competition!
With so many folks signing up at the last minute at the end of December and with so many folks having trouble uploading their images due to server overload, the deadline for entering the contest (registering and paying) was extended just before the end of the last year until January 31, 2014. There will be no additional extensions. The deadline for uploading your images has been extended until midnight Eastern time on February 10, 2014. Take advantage of this extension to have a crack at the great prizes.
Learn more and enter the BIRDS AS ART 2nd International Bird Photography Competition here. Twenty-five great prizes including the $1000 Grand Prize and intense competition. Bring your best.
Register and Pay
To register click here.
To learn of payment options, click here.
A Lesson in Seeing the Situation
We–co-leader Denise Ippolito and I–sat the group in the sand and helped everyone get close to the birds. They were in typical habitat for species–white sand with a variety of beach vegetation. We had mixed clouds and sun–I of course far prefer the cloudy bright to full sun for the better part of the day. At about 5:30pm I took a walk to see what I could see. Though it was only 30 minutes till sunset the sun was shining brightly reflecting off the condos to the east onto the lagoon. There were several assorted shorebirds feeding on some clear sand on the edge of the lagoon. But the birds were shaded by a rather seep sand berm that was created by earlier winter storms.
I noticed that if I lowered my tripod a bit by pulling out the front-pointing leg tab that I could get the yellow reflection of the distant condo as my background. I created a series of very nice images before making the one above. I am guessing that all the swirls were the result of a puff of breeze. I have said often, "When the sun is too bright for you find a subject in the shade." Here is another BAA artie-fact: one of my favorite situations is subject in shade, background in sun. Here I was able to combine those 2 principles to create a really special image.
The South Florida Mini IPTs
It's Still Not Too Late to Get in on the Fun and Learning
Do consider joining us for one of the remaining parts or all of the South Florida Composite IPT. Call me on my cell at 863-221-2372 or e-mail to learn of the Late Registration Discounts for both the segments and the complete trip. If you call the cell and I do not pick up, please let a message and please be sure to e-mail me a good callback number and time.
Jan 29 (WED): Venice Rookery In-the-Field: all day: (Limit 12/Openings 8): $399. Introductory slide program 7pm, Jan 28.
30 (THURS) -Venice am only. (Limit 12/Openings 7): $249
You can sign up for one or more of the short IPTs and/or one or more of the add-on days or you can opt to sign up for the all the sessions. Those signing up for the whole shebang will be having all lunches and dinners with us most every day. Call us at 863-692-0906 or e-mail to learn of the Late Registration Discounts for both the segments and the complete trip.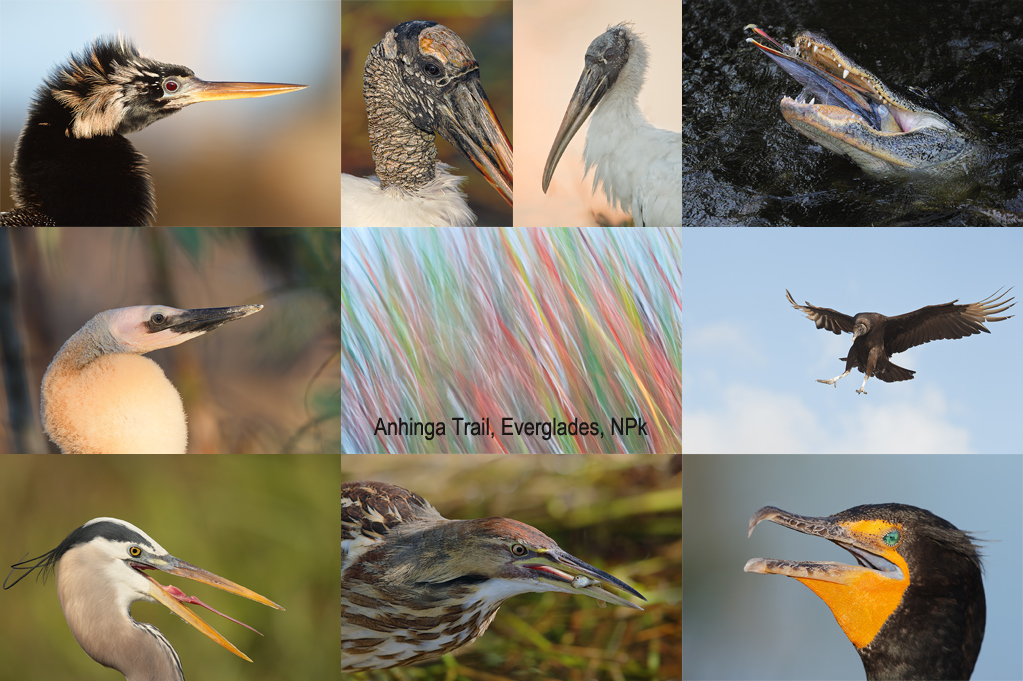 Bird Photography Hotspot: Anhinga Trail, Everglades National Park. Learn more here.
Anhinga Trail/Everglades National Park Mini-IPT: Feb 1-2, (SAT/SUN), 2014. (Limit 12/Openings 5): $799. Introductory slide program: 7pm: FRI Jan 31. (Limit 12/Openings: 6):
Join Denise Ippolito and Arthur Morris for four great photography sessions at one of the top bird photography hotspots in North America. Morning sessions: 6:15am to 10:30am. Afternoon sessions: 3:00pm till 5:45pm. Lunch included. Informal image review and Photoshop sessions after lunch.
Jan 31 (Friday) Anhinga Trail/Everglades National Park Optional Add-on/Morning Only (Limit 12/Openings 5): $249
Includes lunch, and informal image review and Photoshop session.
Call us at 863-692-0906 or e-mail
to learn of the Late Registration Discounts for both the segments and the complete trip.
Because of our intense travel schedule that includes a trip to Japan I will not be running the traditional SW FLA IPT. In addition, in an effort to give some folks a chance to get a taste of our teaching and our passion for bird photography, Denise Ippolito and I have organized a series of short IPTs that may be combined into one wonderful experience or enjoyed piecemeal. Click here for complete details or to register. Please e-mail with any questions or leave a comment below.
A $500 non-refundable deposit is required to hold your slot for this IPT. For the short segments that are less than $500 payment in full is due at the time of registration. Your balance is due 4 months before the date of the IPT and is also non-refundable. If the trip fills, we will be glad to apply a credit applicable to a future IPT for the full amount less a $100 processing fee. If we do not receive your check for the balance on or before the due date we will try to fill your spot from the waiting list. If your spot is filled, you will lose your deposit. If not, you can secure your spot by paying your balance. Best to call Jim or Jennifer with a credit card in hand to register. Credit cards are not accepted for balances. Alternatively you can send a check for $500 made out to Arthur Morris to us at PO Box 7245, Indian Lake Estates, FL, 33855. Please include a note with your e-mail address and be sure to let us know what you are signing up for.
Support the BAA Blog. Support the BAA Bulletins: Shop B&H here!
We want and need to keep providing you with the latest free information, photography and Photoshop lessons, and all manner of related information. Show your appreciation by making your purchases immediately after clicking on any of our B&H or Amazon Affiliate links in this blog post. Remember, B&H ain't just photography!
Amazon
Everyone buys something from Amazon, be it a big lens or deodorant. Support the blog by starting your search by clicking on the logo-link below. No purchase is too small to be appreciated; they all add up. Why make it a habit? Because I make it a habit of bringing you new images and information on an almost daily basis.
Typos
In all blog posts and Bulletins, feel free to e-mail or to leave a comment regarding any typos, wrong words, misspellings, omissions, or grammatical errors. Just be right. 🙂
IPT Info
Many of our great trips are filling up. See especially info on the South Florida, Holland, and Nickerson Beach IPTs. Two great leaders on most trips ensure that you will receive individual attention, have all of your questions answered, and learn a ton including how to think like a pro, see the situation, and get the right exposure every time. In addition you will have fun, and make lots of great images. Click here for IPT details and general information.