And the Streak Goes On
As noted below, the Venice Rookery IPT enjoyed a great first session yesterday. This post marks 65 days in a row with a new educational blog post, a record by far that should be extended for at least another week or two. Or not. 🙂 To show your appreciation, we ask that use our B&H and Amazon affiliate links for all of your B&H and Amazon purchases. Please check the availability of all photographic accessories in the BIRDS AS ART Online Store. We sell only what I use and depend on. We will not sell you junk. We know what you need to make creating great images easy and fun. And we are always glad to answer your gear questions via e-mail.
You can find the following items in the store: Gitzo tripods, Mongoose M3.6 and Wimberley heads, plates, low feet, and accessories, flash brackets, , Delkin e-film Pro Compact Flash Cards, LensCoat products, and our unique line-up of educational materials including ABP I & II, Digital Basics, Site and Set-up e-Guides, Canon and Nikon Camera Users and AF e-Guides, and MP-4 Photoshop video tutorials among others.
We would of course appreciate you using our B&H and Amazon affiliate links for all of your B&H and Amazon major gear, video, electronic, household, and personal purchases. For the photographic stuff mentioned in the paragraph above we would of course greatly appreciate your business.
Thanks and enjoy today's blog post! This one took about 3 hours to assemble.
1 Day Left to Enter! BIRDS AS ART 2nd International Bird Photography Competition!
With so many folks signing up at the last minute at the end of December and with so many folks having trouble uploading their images due to server overload, the deadline for entering the contest (registering and paying) was extended just before the end of the last year until January 31, 2014. There will be no additional extensions. The deadline for uploading your images has been extended until midnight Eastern time on February 10, 2014. Take advantage of this extension to have a crack at the great prizes.
Learn more and enter the BIRDS AS ART 2nd International Bird Photography Competition here. Twenty-five great prizes including the $1000 Grand Prize and intense competition. Bring your best.
Register and Pay
To register click here.
To learn of payment options, click here.
The Usual Gloom and Doom Stuff…
Several folks had told me both by e-mail and at the seminar on Tuesday afternoon that photographic conditions at the Venice Rookery were poor this year: few nesting birds and sparse, dying vegetation. I took those warnings with a grain of salt as I usually do. Though the weather was lousy–a bit a fog at first, then cloudy dark till well after noon when we finally quit for lunch, we had one of the best mornings at Venice in many years. The east northeast wind was pretty darned good for flight. There are a few GBH nests positioned perfectly for photography, and there was lots of flight and chick-feeding action. As I see it, conditions at Venice are excellent.
What does the above story show? That most folks have no clue as to how to recognize a good or great situation. That's something that you can only learn by attending an IPT or a seminar.
Lens Drive When AF Impossible
Many of the more recent Canon cameras including the 1D X, the 5D III, and the Mark IV have the Lens Drive When AF Impossible feature. It is poorly named, poorly explained in the camera body manuals, and is universally mis-understood. In our Camera User's Guides this feature is clearly explained as are the situations that call for its use. For the image above I turned it to "Stop focus search/OFF" to keep the AF system from hunting for the background when the sensor invariably fell off the subject. For the image above it worked to perfection.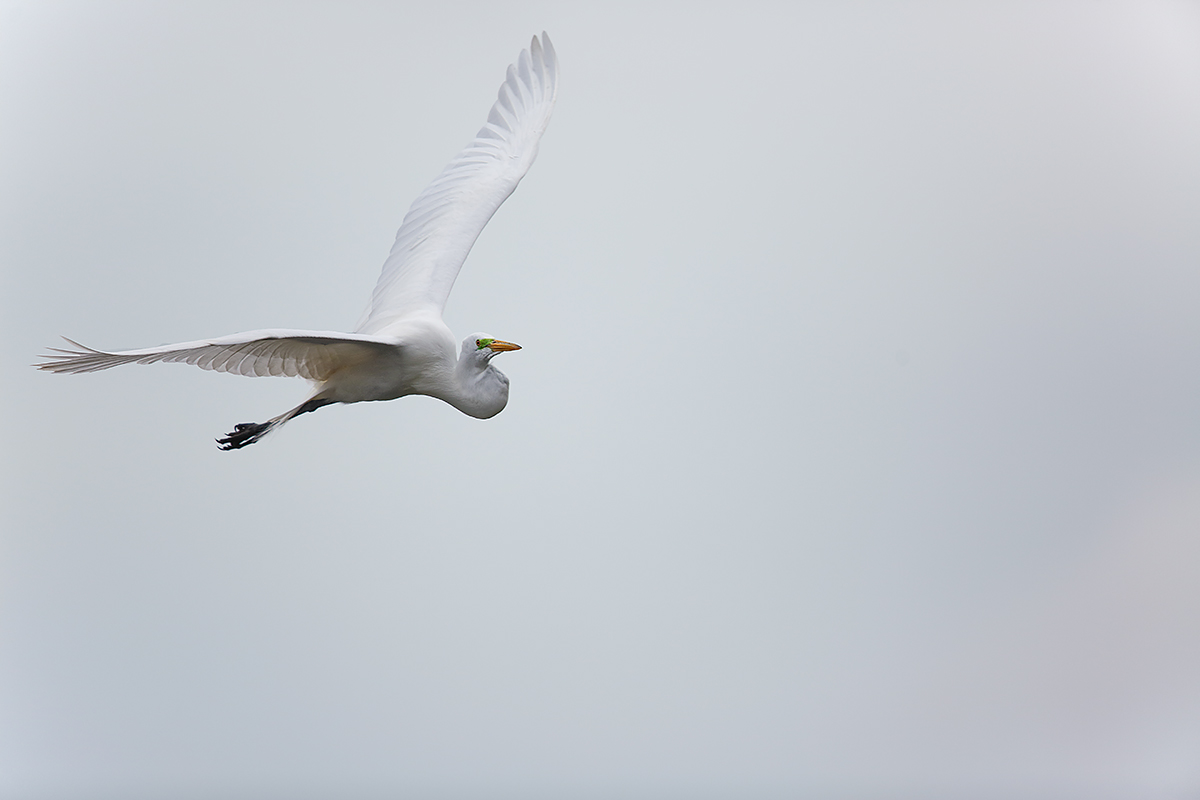 This Great Egret flight image was created yesterday morning on the Venice Rookery IPT with the Gitzo 3532 LS carbon fiber tripod, the Mongoose M3.6 head, the Canon EF 600mm f/4L IS II USM lens, and the Canon EOS 5D Mark III . ISO 400. Evaluative metering +2 stops off the grey sky: 1/2000 sec. at f/4 in Manual mode.
One sensor to the left and one row above the Central sensor Surround/AI Servo/Rear Focus just caught the bird's face and was of course active at the moment of exposure. Click here if you missed the Rear Focus Tutorial. Click on the image to see a larger version.
Your browser does not support iFrame.
Exposure Lesson
In yesterday's dank lighting conditions, a Great Egret required 1 1/3 stops less light than a Great Blue Heron. This was a bit more than I expect. We taught the group to work in manual mode and to adjust the exposure by 4 clicks with the index finger wheel when switching from a Great Egret to a GBH. Everyone grasped this principle quickly and was able to apply it on the spot. If you wanted to photograph a GBH in the same light as the GE above, you needed to go four clicks of shutter speed light, from 1/2000 sec. to 1/800 sec.
Lesson learned.
The Original Image Capture
Though it was a bit brighter for this image than for the Great Egret image, I screwed up the exposure settings a bit. I wanted to open up four clicks from the 1/2500 sec. shutter speed I had had set but my finger only registered 2 of the 4 intended clicks. I did have gloves on :). IAC, the image above is a bit dark. And worst of all, I clipped the toe.
We worked this image as a group as our afternoon session was rained out. In anticipation of that our morning shooting was extended to more than 6 hours. I moved the bird up and back in the frame using techniques from APTATS II. I replaced the missing toenail using advanced Quick Masking techniques from APTATS II. I ran my NIK 50/50 pre-set on the bird only after selecting it with the Quick Selection Tool, did some Eye Doctor work,, and did some additional work on the bird's face and neck after selecting those areas with the Quick Selection Tool. That work include a big Vibrance adjustment and a Contrast Mask. All that in addition to a bit of color correction and a brightness adjustment.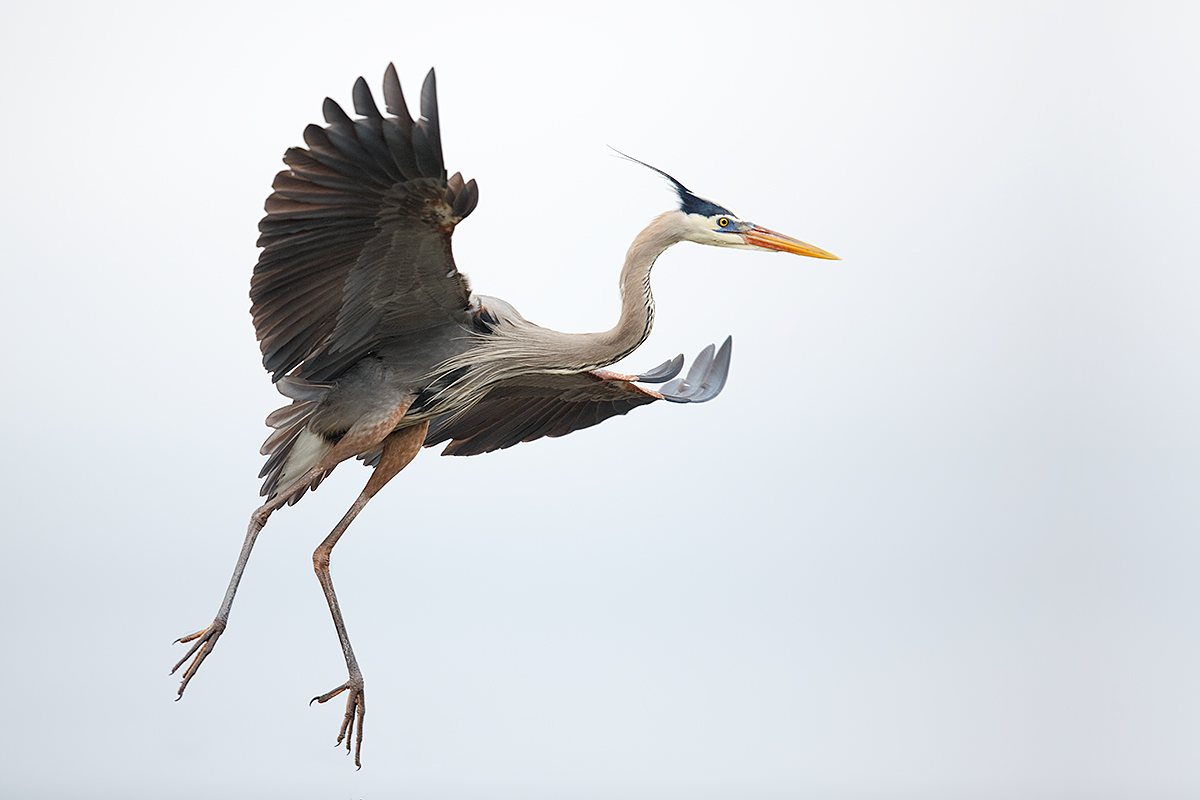 This is the optimized image that was created from the original image capture above.
Just For The Record Book
Just for the record book, here is the name of the image file: Great Blue Heron in flight added toe _A1C1149 Venice Rookery, South Venice, FL.tif. I strongly believe in letting editors know when significant changes have been made to an image.
APTATS I & II and Digital Basics
You can learn advanced Quick Masking Techniques and more in APTATS I, and advanced Image Repair and Layer Masking Techniques in APTATS II. Mention this blog post and Jim will be glad to apply a $5 discount on your APTATS I purchase with phone orders only. Mention this blog post and Jim will be glad to apply a $10 discount on your APTATS II purchase with phone orders only. Order both to hone your Photoshop image clean-up skills and Jim will be glad to enter a $15 discount for the pair, on phone orders only.
All of the rest of the stuff I did to create the optimized file is detailed in my Digital Basics File, an instructional PDF that is sent via e-mail. It includes my complete digital workflow, dozens of great Photoshop tips, several different ways to expand canvas, all of my time-saving Keyboard Shortcuts, Quick Masking, Layer Masking, and NIK Color Efex Pro basics, my killer image clean-up techniques, Digital Eye Doctor, and tons more.
The DPP RAW Conversion Guide
To learn why I use Canon's Digital Photo Professional (DPP) to convert every image that I work on, click here.
The Neck
This bird was absolutely unconcerned with humans. Just out of the nest, he posed for us in various settings. Here he was playing with small sticks on the edge of the very small lake.
Image Question
Why did I go to f/14?
Why was I at ISO 800 for this image but ISO 400 for all the rest?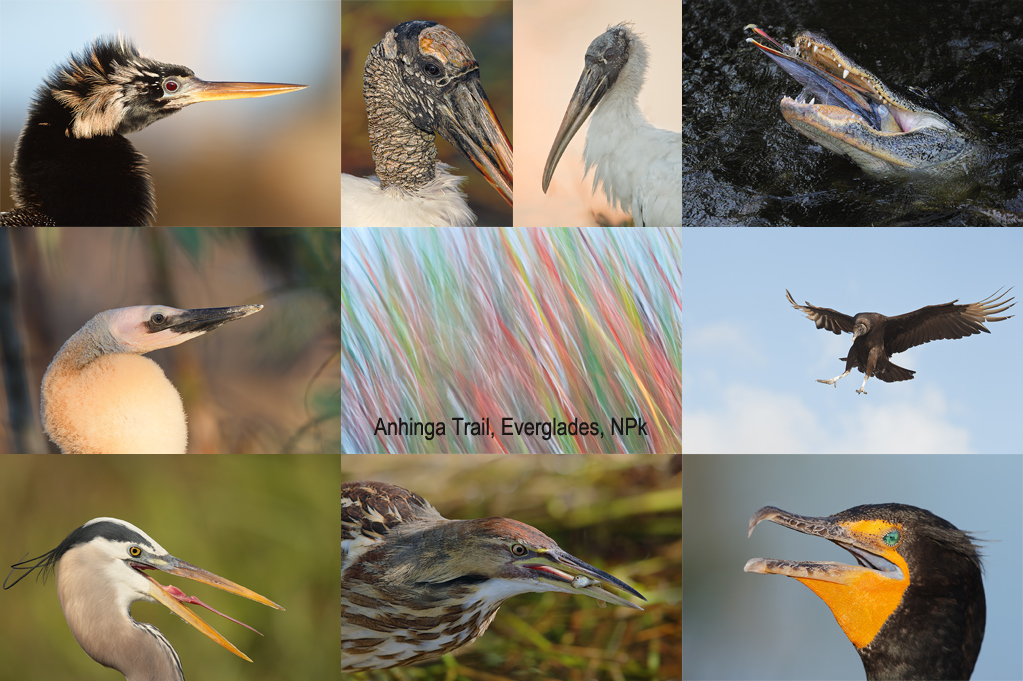 Bird Photography Hotspot: Anhinga Trail, Everglades National Park. Learn more here.
Anhinga Trail/Everglades National Park Mini-IPT: Feb 1-2, (SAT/SUN), 2014. (Limit 12/Openings 5): $799. Introductory slide program: 7pm: FRI Jan 31. (Limit 12/Openings: 6):
Join Denise Ippolito and Arthur Morris for four great photography sessions at one of the top bird photography hotspots in North America. Morning sessions: 6:15am to 10:30am. Afternoon sessions: 3:00pm till 5:45pm. Lunch included. Informal image review and Photoshop sessions after lunch.
Jan 31 (Friday) Anhinga Trail/Everglades National Park Optional Add-on/Morning Only (Limit 12/Openings 5): $249
Includes lunch, and informal image review and Photoshop session. Call us at 863-692-0906 or e-mail to learn of the Late Registration Discounts for both the segments and the complete trip.
Because of our intense travel schedule that includes a trip to Japan I will not be running the traditional SW FLA IPT. In addition, in an effort to give some folks a chance to get a taste of our teaching and our passion for bird photography, Denise Ippolito and I have organized a series of short IPTs that may be combined into one wonderful experience or enjoyed piecemeal. Click here for complete details or to register. Please e-mail with any questions or leave a comment below.
A $500 non-refundable deposit is required to hold your slot for this IPT. For the short segments that are less than $500 payment in full is due at the time of registration. Your balance is due 4 months before the date of the IPT and is also non-refundable. If the trip fills, we will be glad to apply a credit applicable to a future IPT for the full amount less a $100 processing fee. If we do not receive your check for the balance on or before the due date we will try to fill your spot from the waiting list. If your spot is filled, you will lose your deposit. If not, you can secure your spot by paying your balance. Best to call Jim or Jennifer with a credit card in hand to register. Credit cards are not accepted for balances. Alternatively you can send a check for $500 made out to Arthur Morris to us at PO Box 7245, Indian Lake Estates, FL, 33855. Please include a note with your e-mail address and be sure to let us know what you are signing up for.
Support the BAA Blog. Support the BAA Bulletins: Shop B&H here!
We want and need to keep providing you with the latest free information, photography and Photoshop lessons, and all manner of related information. Show your appreciation by making your purchases immediately after clicking on any of our B&H or Amazon Affiliate links in this blog post. Remember, B&H ain't just photography!
Amazon
Everyone buys something from Amazon, be it a big lens or deodorant. Support the blog by starting your search by clicking on the logo-link below. No purchase is too small to be appreciated; they all add up. Why make it a habit? Because I make it a habit of bringing you new images and information on an almost daily basis.
Typos
In all blog posts and Bulletins, feel free to e-mail or to leave a comment regarding any typos, wrong words, misspellings, omissions, or grammatical errors. Just be right. 🙂
IPT Info
Many of our great trips are filling up. See especially info on the South Florida, Holland, and Nickerson Beach IPTs. Two great leaders on most trips ensure that you will receive individual attention, have all of your questions answered, and learn a ton including how to think like a pro, see the situation, and get the right exposure every time. In addition you will have fun, and make lots of great images. Click here for IPT details and general information.