The Streak Goes On…
I am feeling pretty darned good today. I fly to Japan next Monday. Denise Ippolito and Paul McKenzie will be co-leading.
This post marks 71 straight days with a new educational blog post, a record by far that should be extended for at least another few days or so, or not. I am not sure how good the internet access (if any) will be in Japan. To show your appreciation for my efforts here, we ask that use our B&H and Amazon affiliate links for all of your B&H and Amazon purchases. Please check the availability of all photographic accessories in the BIRDS AS ART Online Store. We sell only what I use and depend on. We will not sell you junk. We know what you need to make creating great images easy and fun. And we are always glad to answer your gear questions via e-mail.
You can find the following items in the store: Gitzo tripods, Mongoose M3.6 and Wimberley heads, plates, low feet, and accessories, flash brackets, , Delkin e-film Pro Compact Flash Cards, LensCoat products, and our unique line-up of educational materials including ABP I & II, Digital Basics, Site and Set-up e-Guides, Canon and Nikon Camera Users and AF e-Guides, and MP-4 Photoshop video tutorials among others.
We would of course appreciate you using our B&H and Amazon affiliate links for all of your B&H and Amazon major gear, video, electronic, household, and personal purchases. For the photographic stuff mentioned in the paragraph above we would of course greatly appreciate your business.
Thanks and enjoy today's blog post! This one took about 1 1/2 hours to assemble. And a huge thanks to the many who have been using our links on a regular basis.
Used Canon 24-105mm f/4L IS USM Lens for Sale/$600!
Sale Pending
I am offering my used Canon EF 24-105mm f/4L IS USM Lens for sale for $600. The lens is in excellent condition with the front element pristine. It includes the original box and everything that came in it. Buyer pays insured shipping to US addresses only via UPS Ground. Personal check only; we will not ship until your check clears. Sorry, but I was burned for $3K on a used 1D Mark III 🙂 If you are seriously interested please shoot me an e-mail.
Note: the lens is $1149 new. I have upgraded to the Canon EF 24-70mm f/2.8L II USM lens that meshes perfectly with my beloved Canon EF 70-200mm f/2.8L IS II. The 24-70 II sells for $2,299.00.
Multi-Subject Flight Photography Tips and a Primer On Exposing for Whites in Bright Sun
In the Multi-Subject Flight Photography Tips and a Primer On Exposing for Whites in Bright Sun post, my favorite of the three by far was the image above, the one of the two cranes with the mountain backdrop. Why? The lovely soft light, the pleasing background with both birds completely below the distant ridge (with no merging), and the synchronicity of the two perfect downstroke wing postiions. I have responded to all comments and questions at that post.
John Haedo Comment
Artie, I always learn something from your blogs, but this one is a real gem. Lots of VERY useful information here, already copied and pasted into a Word document that I will refer to from time to time. Rest assured I'm not the only one who appreciates these tips from you. I, for one, read them over and over again. Having been at Bosque with you, I can visualize exactly what you are saying here; I feel like I'm there shooting the cranes and snow geese, but with greater understanding.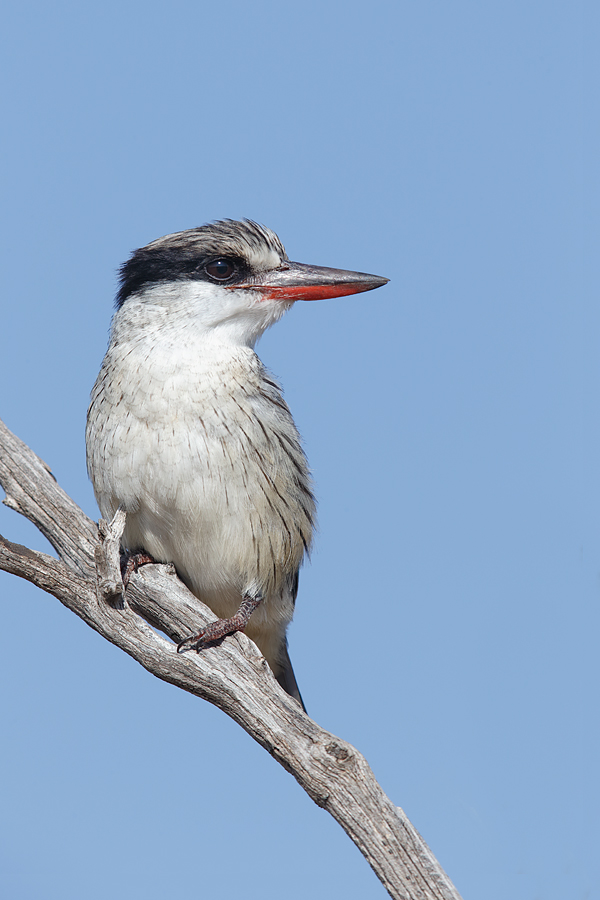 This Striped Kingfisher image was also created from the top of our safari van, this one with the Mongoose M3.6 head on a Todd-pod along with the Canon EF 600mm f/4L IS II USM lens, the Canon 2x EF Extender III (Teleconverter), and the Canon EOS-1D X. ISO 400: Evaluative metering +1/3 stop: 1/500 sec. at f/10 in Manual mode.
Central sensor (by necessity) Expand/AI Servo Rear Focus AF on bird's eye and re-compose. Click here if you missed the latest version of the Rear Focus Tutorial. Click on the image to see a larger version.
Your browser does not support iFrame.
Three Lenses, and the Power of Twelve
In the Three Lenses, and the Power of Twelve post, I asked, #1- Which of these images do you think that I created first? Why? and #2: Why only +1/3 stop for all three of these images?
I made the large in the frame image first. Why? My vision always goes for tight and graphic first. The educational images created with shorter focal lengths were made only after I have created the vertical portrait above.
Doug West proved that he knows me too well when he wrote:
#1 – Going against the grain, I'm going to say you created #3 first. Why? Being in the van and not knowing how close you could really get, you pulled out the big gun first.
Greg Payne nailed the exposure question when he wrote,
Why add only 1/3? It was a sunny day. The camera's computer is pretty smart then. You added 1/3 to bring out slightly more detail but did not do more because the camera's exposure reading is pretty accurate on a sunny day.
He is obviously a well-studied BAA disciple 🙂
Follow Your Nose…
In Follow Your Nose… I asked, #1-In the second image, why was it a mistake to have the internal TC in place? #2-In the second image, considering that I was hand holding, what factors helped me to create a relatively sharp image at only 1/30 sec.? #3-Which of the images above is your favorite? Why? I have two clear favorites and will share them with you at some point.
#1: Knowing that I wanted to go wide I should have disengaged the internal TC.
#2:Good rifle shooter's sharpness technique and the great 4-stop IS system.
#3: My very favorite image was the last blur for its two-direction blur–the birds going against the panning motion caused the zig-zag blurring. And I liked the second image for the soft light and the pleasing patterns of the perched birds. My least favorite of the four was the image that opened the blog post.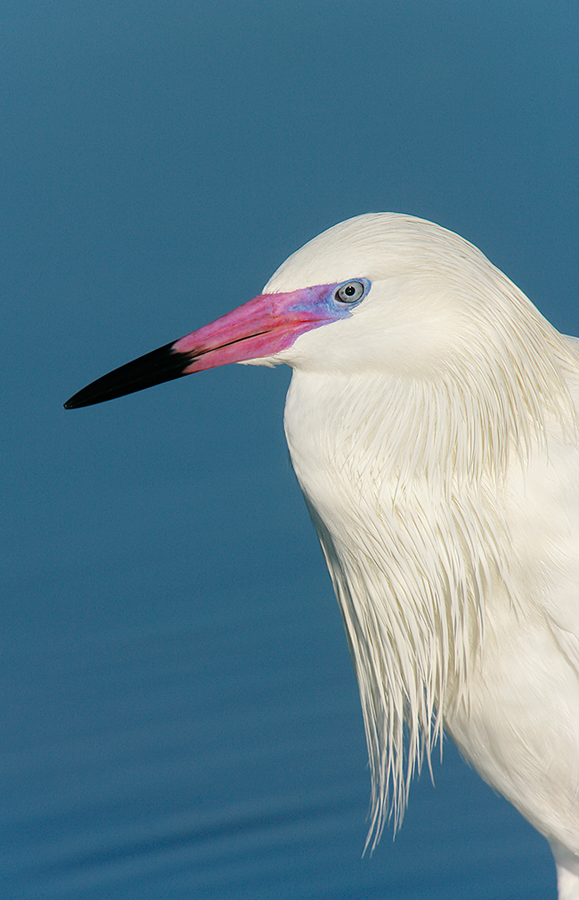 This mega-breeding plumage white morph Reddish Egret was photographed on a Southwest Florida IPT in 2006 with the with the predecessor of the Gitzo 3532 LS carbon fiber tripod, the Mongoose M3.6 head, the 600mm f/4L IS lens) now replaced by the Canon EF 600mm f/4L IS II USM lens), the 2X II TC) now replaced by the Canon 2x EF Extender III (Teleconverter)), and the EOS-1Ds Mark II (now replaced by the Canon EOS-1D X). ISO 250. Evaluative metering at zero: 1/640 sec. at f/13 in Manual. Color temperature: AWB.
Central sensor/Rear Focus AF on the bird's eye and re-compose. Click here to see the latest version of the Rear Focus Tutorial. Click on the image to see a larger version.
Your browser does not support iFrame.
You Should Be So Lucky/Bird Photography Hotspot: Little Estero Lagoon, Fort Myers Beach, FL
In the You Should Be So Lucky/Bird Photography Hotspot: Little Estero Lagoon, Fort Myers Beach, FL blog post I loved the 2nd image for the pink light and the out-of-the-box image design but the opening image, the one above, was my favorite of the 2 by a large margin? Why? It is rare that you have a chance to photograph a virtually perfect specimen of any species in full breeding plumage and white morph Reddish Egret is one of the most beautiful species on the planet. I just love birds with the blue/pink/white color scheme… In addition to the wonderful colors I love the killer still blue water background (with a few ripples no less), the sweet light, the sharpness, and the pleasing image design.
Looking Back…
I have been remiss in not following up on various blog posts for quite some time. I feel that my following up is an important part of the learning that is going on here. I will do my best to continue in this vein in the future. If you have a new question on anything above, please shout it out by leaving a comment.
Your Favorite?
Please take a moment to let us know which of the 3 completely different images above is your favorite. And why.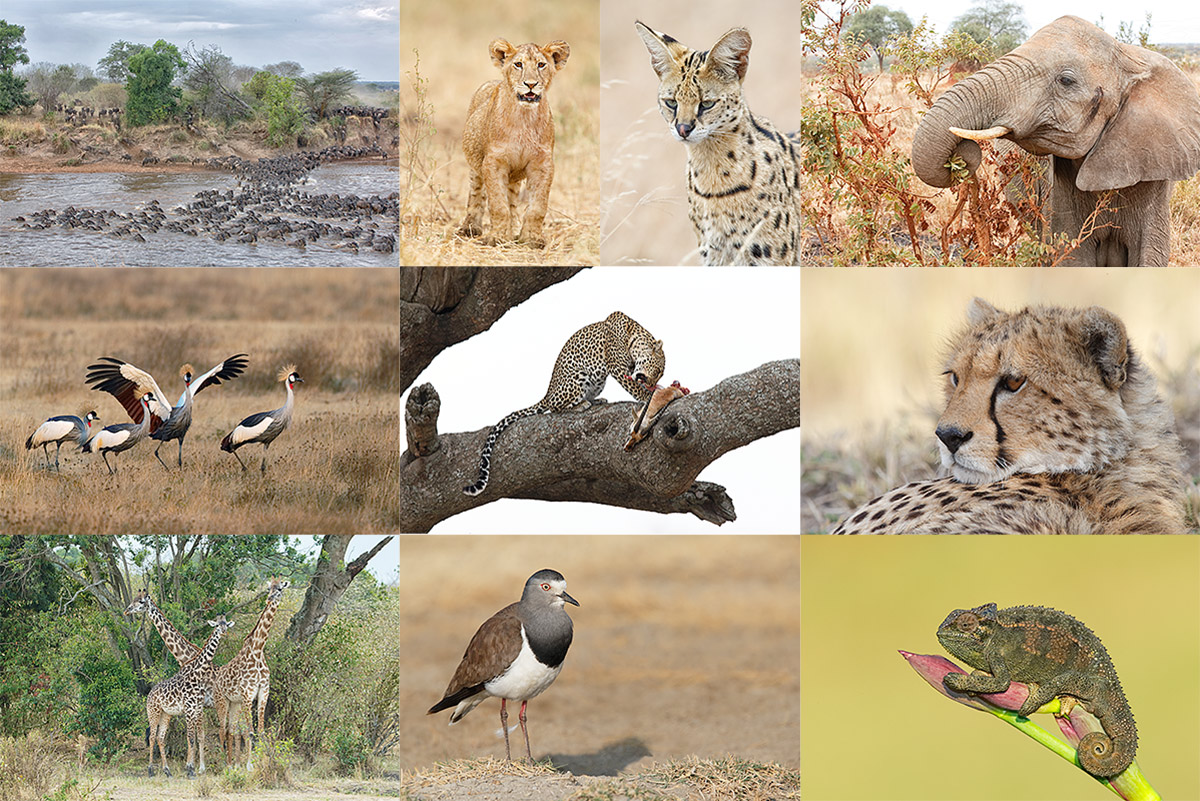 Join me for the 2014 Tanzania Summer Safari!
2014 Tanzania Summer Safari, 14-day African Adventure/leave the US on August 9. Fly home on August 24: $12,999.
Co-leaders Todd Gustafson & Arthur Morris. The limit is 12. Three photographers/van; you get your own row of seats. Our trip is a bit more expensive than the average safari for good reason. It is the best. We have the best driver guides with a total of decades of experience. They have been trained over the years by Todd and by me to drive with photography in mind. We have the best and most knowledgeable leaders. We stay in the best lodges and camps. We hope that you will join us for what will be Todd's 35th African safari, and my 8th.
If you are seriously interested please e-mail me; I will be glad to send you the illustrated PDF with the complete itinerary and deposit info.
What else makes this expedition unique?
•Pre-trip consultation and camera equipment advice
•Award-winning photographers as your guides
•A seamless itinerary visiting the right locations at the best time of year
•Hands-on photography instruction in the field
•Specially designed three roof-hatch photo safari vehicles
•Proprietary materials for preparation, including free copy of "A Photographer's Guide to Photographing in East Africa."
•Post-safari image critiques
All-inclusive (double-occupancy) except for your flights to and from Kilamajaro Airport, bar drinks, soda & water (except at the Intimate Tented Camp where everything is free for our entire stay), tips for drivers and camp staff, personal items, and trip insurance.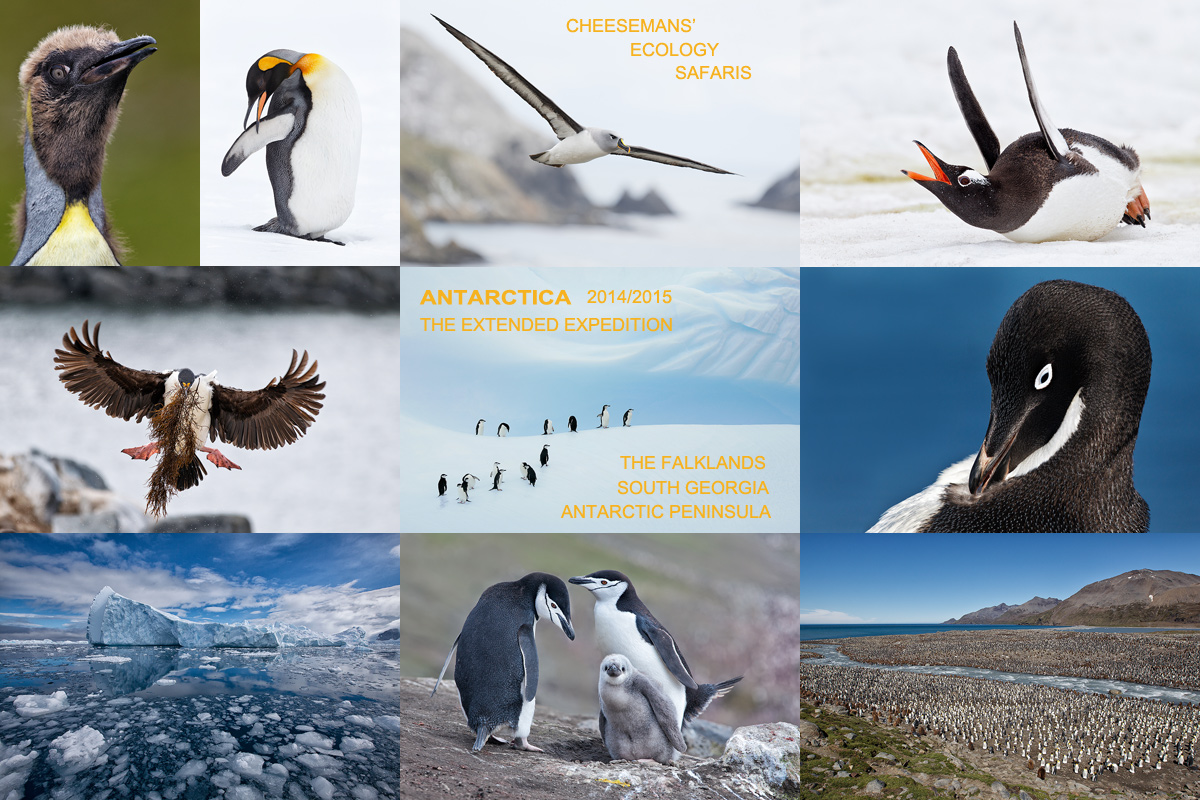 Breathe deeply, bite the bullet, and live life to its fullest; we all get only one ride on the merry-go-round… Join me on this great trip.
Click on the image to enjoy a larger version.
The Southern Ocean…
If you would like to explore the possibility of joining me on the Cheesemans' Ecology Safaris Antarctica/The Extended Expedition Voyage< trip: Antarctic Peninsula, South Georgia and Falkland Islands: December 13, 2014 to January 10, 2015, click here for additional information and then shoot me an e-mail.
The DPP RAW Conversion Guide
To learn why I use Canon's Digital Photo Professional (DPP) to convert every image that I work on, click here.
Support the BAA Blog. Support the BAA Bulletins: Shop B&H here!
We want and need to keep providing you with the latest free information, photography and Photoshop lessons, and all manner of related information. Show your appreciation by making your purchases immediately after clicking on any of our B&H or Amazon Affiliate links in this blog post. Remember, B&H ain't just photography!
Amazon
Everyone buys something from Amazon, be it a big lens or deodorant. Support the blog by starting your search by clicking on the logo-link below. No purchase is too small to be appreciated; they all add up. Why make it a habit? Because I make it a habit of bringing you new images and information on an almost daily basis.
Typos
In all blog posts and Bulletins, feel free to e-mail or to leave a comment regarding any typos, wrong words, misspellings, omissions, or grammatical errors. Just be right. 🙂
IPT Info
Many of our great trips are filling up. See especially info on the South Florida, Holland, and Nickerson Beach IPTs. Two great leaders on most trips ensure that you will receive individual attention, have all of your questions answered, and learn a ton including how to think like a pro, see the situation, and get the right exposure every time. In addition you will have fun, and make lots of great images. Click here for IPT details and general information.