The Streak Goes On…
I continue to feel pretty good, I fly to Japan tomorrow Denise Ippolito and Paul McKenzie will be leading the Winter in Japan IPT with me.
This post marks 74 straight days with a new educational blog post, a record by far that should be extended for at least another day or so, or not. Or more…. I am not sure how good the internet access (if any) will be in Japan. To show your appreciation for my efforts here, we ask that use our B&H and Amazon affiliate links for all of your B&H and Amazon purchases. Please check the availability of all photographic accessories in the BIRDS AS ART Online Store. We sell only what I use and depend on. We will not sell you junk. We know what you need to make creating great images easy and fun. And we are always glad to answer your gear questions via e-mail.
You can find the following items in the store: Gitzo tripods, Mongoose M3.6 and Wimberley heads, plates, low feet, and accessories, flash brackets, , Delkin e-film Pro Compact Flash Cards, LensCoat products, and our unique line-up of educational materials including ABP I & II, Digital Basics, Site and Set-up e-Guides, Canon and Nikon Camera Users and AF e-Guides, and MP-4 Photoshop video tutorials among others.
We would of course appreciate you using our B&H and Amazon affiliate links for all of your B&H and Amazon major gear, video, electronic, household, and personal purchases. For the photographic stuff mentioned in the paragraph above we would of course greatly appreciate your business. Here is a huge thank you to the many who have been using our links on a regular basis and visiting the BAA Onliine store as well.
Thanks and enjoy today's blog post!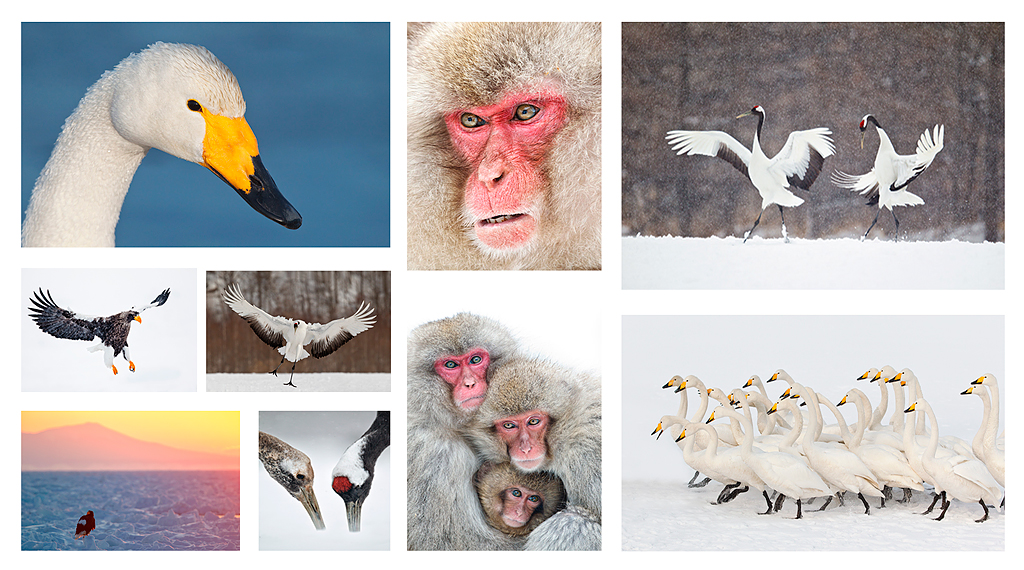 If you are interested in joining us on a Japan in Winter IPT in February 2016 shoot me an e-mail.
Japan in Winter IPT Gear Bag
I head to the Orlando Airport Courtyard Marriott this afternoon, Sunday February 9, 2014, to overhight for my 8:35am flight to Dallas on Monday. I arrive in DFW at 10:30am for my 11:40am flight to Tokyo's Narita airport arriving at 4:15pm on Tuesday. Yikes. I will be meeting co-leader Denise Ippolito and good friends and multiple IPT veterans Alan and Pat Lillich (say LILL-ick) all of whom arrive ahead of me. From there we take a bus to our Tokyo hotel for a full day of rest on Wednesday. We fly to Hokkaido on Thursday. Double yikes!
Important gear decisions must be made whenever you travel and getting ready for this trip was no exception. All of my gear is packed up in my Think Tank Airport Security Rolling Bag in either my beloved wool watch caps or in various LensCoat LensPouches, LensCoats, and Body Bags. Each of the big lenses is of course protected by a LensCoat to prevent dings on Canon's pretty, white, heat-reflective finish. Having your lenses protected by a LensCoat will increase the resale value far in excess of the cost of a LensCoat. My favorite pattern is Hardwood Snow.
For the first time in as long as I can remember I will not be traveling with my black, hard-sided plastic Delsey suitcase; that bag has been around the world with me several times over. Why the switch? There will be times in Japan when I need to move all of my stuff at once. With my laptop bag strapped atop the Think Tank Bag and 2 regular rolling bags, that is impossible as I do not have 3 arms…. Denise has been using and loving two Samsonite soft-sided spinners, a 25″ case and a 29″ case. She can pull her roll-aboard camera bag with her laptop bag on it with one arm and maneuver her 2 checked bags with the other. As I routinely travel with a lot more stuff than she does, two 50 pound checked bags to be exact, I went for 2 of these: Samsonite Lift 29″ Spinner Luggage Navy – Exclusive
. You position them back to back and stroll on down the concourse with ease.
Think Tank Bags
Spend more than $50 using this link and earn a free small bag of your choice. In addition to a great line-up of rolling bags and accessories Think Tanks also has some great backpacks.
Here's what's in my Think Tank Airport Security™ V 2.0 Rolling Camera Bag:
Canon EF 600mm f/4L IS II USM lens: as this is my sole long straight super-telephoto I pretty much go nowhere without it. Two years ago I took the 800 f/5.6L IS that has been more than ably replaced by the 600II.
Canon EF 300mm f/2.8L IS II USM lens; I did great with this lens on my first Japan trip with the 1.4X III TCs on the eagle boat, with cranes in flight, and with the Snow Monkeys.
Both the 300 II and the 600 II have a 4th Generation Design CR-X 5 Low Foot attached. The CR-X 5 is pretty much mandatory to prevent torque when the lenses are mounted on a Mongoose M3.6 and there is enough room between the foot and the lens to make it easy to carry the gear by the lens foot.
Canon EF 70-200mm f/2.8L IS II USM lens; I used this lens with great success with the 1.4X TC on my last trip for both the swans in flight and the Snow Monkeys. The 70-200 is of course equipped with a Wimberley P-20 plate, the perfect Arca-Swiss compatible plate for virtually all intermediate telephoto lenses.
As regular readers know I recently sold my Canon EF 24-105mm f/4L IS USM zoom lens, having upgraded to the all around and edge-to-edge sharper Canon EF 24-70mm f/2.8L II USM lens; it meshes perfectly with the 70-200 II and will soon become my new favorite B-roll all purpose short zoom lens that I will never leave home, or the car, without! See Laziness, Turtle Soup, and the Moral of the Story… to learn why.
Two Canon EOS-1D X Digital SLR camera bodies; I never travel for birds without two of Canon's top of the line professional digital camera body along for the ride.
One Canon EOS 5D Mark III so that I can run three lenses at once when needed and avoid having to switch camera bodies. As we are staying an extra five days to visit Kyoto where the 5D III will be my main camera body for temple and building photography where I will be doing lots of In-camera Art Vivid and Natural HDR stuff.
As the temps might be as low as -5 F or even lower, I already have the Canon BG-E11 Battery Grip for 5D Mark III installed with two Canon LP-E6 Rechargeable Lithium-Ion batteries. (7.2V, 1800mAh). Using off-brand batteries carry the risk of error warnings at best or malfunction at worst.
Three Canon 1.4x EF Extenders III (Teleconverters); I cannot risk being without at least two of this valuable accessory so I always travel with three :).
Two each Canon 2x EF Extenders III (teleconverter): one for use with the 600II and one as a back-up.
I have a Delkin 64gb 700X e-film Pro Compact Flash Card in each camera body and a few extra assorted cards in a Delkin CF Memory Card Tote. I have used and depended on Delkin digital media for well more than a decade. Fast and reliable works for me every time.
All of the above fit snugly into my big Think Rolling bag that came to 46 1/2 pounds on the doctor's scale in my bathroom.
After I sent my Canon EF 200-400mm f/4L IS USM lens with Internal 1.4x Extender to the Irvine, CA repair center for a repair, I had it shipped to Alan and Pat Lillich in Los Gatos, CA so that they could borrow it for their Yellowstone in Winter trip. In return, they are bringing it to Japan, bringing it back home, and shipping it to me. The three of us will share my 200-400 and my 300 II on the trip. And Denise of course is welcome to try the 2-4 if she would like.
As always, my Gitzo 3532 LS carbon fiber tripod and my Mongoose M3.6 head are in one of my checked bags along with the hoods for the 3 telephoto lenses and the removable tripod collar for the 70-200 f/2.8L IS II. I also have my Giottos' tiny ballhead, my tool kit that has a Wimberley P-5 camera body plate stored in it, and my Lens Pen sensor cleaning kit.
I will be wearing my Xtrahand vest with not much in it besides my insulin with gel ice paks, my blood sugar meter, a good supply of fish salad so that I can eat well on the long flight to Japan, and my latest airport novel; I buy them from the Lake Wales Public Library for a buck each. The vest will be invaluable on pretty much all of our shoots.
My laptop bag is packed to the gills with various items and tips the scale right at about 20 pounds.
All gear questions are of course welcome. If you have additional questions about the right camera or lens for you, please feel free to e-mail me.
Wish us luck!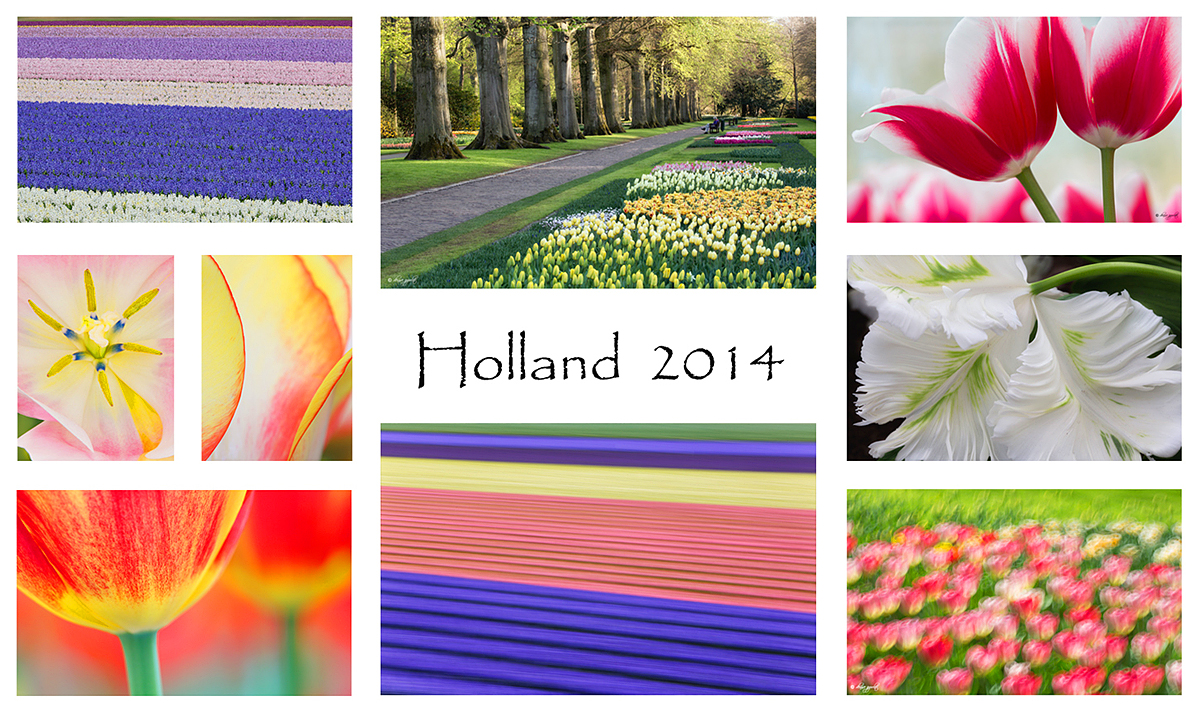 Images copyright 2012: Denise Ippoltio & Arthur Morris. Card design by Denise Ippolito. Click on the image to enjoy a spectacular larger version.
Holland 2014 7 1/2-Day/8-Night: A Creative Adventure/BIRDS AS ART/Tulips & A Touch of Holland IPT. April 17-April 24, 2014: $4995 Limit: 12/Openings: 5
Act soon: this trip is a go and is filling quickly.
Join Denise Ippolito, Flower Queen and the author of "Bloomin' Ideas," and Arthur Morris, Canon Explorer of Light Emeritus and one of the planet's premier photographic educators for a great trip to Holland in mid-April 2014. Day 1 of the IPT will be April 17, 2014. We will have a short afternoon get-together and then our first photographic session at the justly-famed Keukenhof. Most days we will return to the hotel for lunch, image sharing and a break. On Day 8, April 24, we will enjoy both morning and afternoon photography sessions.
The primary subjects will be tulips and orchids at Keukenhof and the spectacularly amazing tulip, hyacinth, and daffodil bulb fields around Lisse. In addition we will spend one full day in Amsterdam. There will be optional visits the Van Gogh Museum in the morning and the Anne Frank House in the afternoon; there will be plenty of time for street photography as well. And some great food. On another day we will have a wonderful early dinner at Kinderdijk and then head out with our gear to photograph the windmills and possibly some birds for those who bring their longs lenses. We will spend an afternoon in the lovely Dutch town of Edam where we will do some street photography and enjoy a superb dinner. All lodging, ground transportation, entry fees, and meals (from dinner on Day 1 through dinner on Day 7) are included. For those who will be bringing a big lens we will likely have an optional bird photography afternoon or two.
Click here for additional info or to register.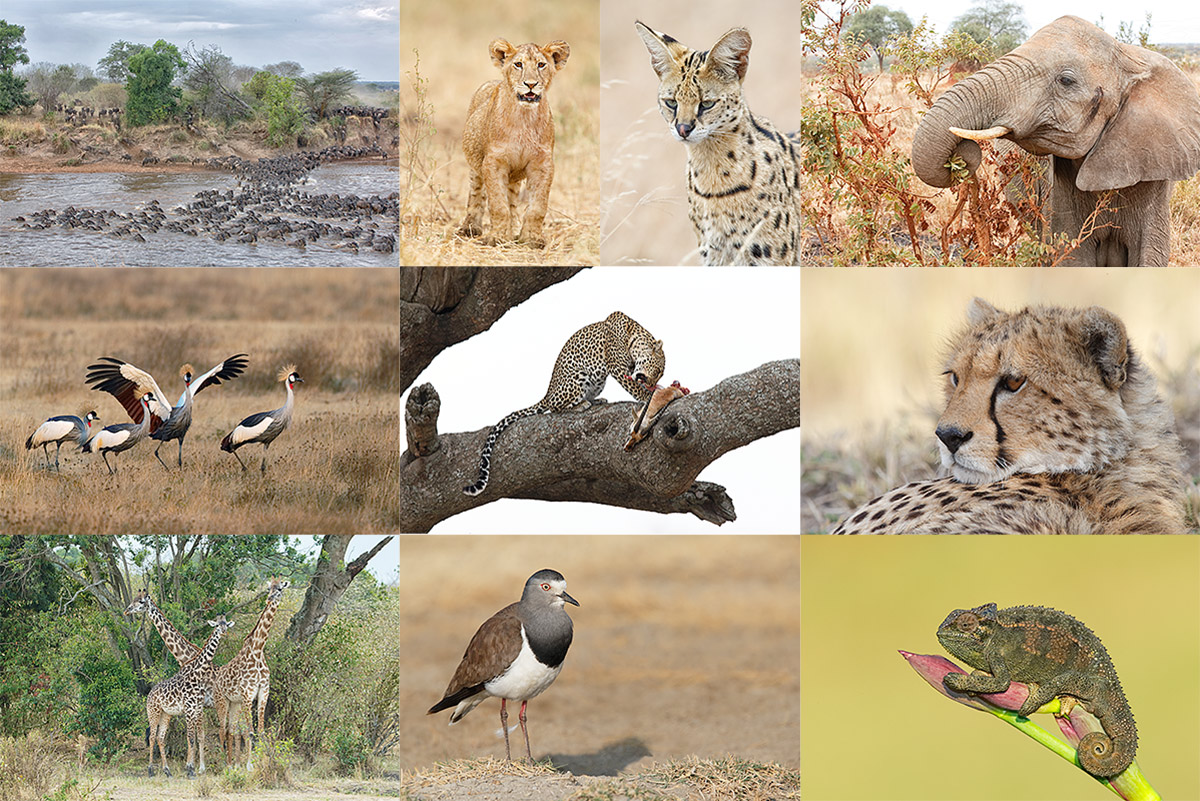 Join me for the 2014 Tanzania Summer Safari!
2014 Tanzania Summer Safari, 14-day African Adventure/leave the US on August 9. Fly home on August 24: $12,999.
Co-leaders Todd Gustafson & Arthur Morris. The limit is 12. Three photographers/van; you get your own row of seats. Our trip is a bit more expensive than the average safari for good reason. It is the best. We have the best driver guides with a total of decades of experience. They have been trained over the years by Todd and by me to drive with photography in mind. We have the best and most knowledgeable leaders. We stay in the best lodges and camps. We hope that you will join us for what will be Todd's 35th African safari, and my 8th.
If you are seriously interested please e-mail me; I will be glad to send you the illustrated PDF with the complete itinerary and deposit info.
What else makes this expedition unique?
•Pre-trip consultation and camera equipment advice
•Award-winning photographers as your guides
•A seamless itinerary visiting the right locations at the best time of year
•Hands-on photography instruction in the field
•Specially designed three roof-hatch photo safari vehicles
•Proprietary materials for preparation, including free copy of "A Photographer's Guide to Photographing in East Africa."
•Post-safari image critiques
All-inclusive (double-occupancy) except for your flights to and from Kilamajaro Airport, bar drinks, soda & water (except at the Intimate Tented Camp where everything is free for our entire stay), tips for drivers and camp staff, personal items, and trip insurance.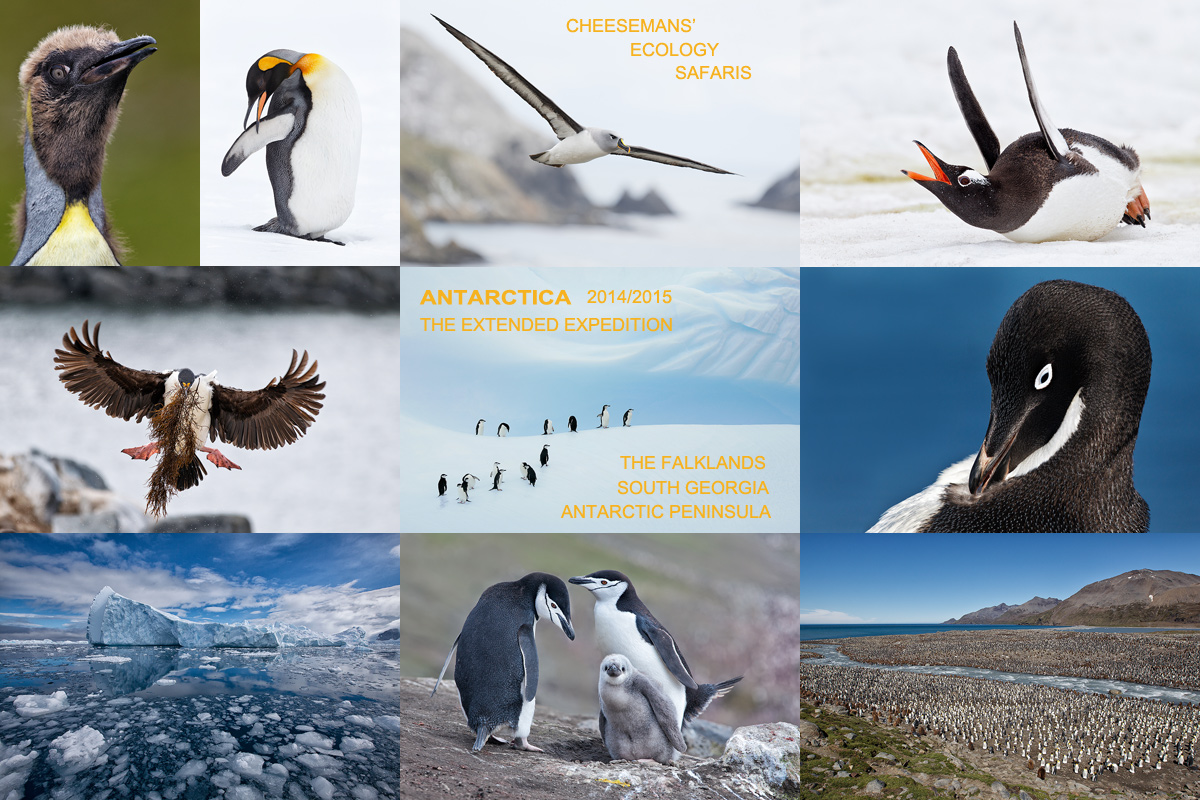 Breathe deeply, bite the bullet, and live life to its fullest; we all get only one ride on the merry-go-round… Join me on this great trip.
Click on the image to enjoy a larger version.
The Southern Ocean…
If you would like to explore the possibility of joining me on the Cheesemans' Ecology Safaris Antarctica/The Extended Expedition Voyage< trip: Antarctic Peninsula, South Georgia and Falkland Islands: December 13, 2014 to January 10, 2015, click here for additional information and then shoot me an e-mail.
The DPP RAW Conversion Guide
To learn why I use Canon's Digital Photo Professional (DPP) to convert every image that I work on, click here.
Support the BAA Blog. Support the BAA Bulletins: Shop B&H here!
We want and need to keep providing you with the latest free information, photography and Photoshop lessons, and all manner of related information. Show your appreciation by making your purchases immediately after clicking on any of our B&H or Amazon Affiliate links in this blog post. Remember, B&H ain't just photography!
Amazon
Everyone buys something from Amazon, be it a big lens or deodorant. Support the blog by starting your search by clicking on the logo-link below. No purchase is too small to be appreciated; they all add up. Why make it a habit? Because I make it a habit of bringing you new images and information on an almost daily basis.
Typos
In all blog posts and Bulletins, feel free to e-mail or to leave a comment regarding any typos, wrong words, misspellings, omissions, or grammatical errors. Just be right. 🙂
IPT Info
Many of our great trips are filling up. See especially info on the South Florida, Holland, and Nickerson Beach IPTs. Two great leaders on most trips ensure that you will receive individual attention, have all of your questions answered, and learn a ton including how to think like a pro, see the situation, and get the right exposure every time. In addition you will have fun, and make lots of great images. Click here for IPT details and general information.