The Streak Goes On…
We killed again today at the Snow Monkey Park…. I am finishing this post at 8:45pm Japan time on Monday February 25, 2104. That is 6:45am on the same day in Florida or in New York. I will be asleep well before 9pm :).
This post marks 88 straight days with a new educational blog post, a record by far that should be extended for at least another day or so, or not. Or more…. To show your appreciation for my efforts here, we ask that use our B&H and Amazon affiliate links for all of your B&H and Amazon purchases. Please check the availability of all photographic accessories in the BIRDS AS ART Online Store. We sell only what I use and depend on. We will not sell you junk. We know what you need to make creating great images easy and fun. And we are always glad to answer your gear questions via e-mail.
You can find the following items in the store: Gitzo tripods, Mongoose M3.6 and Wimberley heads, plates, low feet, and accessories, flash brackets, , Delkin e-film Pro Compact Flash Cards, LensCoat products, and our unique line-up of educational materials including ABP I & II, Digital Basics, Site and Set-up e-Guides, Canon and Nikon Camera Users and AF e-Guides, and MP-4 Photoshop video tutorials among others.
We would of course appreciate you using our B&H and Amazon affiliate links for all of your B&H and Amazon major gear, video, electronic, household, and personal purchases. For the photographic stuff mentioned in the paragraph above we would of course greatly appreciate your business. Here is a huge thank you to the many who have been using our links on a regular basis and visiting the BAA Online store as well.
Enjoy.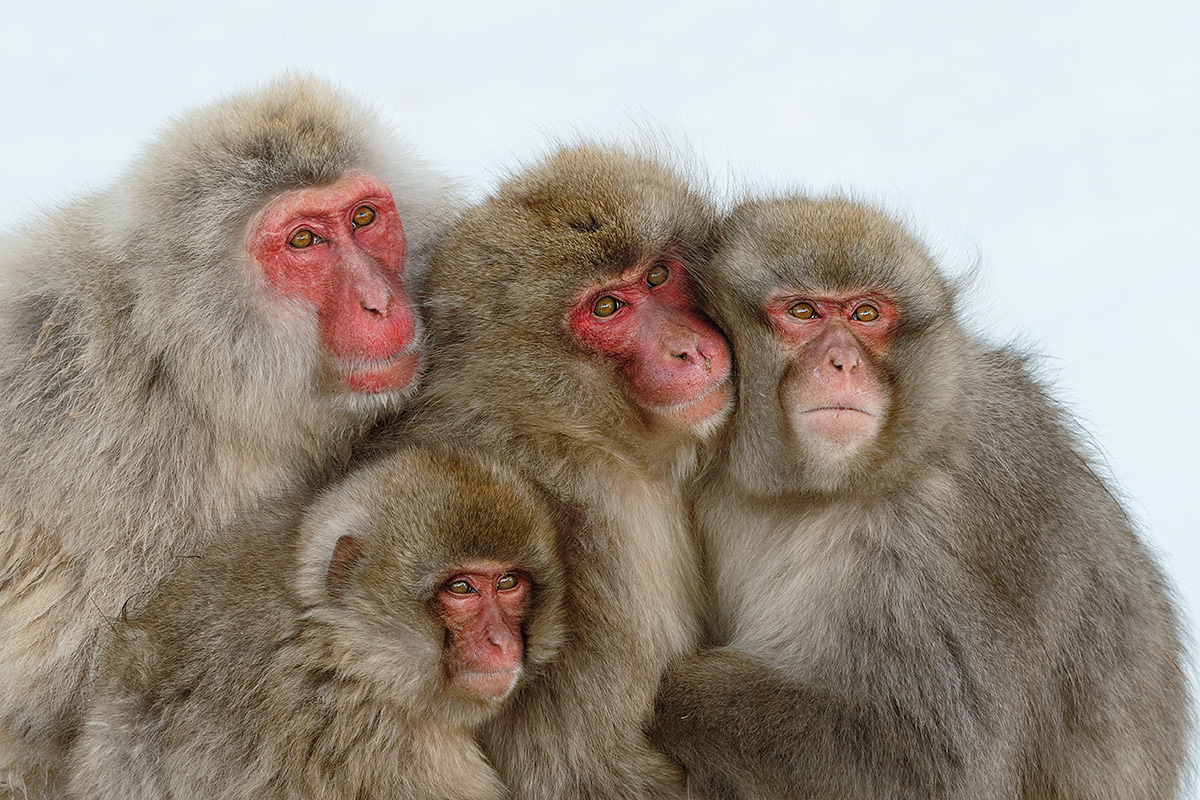 This image of a Snow Monkey family huddled together was created on the February 25, 2014 at 12:26pm on the Japan in Winter IPT with the tripod-mounted Canon EF 200-400mm f/4L IS USM Lens with Internal 1.4x Extender (with the internal extender in place at 345mm) and the Canon EOS-1D X. ISO 800. Evaluative metering +3 1/3 stops off the snow: 1/125 sec. at f/14 in Manual mode. Color temperature 7,000K.
Central Sensor/AI Servo-Surround/Rear Focus AF on the lowest monkey's eyes and re-compose. Click here to see the latest version of the Rear Focus Tutorial. Click on the image to see a larger version.
Your browser does not support iFrame.
One Better?
Two years ago I created the image below. I liked it from the moment I saw it on the back of the camera. It made it to the final round of BBC Wildlife Photographer of the Year Competition judging.
On our first day at the Snow Monkey Park folks were asking, "When do we get that big pile of monkeys?
Just before lunch today there were three monkeys huddled together on the edge of the onsen (hot springs pool). They were facing into the pool. The problem was that there were about 8 photographers behind them piled in tight. So there was no shot from the other side of the pool. The three monkeys posed and posed. The gathered photographers were taking images of their backs with wide angle lenses. The three monkeys posed and posed and posed. Finally I could not take it any longer. I called out, "The shot is from this side of the pool. All that you are getting are the same close-up face images that you have been getting all morning. If you folks would move over here we could all do well." Nobody listened at first. Then a tall gent from South Africa backed me up. One by one everyone joined us on the side of the pool with the monkeys facing the photographers. But by this time two or three of them were sleeping.
I was patient. I know that the potential for a great image was there. I waited and waited. Some folks gave up and moved on. Then a fourth monkey joined the pile. And they all slept. Then, two monkeys got into a fight on the hill behind us. The four monkeys woke up and posed perfectly. Everyone who stayed wound up thanking me 🙂
Please let me know which image you think is the stronger one, the new image above or the older image below? And to let me know why.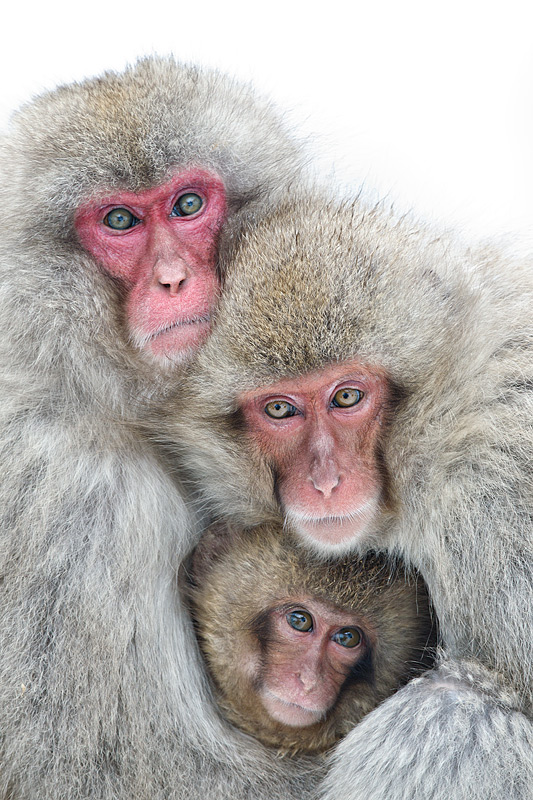 The original Snow Monkey Family Trio. Click on the image to see a larger version.
The DPP RAW Conversion Guide
To learn why I use Canon's Digital Photo Professional (DPP) to convert every image that I work on, click here.
Support the BAA Blog. Support the BAA Bulletins: Shop B&H here!
We want and need to keep providing you with the latest free information, photography and Photoshop lessons, and all manner of related information. Show your appreciation by making your purchases immediately after clicking on any of our B&H or Amazon Affiliate links in this blog post. Remember, B&H ain't just photography!
Amazon
Everyone buys something from Amazon, be it a big lens or deodorant. Support the blog by starting your search by clicking on the logo-link below. No purchase is too small to be appreciated; they all add up. Why make it a habit? Because I make it a habit of bringing you new images and information on an almost daily basis.
Typos
In all blog posts and Bulletins, feel free to e-mail or to leave a comment regarding any typos, wrong words, misspellings, omissions, or grammatical errors. Just be right. 🙂
IPT Info
Many of our great trips are filling up. See especially info on the South Florida, Holland, and Nickerson Beach IPTs. Two great leaders on most trips ensure that you will receive individual attention, have all of your questions answered, and learn a ton including how to think like a pro, see the situation, and get the right exposure every time. In addition you will have fun, and make lots of great images. Click here for IPT details and general information.