The Streak Continues
Five of us spent a great morning at the Fushimi Inari Taisha Shrine in Kyoto, Japan photographing the patterns of the orange posts in the tunnels. I will be sharing some of those images soon. Tomorrow we head for the bamboo forest. I began working on this post at 5:00pm Japan time on Thursday, February 27, 2014. That is 3:00am on the same day in Florida or in New York.
If you missed yesterday's blog post, be sure to click here to see the many thoughtful comments on the state of nature photography today.
This post marks 90 straight days with a new blog post, a record by far that should be extended for at least another day or so, or not. Or more…. To show your appreciation for my efforts here, we ask that use our B&H and Amazon affiliate links for all of your B&H and Amazon purchases. Please check the availability of all photographic accessories in the BIRDS AS ART Online Store. We sell only what I use and depend on. We will not sell you junk. We know what you need to make creating great images easy and fun. And we are always glad to answer your gear questions via e-mail.
You can find the following items in the store: Gitzo tripods, Mongoose M3.6 and Wimberley heads, plates, low feet, and accessories, flash brackets, , Delkin e-film Pro Compact Flash Cards, LensCoat products, and our unique line-up of educational materials including ABP I & II, Digital Basics, Site and Set-up e-Guides, Canon and Nikon Camera Users and AF e-Guides, and MP-4 Photoshop video tutorials among others.
We would of course appreciate you using our B&H and Amazon affiliate links for all of your B&H and Amazon major gear, video, electronic, household, and personal purchases. For the photographic stuff mentioned in the paragraph above we would of course greatly appreciate your business. Here is a huge thank you to the many who have been using our links on a regular basis and visiting the BAA Online store as well.
A Barrel Full of Monkey Photos
Denise Ippolito's last blog post featured ten of her very favorite Snow Monkey images. If you click here to see them you will likely be amazed.
The Last of Its Kind?
An e-mail from Ted Cheeseman
Dear Friends,
I said in a previous e-mail that our 2014-2015 Falklands/South Georgia/Antarctic Peninsula voyage may be the last of it's kind. It is true that some will read this and say we're crying wolf again, as we were in the habit of believing we would not have gone on this long. But it's a mighty good question: what is the future of our great Falklands/South Georgia/Antarctica expedition that we've been so fortunate to share with so many of you? We will go this December-January, 2014/2015. We will not go in 2015-2016. Beyond that:
(1) The forthcoming 'Mandatory Polar Code' will be adopted by the International Maritime Organization – IMO has been working on this for a *long* time, a direct outgrowth of the sinking of the Explorer in 2007, and strengthened by the Costa Concordia sinking in the Mediterranean. We don't know what it will do but it may remove some ships and may limit how independently we can operate. Potential outcome: less freedom, higher costs.
(2) Cost and time: 26 days on the ship is expensive. You all know how wonderfully full value our expeditions are, and I *love* that you appreciate it. But it's getting harder for us to fill this voyage. If we successfully fill it this year, we'll *want* to do our great in-depth expedition in future years. If we don't sail full, well, it's kind of a killer to work so hard for years, take on that much risk, and lose money to boot!
(3) Other commitments. I am intending to step away and complete a PHD on Humpback Whales. We've been working to build the capacity of Cheesemans' Ecology Safaris to carry on with the same passion and dedication – to wit Hugh Rose's magnificently adept job as Expedition Leader this January, but we're a small company yet. This is just part of the equation, adding to the balance of decisions if the expedition becomes harder and riskier to mount (and let me tell you, signing that ship contract sure does make one think seriously about the future!)
So share the love and join us now!!!
Warm regards to all, Ted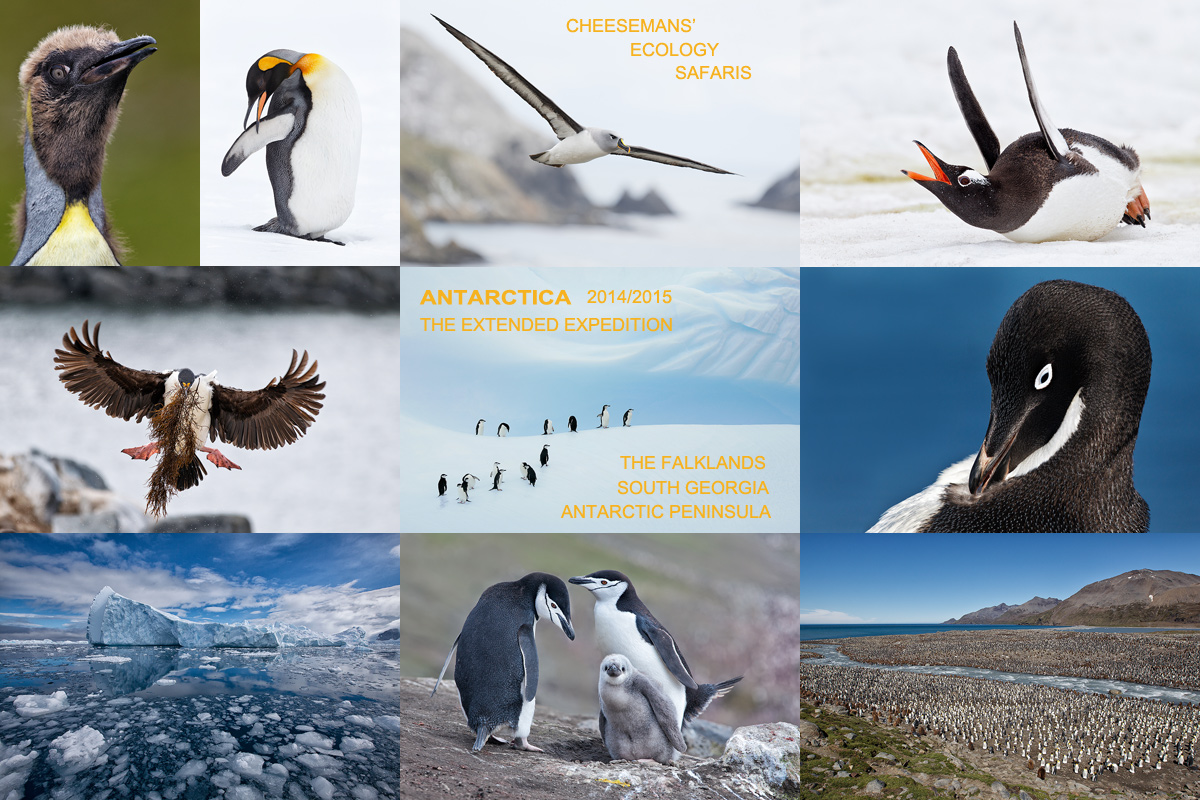 Breathe deeply, bite the bullet, and live life to its fullest; we all get only one ride on the merry-go-round… Join me on this great trip.
Click on the image to enjoy a larger version.
The Southern Ocean…
I've been blessed. I've made three trips to the Southern Ocean, two extended trips that visited the Falklands, South Georgia, and the Antarctic Peninsula, and one to the Falklands and South Georgia. Each was a truly amazing experience. With three trips under my belt, I have a pretty good idea about how to make great images at each of the iconic landings. And I would love the chance to share my knowledge with you.
And I know from personal experience that if you are a photographer who is going to invest in Southern Ocean voyage that you will want to put your money on Cheesemans'. No other tour company goes so far out of their way to ensure making every possible safe landing. And no other tour company will have you spending more time on land. Here, from the" Way to Go CES! (Cheeseman's Ecology Safaris)" blog post here, is one of my favorite Cheesemans' stories:
The landing at Bailey Head, Antarctica, was especially rewarding to me as I had been sitting in a zodiac 100 yards off shore on my 2007 trip when the zodiac in front of mine swamped and the captain of the ship called off the landing…. Early that day it looked as if my weather Karma might not be working. Ted's "Good morning shipmates" was followed by the news that we would not be able to land at Bailey Head that morning as the swell was too big. The beach there is sloped tremendously and the sea strives to pull the zodiacs back into the ocean before folks have gotten off with their gear. Tom Murphy had said to me several days before, "We will get you on the beach at Bailey Head." Ted concluded his morning greetings by saying, "We are sending out a scout team to see if landing is possible."
After breakfast I was thrilled to hear Ted's voice again on the PA, "We will be landing at 8am." Afterwards folks noted that it was the calmest landing ever at this amazingly beautiful spot. My good weather Karma (courtesy of late-wife Elaine) had come through one last time. Along with St. Andrews Bay, it was one of my two favorite super-great once-in-a-lifetime days of the trip. And we even got to enjoy three additional hours at Hannah Point, Antarctica before calling it a wrap and heading for the feared Drake Passage. All thanks to Cheesemans' Ecology Safaris.
Why Sign Up Through BIRDS AS ART?
If you have been thinking and dreaming of finally visiting South Georgia and Antarctica, this is the trip for you. Quit dreaming and act now. Though I will not be an official leader on this trip, those who have traveled with me know that I cannot help but teach. I will make pre-trip gear recommendations. I will hold informal pre-landing briefings. In the same vein, everyone will receive a free copy of our Antarctica Site Guide once they are paid in full (August 15, 2014). I will be available on the ship to review your images,, answer questions, and conduct informal over-the shoulder Photoshop sessions. And best of all everyone who signs up under the auspices of BAA are invited to tag along with me on the landings where I will be glad to offer invaluable in-the-field advice. And the same goes for the ship-board birds in flight and marine mammal photography opportunities.
Do join us. To learn how to be part of the BAA group please e-mail me with the words Antarctica/Extended Expedition BAA Info Please cut and pasted into the Subject line.
The Cheesemans' Ecology Safaris Antarctica/The Extended Expedition Voyage
Antarctic Peninsula, South Georgia and Falkland Islands: December 13, 2014 to January 10, 2015
From the CES website:
Join us on a voyage of discovery to an awe-inspiring world devoted to nature, wildlife, science, and peace. This expedition will have you completely captivated, from the stunning vistas of Tierra del Fuego to the busy penguin rookeries of the Falklands, from the dramatic landscapes of South Georgia to the ice-covered terrain of the Antarctic. Board the comfortable, safe and newly upgraded Ortelius for an expedition offering an unparalleled 17 landing days in the Southern Ocean. Our voyage includes three days in the Falklands with a huge diversity of species, six days at South Georgia Island, the all but undiscovered rugged land of towering mountains and thriving colonies of penguins, seals, and albatross, one day at the South Orkneys with nesting Snow Petrels, and seven days along the Antarctic Peninsula, the wonderland of ice and inconceivably vibrant polar wildlife. During days at sea, our naturalists on the ship's bridge and stern share sightings of whales and seabirds, including many of the world's species of albatross. Maximum time both on shore and Zodiac cruising will be available for photography, wildlife experiences, and exploring the landscapes of the great Southern Ocean. Our priority is assuring the most in-depth wildlife experience in the Antarctic, an experience made possible by our excellent itinerary and committed expedition staff.

I can personally attest to the accuracy of everything above. 🙂
Additional Links
Learn about the global ocean here.
Antarctic Inspiration from Paul Mckenzie here.
Way to Go CES! (Cheeseman's Ecology Safaris) here.
Or simply type any of the following words or phrases in the little white search box on the top right of this page, hit Search, and follow the links: penguin; Antarctica; South Georgia; Falklands. Have fun.
The Pull is Too Strong…
The pull is too strong. I need to go back. And I am. Do join me for an unparalleled wildlife and scenic photography experience. Please e-mail for additional information.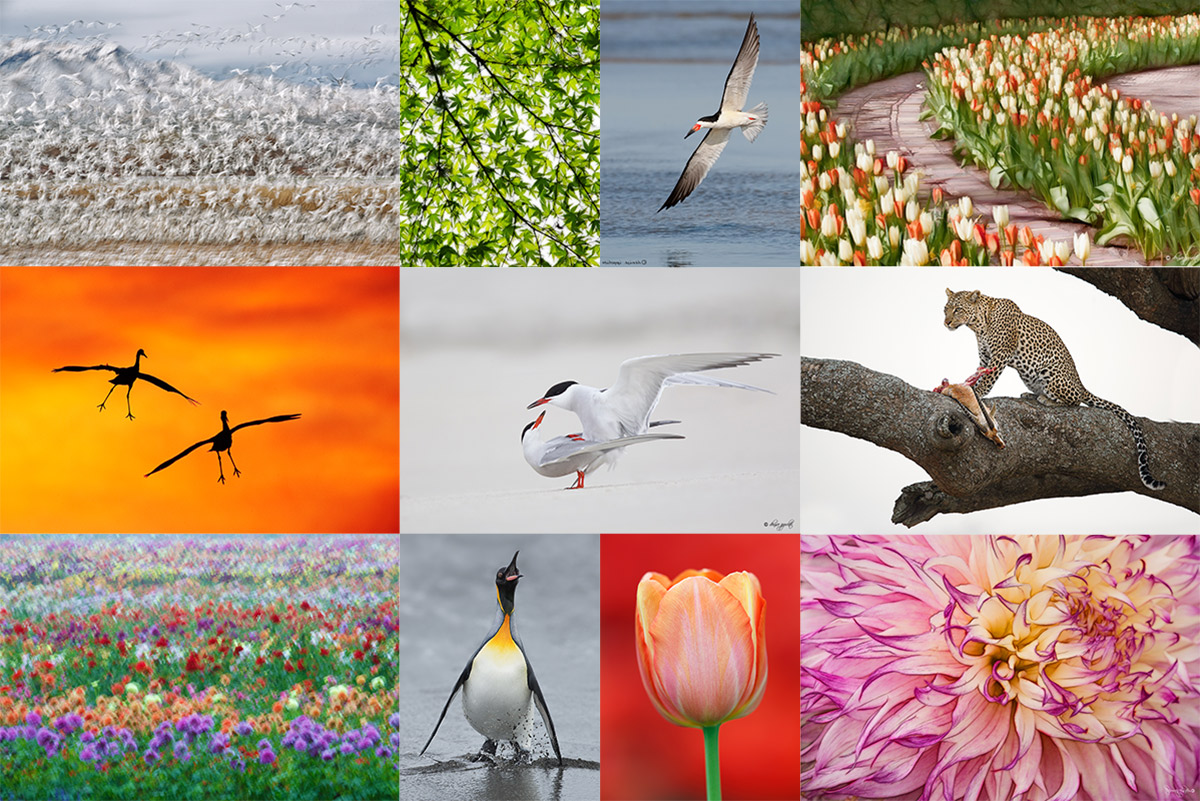 If you'd like to learn from the two folks who created the images in the composite above do consider one of the trips below. Denise Ippolito's images: Japanese leaf painting, skimmer in flight, curved Keukenhof paths with tulips, copulating terns, & pink dahlia. Artie's images: Snow Geese snowstorm blur, crane landing silhouettes, Leopard with prey in tree, King Penguin, & vertical tulip.
A Creative Adventure/BIRDS AS ART Instructional Photo-Tours (IPTs)/Two great leaders: Arthur Morris & Denise Ippolito.
Arthur Morris/BIRDS AS ART www.BIRDSASART-blog.com for the latest images, info, & education
Denise Ippolito/A Creative Adventure www.deniseippolito.com: get yourself out of the box!
Denise's e-books: Bloomin' Ideas, A Guide to Filters & Effects, The Softer Side of Macro, & more. Free Monthly Creative MiniMag: www.deniseippolito.com/magazine
Nickerson Baby Beach-nesting Birds IPT, Long Island, NY: 3-Full Days/July 22-24, 2014: $1199.
Black Skimmers, Common Terns with chicks, American Oystercatcher & Piping Plover families; breeding behaviors including courtship feeding, display flight and combat, and copulations. Gulls and shorebirds.
UK Puffins IPT. Early July, 2014.
Details TBA. Please e-mail to be placed on the interested list.
Tanzania Serengeti Summer Safari: Leave US: August 9—return: August 24, 2014: $12,999.
Co-leaders: Arthur Morris & Todd Gustafson. Wildebeest/The Great Migration, cats, elephant, giraffe, zebra, birds & more. Please e-mail for brochure.
Swan Island Dahlia Farm IPT, Canby, OR, September 8-12, 2014: 5 FULL DAYS: $1699.
Leader: Denise Ippolito. 40 acres with 350+dazzling varieties of dahlias in a plethora of colors, shapes and sizes. Sharpen your technical skills and boost your creative juices. Daily assignments, image sharing, and Photoshop sessions.
Bosque del Apache 2014 A Creative Adventure/BIRDS AS ART "Creative Photography Instructional Photo-Tour." (IPT). NOV 24-25, 2014. 2-FULL DAYS: $729.
Leaders: Denise Ippolito & Arthur Morris. Introductory Slide program: 7:00pm on Sunday 11/23. This IPT is perfect for folks who want to learn to think outside the box, to create new and different images. Learn to unleash your creative juices at the wondrous Bosque del Apache, NWR in San Antonio, NM.
Bosque del Apache 2014 BIRDS AS ART/A Creative Adventure Instructional Photo-Tour (IPT). NOV 29-DEC 3, 2014. Totaling 4 FULL-DAYS: $1449
Leaders: Arthur Morris and Denise Ippolito. Introductory Slide program: 7:00pm on Sunday 11/29. Tens of thousand of Snow Geese, 10,000 Sandhill Cranes, ducks, amazing sunrises, sunsets, and blast-offs. Live, eat, and breathe photography with two of the world's premier photographic educators at one of their very favorite photography locations on the planet.
Antarctica/The Extended Expedition Voyage: Antarctic Peninsula, South Georgia and Falkland Islands: December 13, 2014 to January 10, 2015.
Please e-mail for details.
BAA offers a wide range of books, e-Guides, and educational materials and photographic accessories at the lowest prices around—25+ years of experience, and the best advice you can get. We will not sell you junk. Access the BAA Store here or call us at 1-863-692-0906.
Questions? Please e-mail us at birdsasart@verizon.net or photographybydenise221@gmail.com.
Support the BAA Blog. Support the BAA Bulletins: Shop B&H here!
We want and need to keep providing you with the latest free information, photography and Photoshop lessons, and all manner of related information. Show your appreciation by making your purchases immediately after clicking on any of our B&H or Amazon Affiliate links in this blog post. Remember, B&H ain't just photography!
Amazon
Everyone buys something from Amazon, be it a big lens or deodorant. Support the blog by starting your search by clicking on the logo-link below. No purchase is too small to be appreciated; they all add up. Why make it a habit? Because I make it a habit of bringing you new images and information on an almost daily basis.
Typos
In all blog posts and Bulletins, feel free to e-mail or to leave a comment regarding any typos, wrong words, misspellings, omissions, or grammatical errors. Just be right. 🙂
IPT Info
Many of our great trips are filling up. See especially info on the Holland, Nickerson Beach, and Bosque IPTs. Two great leaders on most trips ensure that you will receive individual attention, have all of your questions answered, and learn a ton including how to think like a pro, see the situation, and get the right exposure every time. In addition you will have fun, and make lots of great images. Click here for IPT details and general information.