Jet Lag Update
After reading comments left on the last two blog posts (big time thanks to Jerry Murray and Colin Bradshaw), I consulted my San Diego health guru, Dr. Cliff Oliver. He suggested getting some time-release melatonin and taking a small dose at bed-time. I could not get the time release stuff in Lake Wales so I got the regular in the 3mg dose. I cut one tablet in half, took that just before bedtime–11:00pm, made one pit stop during which I took the remaining 1/2 of the pill, fell quickly back to sleep, and woke up refreshed at 7:30am. It was one of my best night's sleep in a decade. (My ice baths, which I began when I got back, always help with sleep via fewer pit stops.) Like Cliff on Facebook and learn a ton about Wellness here.
The Streak
This post marks 98 straight days with a new blog post, a record by far that should be extended for at least another day or so, or not. Or more…. To show your appreciation for my efforts here, we ask that use our B&H and Amazon affiliate links for all of your B&H and Amazon purchases. Please check the availability of all photographic accessories in the BIRDS AS ART Online Store. We sell only what I use and depend on. We will not sell you junk. We know what you need to make creating great images easy and fun. And we are always glad to answer your gear questions via e-mail.
You can find the following items in the store: Gitzo tripods, Mongoose M3.6 and Wimberley heads, plates, low feet, and accessories, flash brackets, , Delkin e-film Pro Compact Flash Cards, LensCoat products, and our unique line-up of educational materials including ABP I & II, Digital Basics, Site and Set-up e-Guides, Canon and Nikon Camera Users and AF e-Guides, and MP-4 Photoshop video tutorials among others.
We would of course appreciate you using our B&H and Amazon affiliate links for all of your B&H and Amazon major gear, video, electronic, household, and personal purchases. For the photographic stuff mentioned in the paragraph above we would of course greatly appreciate your business. Here is a huge thank you to the many who have been using our links on a regular basis and visiting the BAA Online store as well.
This blog post took about 1 1/2 hours to prepare. Enjoy.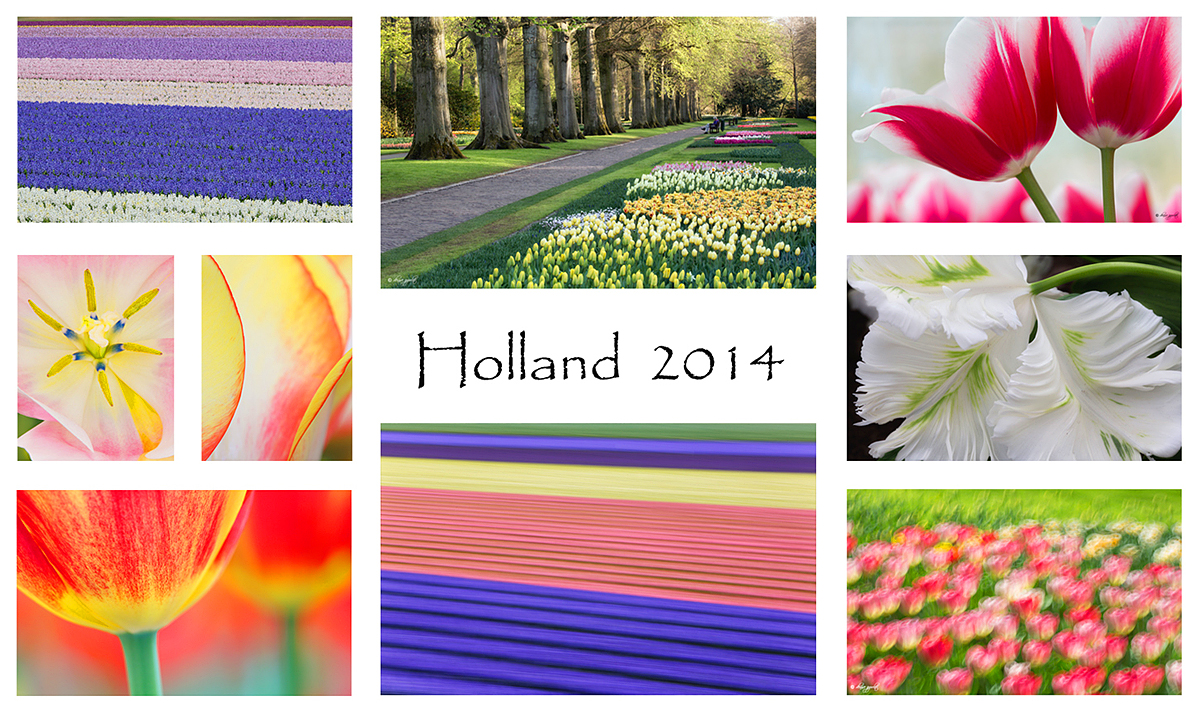 Images copyright 2012: Denise Ippolito & Arthur Morris. Card design by Denise Ippolito. Click on the image to enjoy a spectacular larger version.
Gear Bag for Holland
Now that I am back from Japan, I am looking forward to the Holland IPT. I will be traveling light. For me at least 🙂 Here, is the gear that I will be bringing along with an explanation of why for each item:
Canon EF 100mm f/2.8L Macro IS USM lens. This will likely be my most used lens on the tripod. I will hand hold it using the techniques that Denise Ippolito taught the group on the last Tulip IPT and use it on the tripod with the Canon Tripod Mount Ring D for 100mm f/2.8L IS Macro lens. The lens does not come with a tripod collar. A separate purchase is required. You can save well more than $100 by going with the Vello Tripod Collar D (Black) for Canon EF 100mm f/2.8L IS USM Macro lens. I will surely use the 100 macro lens on a tripod a lot more than denise will even though she uses the older non-IS model that she loves. I did not own this lens at the time of the Holland trip last year; I can't wait to get back and see what I can do with it.
Canon EF 180mm f/3.5L Macro USM lens. This was my former favorite macro lens. It gives you a bit more reach and a narrower angle of view than the 100 macro lenses. I use it often with a 1.4X III TC.
Canon EF 200-400mm f/4L IS USM lens with Internal 1.4x Extender. Last year I brought my Canon EF 600mm f/4L IS II USM lens into the Willem-Alexander Pavilion at Keukenhof there was lots of staring going on. This year the 2-4 will be my long lens for the tulips. With an external 1.4X III in place it will give me 784mm of reach that will be great for isolating single flowers. In addition, it should be great for our optional afternoon of Purple Heron flight photography and possibly for Great-crested Grebe as well.
Canon EF 70-200mm f/2.8L IS II USM lens. This versatile intermediate telephoto lens is perfect for the tulip fields. Last year I used it often to create both sharp images as well as zoom, pan, and shiver blurs. (Learn more in A Guide to Pleasing Blurs by Denise Ippolito and yours truly.)
Canon EF 24-70mm f/2.8L II USM lens. Never leave home without a short zoom lens. I replaced the older Canon EF 24-105mm f/4L IS USM lens with the 24-70II because the latter is clearly sharper and because it meshes perfectly with my 70-200 f/2.8 L IS II. On this trip I will be hand holding this lens whenever I use it.
Canon Extender EF 1.4X III. I will have two along as I never travel without a back-up for my most valuable accessory. I will one available when I need extra reach either with the 180 macro or the 200-400.
Canon Extension Tube EF 25 II & Canon Extension Tube EF 12 II. I am bringing two of the former and one of the latter to allow for closer focusing. I often use them in combination. Be sure to stop down a bunch whenever using an extension tube to prevent vignetting.
Canon EOS 5D Mark III DSLR camera body. For the superb image quality of the 5D III's 22.3 megapixel files the lightweight 5D III is my go-to camera body for flowers. And don't forget the in-camera HDR and in-camera Multiple Exposure features.
Canon EOS-1D X Digital camera body. The 1D X is my primo bird photography body so I will use it for the Purple Herons and have it along as my back-up body. You should never make a big trip without a back-up camera body. Renting a body from BorrowLenses using our affiliate link is a great option.
Gitzo 3532 LS carbon fiber tripod & the Mongoose M3.6 head. This combination works every bit as well with my Macro lenses as it does with my 600 II and will allow me to photograph the Purple Herons in flight off a tripod should my arms get weary.
Did I miss anything?
Questions
If you have any questions on what I am bringing or on any of the gear above, feel free to ask by leaving a comment.
Learning on BPN (BirdPhotographers.net/It Ain't Just Birds!
I am consistently amazed that in addition to teaching others through honest critiques done gently how much I learn while offering helpful critiques. For a great example, see Iain Barker's Chaffinch post here. There is a great example of making accurate Curves adjustments and I learned a ton about using Hue/Saturation to attain the right colors.
See the newly designed Home Page here, see all of our great forums here, or visit the Avian Forum here. The Avian Forum alone has had 48,311 images posted for critiquing and 437,372 Replies. That's a lot of learning!
Holland 2014 7 1/2-Day/8-Night: A Creative Adventure/BIRDS AS ART/Tulips & A Touch of Holland IPT. April 17-April 24, 2014: $4995 Limit: 12/Openings: 5
Act soon: this trip is not far off.
Join Denise Ippolito, Flower Queen and the author of "Bloomin' Ideas," and Arthur Morris, Canon Explorer of Light Emeritus and one of the planet's premier photographic educators for a great trip to Holland in mid-April 2014. Day 1 of the IPT will be April 17, 2014. We will have a short afternoon get-together and then our first photographic session at the justly-famed Keukenhof. Most days we will return to the hotel for lunch, image sharing and a break. On Day 8, April 24, we will enjoy both morning and afternoon photography sessions.
The primary subjects will be tulips and orchids at Keukenhof and the spectacularly amazing tulip, hyacinth, and daffodil bulb fields around Lisse. In addition we will spend one full day in Amsterdam. There will be optional visits the Van Gogh Museum in the morning and the Anne Frank House in the afternoon; there will be plenty of time for street photography as well. And some great food. On another day we will have a wonderful early dinner at Kinderdijk and then head out with our gear to photograph the windmills and possibly some birds for those who bring their longs lenses. We will spend an afternoon in the lovely Dutch town of Edam where we will do some street photography and enjoy a superb dinner. All lodging, ground transportation, entry fees, and meals (from dinner on Day 1 through dinner on Day 7) are included.
For those who will be bringing a big lens we will likely have an optional bird photography afternoon or two. If we get lucky, the big attraction should be gorgeous Purple Herons in flight at a breeding marsh. We would be photographing them from the roadside. And we might be able to find a few Great-crested Grebes at a location near Keukenhof.
You will learn to create tight abstracts, how to best use depth-of-field (or the lack thereof) to improve your flower photography, how to get the right exposure and make sharp images every time, how to see the shot, and how to choose the best perspective for a given situation. And you will of course learn to create a variety of pleasingly blurred flower images. If you bring a long lens, you will learn to use it effectively for flower photography. Denise's two favorite flower lenses are the Canon 100mm macro and the Canon 24-105mm zoom. Mine are the Canon 180mm macro lens and the Canon 600mm f/4L IS II, both always on a tripod and both often used with extension tubes and/or the 1.4X teleconverters. Denise hand holds a great deal of the time. For flower field blurs denise uses the same lenses mentioned above. My favorite is the 70-200 often with a 1.4X TC but I use both the 24-105 and the 600 II as well. Both of us use and love the Canon EOS-5D Mark III for all of our flower photography. The in-camera HDR and Multiple Exposure features are a blast.
One of the great advantages of our trip is that we will be staying in a single, strategically located hotel that is quite excellent. Do note that all ground transfers to and from Schipol will be via hotel shuttle bus.
What's included: Eight hotel nights. All ground transportation except for airport transfers as noted above. In-the-field instruction and small group image review and Photoshop sessions. All meals from dinner on Day 1 through dinner on Day 8. The hotel we are staying in often offers both lunch and dinner buffets. The food is excellent. Whenever you order off the menu be it at the hotel or at one of the several fine-dining spots that we will be enjoying at various locations, only the cost of your main course is included. On these occasions the cost of soups, appetizers, salads, sodas and other beverages, alcoholic drinks and wine, bottled water, and desserts are not included. This is done in part in hopes that folks will be less inclined to enjoy an eight course dinner so that we can get to bed early. As with all A Creative Adventure/BIRDS AS ART Instructional Photo-Tours both the photo sessions and the days are long. Nothing that we do however will be demanding. Being able to sit down on the ground with your gear is, however, a huge plus. Anyone in halfway decent shape should be fine.
Snacks, personal items, phone calls, etc. are not included.
Beware of seemingly longer, slightly less expensive tours that include travel days and days sitting in the hotel doing nothing as part of the tour. In addition, other similar trips have you changing hotels needlessly. The cost of this years trip is a bit higher than last years to reflect our increased experience and the extra hotel night that is included. One final note on other similar trips: the instructors on this trip actually instruct. On other similar trips the instructors, though usually eminently qualified, serve for the most part as van drivers….
Happy Campers only please. A non-refundable deposit of $1,000 per person is required to hold your spot. The second payment of $2,000 due by October 30, 2013. The balance is due on January 15, 2014. Payments in full are of course welcome at any time. All payments including the deposit must be made by check made out to "Arthur Morris." As life has a way of throwing an occasional curve ball our way, you are urged to purchase travel insurance within 15 days of our cashing your check. I use and recommend Travel Insurance Services. All payments are non-refundable unless the trip fills to capacity. In that case, all payments but your deposit will be refunded.
All checks should be made out to "Arthur Morris" and sent to: Arthur Morris, PO Box 7245, Indian Lake Estates, FL 33855. Please fill out the paperwork here and include a signed copy with your deposit check.
IPT Info
Many of our great trips are filling up. With 5 Canadians signing up for our 4-DAY Bosque IPT, that workshop is filling up quickly. See also the info on the South Florida and Nickerson Beach IPTs. Two great leaders on most trips ensure that you will receive individual attention, have all of your questions answered, and learn a ton including how to think like a pro, see the situation, read the light and the wind direction, and get the right exposure every time. In addition you will have fun, and make lots of great images. Click here for IPT details and general information.
For couples or friends signing up at the same time for the tulip trip, a $200/person discount will be applied to the final payment.
Click here for complete details and lots of wonderful images with our legendary educational captions. Click here and see item one for lots more tulip images.
UK Puffins and Gannets in Flight IPT: early July 2014.
Please e-mail if interested. Details TBA very soon.
Support the BAA Blog. Support the BAA Bulletins: Shop B&H here!
We want and need to keep providing you with the latest free information, photography and Photoshop lessons, and all manner of related information. Show your appreciation by making your purchases immediately after clicking on any of our B&H or Amazon Affiliate links in this blog post. Remember, B&H ain't just photography!
Amazon
Everyone buys something from Amazon, be it a big lens or deodorant. Support the blog by starting your search by clicking on the logo-link below. No purchase is too small to be appreciated; they all add up. Why make it a habit? Because I make it a habit of bringing you new images and information on an almost daily basis.
Typos
In all blog posts and Bulletins, feel free to e-mail or to leave a comment regarding any typos, wrong words, misspellings, omissions, or grammatical errors. Just be right. 🙂