101
This post marks 101 straight days with a new educational blog post. With so many folks getting in the habit of using our B&H and Amazon links why quit now? To show your appreciation for my efforts here, we do ask that use our B&H and Amazon affiliate links for all of your B&H and Amazon purchases. Please check the availability of all photographic accessories in the BIRDS AS ART Online Store. We sell only what I use and depend on. We will not sell you junk. We know what you need to make creating great images easy and fun. And we are always glad to answer your gear questions via e-mail.
You can find the following items in the store: Gitzo tripods, Mongoose M3.6 and Wimberley heads, plates, low feet, and accessories, flash brackets, , Delkin e-film Pro Compact Flash Cards, LensCoat products, and our unique line-up of educational materials including ABP I & II, Digital Basics, Site and Set-up e-Guides, Canon and Nikon Camera Users and AF e-Guides, and MP-4 Photoshop video tutorials among others.
Note: we almost never have Mongoose M3.6 heads in stock. We sell them as fast as we get them. The best way to ensure getting one of these great heads for your intermediate or super-telephoto lens is to call Jim and place your order. You are then ensured of getting one from our next shipment. We will not of course bill your credit card until the item ships or drop-ships.
We would of course appreciate you using our B&H and Amazon affiliate links for all of your B&H and Amazon major gear, video, electronic, household, and personal purchases. For the photographic stuff mentioned in the paragraph above we would of course greatly appreciate your business. Here is a huge thank you to the many who have been using our links on a regular basis and visiting the BAA Online store as well.
This blog post took about 1 1/2 hours to prepare. Enjoy.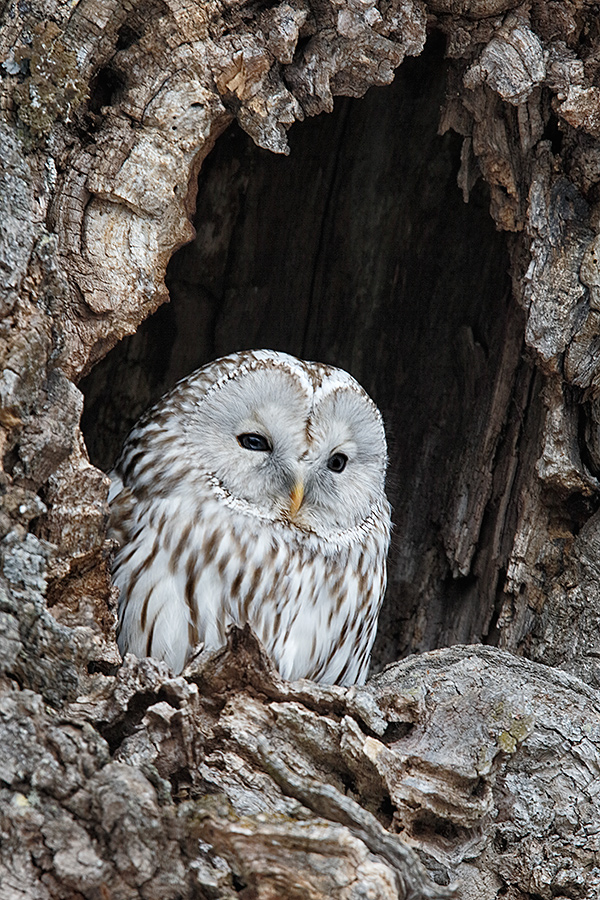 This Ural Owl image was created on the 2014 Japan in Winter with the Gitzo 3532 LS carbon fiber tripod, the Mongoose M3.6 head, the Canon EF 600mm f/4L IS II USM lens, the Canon 2x EF Extender III (Teleconverter), and the Canon EOS-1D X Digital SLR camera. ISO 400. Evaluative metering -1/3 stop as framed: 1/125 sec. at f/13 in Manual mode. Color Temperature: AWB.
The exposure here was about 1/2 stop too dark. I wanted to save some shutter speed as we were precariously positioned on a sloped, muddy hillside. ISO 800 would likely have been a better choice….
Central sensor (by necessity) Expand/AI Servo/Rear Focus on the bird's eye and re-compose. Click here if you missed the Rear Focus Tutorial. Click on the image to see a larger version.
Your browser does not support iFrame.
Special Hokkaido Treats
Owls are always special photographic subjects. As soon as our guide mentioned Ural Owl, everyone was chomping at the bit. One cloudy morning on the way back from somewhere he said, "We go to Ural Owl." Because of the sensitivity of the site we split the group in two. We all enjoyed about 30 minutes with this beautiful bird. The owl, by the way, was totally unconcerned with our presence as we stayed very quiet and nobody slid down the hill…
These new bamboo shoots were photographed on the Japan in Winter IPT with the Canon EF 200-400mm f/4L IS USM lens with Internal 1.4x Extender (hand held with the internal TC engaged at 506mm) and the Canon EOS-1D X. ISO 400. Evaluative metering +1 2/3 stops as framed: 1/640 sec. at f/8 in Manual mode. Color temperature: AWB. Click White Balance during the RAW conversion in DPP yielded pretty much perfectly WHITE snow with the three RGB values within a single digit of each other.
Five sensors up from the Central Sensor/AI Servo-Surround/Rear Focus AF as framed was active at the moment of exposure. Click here to see the latest version of the Rear Focus Tutorial. Click on the image to see a larger version.
Your browser does not support iFrame.
Bamboo Leaves
We saw hillsides of what I assume were new bamboo shoots, just a couple of leaves about 4-6 inches tall in all. Nothing like the fully grown trees that soar towards the heavens. (See Bamboo-zled, especially the fish eye image at the bottom of the blog post.) I was in the first Ural Owl group. As we were waiting for the other van to bring the rest of the group, I noted lots of small bamboo shoots poking out of the snow alongside the road. These two leaves screamed out to me, "See how pretty we are! Please take a picture of us." The simple arrangement was so beautiful that I grabbed the 200-400 and went to work. I went to f/8 for a bit of extra depth-of field.
Here's the rub: which is the more beautiful image? The owl, well done and a much desired subject? Or the simple image of the bamboo shoots in the snow? Which image do you like best? Be sure to let us know why.
Image Technique Question
In the bamboo shoot situation noted above, why was it mandatory to have AI Servo AF active at the moment of exposure?
The DPP RAW Conversion Guide
To learn why I use Canon's Digital Photo Professional (DPP) to convert every image that I work on, click here.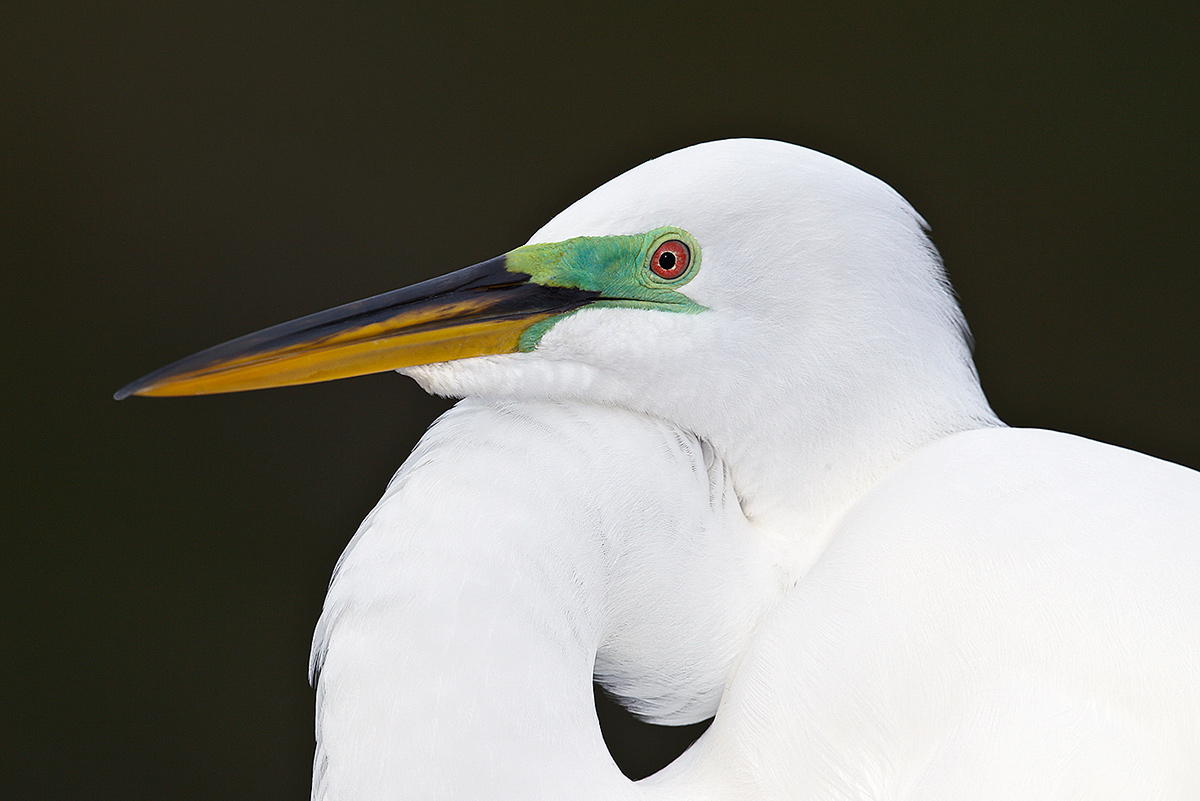 This Great Egret head portrait was created at Gatorland, Kissimmee, FL with the Gitzo 3532 LS carbon fiber tripod, the Mongoose M3.6 head, the Canon EF 800mm f/5.6L IS USM lens, and the EOS-1D Mark IV now replaced by the Canon EOS-1D X. ISO 400. Evaluative metering as framed: 1/320 sec. at f/9 in soft light in Manual mode.
Central Sensor/Rear Focus AI Servo-Expand as framed active at the moment of exposure. Click here to see the latest version of the Rear Focus Tutorial. Click on the image to see a larger version.
Your browser does not support iFrame.
Gatorland Short Notice Saturday Full-Day In-the-Field Workshop
Saturday March 15, 2014. 7:15am till 10:15am & 3:30pm till dusk. Lunch, image review, and Photoshop session included. Limit 6/Openings: 4. A very small group is likely: $399.
The cost of your Gatorland Photographer's Pass is not included.
For the past few years the Great Egrets have been nesting earlier and earlier. Head portraits of this species in full breeding plumage are very likely. Nest building and flight likely. In the field you will learn to spot good situations, to choose the best perspective, to see and understand the light, to get the right exposure every time after making a single test exposure, and to design pleasing images by mastering your camera's AF system.
At lunch we will review my images, take a look at five of your best images from the morning session (for those who opt to bring their laptops), and process a few of my images in Photoshop after converting them in DPP. That followed by Instructor Nap Time.
Payment in full via credit card is due upon registering. Call me all day on Sunday at 863-692-0906. If I am in the pool or napping, please shoot me an e-mail with a call back time and number. Weekdays you will get Jim or Jen. Ask for me if you have any questions.
IPT Info
Many of our great trips are filling up. With 5 Canadians and another couple signing up for our 4-DAY Bosque IPT; that workshop is filling up quickly. See especially info on the Holland, and Nickerson Beach IPTs. Two great leaders on most trips ensure that you will receive individual attention, have all of your questions answered, and learn a ton including how to think like a pro, see the situation, and get the right exposure every time. In addition you will have fun, and make lots of great images. Click here for IPT details and general information.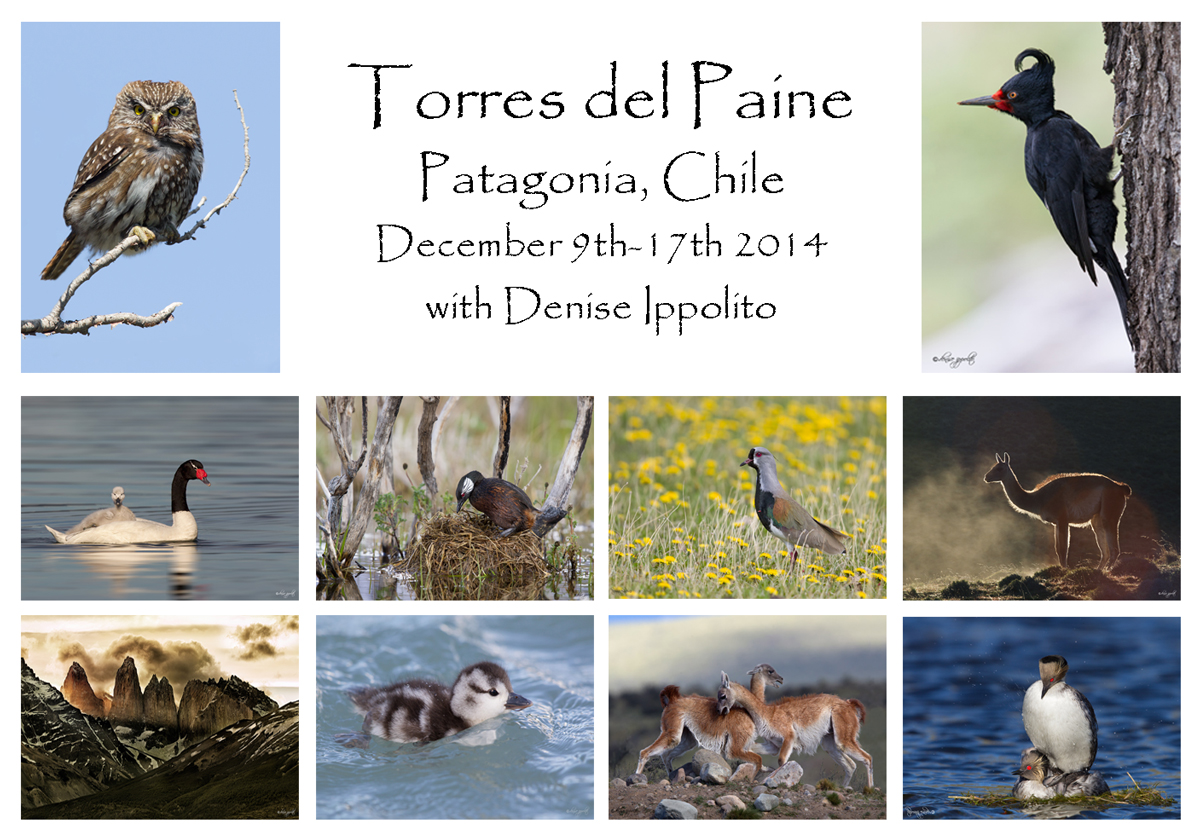 Image and card design copyright 2103: Denise Ippolito/A Creative Adventure
A Rare Photographic Opportunity
Torres del Paine/A Creative Adventure Workshop
Join Denise Ippolito for her first ever Torres del Paine workshop. As many of you know, she presented a program to Avistar Patagonia in November of 2013. We spent our days traveling to the famed Torres del Paine National Park in Chile. After the workshop was over Denise joined David Tipling and me for a few days of photography on our own at Torres del Paine. Once David left Denise and I met up with two professional guides and stayed inside the park for a week scouting and photographing on our own. She fell in love with the place and knew immediately that she would return with clients as this place has something for everyone. We will enjoy landscape photography, wildlife photography, bird photography and creative photography.
Participants will fly to the airport in Santiago, Chile (SCL) and take a connecting flight to Punta Arenas (PUQ). There we will be picked up by hotel van; these transfers are included. It is a four hour drive and most hotels do not include this pricey transfer. Once we reach our hotel we will check in and everything will be included: all meals, open bar, bilingual guides, transfers to and from the park, horseback riding if you want- or simply just photographing the horses. Note: your round trip airfare to and from Punta Arenas, Chile is not included in the trip fee. Denise has arranged for a private photo shoot of the horses running with gauchos. Anyone wishing to bring a spouse may; the price for a spouse or companion is the same. There will be other excursions, treks, and activities available as options. The group will photograph together in the mornings and again in the late afternoons (weather permitting). Free time can be enjoyed relaxing at the award-winning hotel, taking advantage of some of the amazingly plush amenities, downloading and reviewing images. or participating in small group image critique or Photoshop sessions with Denise.
Her goal is to help you create the best images at every stop of the journey. This will be an adventurous photography tour and Denise will be there to help you with your camera settings, lens selection, creative techniques and much more. December is the month that the Guanacos have their young; this may attract the Pumas into photographic range. We will hope to see Puma but our trip will not be based on that quest. December is one of the best times to visit the park for wildlife.
Torres del Paine/A Creative Adventure Photographic Workshop: December 9th- 17th. 2014: $6120 USD double occupancy.
This trip needs a minimum of 12 people to run; six down, six to go. You will need to wait until you hear from Denise before booking your flights. Travel insurance with TSI is recommended. Click here for more information or to register. Please let Denise know that BIRDS AS ART sent you. 🙂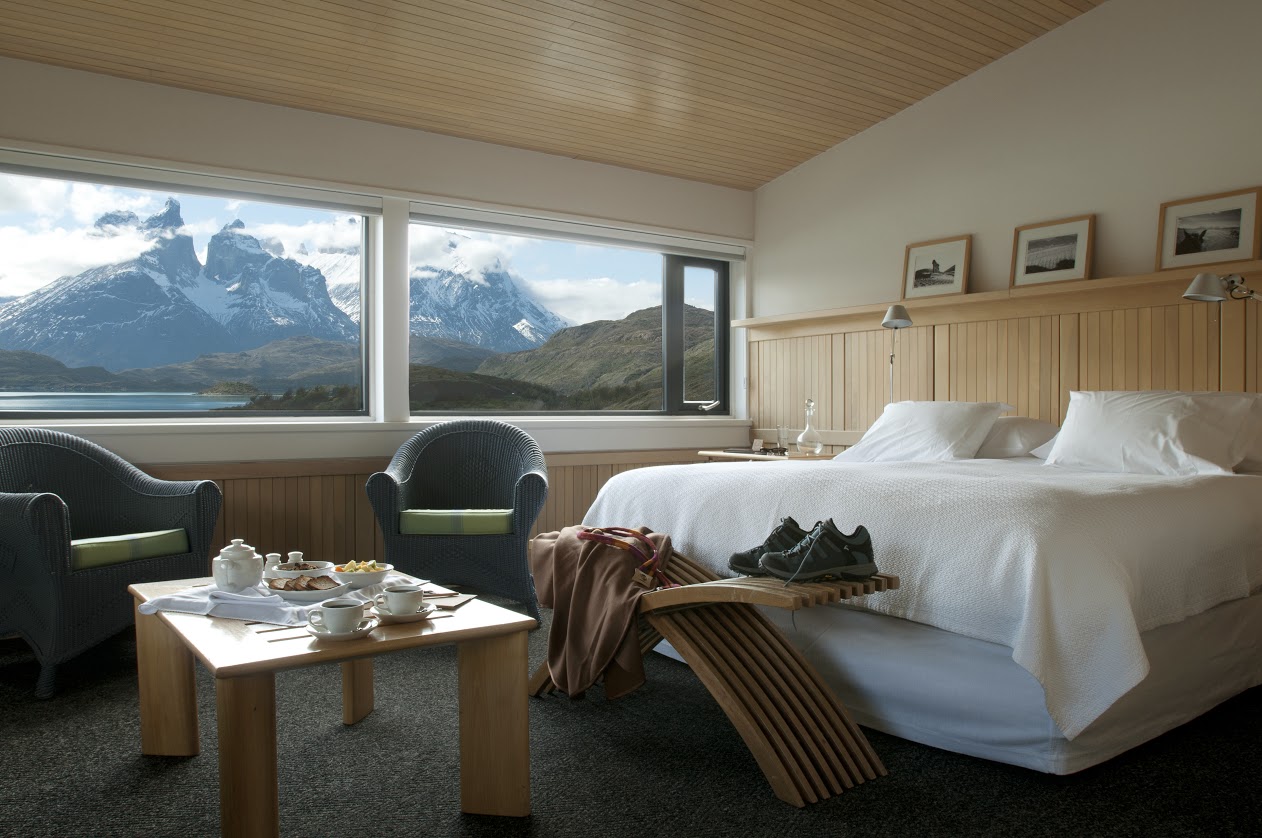 Image courtesy of and copyright Explora Patagonia.
The lodge/hotel, Explora Patagonia/Hotel Salto Chico). is the only hotel located in the heart of the extraordinary Torres del Paine National Park in central Patagonia. It is on the banks of the Salto Chico waterfall where we will have excellent view of the unique Paine Massif and two of the three impressive torres, or towers, that give the park its name. Situated on a 7.4-acre site, Explora Patagonia has 49 comfortable rooms, all with captivating views. The sophisticated design incorporates native lenga wood and cypress brought from the Guaitecas Archipelago, while the floor is made of almond wood. Each room has a small living area, hydromassage bath, and beds designed for deep, pleasurable sleep after a day of exploration.
The hotel is the only lodge in the area with its own horses, horses that have been bred and trained especially to be ridden by gringos. Denise loves being outdoors experiencing nature in its rawest form, however, a clean, comfortable bed in a luxurious hotel with gourmet food is a nice way to end the day! The coffee is great! Denise does not know if that matters to you but it matters to her 🙂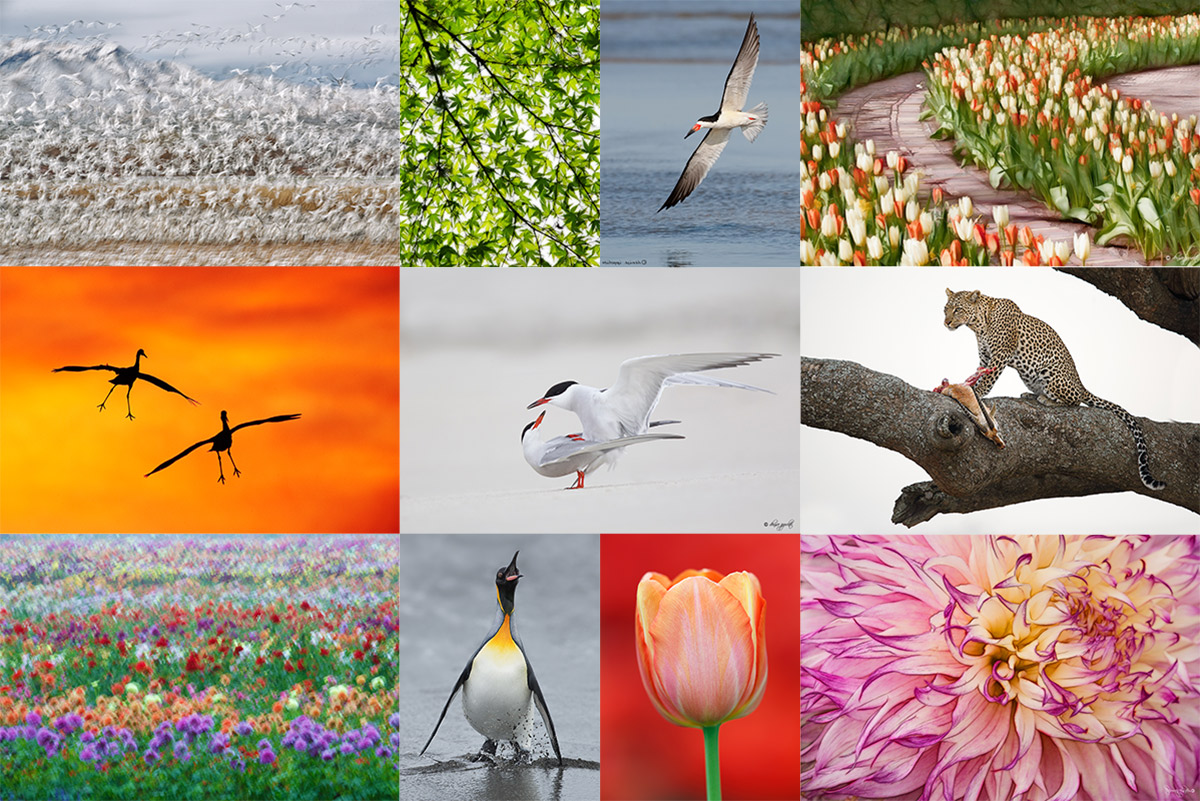 If you'd like to learn from the two folks who created the images in the composite above do consider one of the trips below. Denise Ippolito's images: Japanese leaf painting, skimmer in flight, curved Keukenhof paths with tulips, copulating terns, & pink dahlia. Artie's images: Snow Geese snowstorm blur, crane landing silhouettes, Leopard with prey in tree, King Penguin, & vertical tulip. Note: Denise alone will be leading the Torres del Paine workshop.
A Creative Adventure/BIRDS AS ART Instructional Photo-Tours (IPTs)/Two great leaders: Arthur Morris & Denise Ippolito.
Arthur Morris/BIRDS AS ART www.BIRDSASART-blog.com for the latest images, info, & education
Denise Ippolito/A Creative Adventure www.deniseippolito.com: get yourself out of the box!
Denise's e-books: Bloomin' Ideas, A Guide to Filters & Effects, The Softer Side of Macro, & more. Free Monthly Creative MiniMag: www.deniseippolito.com/magazine
Nickerson Baby Beach-nesting Birds IPT, Long Island, NY: 3-Full Days/July 22-24, 2014: $1199.
Black Skimmers, Common Terns with chicks, American Oystercatcher & Piping Plover families; breeding behaviors including courtship feeding, display flight and combat, and copulations. Gulls and shorebirds.
UK Puffins IPT. Early July, 2014.
Details TBA. Please e-mail to be placed on the interested list.
Tanzania Serengeti Summer Safari: Leave US: August 9—return: August 24, 2014: $12,999.
Co-leaders: Arthur Morris & Todd Gustafson. Wildebeest/The Great Migration, cats, elephant, giraffe, zebra, birds & more. Please e-mail for brochure.
Swan Island Dahlia Farm IPT, Canby, OR, September 8-12, 2014: 5 FULL DAYS: $1699.
Leader: Denise Ippolito. 40 acres with 350+dazzling varieties of dahlias in a plethora of colors, shapes and sizes. Sharpen your technical skills and boost your creative juices. Daily assignments, image sharing, and Photoshop sessions.
Bosque del Apache 2014 A Creative Adventure/BIRDS AS ART "Creative Photography Instructional Photo-Tour." (IPT). NOV 24-25, 2014. 2-FULL DAYS: $729.
Leaders: Denise Ippolito & Arthur Morris. Introductory Slide program: 7:00pm on Sunday 11/23. This IPT is perfect for folks who want to learn to think outside the box, to create new and different images. Learn to unleash your creative juices at the wondrous Bosque del Apache, NWR in San Antonio, NM.
Bosque del Apache 2014 BIRDS AS ART/A Creative Adventure Instructional Photo-Tour (IPT). NOV 29-DEC 3, 2014. Totaling 4 FULL-DAYS: $1449
Leaders: Arthur Morris and Denise Ippolito. Introductory Slide program: 7:00pm on Sunday 11/29. Tens of thousand of Snow Geese, 10,000 Sandhill Cranes, ducks, amazing sunrises, sunsets, and blast-offs. Live, eat, and breathe photography with two of the world's premier photographic educators at one of their very favorite photography locations on the planet.
Antarctica/The Extended Expedition Voyage: Antarctic Peninsula, South Georgia and Falkland Islands: December 13, 2014 to January 10, 2015.
Please e-mail for details.
BAA offers a wide range of books, e-Guides, and educational materials and photographic accessories at the lowest prices around—25+ years of experience, and the best advice you can get. We will not sell you junk. Access the BAA Store here or call us at 1-863-692-0906.
Questions? Please e-mail us at birdsasart@verizon.net or photographybydenise221@gmail.com.
Support the BAA Blog. Support the BAA Bulletins: Shop B&H here!
We want and need to keep providing you with the latest free information, photography and Photoshop lessons, and all manner of related information. Show your appreciation by making your purchases immediately after clicking on any of our B&H or Amazon Affiliate links in this blog post. Remember, B&H ain't just photography!
Amazon
Everyone buys something from Amazon, be it a big lens or deodorant. Support the blog by starting your search by clicking on the logo-link below. No purchase is too small to be appreciated; they all add up. Why make it a habit? Because I make it a habit of bringing you new images and information on an almost daily basis.
Typos
In all blog posts and Bulletins, feel free to e-mail or to leave a comment regarding any typos, wrong words, misspellings, omissions, or grammatical errors. Just be right. 🙂