103
This post marks 103 straight days with a new educational blog post. With so many folks getting in the habit of using our B&H and Amazon links why quit now? To show your appreciation for my efforts here, we do ask that use our B&H and Amazon affiliate links for all of your B&H and Amazon purchases. Please check the availability of all photographic accessories in the BIRDS AS ART Online Store. We sell only what I use and depend on. We will not sell you junk. We know what you need to make creating great images easy and fun. And we are always glad to answer your gear questions via e-mail.
You can find the following items in the store: Gitzo tripods, Mongoose M3.6 and Wimberley heads, plates, low feet, and accessories, flash brackets, , Delkin e-film Pro Compact Flash Cards, LensCoat products, and our unique line-up of educational materials including ABP I & II, Digital Basics, Site and Set-up e-Guides, Canon and Nikon Camera Users and AF e-Guides, and MP-4 Photoshop video tutorials among others.
Note: we almost never have Mongoose M3.6 heads in stock. We sell them as fast as we get them. The best way to ensure getting one of these great heads for your intermediate or super-telephoto lens is to call Jim and place your order. You are then ensured of getting one from our next shipment. We will not of course bill your credit card until the item ships or drop-ships.
We would of course appreciate you using our B&H and Amazon affiliate links for all of your B&H and Amazon major gear, video, electronic, household, and personal purchases. For the photographic stuff mentioned in the paragraph above we would of course greatly appreciate your business. Here is a huge thank you to the many who have been using our links on a regular basis and visiting the BAA Online store as well.
This blog post took about 2 1/2 hours to prepare. Enjoy.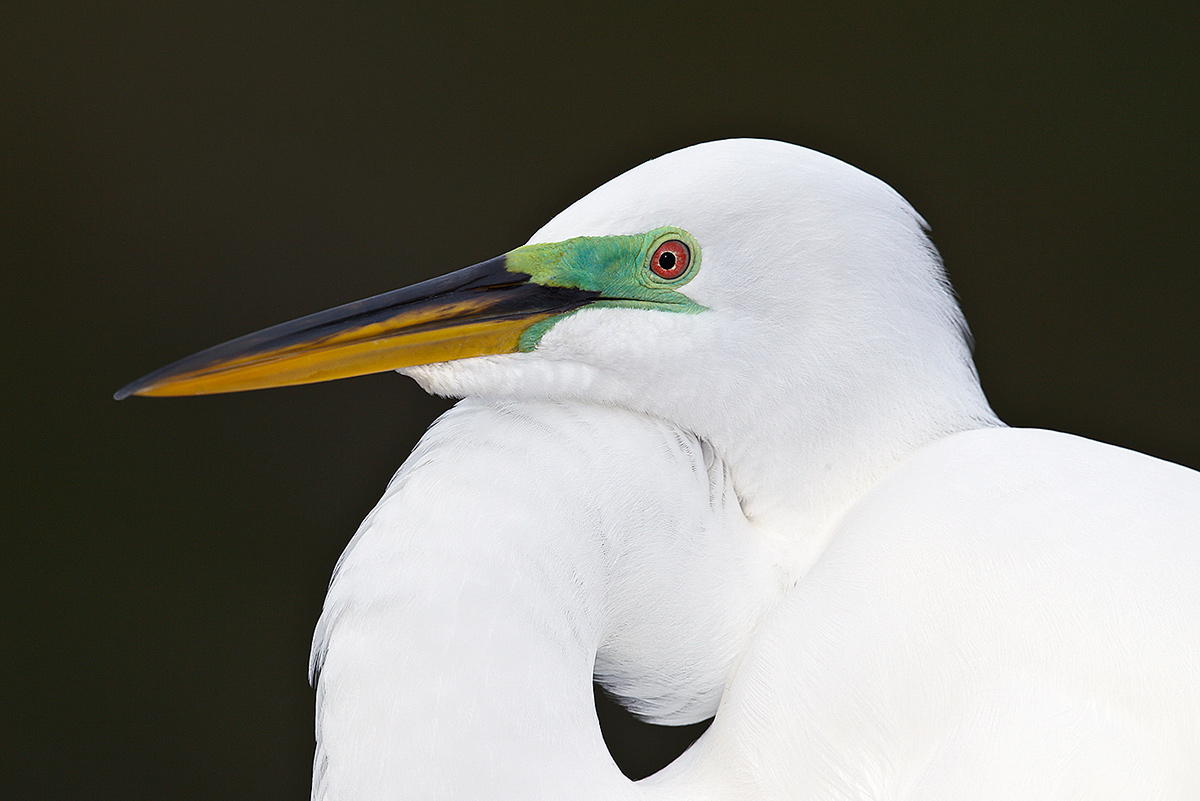 This Great Egret head portrait was created at Gatorland, Kissimmee, FL with the Gitzo 3532 LS carbon fiber tripod, the Mongoose M3.6 head, the Canon EF 800mm f/5.6L IS USM lens, and the EOS-1D Mark IV now replaced by the Canon EOS-1D X. ISO 400. Evaluative metering as framed: 1/320 sec. at f/9 in soft light in Manual mode.
Central Sensor/Rear Focus AI Servo-Expand as framed active at the moment of exposure. Click here to see the latest version of the Rear Focus Tutorial. Click on the image to see a larger version.
Your browser does not support iFrame.
Gatorland Short Notice Saturday Full-Day In-the-Field Workshop
Saturday March 15, 2014. 7:15am till 10:15am & 3:30pm till dusk. Lunch, image review, and Photoshop session included. Limit 6/Openings: 4. A very small group is likely: $399.
The cost of your Gatorland Photographer's Pass is not included.
For the past few years the Great Egrets have been nesting earlier and earlier. Head portraits of this species in full breeding plumage are very likely. Nest building and flight likely. In the field you will learn to spot good situations, to choose the best perspective, to see and understand the light, to get the right exposure every time after making a single test exposure, and to design pleasing images by mastering your camera's AF system.
At lunch we will review my images, take a look at five of your best images from the morning session (for those who opt to bring their laptops), and process a few of my images in Photoshop after converting them in DPP. That followed by Instructor Nap Time.
Payment in full via credit card is due upon registering. Please call Jim or Jennifer at 863-692-0906 to register. Ask for me if you have any questions.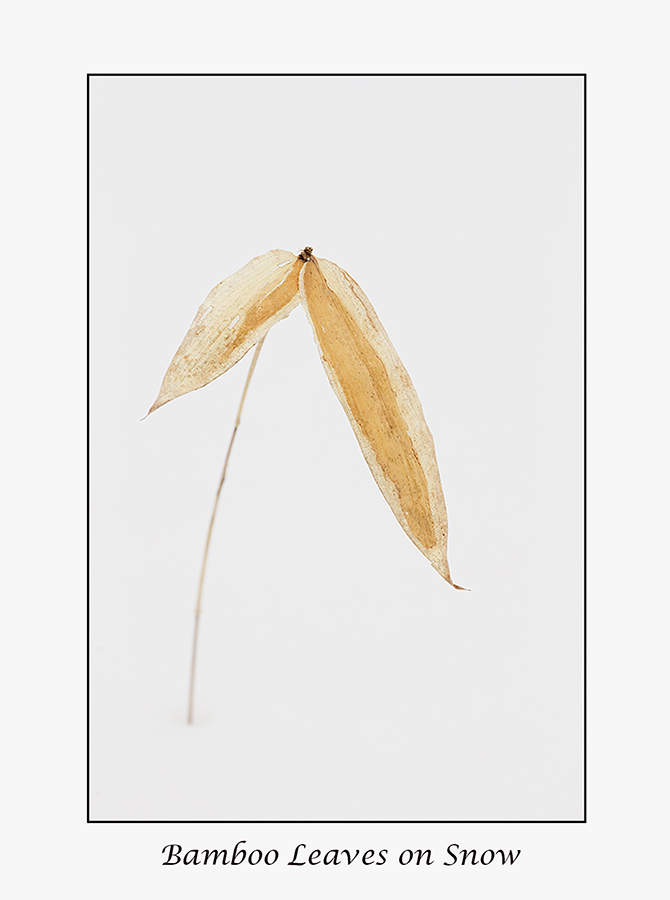 These new bamboo shoots were photographed on the Japan in Winter IPT with the Canon EF 200-400mm f/4L IS USM lens with Internal 1.4x Extender (hand held with the internal TC engaged at 506mm) and the Canon EOS-1D X. ISO 400. Evaluative metering +1 2/3 stops as framed: 1/640 sec. at f/8 in Manual mode. Color temperature: AWB. Click White Balance during the RAW conversion in DPP yielded pretty much perfectly WHITE snow with the three RGB values within a single digit of each other.
Five sensors up from the Central Sensor/AI Servo-Surround/Rear Focus AF as framed was active at the moment of exposure. Click here to see the latest version of the Rear Focus Tutorial. Click on the image to see a larger version.
The technique for creating the framed flower print look was taught to me by Denise Ippolito.
Your browser does not support iFrame.
Remiss
I have been somewhat remiss on the blog in not following up on questions from previous posts (as I do here today). Do note that I will often comment on your answers (or questions) by leaving a comment at the post so be sure to check back often.
Best-Ever Hand Holding AF Tip
I have been stressing this super-important point both here on the blog and in seminars and on IPTs for years. In the recent Not Done Yet: Special Hokkaido Treats blog post I asked why it was important for me to be in AI Servo AF with AF active at the moment of exposure while creating the sublime bamboo leaves image. Though some folks eventually got to the point with their comments, it seems that most folks simply do not yet have the concept down pat:
When you are hand holding while standing and photographing a static subject it is pretty much mandatory that you be in AI Servo AF and have autofocus active at the moment of exposure. Why? Most folks cannot stay still enough to create razor sharp images if AF is not active. Our bodies move as we breathe and many folks including and especially me sway constantly.
If you are seated or otherwise able to brace your left forearm on something (like your left knee while seated for example), you can work set the (rear) focus or use One Shot AF and re-compose. Otherwise you need to be in AI Servo AF with AF active in order to in ensure accurate focus.
For years George Lepp has been able to stay relatively still enough to create sharp images without having AF active, and Denise Ippolito is incredibly skilled at doing the same. But in both instances they are working with relatively short macro lenses. It was Denise who taught me at Swan Island to press the shutter
button when the subject comes into sharp focus as I sway back and forth. Scroll down here for info on Denise's September 2014 Swan Island Dahlia Farm Workshop.
My Favorite?
Like Michelle T, I liked both images a lot. The Ural Owl for the lovely bird and image design and the bamboo leaves image for the soft light and its simple yet powerful composition.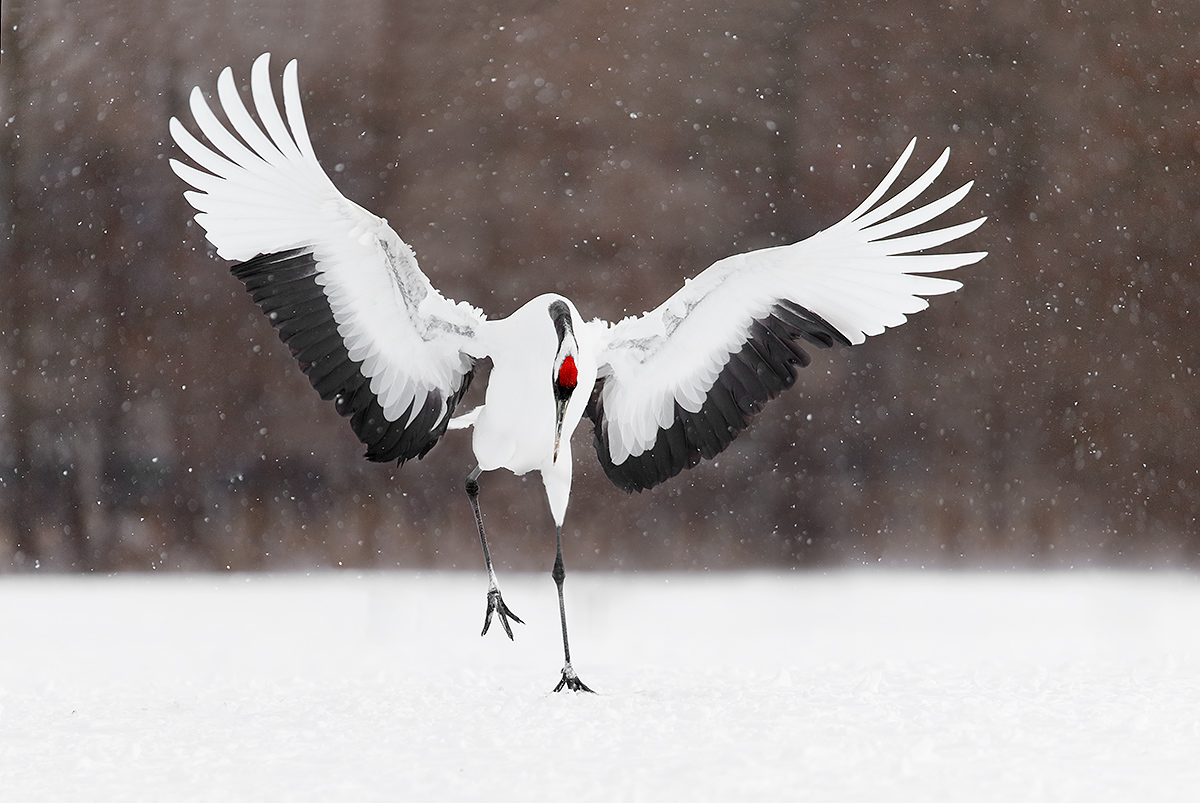 For me, the one hour that I spent on this image was indeed well worth it. You can see the original here.
What to Do?
In the What to Do? blog post, I asked, was it worth it? For me the answer of course was an obvious yes. Why? See the image immediately above…. The truth is that even though the Photoshop work there was exemplary pretty much anyone can learn to improve their post processing skills with a bit of study and practice. Best advice? Get yourself a copy of Digital Basics, an instructional PDF that is sent via e-mail. It includes my complete digital workflow, dozens of great Photoshop tips, the use of Contrast Masks, several different ways of expanding canvas, all of my time-saving Keyboard Shortcuts, Quick Masking, Layer Masking, and NIK Color Efex Pro basics, my killer image clean-up techniques, Digital Eye Doctor, creating time-saving actions, and lots more.
One Yakety Yakker Too Many?
In One Yakety Yakker Too Many? I actually liked the image with the two heads in the frame better than the image with the second yakking bird removed. Why? The original version coneys in part the fact that when one bird began calling that the others joined in and became part of a raucous chorus.
My Favorite?
I was alone in preferring the image of the young swan yakking. Why? The soft light, the sharpness, and the whimsical mood.
The Faces of ???
In the very popular The Faces of ??? post, I asked,
a-what do you think the monkey was thinking and feeling at the moment the image was created?
b-what do you think it was doing at the time the image was made?
c-can you think of a great title for the image?
Only a few folks opted to join in the fun.
Here you go:
Image 1.
a-Oh, Lord, does that feel good.
b-The monkey was being groomed by another in the onsen (the man made hot springs pool).
c-"Tranquility"
Image 2.
a-Ho, ho, that was a good one!
b-Hooting at a monkey that came too close.
c-:Too Funny!"
Image 3.
a-Whoa, this is a tough decision.
b-Staring straight ahead.
c-"Serious."
Exposure Questions
In the same post I asked," Why was the EC (exposure compensation) for the first image +1 2/3 stops while the EC for the second image was only +1 stop?"
The first image needed more + compensation in the soft light because the image as framed was much lighter in overall tonality than the 2nd image. Had the sun been out for both images I would have gone with +1/3 stop for the first image and zero for the second image. Please leave a comment if you think that you know why.
Bamboo-zled
In Bamboo-zled, my favorite images were #4 (above) and #6, the bamboo forest fish eye. Nobody but me chose #4? Why did I? It was created in the BAA style, tight, clean, and graphic. I loved the fish eye image for its unique perspective and because I worked so hard at creating it. (Yeah, I know, that is not supposed to matter….)
IPT Info
Many of our great trips are filling up. With 5 Canadians and another couple signing up for our 4-DAY Bosque IPT; that workshop is filling up quickly. See especially info on the Holland, and Nickerson Beach IPTs. Two great leaders on most trips ensure that you will receive individual attention, have all of your questions answered, and learn a ton including how to think like a pro, see the situation, and get the right exposure every time. In addition you will have fun, and make lots of great images. Click here for IPT details and general information.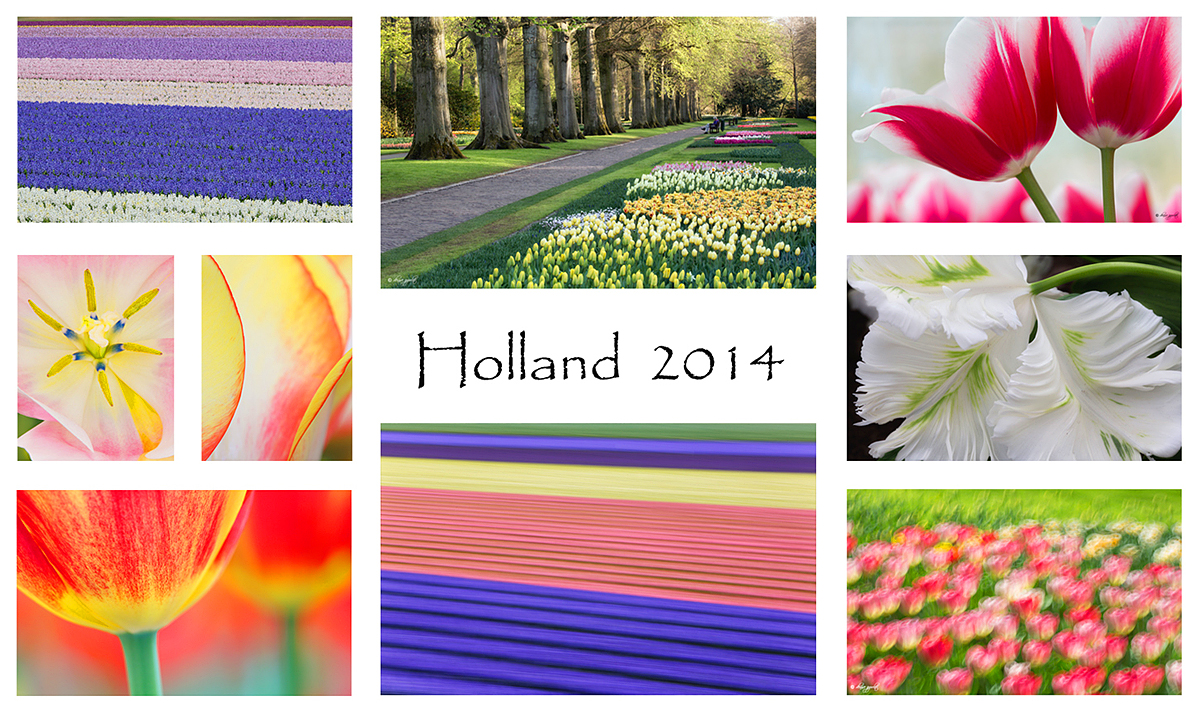 Images copyright 2012: Denise Ippolito & Arthur Morris. Card design by Denise Ippolito. Click on the image to enjoy a spectacular larger version.
Holland 2014 7 1/2-Day/8-Night: A Creative Adventure/BIRDS AS ART/Tulips & A Touch of Holland IPT. April 17-April 24, 2014: $4995 Limit: 12/Openings: 5
We still have room for 5 more flower photographers on this great trip.
Join Denise Ippolito, Flower Queen and the author of "Bloomin' Ideas," and Arthur Morris, Canon Explorer of Light Emeritus and one of the planet's premier photographic educators for a great trip to Holland in mid-April 2014. Day 1 of the IPT will be April 17, 2014. We will have a short afternoon get-together and then our first photographic session at the justly-famed Keukenhof. Most days we will return to the hotel for lunch, image sharing and a break. On Day 8, April 24, we will enjoy both morning and afternoon photography sessions.
The primary subjects will be tulips and orchids at Keukenhof and the spectacularly amazing tulip, hyacinth, and daffodil bulb fields around Lisse. In addition we will spend one full day in Amsterdam. There will be optional visits the Van Gogh Museum in the morning and the Anne Frank House in the afternoon; there will be plenty of time for street photography as well. And some great food. On another day we will have a wonderful early dinner at Kinderdijk and then head out with our gear to photograph the windmills and possibly some birds for those who bring their longs lenses. We will spend an afternoon in the lovely Dutch town of Edam where we will do some street photography and enjoy a superb dinner. All lodging, ground transportation, entry fees, and meals (from dinner on Day 1 through dinner on Day 8) are included. For those who will be bringing a big lens we will likely have an optional bird photography afternoon or two.
Click here for additional info or to register.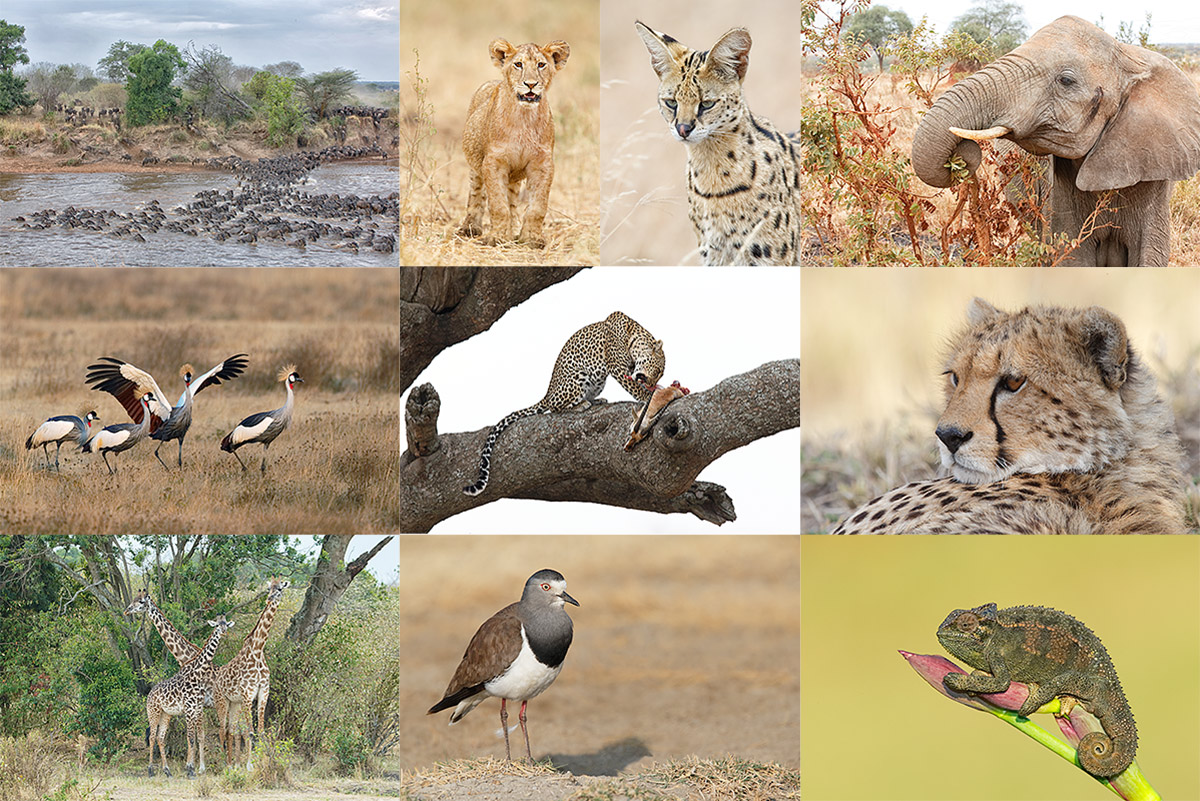 Join me for the 2014 Tanzania Summer Safari!
2014 Tanzania Summer Safari, 14-day African Adventure/leave the US on August 9. Fly home on August 24: $12,999.
Co-leaders Todd Gustafson & Arthur Morris. The limit is 12. Three photographers/van; you get your own row of seats. Our trip is a bit more expensive than the average safari for good reason. It is the best. We have the best driver guides with a total of decades of experience. They have been trained over the years by Todd and by me to drive with photography in mind. We have the best and most knowledgeable leaders. We stay in the best lodges and camps. We hope that you will join us for what will be Todd's 35th African safari, and my 8th.
If you are seriously interested please e-mail me; I will be glad to send you the illustrated PDF with the complete itinerary and deposit info.
What else makes this expedition unique?
•Pre-trip consultation and camera equipment advice
•Award-winning photographers as your guides
•A seamless itinerary visiting the right locations at the best time of year
•Hands-on photography instruction in the field
•Specially designed three roof-hatch photo safari vehicles
•Proprietary materials for preparation, including free copy of "A Photographer's Guide to Photographing in East Africa."
•Post-safari image critiques
All-inclusive (double-occupancy) except for your flights to and from Kilamajaro Airport, bar drinks, soda & water (except at the Intimate Tented Camp where everything is free for our entire stay), tips for drivers and camp staff, personal items, and trip insurance.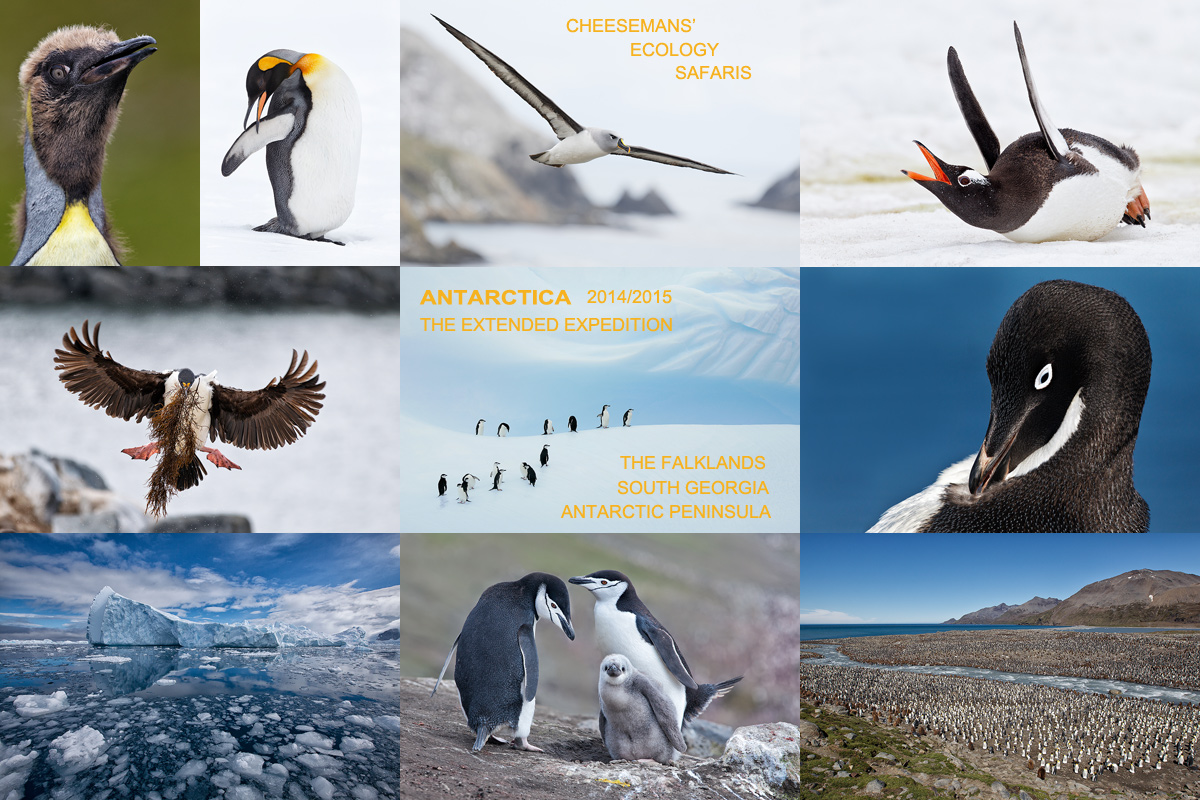 Breathe deeply, bite the bullet, and live life to its fullest; we all get only one ride on the merry-go-round… Join me on this great trip.
Click on the image to enjoy a larger version.
The Southern Ocean…
If you would like to explore the possibility of joining me on the Cheesemans' Ecology Safaris Antarctica/The Extended Expedition Voyage< trip: Antarctic Peninsula, South Georgia and Falkland Islands: December 13, 2014 to January 10, 2015, click here for additional information and then shoot me an e-mail.
The DPP RAW Conversion Guide
To learn why I use Canon's Digital Photo Professional (DPP) to convert every image that I work on, click here.
Support the BAA Blog. Support the BAA Bulletins: Shop B&H here!
We want and need to keep providing you with the latest free information, photography and Photoshop lessons, and all manner of related information. Show your appreciation by making your purchases immediately after clicking on any of our B&H or Amazon Affiliate links in this blog post. Remember, B&H ain't just photography!
Amazon
Everyone buys something from Amazon, be it a big lens or deodorant. Support the blog by starting your search by clicking on the logo-link below. No purchase is too small to be appreciated; they all add up. Why make it a habit? Because I make it a habit of bringing you new images and information on an almost daily basis.
Typos
In all blog posts and Bulletins, feel free to e-mail or to leave a comment regarding any typos, wrong words, misspellings, omissions, or grammatical errors. Just be right. 🙂