122
This post marks 122 straight days with a new educational blog post. With so many folks getting in the habit of using our B&H and Amazon links why quit now? To show your appreciation for my efforts here, we do ask that you use our the B&H and Amazon affiliate links on the right side of the blog for all of your purchases. Please check the availability of all photographic accessories in the BIRDS AS ART Online Store. We sell only what I use and depend on. We will not sell you junk. We know what you need to make creating great images easy and fun. And we are always glad to answer your gear questions via e-mail.
You can find the following items in the store: Gitzo tripods, Mongoose M3.6 and Wimberley heads, plates, low feet, and accessories, flash brackets, , Delkin e-film Pro Compact Flash Cards, LensCoat products, and our unique line-up of educational materials including ABP I & II, Digital Basics, Site and Set-up e-Guides, Canon and Nikon Camera Users and AF e-Guides, and MP-4 Photoshop video tutorials among others.
I would of course appreciate your using our B&H affiliate links for all of your major gear, video, and electronic purchases. For the photographic stuff mentioned in the paragraph above we, meaning BAA, would of course greatly appreciate your business. Here is a huge thank you to the many who have been using our links on a regular basis and visiting the BAA Online store as well.
This blog post took about 3 hours to assemble. Enjoy!
They Are Different Animals
I got an e-mail last night from friend and multiple IPT veteran Larry Master who sold his 400 DO through BIRDS AS ART and is reducing the price on his mint 800; see below for details on that. Anyway, he broke down and purchased both a 1D X and a 200-400. He wrote:
Now I am wondering if I should sell my 600 and my 300…
His comment inspired today's blog post.
I responded:
For you, selling the 300 II would be a good idea unless the 200-400 proves too heavy to hand hold for long flight photography sessions where you cannot use a tripod…. On trips where I do not take the 600 II, I bring both the 200-400 and the 300 II so that I have a back-up in case of a smashing lens disaster.
For me, it would be insanity for anyone to sell the 600II. The 600 gives me 840 with lightning fast AF and sharp 1200mm when I need it. Which is often. A lot depends on where and what you will be photographing. The 200-400 is great in the Galapagos, on Southern Oceans cruises, on Japan in Winter trips, and in Florida. I leave the 600 at home for the Galapagos and Southern Oceans trips but would not be caught dead without it in Japan, here in my home state, pretty much everywhere else that I go to photograph birds. Your call :).
In short, the 200-400 and the 600 II are completely different, very specialized tools. With the 200-400 giving you all AF sensors from 200-560 the 600 begins where the 2-4 ends. Add to that 840 and 1200 (for those who are capable of creating sharp images with the 2X III TC), and it is obvious they make a perfect combination that covers all focal lengths from 200-1200mm. Throw in the 70-200 II and the 24-70 and you have yourself a nice kit.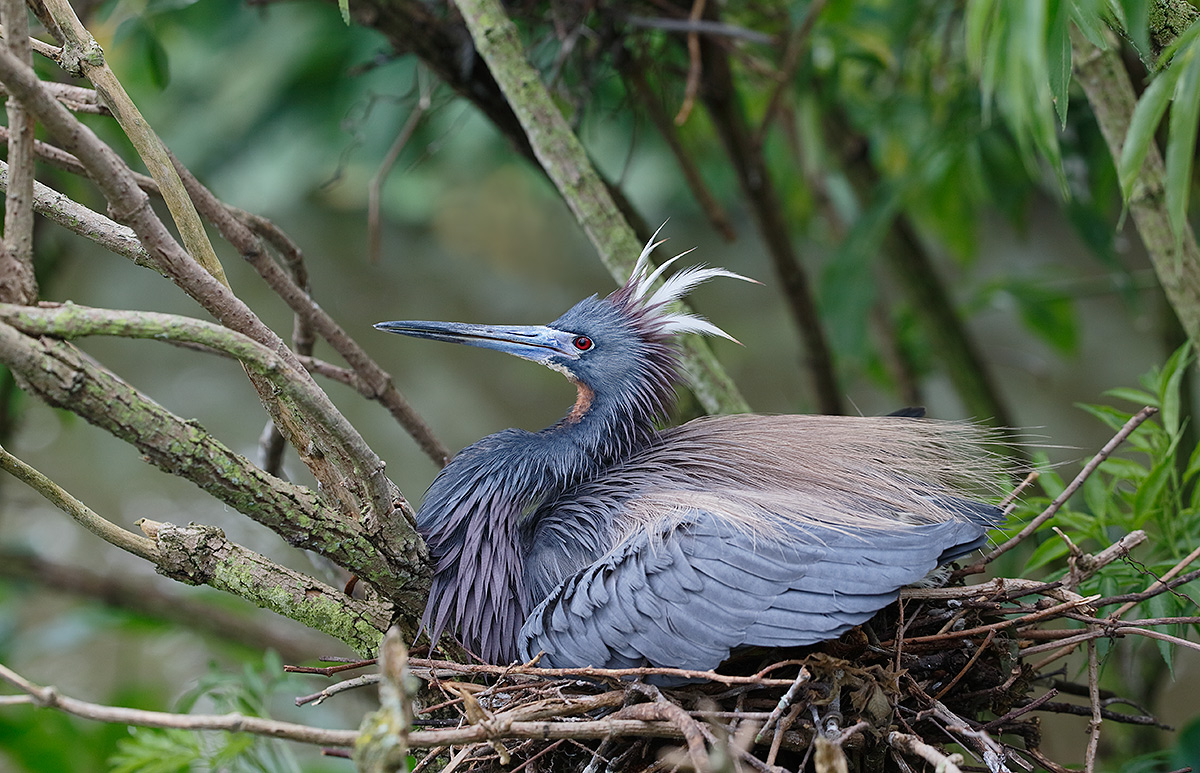 This Tricolored Heron image was created at Gatorland with the Canon EF 200-400mm f/4L IS USM Lens with Internal 1.4x Extender (hand held at 219mm) and the Canon EOS-1D X. ISO 800. Evaluative metering -+1/3 stop as framed: 1/320 sec. at f/5.6 in Manual mode. AWB.
One sensor below the central Sensor/AI Servo-Surround/Rear Focus AF on the bird's neck active at the moment of exposure yielded a pleasing image design with the bird in the lower part of the frame. Practicing so that you are able to change AF sensors almost instantly is an important skill to work on. Click here to see the latest version of the Rear Focus Tutorial. Click on the image to see a larger version. Learn everything there is to know about the 1D X and 5D III AF systems including how to manage the various AF Area Selection Modes, when to use which one, and several ways to move the AF sensor around in the 1D X AF Guide and the 5D Mark III User's Guide.
Image #2: Tricolored Heron Nest Defense Threat Display
Your browser does not support iFrame.
Why Do I Need Both?
In many situations, I need both of these great lenses at hand in order to have almost unlimited framing options available. For the Great Egret image that opened this blog post, I went with the big gun and the 2XIII TC to create an image that showed off the incredible beauty and details of the face, lores, and bill. I placed the Canon Extension Tube EF 25 II behind the 2X for closer focus while maintaining AF. As the AF system is slowed by the loss of light from the two accessories I pre-focused manually and in addition, to keep the system from hunting, I turned the inaptly named "Lens drive when AF impossible" to "Stop focus search/OFF." Though most folks have no clue as to how to use this properly, it can be extremely valuable in the right situation. It is so important to me that I have registered it as one of my My Menu items. You can learn exactly how, when, and why to use it in our 1D X AF Guide, the 5D Mark III User's Guide, and the Mark IV User's Guide. I am not sure about the 7D; I would appreciate it if someone would let me know whether "Lens drive when AF impossible" is covered in the 7D User's Guide.
As I was working the Great Egret with the 600II/2X/1D X combo, the 200-400 rested flat on the wet boardwalk waiting for me to grab it. I turned my head to my left to check out the activity at the tricolored nest to my left. The nest had four beautiful light blue eggs. I had been photographing it off and on all morning so I knew in advance that Evaluative metering +1/3 stop in Av mode would give me something that I could work with. As it was getting darker each hour this is another example of a situation where Av mode soundly trumps Manual mode. .
Whenever the bird would stand up, I'd grab the 2-4 and get to work in a moment. When a Great Egret landed right above her nest, she rose in protest so I grabbed my quasi-wide angle lens, disengaged the TC, moved the AF point down one row, and created the image here showing the bird displaying against the large white intruder above. As you can see having the two lenses available allowed me to create two vastly different images in the same minute. But in addition to owning the right gear and having it at hand lots of thinking and skill came into play. Without being able to think and work quickly, to be fully aware of the various options available with the 200-400/1D X combo, the displaying heron image would never have come to fruition.
Learn to use your gear, explore all of the options in our great eGuides, and then practice, practice, practice.
Image Optimization Question
Rookeries are cluttered places. Murphy's Law of Nests (every nest has one stick or twig in the wrong place…) prevails. On the Gatorland In-the-Field Saturday Workshops I teach folks how to tell the good situations from the poor ones and how to choose the best perspective. See below for details. For the image above you are invited to leave a comment and let us know what, if anything, you would choose to clean-up or eliminate.
Your Favorite?
Please take a minute to leave a comment letting us know which of the 2 images here that you like best. And why.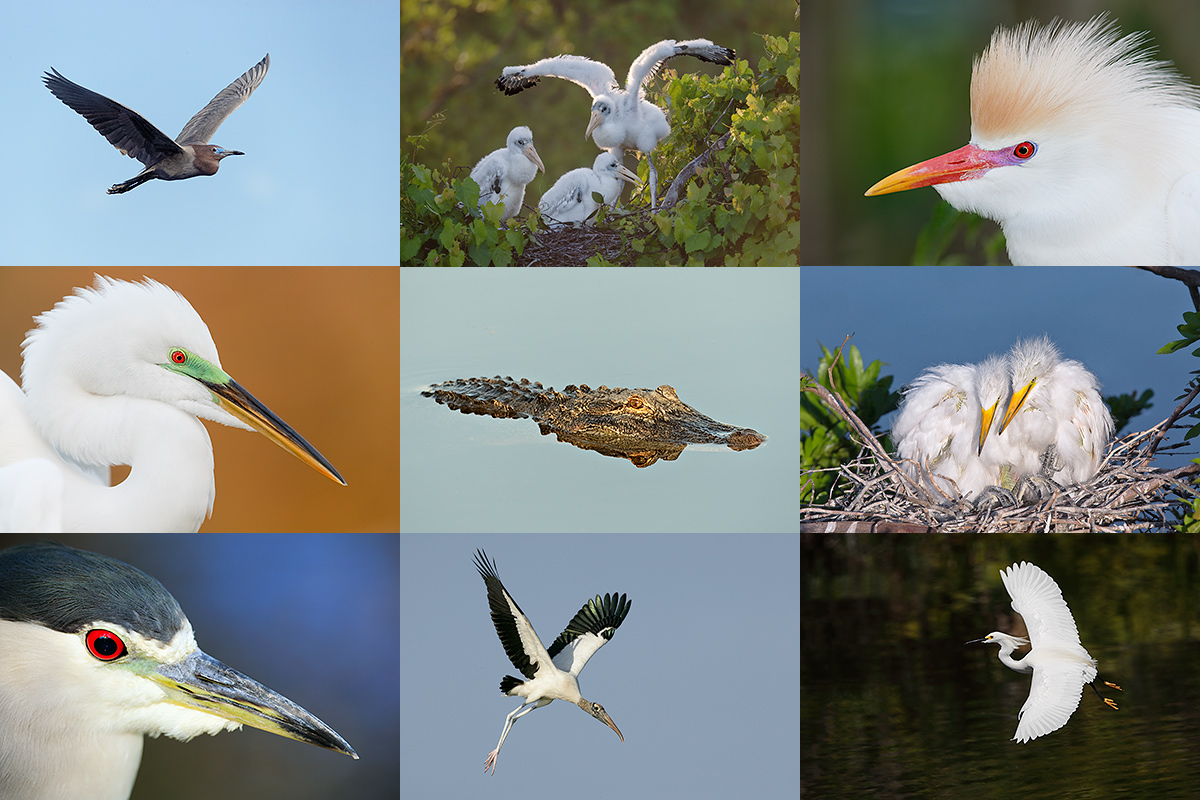 There are only 2 openings left on the April 5 ITF Workshop. But three folks are leaving early; if you are interested in an afternoon only session, please contact me via e-mail.
Gatorland Short Notice Saturday Full-Day In-the-Field Workshop
Saturday April 5, 2014. 7:15am till 10:15am & 4:00pm till dusk. Lunch, image review, and Photoshop session included: $399. Limit 6.
The cost of your Gatorland Photographer's Pass is not included.
Gatorland is so good right now that I am going back again next Saturday, April 5 There are a very few great nests and tons of activity. Each week it is rare that I see a photographer who know's what they are doing. There were a few in the rain last Saturday, but still most folks need help. Join me on this, the 4th Gatorland Short Notice Saturday Full-Day In-the-Field Workshop and you will learn to spot the good situations, to choose the best perspective, to see and understand the light, to get the right exposure every time after making a single test exposure, and to design pleasing images by mastering your camera's AF system. A big part of the above is that you will learn how and why you must work in Manual mode 90% of the time at Gatorland. That is exactly what Jim Weerts learned on Saturday past.
At lunch we will review my images, take a look at five of your best images from the morning session (for those who opt to bring their laptops), and process a few of my images in Photoshop after converting them in DPP. That followed by Instructor Nap Time. Last Saturday all 3 folks had a great time and learned a ton. And the weather for this coming Saturday is looking good.
Payment in full via credit card is due upon registering. Please call Jim or Jennifer at 863-692-0906 to register. Ask for me if you have any questions.
Mint Canon 800mm f/5.6L IS Lens for Sale
Friend and multiple IPT veteran Larry Master is offering a mint condition Mint Canon 800mm f/5.6L IS Lens for sale for $8495. This great lens, my favorite for 3 years, the Canon EF 800mm f/5.6L IS USM lens, sells new at B&H for $13,218.00. Last week, they were offering one in mint condition for a ridiculously high $10,249.90; it sold overnight. Go figure. Larry's lens will save you a ton of dough and you will have a great lens with lots of reach. The sale includes a Lenscoat, an Aquatech soft lens cap that fits like a glove, a Kirk Enterprises LP30 plate (not recommended by me), the lens trunk and leather cover, and insured shipping by UPS Ground to US addresses only. Personal checks only; your new lens will be shipped only after your check clears.
Interested folks may contact Larry on his cell phone at 518-645-1545 or via e-mail.
Selling Your Used Photo Gear Through BIRDS AS ART
Selling your used (or like-new) photo gear through the BAA Blog or via a BAA Online Bulletin is a great idea. We charge only a 5% commission. One of the more popular used gear for sale sites charges a minimum of 20% plus assorted fees! Yikes. The minimum item price here is $500. If you are interested please e-mail with the words Items for Sale Info Request cut and pasted into the Subject line :). Stuff that is priced fairly–I offer free pricing advise, usually sells in no time flat as did Dennis Cassidy's 500 II recently on the blog and Larry Master's 400 DO.
Support the BAA Blog. Support the BAA Bulletins: Shop B&H here!
We want and need to keep providing you with the latest free information, photography and Photoshop lessons, and all manner of related information. Show your appreciation by making your purchases immediately after clicking on any of our B&H or Amazon Affiliate links in this blog post. Remember, B&H ain't just photography!
Amazon
Everyone buys something from Amazon, be it a big lens or deodorant. Support the blog by starting your search by clicking on the logo-link below. No purchase is too small to be appreciated; they all add up. Why make it a habit? Because I make it a habit of bringing you new images and information on an almost daily basis.
Typos
In all blog posts and Bulletins, feel free to e-mail or to leave a comment regarding any typos, wrong words, misspellings, omissions, or grammatical errors. Just be right. 🙂