123
This post marks 123 straight days with a new educational blog post. With so many folks getting in the habit of using our B&H and Amazon links why quit now? To show your appreciation for my efforts here, I do ask that you use our the B&H and Amazon affiliate links on the right side of the blog for all of your purchases. Please check the availability of all photographic accessories in the BIRDS AS ART Online Store. We sell only what I use and depend on. We will not sell you junk. We know what you need to make creating great images easy and fun. And we are always glad to answer your gear questions via e-mail.
You can find the following items in the store: Gitzo tripods, Mongoose M3.6 and Wimberley heads, plates, low feet, and accessories, flash brackets, , Delkin e-film Pro Compact Flash Cards, LensCoat products, and our unique line-up of educational materials including ABP I & II, Digital Basics, Site and Set-up e-Guides, Canon and Nikon Camera Users and AF e-Guides, and MP-4 Photoshop video tutorials among others.
I would of course appreciate your using our B&H affiliate links for all of your major gear, video, and electronic purchases. For the photographic stuff mentioned in the paragraph above we, meaning BAA, would of course greatly appreciate your business. Here is a huge thank you to the many who have been using our links on a regular basis and visiting the BAA Online store as well.
This blog post took about 2 1/2 hours to put together. Enjoy!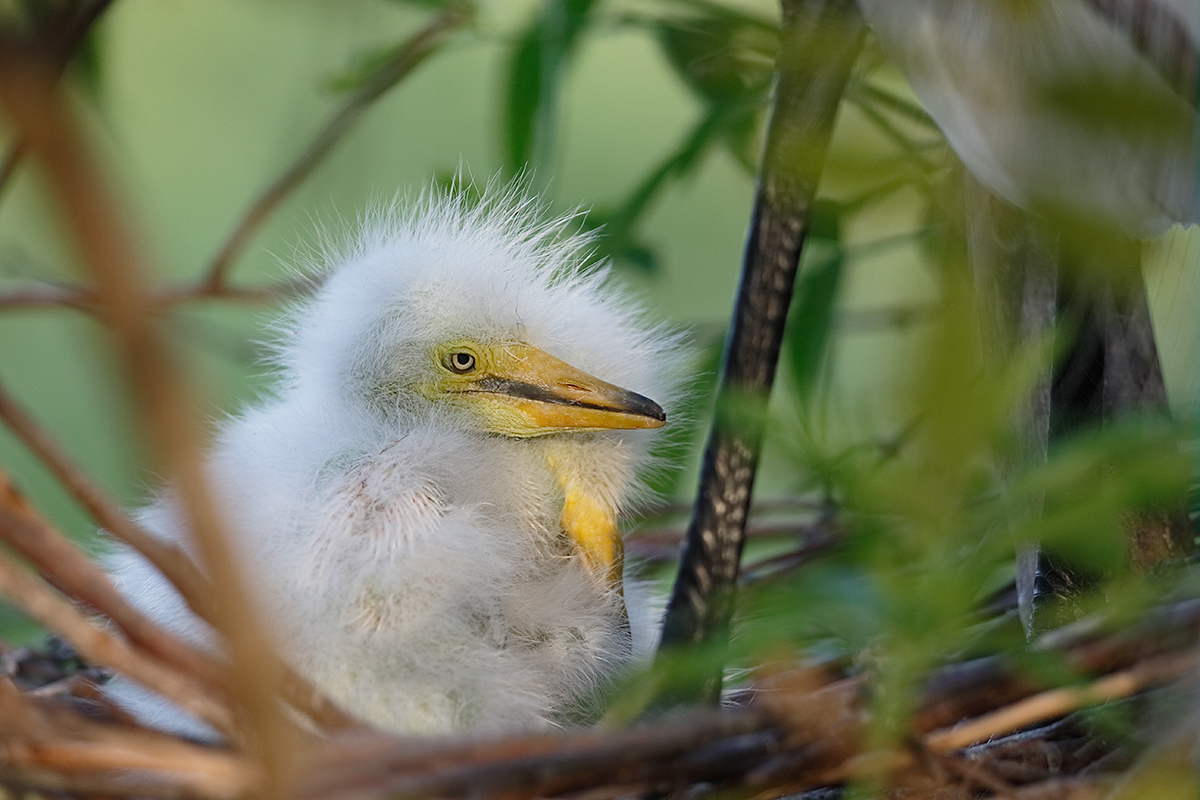 This image was created at Gatorland on the second Saturday In-the-Field Workshop with the Canon EF 200-400mm f/4L IS USM Lens with Internal 1.4x Extender (hand held with the interal TC engaged at 560mm) and the Canon EOS-1D X. ISO 800. Evaluative metering +2/3 stop as framed: 1/200 sec. at f/7.1 in Manual mode. AWB.
One sensor to the left of the central Sensor/AI Servo-Surround/Rear Focus AF on the middle of the subject's bill was active at the moment of exposure. Practicing so that you are able to change AF sensors almost instantly is an important skill to perfect. Click here to see the latest version of the Rear Focus Tutorial. Click on the image to see a larger version. Learn everything there is to know about the 1D X and 5D III AF systems including how to manage the various AF Area Selection Modes, when to use which one, and several ways to move the AF sensor around in the 1D X AF Guide and the 5D Mark III User's Guide.
Your browser does not support iFrame.
In Memoriam…
The image above, with the two chicks in the nest, was created at 8:12am on March 22, 2014. One week later the nest was empty….
There is a chance that the pair might re-nest.
Basic Gator Farm Biology
When wading birds chicks fall into the moats at Gatorland or the St. Augustine Alligator Farm, they are instantly snatched up by the gators. Folks often ask, "Why would the birds nest in such a hostile environment?"
The answer is simple: Any chicks that fall out of their stick nests die. With or without alligators. The fences and the gators at the tourist attractions provide unparallaled protection from ground predators like oppossums and feral cats. The birds know this and flock to these spots year after year to nest successfully.
Rookeries are Cluttered Places
To make the image above, it was necessary to get low and search for the single opening that yielded a clear line of sight to the nest. After creating only four images, I shared the spot with the others on the ITF Workshop. Learning to see the good situations and minimize the clutter are techniques that can be learned :).
Image Question
In the image above, how many bird bills do you see?
The Image Optimization
After conversion in DPP the image optimization was largely straight-forward. With the nictitating membrane half covering the eye I borrowed the eye from the next frame after painting it with a Quick Mask, and fine-tuned it with a Regular Layer Mask. I used a Quick Mask fine-tuned with a Regular Layer mask to move the small brown twig behind left side of the chick's head. Bill clean-up was done as usual with the Patch Tool, the Clone Stamp Tool at reduced Opacity, and the Spot Healing Brush. The same tools were utilized for the minimal background clean-up. Using the Clone Stamp Tool at a reduced Opacity, usually between 40 and 70%, leaves a hint of the distracting element while leaving the image believable. This trick resulted in a huge improvement in the look of the out-of-focus foreground clutter in the center and right side of the frame. Remember, rookeries are cluttered places so trying to create a completely clean looking image by removing all branches and twigs is not the way to go.
The DPP RAW Conversion Guide
After seeing the accurate colors that I get from my DPP RAW conversions, Japan in Winter co-leader Paul McKenzie switched to DPP conversions and Denise Ippolito is consider doing the same. Now that is amazing…. To learn why I use Canon's Digital Photo Professional (DPP) to convert every image that I work on, click here.
Digital Basics
Are you tired of making your images look worse in Photoshop? Are you amazed by the quality of my JPEGs? Do you have no clue as to how I optimized the egret chicks image here? All is detailed in my Digital Basics File, an instructional PDF that is sent via e-mail. It includes my complete digital workflow, dozens of great Photoshop tips, the use of Contrast Masks, several different ways of expanding canvas, all of my time-saving Keyboard Shortcuts, Using Adjustment Layers, Quick Masking, Layer Masking, and NIK Color Efex Pro basics, my killer image clean-up techniques, Digital Eye Doctor, creating time-saving actions, and lots more.
APTATS I & II
Learn the details of advanced Quick Masking techniques in APTATS I. Mention this blog post and apply a $5 discount with phone orders only. Learn advanced Layer Masking Techniques in APTATS II. Mention this blog post and apply a $5 discount with phone orders only. Buy the pair, APTATS I and APTATS II and we will be glad to apply at $15 discount with phone orders only.
BirdPhotographers.Net; It Ain't Just Birds/Honest Critiques Done Gently
Learn more here. I learn something new on most every visit and one of the best ways to improve it to critique the images of others while having your images critiqued as well. Plus, you get to see lots of great images on a daily basis.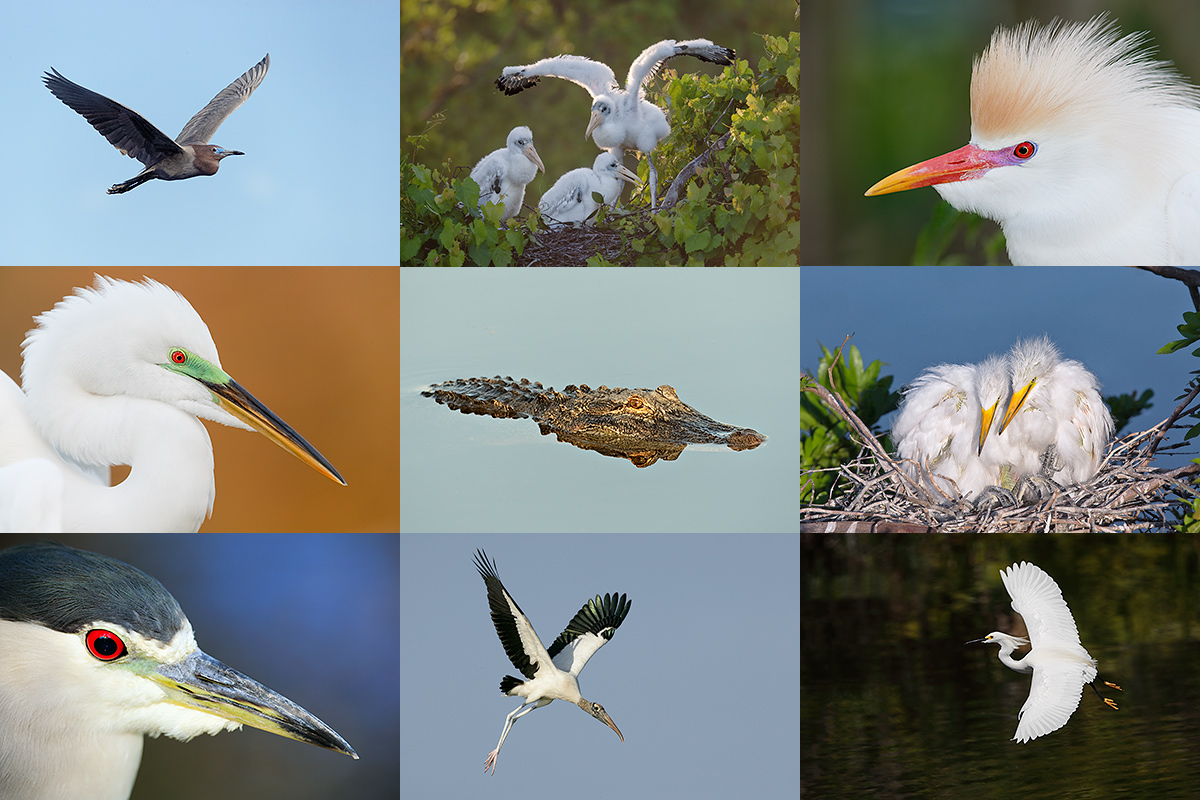 There is only a single opening left on the April 5 ITF Workshop. But three folks are leaving early; if you are interested in an afternoon only session, please contact me via e-mail.
Gatorland Short Notice Saturday Full-Day In-the-Field Workshop
Saturday April 5, 2014. 7:15am till 10:15am & 4:00pm till dusk. Lunch, image review, and Photoshop session included: $399. Limit 6.
The cost of your Gatorland Photographer's Pass is not included.
Gatorland is so good right now that I am going back again next Saturday, April 5 There are a very few great nests and tons of activity. Each week it is rare that I see a photographer who know's what they are doing. There were a few in the rain last Saturday, but still most folks need help. Join me on this, the 4th Gatorland Short Notice Saturday Full-Day In-the-Field Workshop and you will learn to spot the good situations, to choose the best perspective, to see and understand the light, to get the right exposure every time after making a single test exposure, and to design pleasing images by mastering your camera's AF system. A big part of the above is that you will learn how and why you must work in Manual mode 90% of the time at Gatorland. That is exactly what Jim Weerts learned on Saturday past.
At lunch we will review my images, take a look at five of your best images from the morning session (for those who opt to bring their laptops), and process a few of my images in Photoshop after converting them in DPP. That followed by Instructor Nap Time. Last Saturday all 3 folks had a great time and learned a ton. And the weather for this coming Saturday is looking good.
Payment in full via credit card is due upon registering. Please call Jim or Jennifer at 863-692-0906 to register. Ask for me if you have any questions.
Mint Canon 800mm f/5.6L IS Lens for Sale
Friend and multiple IPT veteran Larry Master is offering a mint condition Mint Canon 800mm f/5.6L IS Lens for sale for $8495. This great lens, my favorite for 3 years, the Canon EF 800mm f/5.6L IS USM lens, sells new at B&H for $13,218.00. Last week, they were offering one in mint condition for a ridiculously high $10,249.90; it sold overnight. Go figure. Larry's lens will save you a ton of dough and you will have a great lens with lots of reach. The sale includes a Lenscoat, an Aquatech soft lens cap that fits like a glove, a Kirk Enterprises LP30 plate (not recommended by me), the lens trunk and leather cover, and insured shipping by UPS Ground to US addresses only. Personal checks only; your new lens will be shipped only after your check clears.
Interested folks may contact Larry on his cell phone at 518-645-1545 or via e-mail.
Selling Your Used Photo Gear Through BIRDS AS ART
Selling your used (or like-new) photo gear through the BAA Blog or via a BAA Online Bulletin is a great idea. We charge only a 5% commission. One of the more popular used gear for sale sites charges a minimum of 20% plus assorted fees! Yikes. The minimum item price here is $500. If you are interested please e-mail with the words Items for Sale Info Request cut and pasted into the Subject line :). Stuff that is priced fairly–I offer free pricing advise, usually sells in no time flat as did Dennis Cassidy's 500 II recently on the blog and Larry Master's 400 DO.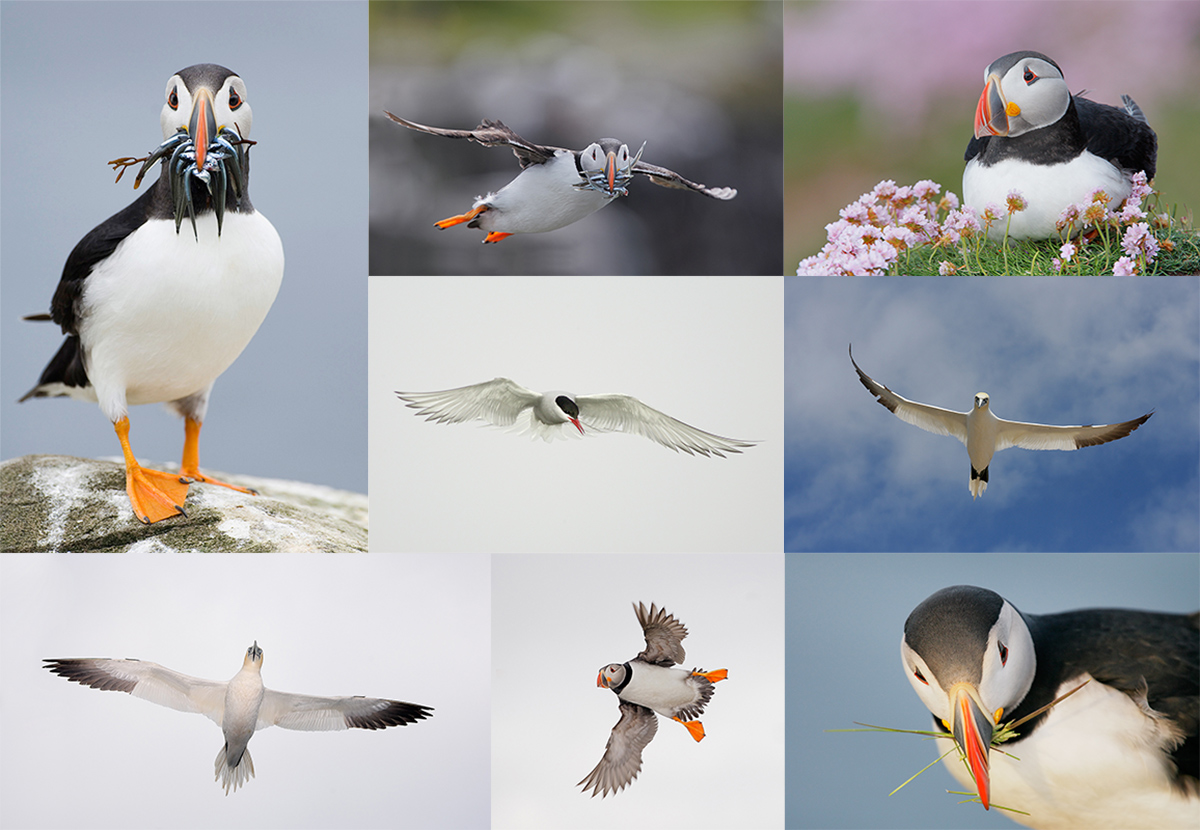 I hope that you can join us on this great trip. The vertical puffin image was created by David Tipling. The rest–almost all from the UK, are mine :).
UK Puffins and Gannets IPT July 2-9, 2014. 5 full days of puffins and two half-days of gannet boat photography: $4,999 USD. Limit 10 + the 2 leaders.
Desperately needed: 1 female roommate & 1 male roommate.
Just learned of a killer non-stop flight: Newark to Edinburgh on United.
Fly to Edinburgh (say "ED-in-BUR-row"), Scotland on a red eye flight on July 1st arriving on the early morning of July 2 or certainly before 10am. UK folks who plan on driving please contact me via e-mail immediately.
There are direct flights to Edinburgh from both Philadelphia and Toronto. If you learn of any others please advise via e-mail so that I may share with all the interested folks. Fly home mid-morning on July 9. UK locals and our many European friends are of course welcome.
With the needed 5 deposits in hand, this trip is a go; you can buy your flights now :).
What's included:
5 full DAYS on the best UK puffin boat; trips to 2 different islands–all dependent on decent weather, i.e, no major storms. Seabirds including scads of Atlantic Puffin both in flight and perched, Razorbill, Great Cormorant, Shag, and others likely. The trip is timed to maximize the opportunities for photographing the puffins bringing fish back to the nests. All boat fares and landing fees are included. The boat leaves at 9:30am. We have two hours on the first island. We are then picked up and head to the 2nd island for a 2+ hour session. The weather is typically cloudy bright.
One late-afternoon (2 July) and one early morning (probably 8 July) trip on a gannet photography boat where the birds are fed and dive very close to the boat. Both are dependent on good weather but we do have some flexibility. Boat fares and the cost of the fish are covered. Each will consist of a one hour outbound ride, two hours of diving Northern Gannet photography (with 6 boxes of fish) and the one hour return trip.
The tentative, weather-dependent itinerary:
July 2: airport pick-up no later than 10am UK time. Lunch on your dime. Drive to hotel. Afternoon gannet boat trip/time TBD.
July 3, 4, 5, 6, & 7: Full Day Puffin Boat trips as noted above.
July 8: early morning Gannet Boat trip. Afternoon: Small group Image review and Photoshop sessions. Pack for the trip home.
July 9: early morning departure for Edinburgh Airport (EDI).
The itinerary is subject to change to ensure the best possible photographic opportunities.
A super-telephoto lens is not required on this trip. The 300mm f/2.8s are ideal. I will be bringing one along with my 200-400mm with Internal Extender, my 70-200 f/2.8L IS II, and a shorter zoom lenses. Plus three 1.4X and two 2X TCs, a Gitzo 3532 LS Carbon Fiber tripod, and my Mongoose M3.6. I may go tripod-less on the puffin trips at times…. Or not…. All photography on the gannet boat will be hand held. It is likely that the 70-200s will be ideal for the gannets.
7 nights lodging in an older but excellent hotel just a few minutes from the puffin boat dock with about a 70 minute ride to the gannet boat. Double occupancy will be the rule though we might be able to offer a single supplement at an exorbitant price. See the hotel info here.
All breakfasts and dinner (at the hotel) from dinner on July 2 through dinner on July 8. And breakfast on our get-away day unless we need to leave earlier than they serve to make our flights home…
Airport pick-up until 10am on July 2–this should not be a problem as there are lots of red-eye flights from the US to Edinburgh.
All ground transportation. Airport return on the early morning of July 9. We may be getting up very early on July 9th.
Two great leaders; Denise Ippolito and yours truly will provide personalized and small group in-the-field instruction. As usual, the closer you stay to us and the more questions that you ask the more you will learn. We will of course point out the best situations. You will learn to see these great situations for yourself, to get the right exposure every time after making a single test exposure, to work in Manual mode, and to design pleasing images by mastering your camera's AF system. You will learn the basics of photographing birds in flight and how the relationship between light direction and wind direction impacts the photography of both birds in flight and perched puffins. And tons more.
We will be conducting informal, small group image review and Photoshop sessions after dinner. All are invited to bring their laptops. Image critiques of your five best images will be done after the trip upon request.
Early morning castle photography right near the hotel is an option for the early risers. In the event of inclement weather or stormy seas there is the possibility of bird photography along the coast. Early evening bird photography along the coast is also optional.
Not included: all lunches–for the most part we will need to pack lunches for the puffin trips, or you may opt to skip lunch. Your round trip airfare from home to Scotland. Booze, wine, and any other beverages other than coffee and tea at breakfast.
A non-refundable deposit of $2,000 USD is required to hold your spot so please check on flights and your schedule before committing. The balance will be due on 15 May so you may wish to pay the whole thing at once. Overseas folks may e-mail for wire transfer info. Our $15 wire transfer fee will be added to your balance.
Trip insurance is highly recommended as your deposit (less a $200 cancellation fee) will not be refunded unless the trip fills completely. I, and my family, use Travel Insurance Services.
After letting us know via e-mail that you will be coming, please send your deposit check made out to "Arthur Morris" to us as follows:
Arthur Morris/BIRDS AS ART
PO Box 7245 (US mail) or 4041 Granada Drive (if by courier).
Indian Lake Estates, FL 33855
My friend David Tipling, with multiple BBC honored images and the author of dozens of photo illustrated books, helped with the planning and arrangements for this trip.
If you have any questions, please contact me via e-mail.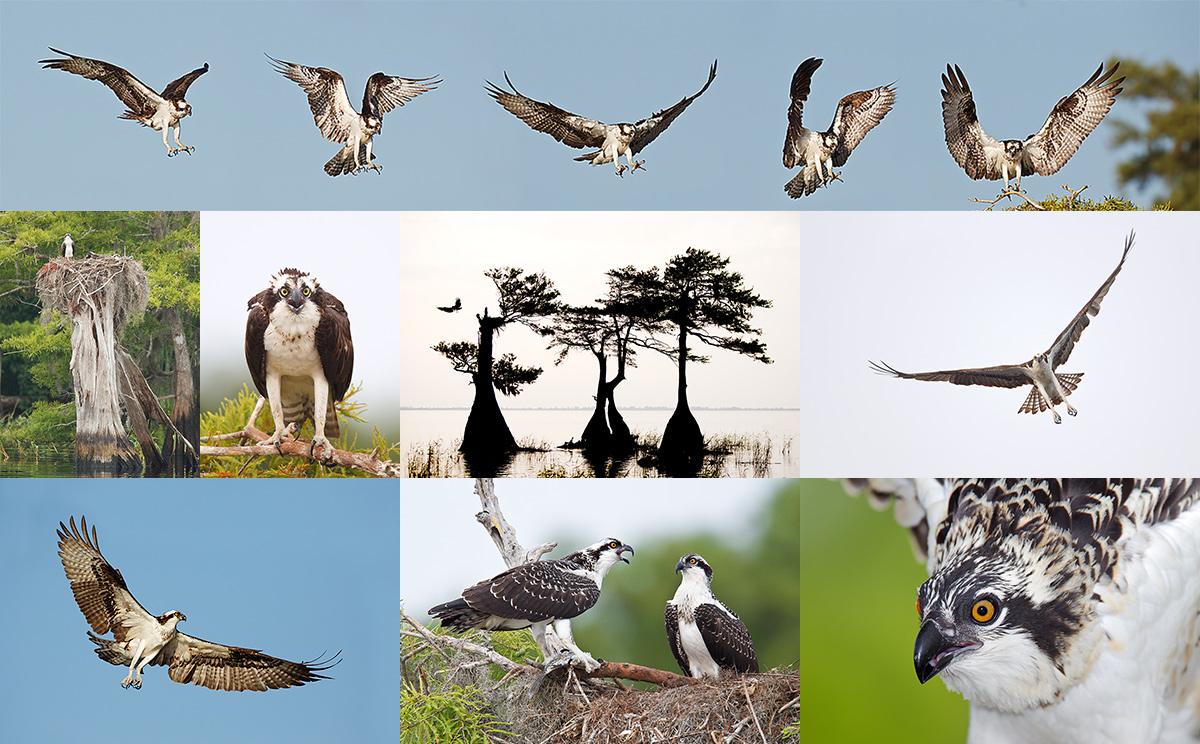 All images created on Lake Blue Cypress. Copyright Arthur Morris/BIRDS AS ART. Click on the composite to enjoy a larger version.
Lake Blue Cypress Osprey Heaven Full-Day In-the-Field Hand Holding Workshops via Customized Pontoon Boat
Two 3+ hour shooting sessions on a beautiful cypress lake teeming with Osprey; Barred Owl almost guaranteed. Red-shouldered Hawk and Pileated Woodpecker likely. Be sure to follow the link to Jim's gallery below.
2 great leaders: Captain Jim Neiger and Arthur Morris.
Available dates: April 8, 9, 11 & 12, 2014.
Here are the Full Day rates:
1 photographer: $650.
2 photographers: $500 each.
3 photographers: $450 each.
4 photographers: $400.
Each full day booking includes a delicious healthy lunch at my home. Overnight lodging at my home is available cheap on a limited basis for folks who would like to do more than one day. Please inquire via e-mail.
So far one photographer signed up for Saturday, April 12; join us and enjoy at least a $150 savings.
One or two photographers may hire the boat on a private basis by paying the full day rate for 4: $1600.
Because of the late date payment in full by personal check is due now. Please e-mail for additional details of info.
Check out Jim Neiger's Osprey Heaven/Lake Blue Cypress Gallery here and you will be amazed as to the quality of the flight and action images and the possibilities.
Here's what BPN member David Salem had to say about a day on the lake with Jim Neiger in Pane 1 here:
"We met our friend Jim Neiger on his boat at Lake Blue Cypress and had a blast shooting hundreds of Osprey and many other species including some great shots of Barred owls. I highly suggest booking a trip with Jim on the lake as he knows the lake real well and the birds even better. It was a trip that I will never forget with literally hundreds of Osprey flying around starting their nesting season. A sight to see; will be posting some pics from the lake soon. "
Support the BAA Blog. Support the BAA Bulletins: Shop B&H here!
We want and need to keep providing you with the latest free information, photography and Photoshop lessons, and all manner of related information. Show your appreciation by making your purchases immediately after clicking on any of our B&H or Amazon Affiliate links in this blog post. Remember, B&H ain't just photography!
Amazon
Everyone buys something from Amazon, be it a big lens or deodorant. Support the blog by starting your search by clicking on the logo-link below. No purchase is too small to be appreciated; they all add up. Why make it a habit? Because I make it a habit of bringing you new images and information on an almost daily basis.
Typos
In all blog posts and Bulletins, feel free to e-mail or to leave a comment regarding any typos, wrong words, misspellings, omissions, or grammatical errors. Just be right. 🙂